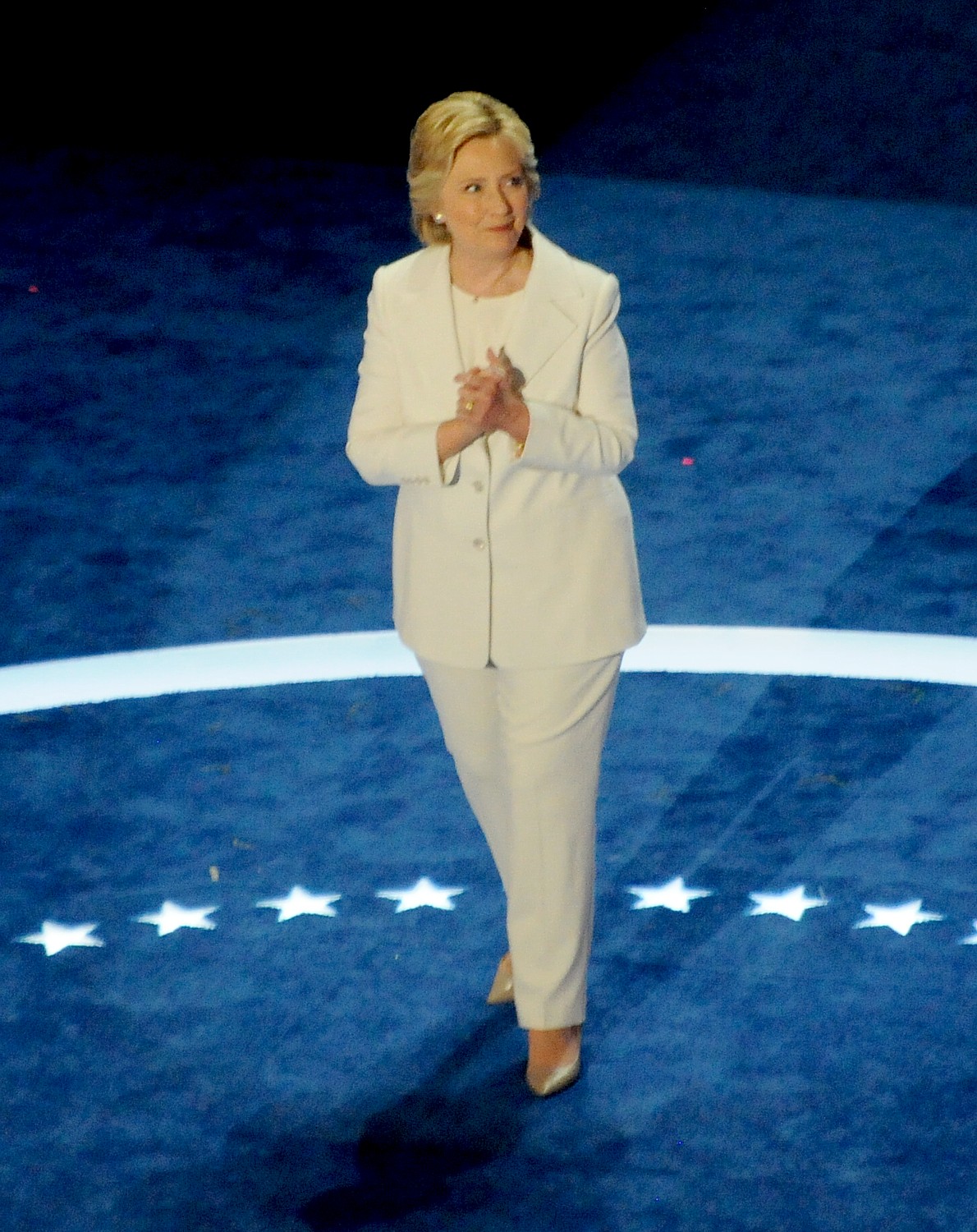 I confess, as I was describing to my niece the scene of Hillary Rodham Clinton making history in Philadelphia by being the first woman nominated by a major party to be president of the United States, I welled up with tears. I hadn't realized the emotion I carried with me from the night before.
My niece, born the year I graduated college, is too young to remember the way it was when women of my age were graduating high school, conditioned to tamp down their aspirations, discouraged from pursuing the best college education or profession (secretary, nurse, teacher were the acceptable paths), legally allowed to be discriminated against in hiring (ads were segregated "male" and "female"), being told in a job interview, "You can't handle the equipment," or by my publisher the day I started at the magazine , "Now you're not going to leave me to have a baby, are you?" I was still there 12 years later when he let me work from home after I had my first baby, but I left when new owners laid down the law that I was required back in the office ("What do you mean we have an editor working from home? Do you know how many we have refused who would sue?").
It was during my tenure at that magazine that I recall having sat across a table from Donald Trump at a lunch attended by New York's movers and shakers. At that time (though not at the table that day, when he sat bored until the conversation shifted to his new, short-lived football team, the New Jersey Generals), he was quoted as saying that "pregnancy is an inconvenience" for employers, and women did not deserve to make the same salary as men because they don't do the same quality of work, and that he wanted his wives to stay home because he gets angry if he comes home and dinner isn't on the table.
If Hillary Clinton is criticized for being cold, clinical, intellectual, efficient and strategic, it is partly because that's what it took for a woman to succeed in what was systemically a Man's World, a Good Ol' Boys Club. A woman had to be demonstrably better, harder working than a male counterpart, and then, would be criticized as "shrill," "bossy" and lots of other more horrible characterizations. As she said in her acceptance speech, she sweats the details, "whether we're talking about the exact level of lead in the drinking water in Flint, Michigan, the number of mental health facilities in Iowa, or the cost of your prescription drugs. Because it's not just a detail if it's your kid – if it's your family. It's a big deal. And it should be a big deal to your president."
My niece can't possibly appreciate the change in culture that it is a "ho-hum" event to see women doctors, surgeons, university presidents, Fortune 500 CEOs – to have women at the table with Movers and Shakers at all.
My niece can't possibly appreciate the concept of a "glass ceiling" and what Hillary means when she said in her acceptance speech, "Tonight, we've reached a milestone in our nation's march toward a more perfect union…because when any barrier falls in America, for anyone, it clears the way for everyone.  When there are no ceilings, the sky's the limit."
It's not just that a foundational barrier has come down, but that finally, the issues and policies I care about so deeply, that have been marginalized and trivialized will become a priority at the highest seat of power: climate action, gun violence prevention, universal health care, public education, a living wage, paid parental leave and access to affordable child care, a secure retirement (the list goes on). Hillary Clinton isn't just A woman, but a woman who has been fighting – and winning – for these causes her entire life.
"In America, if you can dream it, you should be able to build it," Hillary declared. "We're going to help you balance family and work.  And you know what, if fighting for affordable child care and paid family leave is playing the 'woman card,' then Deal Me In!," Hillary declared.
As Hillary has said, these have been dismissed as "woman's issues" or "family issues" but they are economic issues, national security issues."When women succeed, America succeeds."
"It's not just her gender, but her a-genda," a speaker at the Democratic Women's Caucus declared.
The mechanism that Hillary has found to be successful over the years is forging consensus, finding compromise – that's a trait that women excel at, which is evidenced from the 20 women who currently serve in the Senate – while male culture formed in sports like football (the jargon which unfortunately too often makes its way into politics), where the objective is to crush an opponent.
"Look at my record," I've worked across the aisle to pass laws and treaties and to launch new programs that help millions of people.  And if you give me the chance, that's what I'll do as President."
Indeed, I've sat across the table from Hillary Clinton, too – when she was running for Senate and she invited local newspaper editors for an intimate conversation. She was just as interested as listening as she was in making her pitch.
Hillary Rodham Clinton has broken this crucial barrier at a time when women's rights are under siege – the right wing trying to reverse course and send women back barefoot and pregnant to the confines of their kitchens. The assault on women's reproductive rights – the right to choose when to become a parent, the right to control their own body and destiny -= has gone into high gear. Donald Trump has said that women who have an abortion should be punished and his VP Mike Pence has said he wants to see Roe v Wade relegated to the "ash heap" of history.
"It's personal to me," thundered Wendy Davis, former Texas State Senator famous for her 11-hour filibuster against Texas' anti-abortion law, at the Women's Caucus the morning of Hillary's historic acceptance speech. "[Hillary] knows what it is to be a woman in the United States of America. We've had friends in the White House before – … but we have never, ever had anyone who has walked in our shoes, someone who knows and understands to be a woman in America and we have never had the kind of champion we are going to have in Hillary Clinton and It is personal to me, and it should b e personal to every one of you."
Trump is about building walls. Hillary is about breaking down barriers.
"Hillary Clinton may be our first woman president. But she won't be the last. Once that barrier falls, it will never, ever, ever be put back up," declared Emily's List president Stephanie Schriock. "The women we've elected haven't just brought new voices to the debate. They've brought new momentum to the progressive movement. You see, women don't just fight for women. They fight for families. They fight for fairness. Inclusion. Justice.
"No wonder Republican leaders oppose equal pay for women, and refuse to stand up for working mothers trying to balance career and family. That's why they'd let your boss fire you for using birth control, and force us to undergo invasive trans-vaginal ultrasounds. They don't respect women. They don't trust women. They want to control women.
"They're afraid of the change we bring, the progress we make, when we get a chance to lead. And they're terrified of Hillary Clinton. Because no matter what they throw at her, they've never been able to stop her. From the Children's Defense Fund to the Senate, from Little Rock to Beijing, she's fought for fairness, for inclusion, for justice, and she's won.
"Now, they're making their last stand. Not just against her, but against all of us who have worked so hard for so long to make progress in America. They're panicking. They're desperate. And that means they're dangerous. They've nominated a man who said women should be punished for having an abortion. Said, 'Putting a wife to work is a dangerous thing.' Called us 'fat pigs' and 'animals.'
"He picked a running mate who led the fight to destroy Planned Parenthood, tried to redefine rape, suggested that mothers who work 'stunt the emotional growth' of their kids by putting them in daycare. If they win, they'll erase every ounce of progress we've dared to make. But we have fought too hard and come too far to let that happen."
Clinton's accomplishments are undeniable.
Is she a perfect candidate or a perfect person? There is no such thing. But frankly, I admire her agenda as exactly what I would have proposed.
She can get it done.
She is being belittled for being a "practical progressive" as if "incrementalism" is somehow synonymous with "sell out."
"She'll fight for your day-to-day needs and the long range needs of the country. She'll fight for the macro issues and the macaroni and cheese issues," declared U.S. Senator Barbara Mikulski:, the first Democratic woman elected to the Senate in her own right and first woman to chair the powerful Senate Appropriations Committee. "So you'll have national security and economic security. So you will have equal pay for equal work, living wages, and health care that's there when you need it."
"Hillary Clinton knows that this moment is not just about one woman's achievement. It's about what electing a woman President will mean for achieving the dreams and hopes and aspirations of every woman, every daughter, every son, and every family, all across our land, for generations to come," Minority Leader Nancy Pelosi declared.
"This moment is about the landmark progress President Hillary Clinton will achieve for families everywhere yearning for a better life, a better chance, in a better America. Hillary Clinton has a vision rooted in deeply held values. She has a genuine strength that differs profoundly from her opponent's bluster. She has a gift for strategic thinking, seasoned by knowledge and experience. And she has a connection to hard-working American families forged in her lifetime of leadership and service to others…
"We know what is on the line in what truly is the most important election of our lifetime: for the future of the Supreme Court, for the fate of a planet imperiled by climate change, for the sake of immigration reform, for the promise of an America that rewards hard work instead of those who exploit America's workers, for women's reproductive rights, equal rights, civil rights, and to do what is right for our service members, veterans and military families who have given so much for our country," Pelosi asserted.
Clinton isn't just any woman, but being a woman very much a part of the skill-set and life-experience she brings. She is a uniquely talented and experienced person. 
"I can say with confidence there has never been a man or a woman — not me, not Bill, nobody — more qualified than Hillary Clinton to serve as President of the United States of America," President Obama said in his speech.
And I haven't even gotten into the horrors of the alternative: a Donald Trump presidency.
–Karen Rubin, News & Photo Features
_________________
News & Photo Features Syndicate, a division of Workstyles, Inc. For editorial feature and photo information, email editor@news-photos-features.com. 'Like' us on facebook.com/NewsPhotoFeatures, Tweet @KarenBRubin