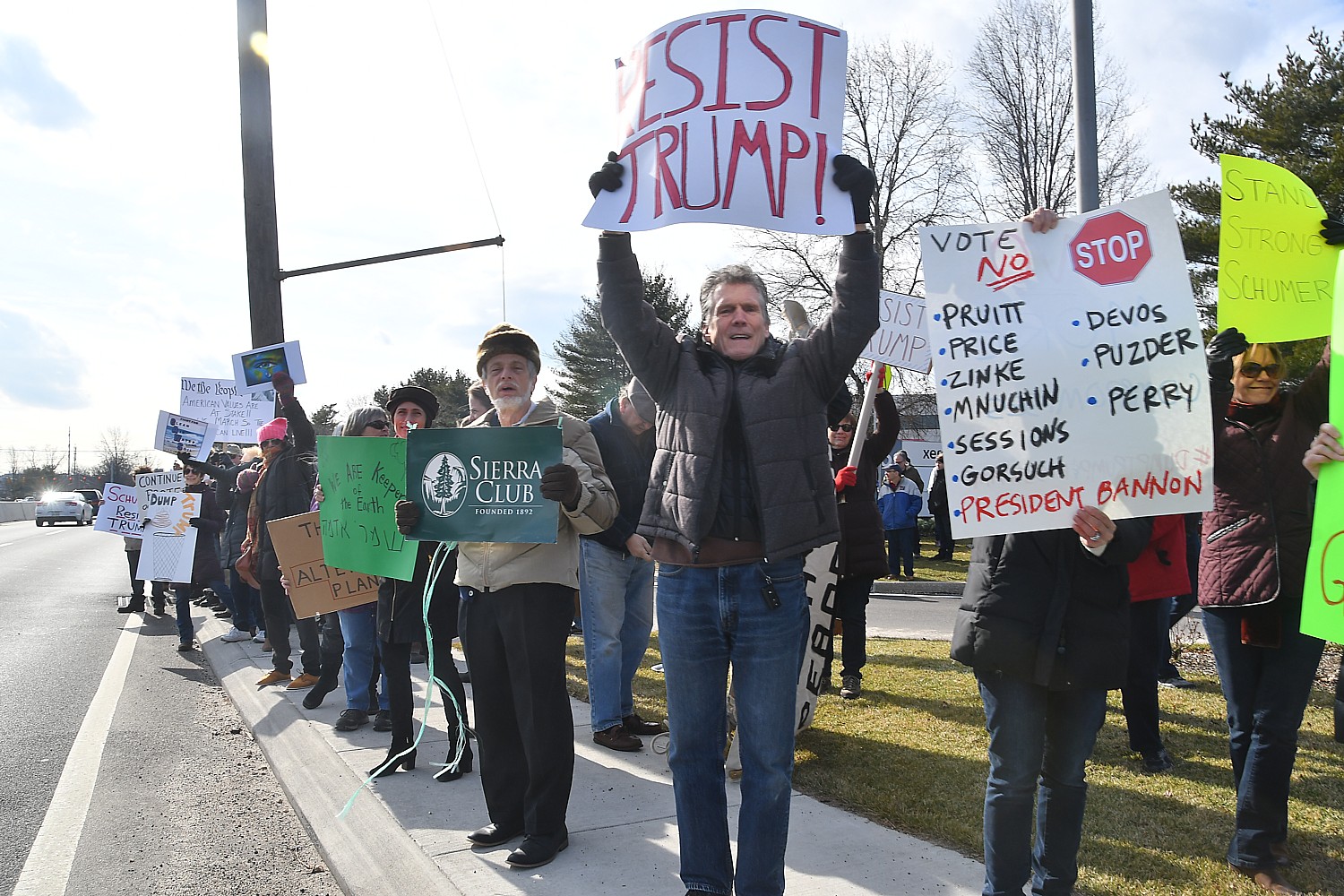 By Karen Rubin, News & Photo Features
"Resist Trump" was the chant by some 300 environmental activists who rallied outside Senator Charles Schumer's Long Island office in Melville during a statewide day of action, February 2. Similar rallies were being held at all eight of Schumer's offices throughout New York State to demand that he show bold leadership to protect public health and the environment by telling Senators to use every tool at their disposal to challenge the corporate takeover of our democracy and reject Trump's nominees and policies that would decimate the climate and the environment.
"Schumer's announcement on January 30 that he will vote against several Trump nominees is a sign that he is hearing the message coming from the grassroots. Voting against oil and gas insiders is just the first step to resisting Trump's anti-environmental agenda—bigger battles over drastic EPA budget cuts, clean air regulations, climate change, and fossil fuel drilling are on the horizon," stated Eric Weltman of Food & Water Watch, the leading organizer of the Long Island rally.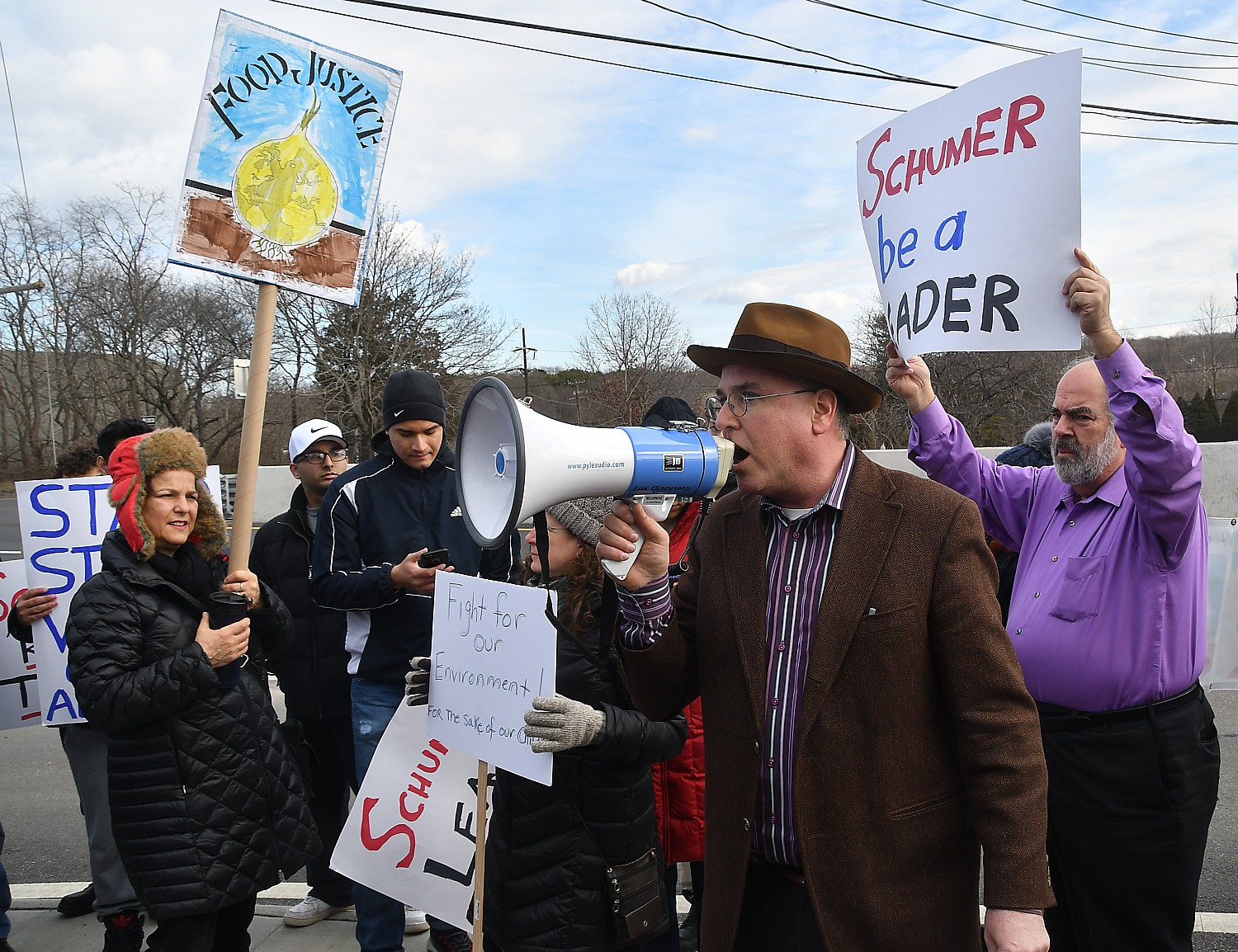 "Donald Trump has wasted no time in setting out a clear agenda that threatens fundamental environmental protections. With clean air and water under attack, Senate Minority Leader Chuck Schumer must lead his colleagues in standing strong against Trump's science-denying Cabinet appointments and his climate-destroying plans,.
Weltman declared, "As the nation's most powerful Democrat, Schumer must lead the resistance. He must vigorously oppose cabinet appointments, lead the charge against Trump's plans to slash EPA budget, dismantle the EPA, resist plans for the Dakota and Keystone pipelines. He must motivate his fellow Democrats.
"Each day, we are sicker, more depressed, more fearful," said Lisa Oldendorp, National Grassroots Organizer for Moveon.Org. "As difficult as these days have been, we are more worried about the days ahead. The small gains in climate action will be overturned, we will go back 70 years to the point of no return…
"Trump's friends are not concerned about our future of the country or the planet. Their only god is profit. They are determined to frack more land, pollute more air. Make America Great Again? No, make a small group of millionaires even richer, plundering our lands.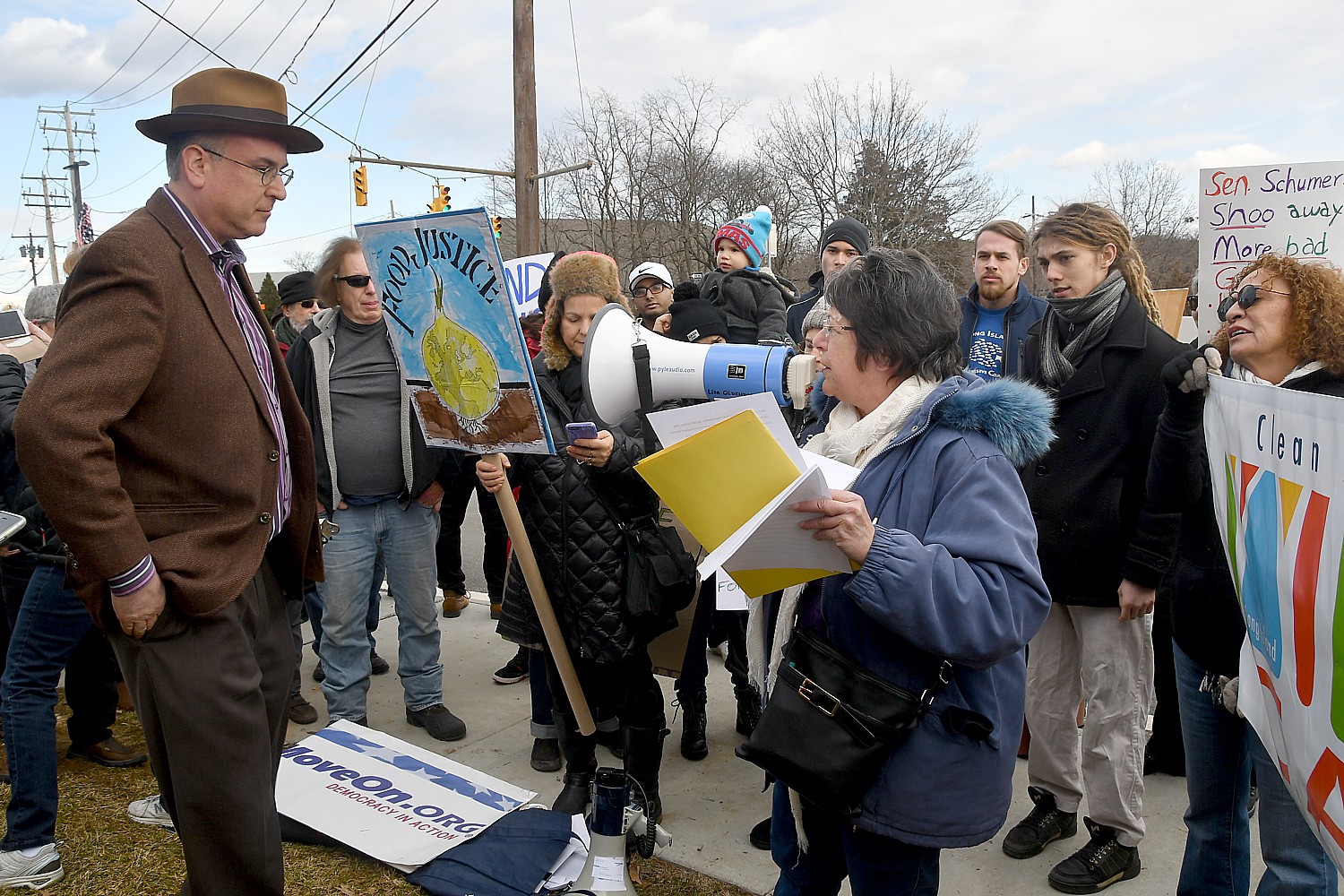 "You may have said you are tired of fighting. That it's hopeless. But you must continue to fight for environmental, economic, racial, social justice. Turn your anger into action for change…. A Small group of citizens can change the world. One person becomes a group, a group becomes a crowd. People power grows exponentially. Don't tell me people's protests don't matter. They build consensus, a movement.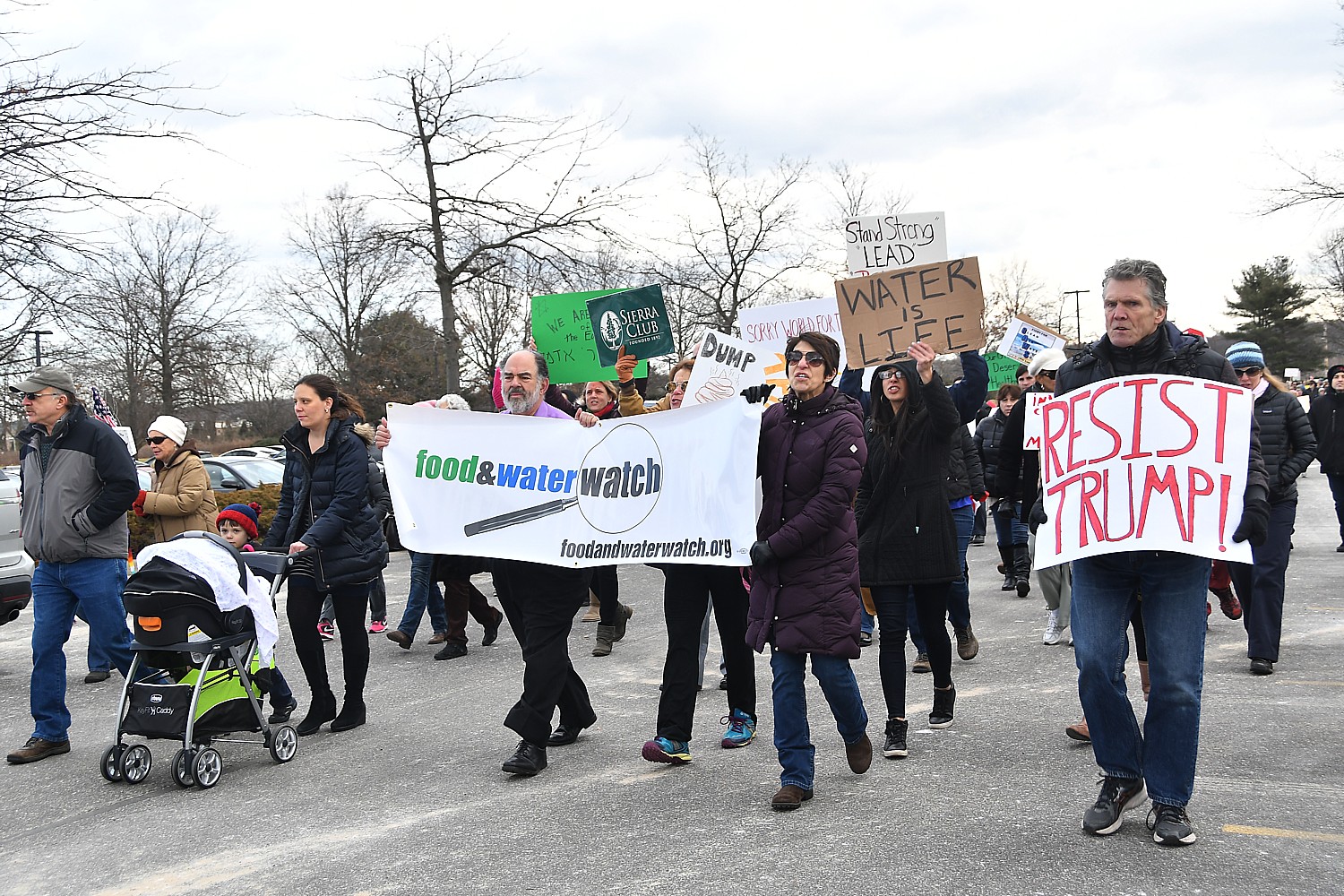 "The anti-Trump movement already eclipses the Tea Party at its height by 20 points. Democrats are finding our voice. Dissent and protest is happening on a greater scale. The New York Times in an editorial said Democrats simply cannot play by the old set of rules now that the Republicans are playing by new ones. [Neil] Gorsuch doesn't deserve confirmation [for the Supreme Court] because the process leading to his nomination was illegitimate."
Democrats have to mobilize for the local elections in 2017, try to flip the House and/or the Senate and take more state positions in 2018.
"We've had a few weeks to mourn the election. Not it's time to get off the pity pot and take action."
Ryan Madden, sustainability organizer for the LI Progressive Coalition, said the Trump election is a Trojan horse for corporate interests. "Pruitt, Sessions, Perry – every one a threat to the climate, the environment and our institutions… Attacks against environment, climate have the worst impacts on folks with the least ability to do something about it." It's a matter of economic and climate justice.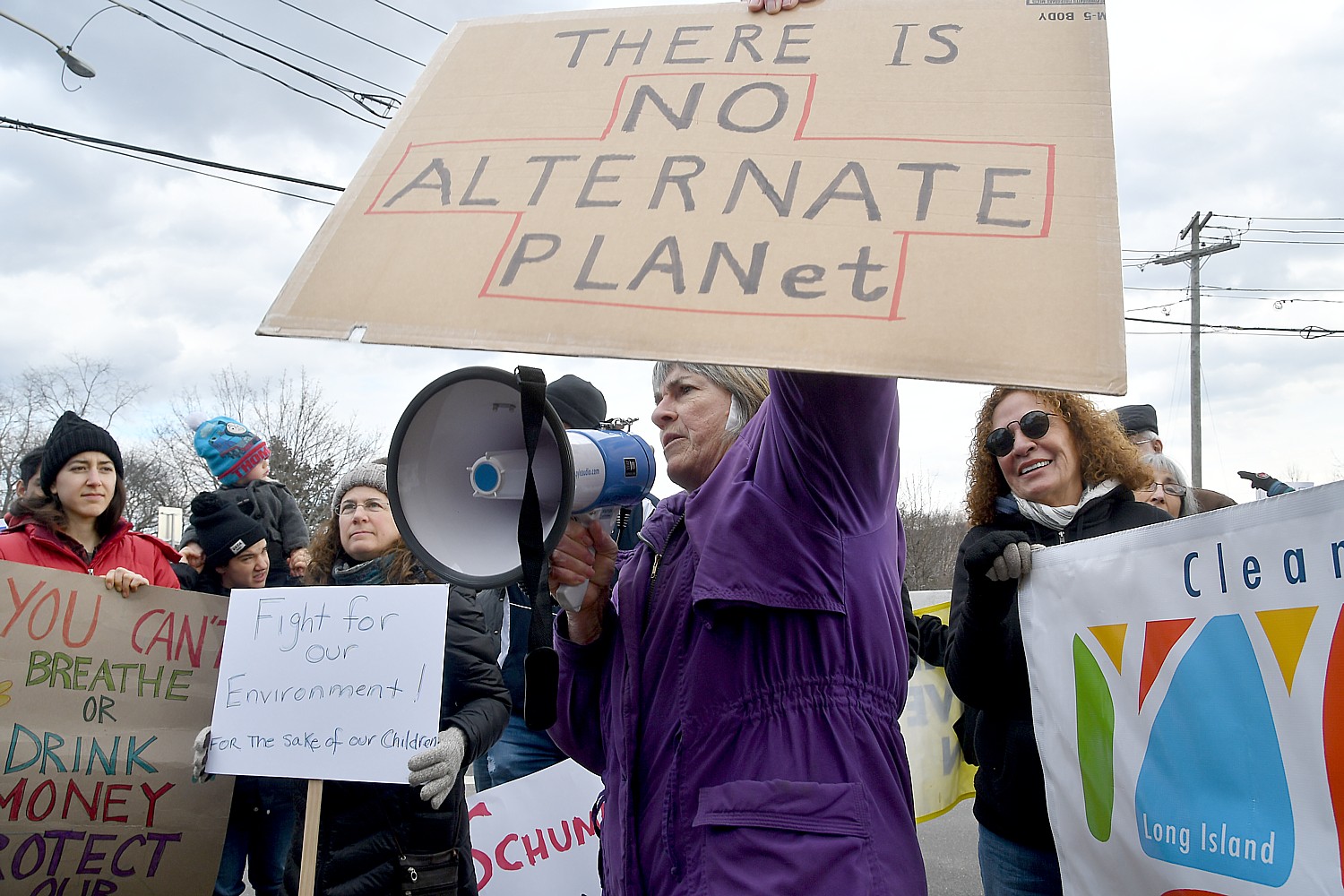 Jane Fasullo of the Sierra Club said simply, "There is no alternate planet. You can't eat or drink money – maybe you can burn it for heat. Schumer, do your job."
Dave Denenberg and Claudia Borecky of Clean Air Water Soil declared, "We want leadership from Schumer… We thought fracking was over in New York State. It might be coming back." The Navy was the responsible agency for cleaning up the Grumman plume at Bethpage, Trump wants to walk away from paying for clean up, he said.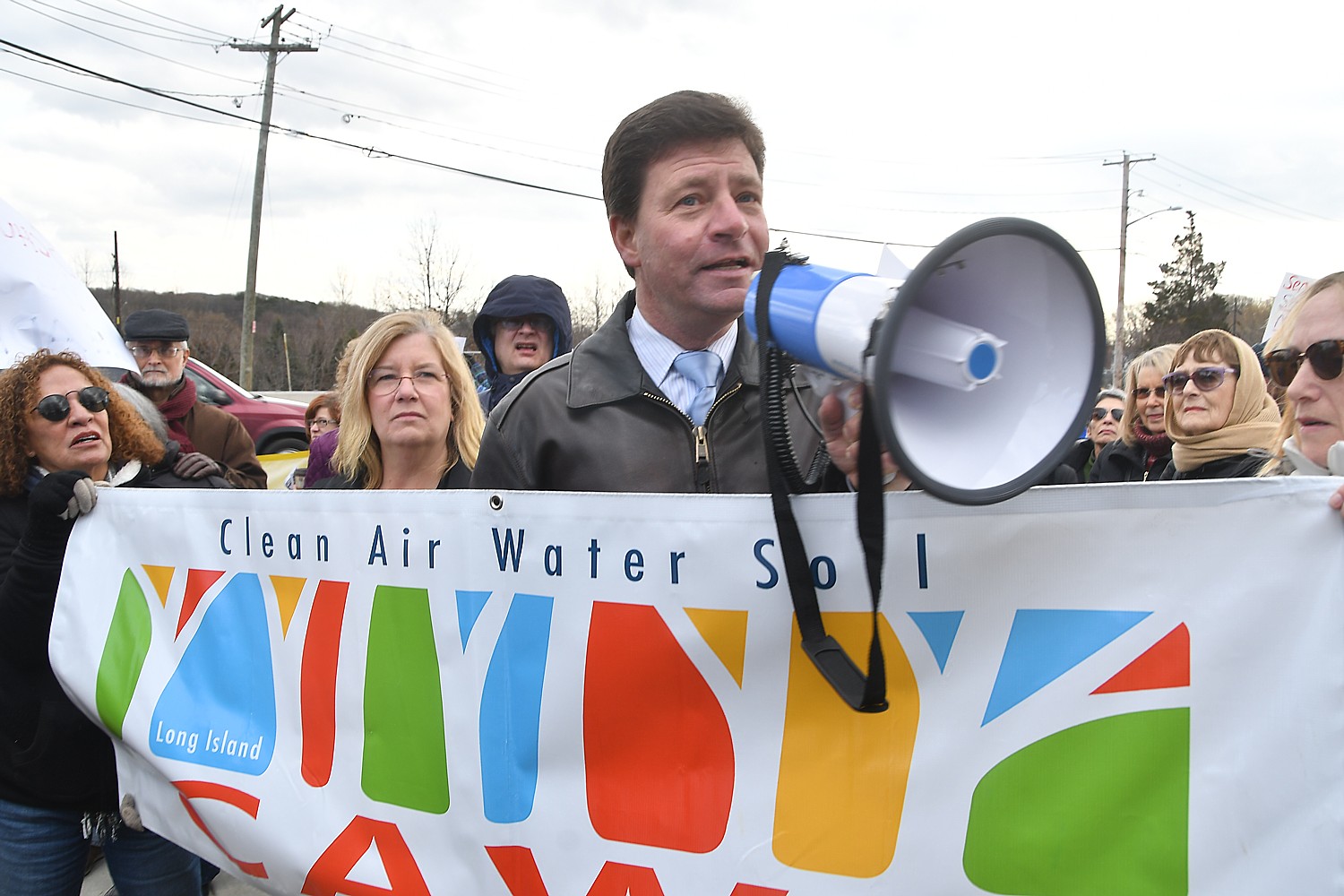 People carried signs such as "Tax Carbon. Trump Too." "Tell the Con Man in Chief: You Can't Fool Mother Nature. Take Climate Action." A young boy held a sign, "Please don't break my planet." Others urged Schumer to "Resist Trump" and "Be a Leader."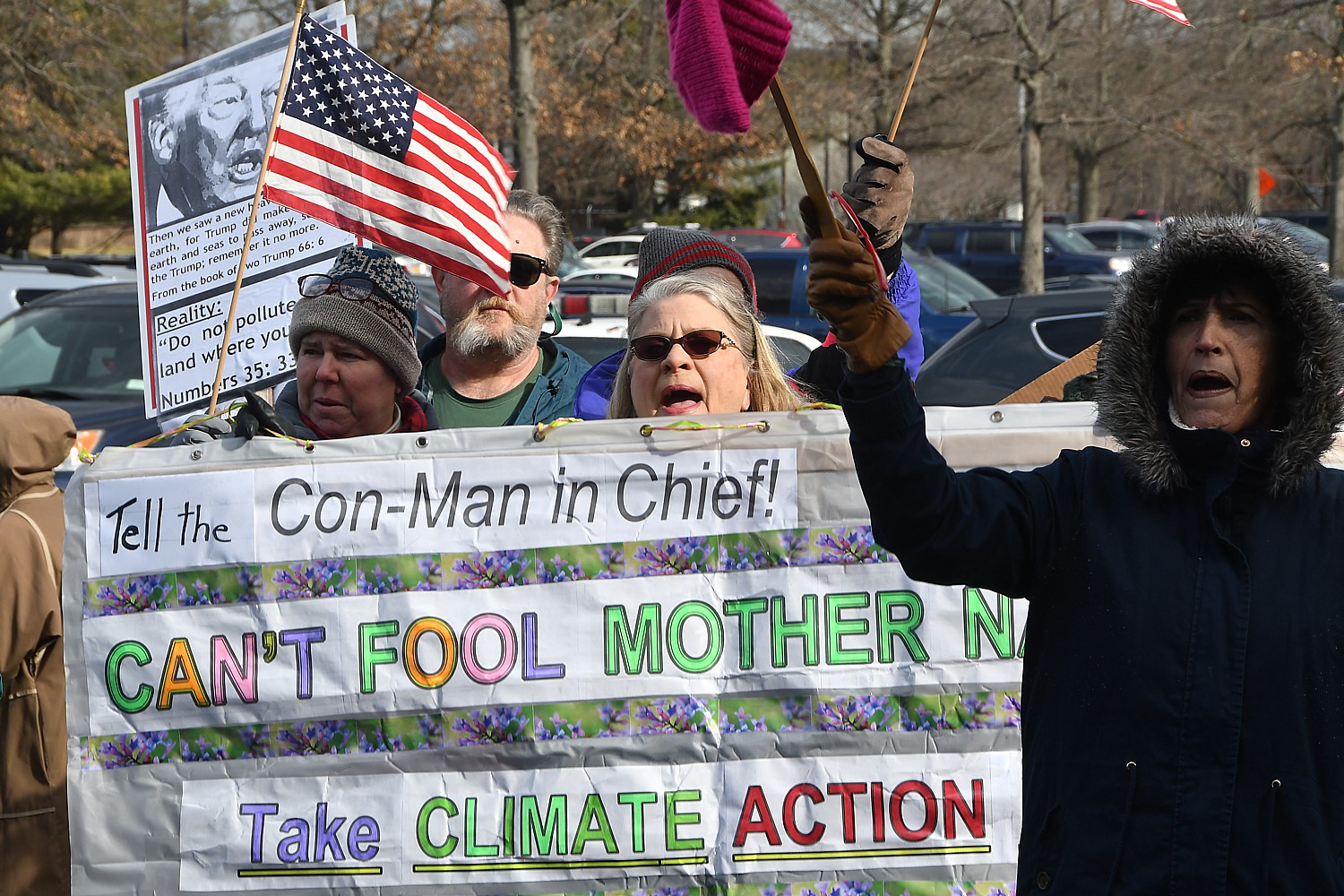 The group then marched through the parking lot to the front of Schumer's Long Island office and a few of the leaders, who had appointments, hand-delivered petitions, reporting back  that they were well received. "We'll be back," he said.
The simultaneous actions took place at all eight of Schumer's New York offices (Buffalo, Rochester,  Syracuse,  Binghamton,  Albany,  Peekskill,  Melville and Manhattan), as well as in Washington, DC.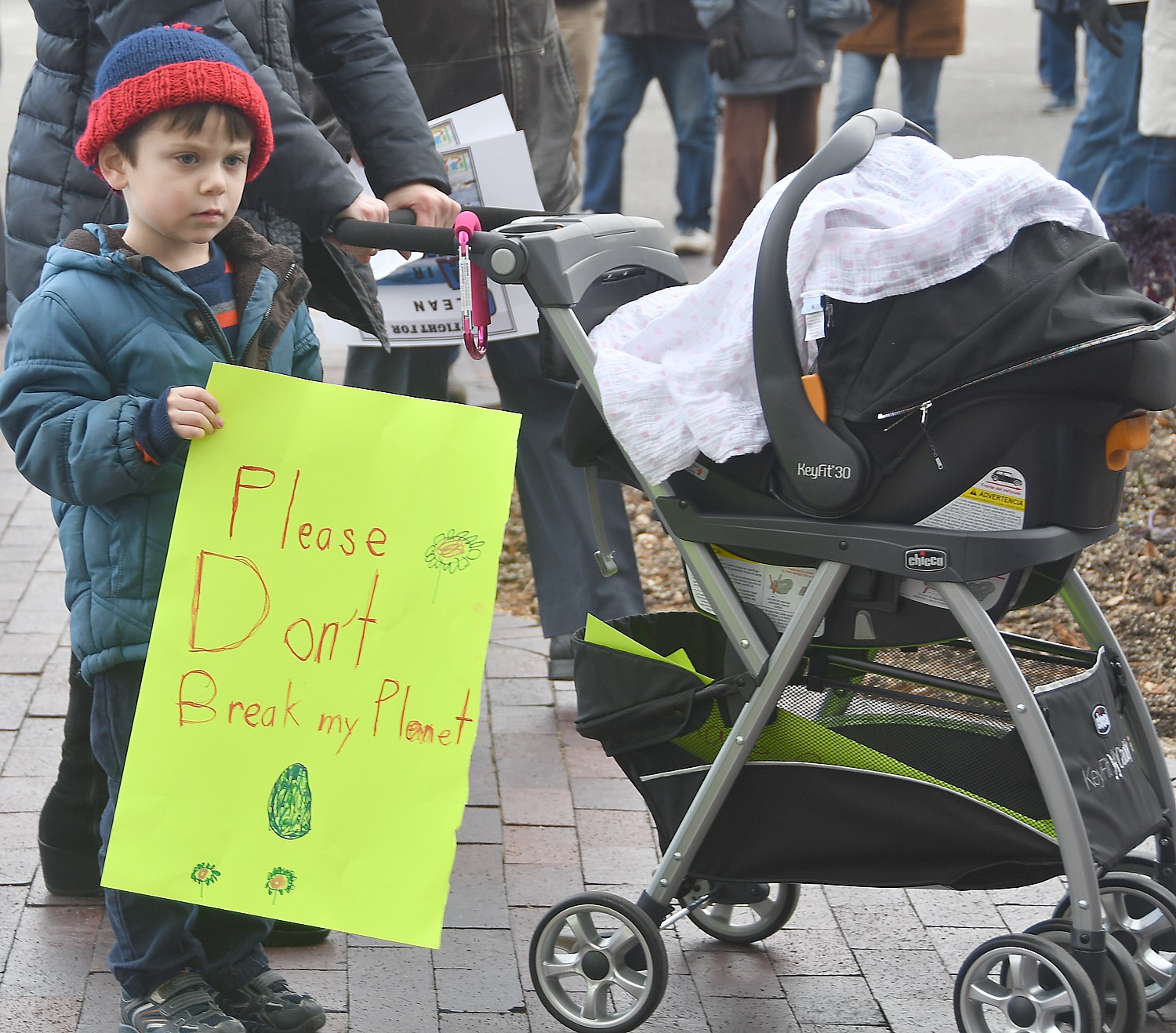 Sponsoring organizations include: Food & Water Watch, Long Island Progressive Coalition, Sierra Club, NYPIRG, MoveOn, Long Island Activists, Reach Out America, Slow Food North Shore, iEatGreen, 350.org, Long Island Clean Air Water & Soil, Public Citizen, Greenpeace
______________________________
© 2017 News & Photo Features Syndicate, a division of Workstyles, Inc. All rights reserved. For editorial feature and photo information, go to www.news-photos-features.com, email [email protected]. Blogging at  www.dailykos.com/blogs/NewsPhotosFeatures.  'Like' us on facebook.com/NewsPhotoFeatures, Tweet @KarenBRubin