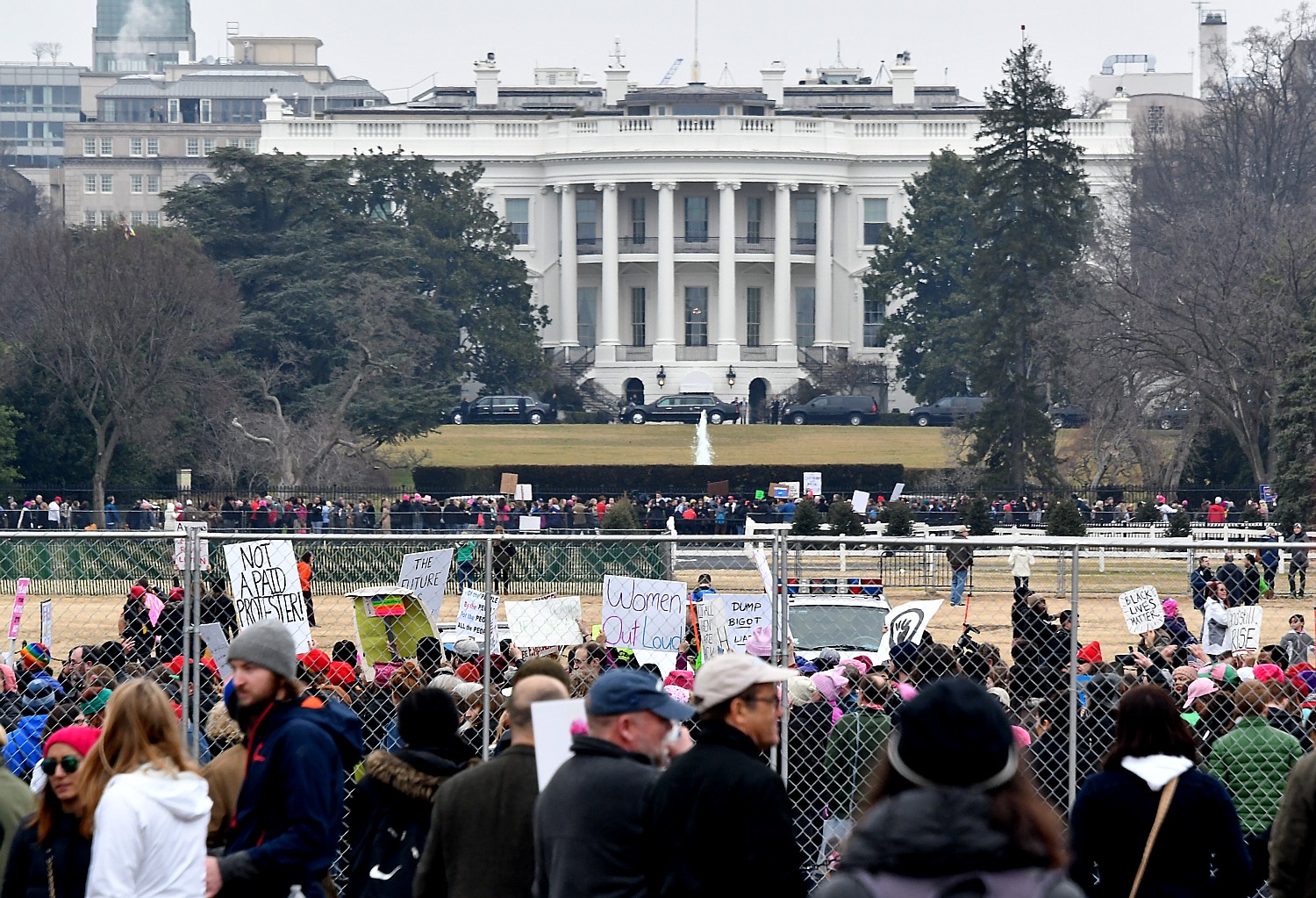 George Condon, National Journal, reports on Donald Trump's meeting with auto executives earlier today:
The president, accompanied by the vice president, entered the Roosevelt Room at 9:11, shook hands and greeted the auto executives who had been standing around on one side of the table waiting for him and chatting with top administration officials. The executives took their seats at the table and the president gave brief welcoming remarks before the pool exited at 9:16.
Transcript of remarks to come. But the tenor was set even before everybody sat down when he playfully said to two of the executives "start building in the U.S."
As everyone sat down, he was the gentleman and held the chair for Mary T. Barra of General Motors, saying, "Let me help you with that." After thanking them for coming, he assured them "you're not being singled out." Of job creation, he said, "It's happening; it's happening big league." He added, "We're bringing jobs back to the U.S. big league." He talked of regulations and the need to control them. He brought up environmental regs, saying, "I am an environmentalist…. But it's out of control." He promised that they would get answers on their permits much faster than they are now.
The president sat in the center chair. To his right was Barra, Chief Executive Officer and Chairperson of General Motors, then Craig Glidden of GM, then Steve Bannon. Across the table from Bannon was Stephen Miller, then Jared Kushner, the Gov. Matt Blunt, then Mark Fields of Ford, Ziad Ojakli of Ford, Hope Hicks, then Priebus. Back on the president's side of the table, it was Sergio Marchionne of Fiat to the president's left, then Shane Karr of the alliance of automobile manufacturers, and Josh Pitcock of the vice president's office. The vice president sat directly across the table from the president. In other small talk, the president kidded Marchionne about having spent the night flying to get to the meeting. And he wished one of the executives, Mark Fields, a happy birthday.
Here are his notes of what Trump told the executives:
"I want to just thank you all for being here. We have a very big push on to have auto plants and other plants, many other plants. You're not being singled out, believe me, Mary, I promise. But you have a lot of plants from a lot of different items built in the United States. And it's happening, it's happening big league.
"We had Whirlpool up yesterday, we're talking about big construction facilities. And it's not the construction I want although that brings jobs. It's the long term jobs that we're looking for.
"We're bringing manufacturing back to the United States big league, we're reducing taxes very substantially and we're reducing unnecessary regulations. And we want regulations but we want real regulation that mean something.
"Mark and I were together yesterday and I think we understand that. We're going to make the process much more simple for the auto companies and for everybody else who wants to do business in the United States.
"You're going to find this to be from being very inhospitable to extremely hospitable. I think we'll go down as one of the most friendly countries and right now it's not."
"I have friends that want to build in the United States, they go many, many years and then they can't get their environmental permit over something that nobody ever heard of before. And it's absolutely crazy.
"I am, to a large extent, an environmentalist, I believe in it. But it's out of control and we're going to make it a very short process. And we're going to either give you your permits or we're not going to give you your permits. But you're going to know very quickly. And generally speaking we're going to be giving you your permits.
"And it is an honor to be with you today."