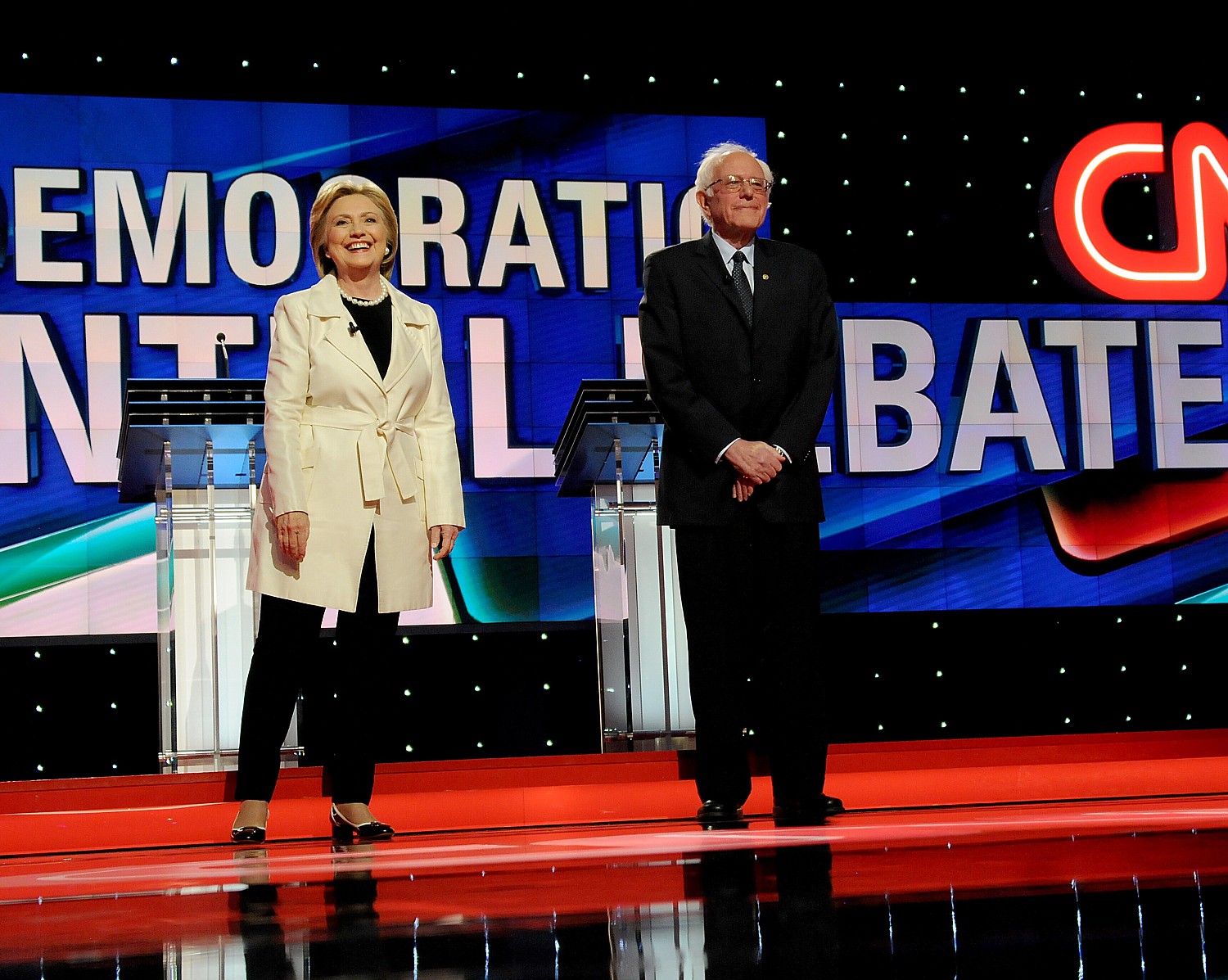 Ahead of the April 19 New York State Primary, the gloves came off between the two contenders for the Democratic presidential nomination, former Secretary of State and New York Senator Hillary Clinton and Vermont Senator Bernie Sanders, at what is being called "The Brooklyn Brawl" – the Democratic Debate at the Brooklyn Navy Yard. 
The confrontation was the most contentious to date, but still substantive with both candidates making strong arguments on major issues. 
Here are annotated highlights from the "Brooklyn Brawl" – the debate between Democratic contenders for the nomination for president, former Secretary of State and New York State Senator Hillary Clinton and Vermont Senator Bernie Sanders, based on a transcript provided by CNN, the news organization that hosted the debate, April 14. 
In this section, the candidates debate the issue of qualifications and credibility:
Qualifications & Credibility
WOLF BLITZER: Senator Sanders, in the last week, you've raised questions about Secretary Clinton's qualifications to be president. You said that something is clearly lacking in terms of her judgment and you accused her of having a credibility gap. So let me ask you, do you believe that Secretary Clinton has the judgment to be president?
SEN. BERNIE SANDERS (D-VT), PRESIDENTIAL CANDIDATE: Does Secretary Clinton have the experience and the intelligence to be a president? Of course she does. (APPLAUSE) But I do question (APPLAUSE) her judgment. I question a judgment which voted for the war in Iraq (APPLAUSE)– the worst foreign policy blunder in the history of this country, voted for virtually every disastrous trade agreement which cost us millions of decent-paying jobs. And I question her judgment about running super PACs which are collecting tens of millions of dollars from special interests, including $15 million from Wall Street. 
"I don't believe that that is (APPLAUSE) the kind of judgment we need to be the kind of president we need."
HILLARY CLINTON (D-NY), FORMER SECRETARY OF STATE, PRESIDENTIAL CANDIDATE: Well, it is true that now that the spotlight is pretty bright here in New York, some things have been said and Senator Sanders did call me unqualified. I've been called a lot of things in my life. That was a first.
"So, look, we have disagreements on policy. There's no doubt about it. But if you go and read, which I hope all of you will before Tuesday, Senator Sanders' long interview with the "New York Daily News," talk about judgment and talk about the kinds of problems he had answering questions about even his core issue, breaking up the banks. When asked, he could not explain how (LAUGHTER) — that would be done and (APPLAUSE) when asked (APPLAUSE) about a number of foreign policy issues, he could not answer about Afghanistan, about Israel, about counterterrorism, except to say if he'd had some paper in front of him, maybe he could. 
"I think you need to have the judgment on day one to be both president and commander-in-chief."
SANDERS: And let us talk about the worst foreign policy blunder in the modern history of this country. (APPLAUSE) I led the opposition to that war. Secretary Clinton voted for that. Well, let's talk about judgment. Let's talk about super PACs and 501(c)(4)s, money which is completely undisclosed. Do we really feel confident about a candidate saying that she's going to bring change in America when she is so dependent on big money interests? I don't think so. (APPLAUSE) Thirdly, we have got to understand that in America, we should be thinking big, not small.
Clinton, saying Sanders' attack on her was an attack on Obama, who took tens of millions of dollars from contributors and had a SuperPac, "And President Obama was not at all influenced when he made the decision to pass and sign Dodd-Frank, the toughest regulations on Wall Street in many a year," hit back saying, "this is a phony attack that is designed to raise questions when there is no evidence or support, to undergird the continuation that he is putting forward in these attacks." 
DANA BASH: Secretary Clinton, the government announced yesterday that five of the biggest banks on Wall Street have failed to develop plans to dismantle themselves in the event of another financial crisis. This is the second time in two years those banks neglected to come up with credible plans.
So, as president, would you call on regulators to start the process of breaking up these banks? Something that the law not only allows, but actually explicitly encourages? 
CLINTON: Absolutely. You know, this is what I've saying for the past year. No bank is too big to fail, no executive too powerful to jail. 
"I have been talking about what we should be doing under Dodd- Frank. I'm glad that Senator Sanders is now joining in talking about Dodd-Frank, because Dodd-Frank sets forth the approach that needs to be taken. I believe, and I will appoint regulators who are tough enough and ready enough to break up any bank that fails the test under Dodd-Frank.
"There are two sections there. If they fail either one, that they're a systemic risk, a grave risk to our economy, or if they fail the other, that their living wills, which is what you're referring to, is inadequate.
"Let's look at what is at stake here. We can never let Wall Street wreck Main Street again. I spoke out against Wall Street when I was a Senator from New York. I have been standing up and saying continuously we have the law. We've got to execute under it. So, you're right. I will move immediately to break up any financial institution, but I go further because I want the law to extend to those that are part of the shadow banking industry. The big insurance companies, the hedge funds, something that I have been arguing for now a long time."
BASH:  Senator Sanders, you were recently asked what you would replace the big Wall Street banks with if you could break them up. You said, quote, "That's their decision." Why would you trust the banks to restructure themselves when you said the whole business model was fraudulent?
Sanders reiterated his attack that Goldman Sachs and others are based on "fraudulent principles," but said, "I'm not sure that the government should say you are too big to fail. You've got to be a certain size. And, then the banks themselves can figure out what they want to sell off. I don't know that it's appropriate that the Department of Treasury to be making those decisions. What we need is to make sure that they are safe. (APPLAUSE)
(APPLAUSE) (CHEERING) kept Clinton from replying, but finally, she said, "I love being in Brooklyn."
Clinton took a different tack from Sanders, saying that Dodd-Frank provides the mechanisms to assess "too big to fail" and to deconstruct an institution with systemic risk, said determining how to break up a bank "has to be the judgment of the regulators.
"But, there's another element to this. I believe strongly that executives of any of these organizations should be financially penalized if there is a settlement. (APPLAUSE)
"They should have to pay up through compensation or bonuses because we have to go after not just the big giant institution, we have got to go after the people who are making the decisions in the institutions.  And hold them accountable as well. " (APPLAUSE)
BASH: Senator Sanders, you have consistently criticized Secretary Clinton for accepting money from Wall Street. Can you name one decision that she made as senator that shows that he favored banks because of the money she received? 
Sanders hemmed and hawed about how the Great Recession was the worst since the Great Depression of the 1930s and how he introduced legislation to break up the banks, but did not offer any decision Clinton made as Senator, which showed she favored banks because of money she received. Indeed, Senator Clinton was out of office after the Recession and became Obama's Secretary of State for four years; she made the speeches he attacks constantly as a private citizen.
CLINTON: Well, you can tell, Dana, he cannot come up with any example, because there is no example. (APPLAUSE)  
"It is important — it's always important. It may be inconvenient, but it's always important to get the facts straight. I stood up against the behaviors of the banks when I was a senator.  
"I called them out on their mortgage behavior. I also was very willing to speak out against some of the special privileges they had under the tax code. When I went to the secretary of state office, the president — President Obama led the effort to pass the Dodd-Frank bill.  
"That is the law. Now, this is our ninth debate. In the prior eight debates, I have said, we have a law. You don't just say, we're upset about this. I'm upset about it. You don't just say, go break them up. You have a law, because we are a nation of laws. So I support Dodd-Frank, but I have consistently said that's not enough. We've got to include the shadow banking sector. "
SANDERS takes a mocking tone, but doesn't actually answer the question and instead continues to use innuendo: Secretary Clinton called them out. Oh my goodness, they must have been really crushed by this. And was that before or after you received huge sums of money by giving speaking engagements? So they must have been very, very upset by what you did.  
"Look, here is the difference and here is the clear difference. These banks, in my view, have too much power. They have shown themselves to be fraudulent organizations endangering the well-being of our economy.  
"If elected president, I will break them up. We have got legislation to do that, end of discussion." 
But Clinton hit back that not only did she stand up to the banks when she was Senator, "making it clear that their behavior would not be excused," but "I'm the only one on this stage who did not vote to deregulate swaps and derivatives, as Senator Sanders did, which led to a lot of the problems that we had with Lehman Brothers.  
"Now, if you're going to look at the problems that actually caused the Great Recession, you've got to look at the whole picture. It was a giant insurance company, AIG. It was an investment bank, Lehman Brothers. It was mortgage companies like Countrywide.  
"I'm not saying that Senator Sanders did something untoward when he voted to deregulate swaps and derivatives but the fact is he did. And that contributed to the collapse of Lehman Brothers and started the cascade." (APPLAUSE)
Asked, once again during the debate, which seemed structured around every attack Sanders has made on Clinton, about releasing the transcripts of the Goldman Sachs speeches for which she was paid $225,000 (does it strike anybody that if Goldman Sachs paid that much, they would own the speeches rather than being in the public domain? Or that Goldman Sachs paid that much to have a figure of her prominence appear at their function, much the same as they would pay to have a SuperBowl Champion Quarterback attend an event?), Clinton attacked Sanders for failing to release his tax returns. While no candidate has released transcripts of speeches, it is expected for candidates to release their tax returns. (Clinton has released 30 years worth, with eight years online; Sanders and Donald Trump are the only two candidates so far who have not.) 
Sanders was handed an engraved invitation to attack Corporate America when Wolf Blitzer asked, "Senator, Senator, you've slammed companies like General Electric and Verizon for moving jobs outside of the United States. Yesterday, the CEO of Verizon called your views contemptible and said in your home state of Vermont Verizon has invested more than $16 million and pays millions of dollars a year to local businesses. He says you are, quote, "uninformed on this issue" and disconnected from reality. Given your obvious contempt for large American corporations, how would you as president of the United States be able to effectively promote American businesses around the world? 
SANDERS: Well, for a start, I would tell the gentleman who's the CEO at Verizon to start negotiating with the Communication Workers of America. (APPLAUSE)
"And this is — this is a perfect example, Wolf, of the kind of corporate greed which is destroying the middle class of this country. This gentleman makes $18 million a year in salary. That's his — that's his compensation. This gentleman is now negotiating to take away health care benefits of Verizon workers, outsource call center jobs to the Philippines, and — and trying to create a situation where workers will lose their jobs. He is not investing in the way he should in inner cities in America." (APPLAUSE)
BLITZER: All right. Senator, but the question was, the question was, given your contempt for large American corporations, as president, how would you be able to promote American business around the world?
SANDERS: First of all, the word contempt is not right. There are some great businesses who treat their workers and the environment with respect.(APPLAUSE) Verizon happens not to be one of them. (APPLAUSE)
"And what we need to do is to tell this guy Immelt, who's the head of General Electric, he doesn't like me, well, that's fine. He has outsourced hundreds of thousands of decent-paying jobs throughout the world (APPLAUSE) cut his workforce here substantially and in a given year, by the way, it turns out that both Verizon and General Electric, in a given year, pay nothing in federal income tax despite making billions in profits." (BOOS)
That led to another gift for Sanders, inviting him to declare that "for a start, we're going to raise the minimum wage to 15 bucks an hour. (APPLAUSE) And number two, while it is true we may end up paying a few cents more for a hamburger in McDonald's, at the end of the day, what this economy desperately needs is to rebuild our manufacturing sector with good-paying jobs." And for added measure, he got in a dig at Clinton for supporting trade agreements.
CLINTON: Well, first of all, I do have a very comprehensive plan to create more jobs and I think that has to be at the center of our economic approach. And so I think it is important that we do more on manufacturing. I went to Syracuse and laid out a $10 billion plan that would, I believe, really jump-start advanced manufacturing.
"I have seen the results of what can happen when we have the government cooperating with business. And that's exactly what I will do.
"When I was Secretary of State, I helped to lead the way to increased exports of American good around the world, which supports tens of thousands of jobs.
"So I think you've got to go at this with a sense of how to accomplish the goal we are setting — more good jobs with rising incomes for people everywhere from inner cities to rural areas to every distressed community in America. And that's exactly what my plan would bring about.
"I think we have a pretty good record if we look at what happened in the 1990s, we got 23 million new jobs and incomes went up for everybody. Let's do that again in America," she said, trying to get out her comment despite being cut off by Blitzer, who then set up another attack on her by suggesting that she did not favor $15 minimum wage."
"I have supported the fight for 15. I am proud to have the endorsement of most of the unions that have led the fight for 15. I was proud to stand on the stage with Governor Cuomo, with SEIU and others who have been leading this battle and I will work as hard as I can to raise the minimum wage. I always have. I supported that when I was in the Senate.
"But what I have also said is that we've got to be smart about it, just the way Governor Cuomo was here in New York. If you look at it, we moved more quickly to $15 in New York City, more deliberately toward $12, $12.50 upstate then to $15. That is exactly my position. It's a model for the nation and that's what I will do as president.  Go as quickly as [possible] (CROSSTALK) to get to $15." (APPLAUSE)
That led to a particularly vicious back and forth with Sanders attacking her for initially calling for the federal wage being raised to $12
CLINTON: I have said from the very beginning that I supported the fight for $15. I supported those on the front lines of the fight for — it happens to be true. I also — I supported the $15 effort in L.A. I supported in Seattle. I supported it for the fast food workers in New York.
"The minimum wage at the national level right now is $7.25, right? We want to raise it higher than it ever has been, but we also have to recognize some states and some cities will go higher, and I support that. I have taken my cue from the Democrats in the Senate, led by Senator Patty Murray and others, like my good friend Kirsten Gillibrand, who has said we will set a national level of $12 and then urge any place that can go above it to go above it.
"Going from $7.25 to $12 is a huge difference. Thirty-five million people will get a raise. One in four working mothers will get a raise. I want to get something done. And I think setting the goal to get to $12 is the way to go, encouraging others to get to $15. But, of course, if we have a Democratic Congress, we will go to $15." (APPLAUSE)
SANDERS: Now, in fact — in fact, there is an effort, Patty Murray has introduced legislation for $12 minimum wage. That's good. I introduced legislation for $15 an hour minimum wage which is better. (APPLAUSE) And ultimately what we have got to determine is after massive transfer of wealth from the middle class to the top 0.1 percent, when millions of our people are working longer hours for low wages. I think we have got to be clear, not equivocate, $15 in minimum wage in 50 states in this country as soon as possible.
Next: Gun Violence & Criminal Justice 
______________________________________
© 2016 News & Photo Features Syndicate, a division of Workstyles, Inc. All rights reserved. For editorial feature and photo information, email [email protected]. 'Like' us on facebook.com/NewsPhotoFeatures, Tweet @KarenBRubin