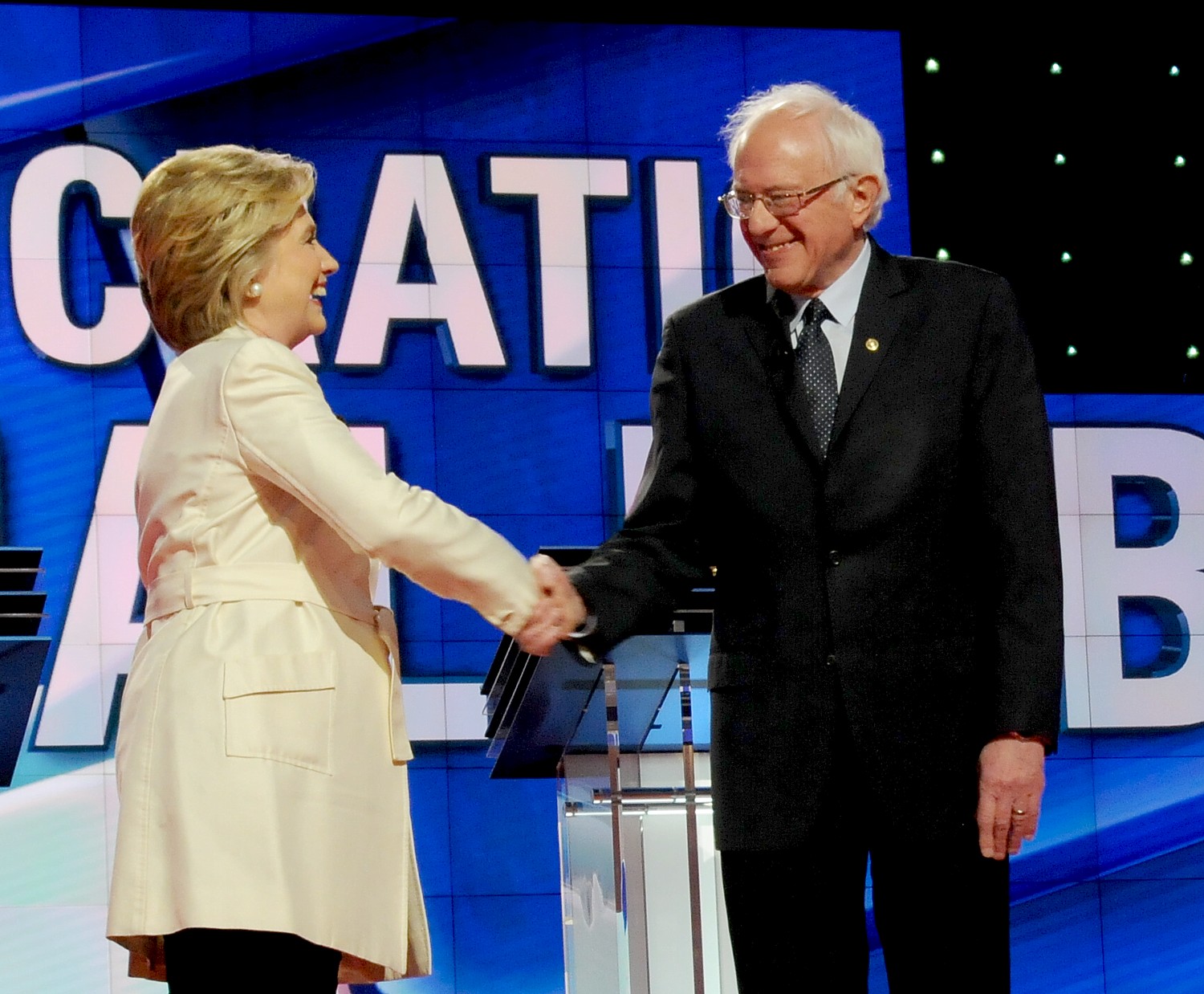 Ahead of the April 19 New York State Primary, the gloves came off between the two contenders for the Democratic presidential nomination, former Secretary of State and New York Senator Hillary Clinton and Vermont Senator Bernie Sanders, at what is being called "The Brooklyn Brawl" – the Democratic Debate at the Brooklyn Navy Yard. 
The confrontation was the most contentious to date, but still substantive with both candidates making strong arguments on major issues. 
Here are annotated highlights from the "Brooklyn Brawl" – the debate between Democratic contenders for the nomination for president, former Secretary of State and New York State Senator Hillary Clinton and Vermont Senator Bernie Sanders, based on a transcript provided by CNN, the news organization that hosted the debate, April 14. 
In this section, the candidates discuss gun violence and criminal justice. 
Gun Violence & Criminal Justice
Guns in America. Secretary Clinton, you've said that Vermont, Senator Sanders' home state, has, quote, "the highest per capita number of guns that end up committing crimes in New York." But only 1.2 percent of the guns recovered in New York in 2014 were from Vermont. Are you seriously blaming Vermont, and implicitly Senator Sanders, for New York's gun violence? 
CLINTON: No, of course not. Of course not. This is — this is a serious difference between us. (Sanders starts to laugh) And what I want to start by saying — it's not a laughing matter — 90 people on average a day are killed or commit suicide or die in accidents from guns, 33,000 people a year. I take it really seriously, because I have spent more time than I care to remember being with people who have lost their loved ones.
"So, yes, we have a problem in America. We need a president who will stand up against the gun lobby. We need a president who will fight for commonsense gun safety reforms. (APPLAUSE)
And what we have here is a big difference. Senator Sanders voted against the Brady Bill five times. He voted for the most important NRA priority, namely giving immunity from liability to gun-makers and dealers, something that is at the root of a lot of the problems that we are facing.
"Then he doubled down on that in the New York Daily News interview, when asked whether he would support the Sandy Hook parents suing to try to do something to rein in the advertising of the AR-15, which is advertised to young people as being a combat weapon, killing on the battlefield. He said they didn't deserve their day in court. I could not disagree more.
"And, finally, this is the only industry in America, the only one (APPLAUSE) that has this kind of special protection. We hear a lot from Senator Sanders about the greed and recklessness of Wall Street, and I agree. We've got to hold Wall Street accountable, well, what about the greed and recklessness of gun manufacturers and dealers in America?" (APPLAUSE) (CHEERING)
Sanders then attacked her for not answering the question about whether Vermont was responsible for New York's gun violence, to which Blitzer said, "She said no." 
Sanders then went on to boast how he probably lost his first election for Congress, in 1988, because of the NRA. But the point is that he never challenged the NRA since (even though he now boasts of a D-minus record from the NRA). Caving to lobbyists is not just about who gives money, but who threatens to throw resources at defeating you – in both instances, the lobbyist controls the elected official. 
Clinton said as much in her rebuttal:
CLINTON: Well, the facts are that most of the guns that end up committing crimes in New York come from out of state. They come from the states that don't have kind of serious efforts to control guns that we do in New York.
"But let me say this — in 1988, as we've heard on every debate occasion, Senator Sanders did run for the Congress and he lost. He came back in 1990 and he won, and during that campaign he made a commitment to the NRA that he would be against waiting periods.
"And, in fact, in his own book, he talks about his 1990 campaign, and here's what he said. He clearly was helped by the NRA, because they ran ads against his opponent. So, then he went to the Congress, where he has been a largely very reliable supporter of the NRA. Voting — he kept his word to the NRA, he voted against the Brady Bill five times because it had waiting periods in it. Thankfully, enough people finally voted for it to keep guns out of the hands of who should not have them." (APPLAUSE)
BLITZER: Senator, you recently said you do not think crime victims should be able to sue gun makers for damages. The daughter of the Sandy Hook Elementary School who was killed back in the 2012 mass shooting, says you owe her and families an apology. Do you?
SANDERS: What we need to do is to do everything that we can to make certain that guns do not fall into the hands of people who do not have them.
"Now, I voted against this gun liability law because I was concerned that in rural areas all over this country, if a gun shop owner sells a weapon legally to somebody, and that person then goes out and kills somebody, I don't believe it is appropriate that that gun shop owner who just sold a legal weapon to be held accountable and be sued.
"But, what I do believe is when gun shop owners and others knowingly are selling weapons to people who should not have them — somebody walks in, they want thousands of rounds of ammunition, or they want a whole lot of guns, yes, that gun shop owner or that gun manufacturer should be held liable."
BLITZER: So, Senator, do you owe the Sandy Hook families an apology? 
SANDERS: No, I don't think I owe them an apology. They are in court today, and actually they won a preliminary decision today. They have the right to sue, and I support them and anyone else who wants the right to sue.
CLINTON: Well, I believe that the law that Senator Sanders voted for that I voted against, giving this special protection to gun manufacturers and to dealers, is an absolute abdication of responsibility on the part of those who voted for it. 
"This is a unique gift given to only one industry in the world by the United States Congress, as Senator Murphy from Connecticut said, we have tougher standards holding toy gun manufacturers and sellers to account than we do for real guns.
"And the point that Senator Sanders keeps making about how he wouldn't want a mom and pop store — that was not the point of this. And if he can point to any, any incident where that happened, I would love to hear about it.
"What was really going on, I'll tell you, because it has a lot to do with New York City. New York City was on the brink of being able to hold manufacturers and dealers accountable through a very carefully crafted legal strategy. The NRA came to their supporters in the Congress and said, stop it, stop it now, and Senator Sanders joined those who did."
1994 Crime Bill
Errol Lewis, of New York 1 Time Warner Cable News, once again took up an issue that has been used against Clinton: Secretary Clinton, the 1994 crime bill that you supported [when she was First Lady] added 100,000 police officers across the country and banned certain assault weapons. It also imposed tougher prison sentences and eliminated federal funding for inmate education. Looking at the crime bill as a whole, do you believe it was a net positive or do you think it was a mistake? 
CLINTON: Well, I think that it had some positive aspects to it. And you mentioned some of them. The Violence Against Women Act, which has been a very important piece of legislation, in my opinion. (APPLAUSE)
"And it also did some things which were to provide more opportunities for young people. So if we were to have the balance sheet on one side, there are some positive actions and changes. 
"On the other side, there were decisions that were made that now we must revisit and we have to correct. I think that sentences got much too long. The original idea was not that we would increase sentences for non-violent low-level offenders, but once the federal government did what it did, states piled on.
"So we have a problem. And the very first speech I gave in this campaign was about what I will do to reform the criminal justice system and end the over-mass incarceration. 
"So I think that if all of us go and look back at where we were, Senator Sanders voted for the crime bill, and he says the same thing, there were some good things, and things that we have to change and learn from. 
"So that's how I see it. And I think we ought to be putting our attention on forging a consensus to make the changes that will divert more people from the criminal justice system to start, to tackle systemic racism and divert people in the beginning."
Louis then came back with a second attack: LOUIS: Now earlier this year, a South Carolina voter told your daughter Chelsea, quote, "I think a lot of African-Americans want to hear, you know what, we made a mistake." Chelsea said she has heard you apologize, but went on to say that if the voter hadn't heard it then, quote, "it's clearly insufficient."  Do you regret your advocacy for the crime bill?  
CLINTON: Well, look, I supported the crime bill. My husband has apologized. He was the president who actually signed it, Senator Sanders voted for it. I'm sorry for the consequences that were unintended and that have had a very unfortunate impact on people's lives. I've seen the results of what has happened in families and in communities.
"That's why I chose to make my very first speech a year ago on this issue, Errol, because I want to focus the attention of our country and to make the changes we need to make. And I also want people (APPLAUSE) especially I want — I want white people — I want white people to recognize that there is systemic racism. It's also in employment, it's in housing, but it is in the criminal justice system, as well." (APPLAUSE)
LOUIS: Senator Sanders, earlier this week at the Apollo Theater in Harlem, you called out President Clinton for defending Secretary Clinton's use of the term super-predator back in the '90s when she supported the crime bill. Why did you call him out?
SANDERS: Because it was a racist term, and everybody knew it was a racist term. (APPLAUSE)
"Look, much of what Secretary Clinton said was right. We had a crime bill. I voted for it. It had the Violence Against Women Act in it. When as mayor of Burlington, we worked very hard to try to eliminate domestic violence. This took us a good step forward. We're talking about the weapon that killed the children in Sandy Hook. This banned assault weapons, not insignificant.
"But where we are today is we have a broken criminal justice system. We have more people in jail than any other country on Earth. And in my view, what we have got to do is rethink the system from the bottom on up. And that means, for a start — and we don't talk about this. The media doesn't talk about it — you got 51 percent of African-American kids today who graduated high school who are unemployed or underemployed. You know what I think? Maybe we invest in jobs and education for those kids, not jails and incarceration. (APPLAUSE)
"And I'll tell you what else. And I'll tell you what else I think. And that is, we have got — and this is the difference between the secretary and myself as I understand it. We have got to have the guts to rethink the so-called war on drugs. Too many lives have been destroyed because people possessed marijuana, millions over a 30-year period. And that is why I believe we should take marijuana out of the federal Controlled Substance Act." (APPLAUSE)
CLINTON: Well, look, I think that, as Senator Sanders said about what I said, I will say about what he said. I think that we recognize that we have a set of problems that we cannot ignore and we must address. And that is why I have been promoting for my entire adult life the idea of investing early in kids, early childhood education, universal pre-K, like what Mayor de Blasio brought to New York. We have got to help more kids get off to a good start. That's why I want a good teacher in a good school for every child, regardless of the zip code that child lives in and to be really focused on how we build ladders of opportunity and tear down these barriers that stand in the way of people getting ahead.
Senator Sanders, I have a question for you related to this. So you've said that by the end of your first term as president, the U.S. will no longer lead the world in mass incarceration. To fulfill that promise, you'd have to release roughly half a million prisoners. How are you going to do that, since the vast majority of American prisoners are not under federal jurisdiction?
SANDERS: We're going to work with state governments all over this country. And you know what? In a very divided Congress, and a very divided politics in America, actually the one area where there is some common ground is conservatives understand that it's insane to be spending $80 billion a year locking up 2.2 million people. 
"With federal and presidential leadership, we will work with state governments to make sure that people are released from jail under strong supervision, that they get the kind of job training and education they need so they can return to their communities. On this one, Errol, actually I think you're going to see progressive and conservative support. We can do it, if we're prepared to be bold."
Next: Climate Change, Energy & the Environment
See also:
Brooklyn Brawl: Democrats Clinton & Sanders Debate Qualifications, Credibility 
______________________________________
© 2016 News & Photo Features Syndicate, a division of Workstyles, Inc. All rights reserved. For editorial feature and photo information, email [email protected] 'Like' us onfacebook.com/NewsPhotoFeatures, Tweet @KarenBRubin