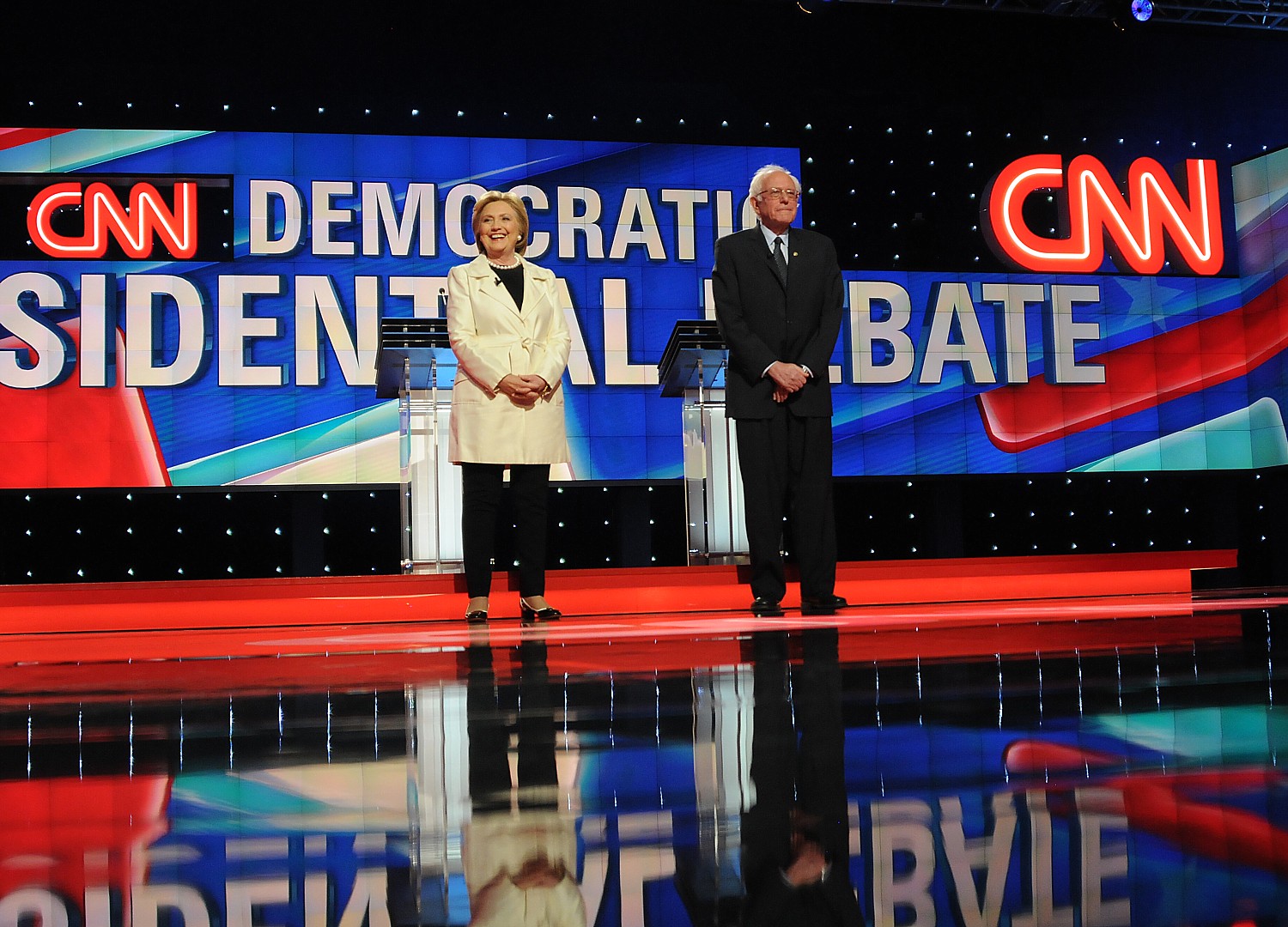 Ahead of the April 19 New York State Primary, the gloves came off between the two contenders for the Democratic presidential nomination, former Secretary of State and New York Senator Hillary Clinton and Vermont Senator Bernie Sanders, at what is being called "The Brooklyn Brawl" – the Democratic Debate at the Brooklyn Navy Yard. 
The confrontation was the most contentious to date, but still substantive with both candidates making strong arguments on major issues. 
Here are annotated highlights from the "Brooklyn Brawl" – the debate between Democratic contenders for the nomination for president, former Secretary of State and New York State Senator Hillary Clinton and Vermont Senator Bernie Sanders, based on a transcript provided by CNN, the news organization that hosted the debate, April 14. 
In this section, the candidates discuss climate change, energy and the environment: 
Climate Change, Energy & the Environment 
In yet another question framed around a Sanders attack, Blitzer asks, "Secretary Clinton, Senator Sanders has said you are in the pocket of the fossil fuel industry. You say you're sick and tired of him lying about your record. What are his lies?"
CLINTON: Well, let me start by saying we need to talk about this issue and we should talk about it in terms of the extraordinary threats that climate change pose to our country and our world. And that's why for the last many years, both in the Senate and as secretary of State, it's been a big part of my commitment to see what could be done.
"But there has never been any doubt that when I was a senator, I tried — I joined with others to try to get rid of the subsidies for big oil. And I have proposed that again, because that's what I think needs to be done as we transition from fossil fuels to clean energy. And everyone who's looked at this independently, "The Washington Post" and others, who give us both hard times when called for on facts, have said that this is absolutely an incorrect false charge.
"So, we both have relatively small amounts of contributions from people who work for fossil fuel companies. Best we can tell from the reports that are done. But, that is not being supported by big oil, and I think it's important to distinguish that. And, let's talk about what each of us has proposed to try to combat greenhouse gas emissions and put us on the fastest track possible to clean energy."
SANDERS: Now, what I think is when we look at climate change now, we have got to realize that this is a global environmental crisis of unprecedented urgency. (APPLAUSE) (CHEERING)
"And, it is not good enough. You know, if we, God forbid, were attacked tomorrow the whole country would rise up and say we got an enemy out there and we got to do something about it. That was what 9/11 was about.
"We have an enemy out there, and that enemy is going to cause drought and floods and extreme weather disturbances. There's going to be international conflict. (APPLAUSE) I am proud, Wolf, that I have introduced the most comprehensive climate change legislation including a tax on carbon. Something I don't believe Secretary Clinton supports."
CLINTON: Well, let's talk about the global environmental crisis. Starting in 2009 as your Secretary of State, I worked with President Obama to bring China and India to the table for the very first time, to get a commitment out of them that they would begin to address their own greenhouse gas emissions. (APPLAUSE)
"I continued to work on that throughout the four years as Secretary of State, and I was very proud that President Obama and America led the way to the agreement that was finally reached in Paris with 195 nations committing to take steps to actually make a difference in climate change. (APPLAUSE)
"And, I was surprised and disappointed when Senator Sanders attacked the agreement, said it was not enough, it didn't go far enough. You know, at some point putting together 195 countries, I know a little bit about that, was a major accomplishment (APPLAUSE CHEERING) and, our President led the effort to protect our world and he deserve our appreciation, not our criticism."
SANDERS: Let's talk about that. When you were Secretary of State, you also worked hard to expand fracking to countries all over the world. (CHEERING) 
"The issue here — of course the agreement is a step forward, but you know agreements and I know agreements, there's a lot of paper there. We've got to get beyond paper right now. We have got to lead the world in transforming our energy system, not tomorrow, but yesterday. (APPLAUSE) And, what that means, Wolf, it means having the guts to take on the fossil fuel industry. Now, I am on board legislation that says, you know what, we ain't going to excavate for fossil fuel on public land. That's not Secretary Clinton's position.
Let us support a tax on carbon."
CLINTON: Well, I'm a little bewildered about how to respond when you have an agreement which gives you the framework to actually take the action that would have only come about because under the Obama administration in the face of implacable hostility from the Republicans in Congress, President Obama moved forward on gas mileage, he moved forward on the clean power plant. He has moved forward on so many of the fronts that he could given the executive actions that he was able to take. (APPLAUSE) 
"And, you know, I am getting a little bit — I'm getting a little bit concerned here because, you know, I really believe that the President has done an incredible job against great odds and deserves to be supported. (APPLAUSE) (CHEERING)
"Now, it's easy to diagnose the problem. It's harder to do something about the problem." (APPLAUSE)
Fracking
LOUIS: Secretary Clinton, as secretary of state, you also pioneered a program to promote fracking around the world, as you described. Fracking, of course, a way of extracting natural gas. Now as a candidate for president, you say that by the time you're done with all your rules and regulations, fracking will be restricted in many places around the country. Why have you changed your view on fracking? 
CLINTON: No, well, I don't think I've changed my view on what we need to do to go from where we are, where the world is heavily dependent on coal and oil, but principally coal, to where we need to be, which is clean renewable energy, and one of the bridge fuels is natural gas.
"And so for both economic and environmental and strategic reasons, it was American policy to try to help countries get out from under the constant use of coal, building coal plants all the time, also to get out from under, especially if they were in Europe, the pressure from Russia, which has been incredibly intense. So we did say natural gas is a bridge. We want to cross that bridge as quickly as possible, because in order to deal with climate change, we have got to move as rapidly as we can.
"That's why I've set big goals. I want to see us deploy a half a billion more solar panels by the end of my first term and enough clean energy to provide electricity to every home in America within 10 years.  (APPLAUSE)
"So I have big, bold goals, but I know in order to get from where we are, where the world is still burning way too much coal, where the world is still too intimidated by countries and providers like Russia, we have got to make a very firm but decisive move in the direction of clean energy."
SANDERS: This is a difference between understanding that we have a crisis of historical consequence here, and incrementalism and those little steps are not enough. (APPLAUSE)
"Not right now. Not on climate change. Now, the truth is, as secretary of state, Secretary Clinton actively supported fracking technology around the world. Second of all, right now, we have got to tell the fossil fuel industry that their short-term profits are not more important than the future of this planet. (APPLAUSE)
"And that means — and I would ask you to respond. Are you in favor of a tax on carbon so that we can transit away from fossil fuel to energy efficiency and sustainable energy at the level and speed we need to do?" (APPLAUSE)
CLINTON: You know, I have laid out a set of actions that build on what President Obama was able to accomplish, building on the clean power plan, which is currently under attack by fossil fuels and the right in the Supreme Court, which is one of the reasons why we need to get the Supreme Court justice that President Obama has nominated to be confirmed so that we can actually continue to make progress.  
"I don't take a back seat to your legislation that you've introduced that you haven't been able to get passed. I want to do what we can do to actually make progress in dealing with the crisis. That's exactly what I have proposed. And my approach I think is going to get us there faster without tying us up into political knots with a Congress that still would not support what you are proposing." 
LOUIS: I have a question for you, Senator. You've said that climate change is the greatest threat to our nation's security. You've called for a nationwide ban on fracking. You've also called for phasing out all nuclear power in the U.S. But wouldn't those proposals drive the country back to coal and oil, and actually undermine your fight against global warming?  
SANDERS: No, they wouldn't. Look, here's where we are. Let me reiterate. We have a global crisis. Pope Francis reminded us that we are on a suicide course. Our legislation understands, Errol, that there will be economic dislocation. It is absolutely true. There will be some people who lose their job. And we build into our legislation an enormous amount of money to protect those workers. It is not their fault that fossil fuels are destroying our climate. But we have got to stand up and say right now, as we would if we were attacked by some military force, we have got to move urgency — urgently and boldly.
UNIDENTIFIED MALE: Jobs are one thing, but with less than 6 percent of all U.S. energy coming from solar, wind and geothermal, and 20 percent of U.S. power coming from nuclear, if you phase out all of that, how do you make up that difference?
SANDERS: Well, you don't phase it all out tomorrow. And you certainly don't phase nuclear out tomorrow. What you do do is say that we are going to have a massive program — and I had introduced — introduced legislation for 10 million solar rooftops. We can put probably millions of people to work retrofitting and weatherizing buildings all over this country. (CHEERING) Saving — rebuilding our rail system. (APPLAUSE) Our mass transit system. (APPLAUSE)
"If we approach this, Errol, as if we were literally at a war…that is exactly the kind of approach we need right now."
Next: National Security & Foreign Policy 
See also:
Brooklyn Brawl: Democrats Clinton & Sanders Debate Qualifications, Credibility 
Brooklyn Brawl: Democrats Clinton & Sanders Debate Gun Violence & Criminal Justice
______________________________________
© 2016 News & Photo Features Syndicate, a division of Workstyles, Inc. All rights reserved. For editorial feature and photo information, email [email protected]. 'Like' us onfacebook.com/NewsPhotoFeatures, Tweet @KarenBRubin