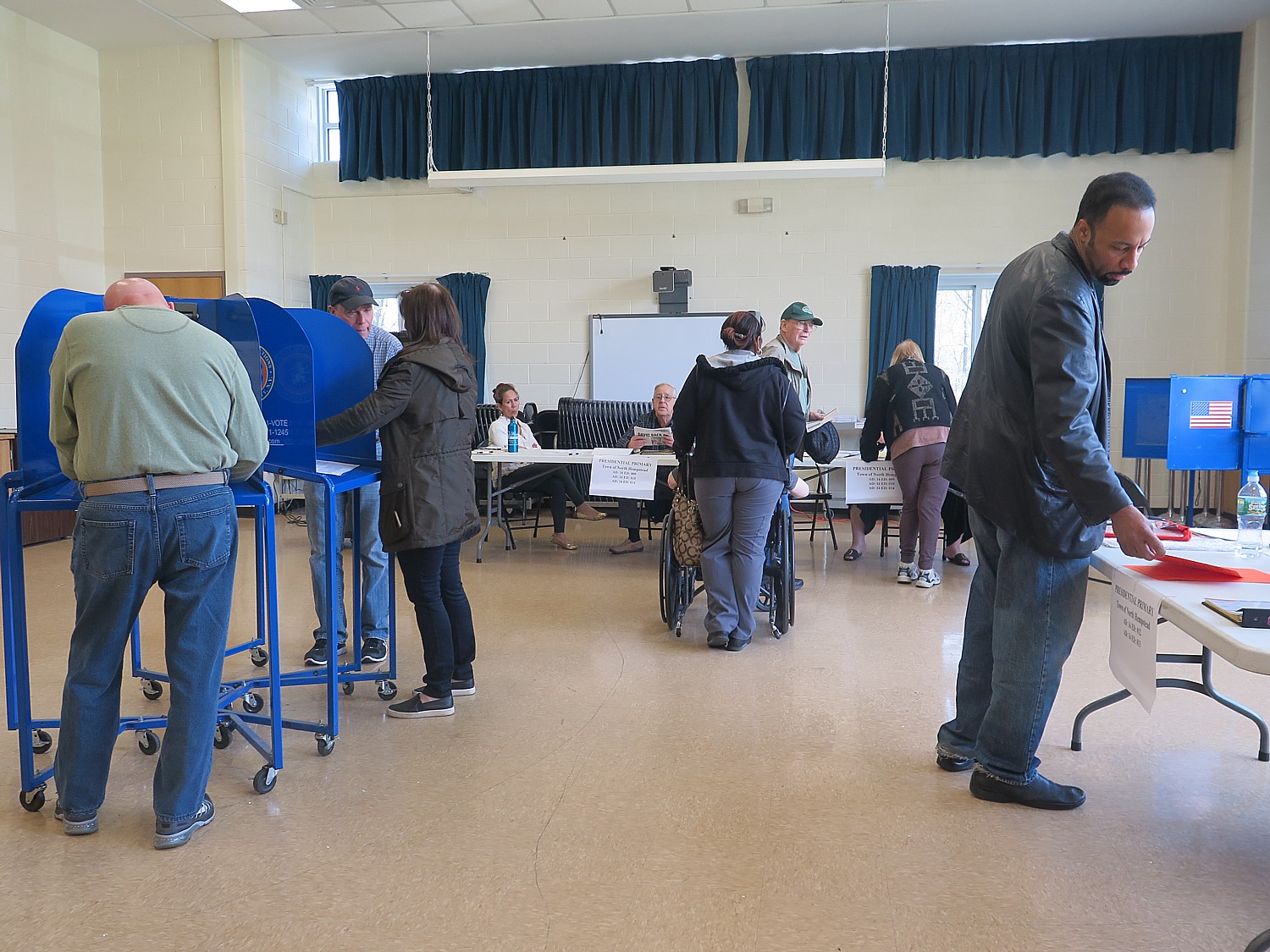 By Karen Rubin, News & Photo Features
In only one respect, Donald Trump may well be right: there is great potential for 2016 to be a stolen election – but in his favor.
To the extent the election is stolen or rigged, this is how: voter suppression (outright intimidating voters at the polls as well as depressing turnout through a disinformation campaign), election fraud, hacking of election results, and intimidation at the polls. While in-person voter fraud is a phantom boogeyman, these are more likely and more lethal to a fair election.
"Let's cancel the election and just give it to Trump" Donald Trump told a rally in Toledo, Ohio, once again charging the election is rigged and exhorting his minions to vote, then go to other voting places to "watch."
"I would like to promise and pledge to all of my voters and supporters and to all of the people of the United States that I will totally accept the results of this great and historic presidential election, if I win," Trump told supporters in Ohio in his first comments since the final debate, when he said he would withhold acceptance of election results, thereby threatening a peaceful transition of power. "I'll keep you in suspense."
Revving up his minions with charges of a "stolen election," Trump has urged his most rabid supporters to racially profile people coming to the polls. And in this election, more states have open-carry, so one could conceivably imagine a couple of thugs standing with an assault rifle at the door. This makes the US look and feel more like a Banana Republic than the "beacon of democracy" we hold this nation to be. This is actually a violation of the consent decree imposed on the Republican National Committee stemming from voter intimidation tactics that resulted in Republican Tom Kean defeating Democrat Jim Florio for New Jersey Governor, but should also be a crime.
And afterwards, many of his minions, so convinced by Trump that the election would be stolen and that Hillary Clinton is the most corrupt person ever to seek the presidency and a danger to national security and the nation's existence, are ready to mount violent revolution.
Can you imagine this is America? Former one-term Illinois Congressman Joe Walsh tweeting that if Trump loses on Nov. 8th, he will grab his musket on Nov. 9th? That you have schools closing or moving their students away from polling areas fearing violence?
"We have three major voter suppression operations under way," a senior Trump campaign official boasted to Bloomberg/Businessweek, against three targeted groups: white liberals, young women and Black Americans – three groups key to a Clinton victory.
Key to this strategy is disinformation – lying, misrepresenting policies – and anything that reinforces the image created over decades by right-wingers that Clinton is dishonest and untrustworthy. In this, FBI James Comey went beyond the pale in resurrecting the email controversy from the unrelated investigation into Congressman Anthony Weiner's sexting. Trump is having a field day, conflating the vague suggestions of what, exactly? with a breach of national security.
Young voters who tend to move around a lot, rent and not own a home, and not register at a new location and college kids who registered during high school and then again at their campus – are intimidated not to vote because of intentional confusion over their right to vote. Students are also threatened with losing state aid, that they will be found in violation for failing to get a new drivers' license, registration and insurance, etc. Republican operatives literally challenged Bard and Vassar students in upstate New York as they attempted to vote in 2009 and 2010.
Here's another source of intimidation: actual extortion to scare off Clinton votes. The threat of armed insurrection if Clinton wins is as if to say, if you don't want a revolution on your hands, you will not vote for Clinton.
And Republicans are already (even before election day!) threatening nonstop investigations leading toward impeachment if Hillary is elected, which also means a continued policy of obstruction and gridlock, as if to suggest, "We dare you to vote for Clinton." Will voters actually vote for Trump thinking it as a means of relief? What a mistake, since right-wing Republican extremists would have a clear path to overturn every progressive policy put into place since before Theodore Roosevelt.
This will be the first Presidential Election since the rightwing Majority on the Supreme Court gutted the Voting Rights Act in 2013, unleashing a hoard of regulations in states and localities explicitly (unabashedly in some cases like Pennsylvania, Ohio, Wisconsin and North Carolina) designed to suppress, obstruct, depress and disenfranchise voters who tend to vote for Democrats.
The pretext for this wave of regulations was the phantom bogey-man of Voter Fraud. While in-person voter fraud is rare (according to a Washington Post study, just 31 instances in 1 billion ballots cast from 2000 to 2014), those who argue for the dire need to "preserve the sanctity of the ballot," can point to problems with the voting rolls. Some estimates put the number of dead people still registered as 2 million. Indeed, there may be irregularities with as many as 24 million registrations – the occasional Mickey Mouse among them – but that doesn't mean Mickey Mouse is  voting. (What it does mean is that incredibly low turnout number – 60% for a Presidential election – may be artificial.)
There is no evidence that zombies are voting. No truth to the myth that black people are being bused in from other states to vote eight or nine times in inner cities as the hysterical former "America's Mayor" Rudy Giuliani accused, or that illegal immigrants are registering, let alone actually casting a ballot, as Donald Trump has charged.
Some 2.9 million are registered in more than one location – but how many people are going to risk five years in jail to vote twice?
However, this is definitely a weakness in the system because, as of now, no one checks. So you can very possibly have someone still registered where they grew up and registered in their new location, voting in person and by absentee.
The absentee ballot is a significant weakness in the integrity of the voting system, but interestingly, none of the Republican-lead voter ID laws and other restrictions would address the problem of in-person voter fraud. So you have to question why that would be, if it is so, so terribly important to Republicans to protect "the integrity of the ballot."
Still, using "in-person voter fraud" as a pretext, Republican-dominated legislatures have unleashed a whole series of regulations designed to suppress voting –imposing new voter ID requirements and making it difficult for some demographic groups to obtain necessary ID (gun permit is OK, college ID not OK), literally making it hard to reach offices to obtain the ID, limiting hours, and denying applications even after providing ample documentation, and ultimately not processing registrations in a timely fashion (as many as 100,000 in Georgia); shutting down polling places or not having an adequate number of voting machines on hand, so that people are forced to wait hours on line (as in Arizona); reducing the number of early voting days, which hurts young parents and wage earners (as in North Carolina).
These tactics disproportionately hurt women (whose names change frequently over the course of their life), young people who move around a lot and rent instead of owning a home, old people who don't drive or have their original birth certificate, minorities, poor people, homeless people, hourly wage people who are disadvantaged when voter registration places and polling sites and hours are made hard to reach – voters who are deemed more likely to vote for Democrats.
It starts with gerrymandering districts – cracking and packing districts, drawn into contorted Rorschach shapes, to dilute the voting power of a targeted group – so that the candidate gets to choose voters rather than voters choosing their representative. And with Big Data-mining technology that have become available since 2010 – when Republicans made a concerted strategy to take over State houses in advance of redistricting– they are able to gerrymander districts with extraordinary precision never before known. That's the election rigging that is most profound.
North Carolina State Representative David R. Lewis, chairman of the redistricting committee, openly admitted, "I think electing Republicans is better than electing Democrats. So I drew this map in a way to help foster what I think is better for the country."
Then there are other tactics, which are chalked up as if a game rather than a criminal violation of Equal Protection under the Constitution: destroying voter registrations, sending out notices of wrong election dates, times and places or threatening that anyone with outstanding parking ticket will be arrested for attempting to vote. Also, purging voting lists based on the similarity of names to felons or people registered in another district or some other bogus excuse (Ohio purged 144,000 voters from in its three biggest, Democratic-leaning counties – those containing the cities of Cleveland, Columbus, and Cincinnati), without giving the voter a chance to protest. (See New York Times, Critics See Efforts by Counties and Towns to Purge Minority Voters From Rolls.)
Indeed, some states – where there is a high minority population – refuse to reinstate voting rights to people who have served prison sentences, and because of the systemic racism in arrests and incarceration, some 6 million African-Americans are permanently disenfranchised.
Hacking? If Russian-agent hackers could penetrate state voter databases – let alone the NSA, Office of Personnel Management, Colin Powell and the DNC – there is no reason why they couldn't invade individual precinct tallies, or even impact where the local district totals are tabulated at the state level.
The argument that a national election can't be hacked because it is too decentralized at the state and county level is not entirely true, because a president isn't elected by a cumulative popular vote, but by electoral votes – it would only take manipulating results in key counties in key battleground states to swing the election, and if the election is tight in those places, no one would be the wiser. Indeed, experts have shown how easy it is to hack voting machines – going back to the 2000 election – and it is suspected that the 2004 Bush v Kerry election was stolen by shifting the tallies in Ohio. (Walden O'Dell, CEO of the Diebold voting machine company, had promised, "I am committed to helping Ohio deliver its electoral votes to the president. Early voters in Florida have already complained they saw their votes switched, evoking the 2000 election.)
Some 14 states vote on machines that do not even provide a paper trail so cannot be audited, and in 43 states voting machines – purchased with federal funds after the Help Americans Vote Act (HAVA), itself a reaction to the disastrous 2000 election debacle – are more than 10 years old. One of them is Pennsylvania, a state that could prove pivotal this election, where Trump has centered his "stolen election" meme and is recruiting poll watchers into minority districts. ("You know what I mean.")
The impacts of voter suppression tactics are already being seen in early voting patterns, as Eliza Newlin Carney reported in The Election is Rigged After All — Against African Americans.
All of this means that Hillary Clinton and the Democratic candidates need overwhelming, uncontestable majorities to make sure there cannot be the subtle irregularities.
Some polls are indicating just such a win, but even so, Trump acolytes are threatening revolution because they believe the polls are rigged and the election will be stolen.
Trump has fed into this, declaring that if he loses, it means that the election was stolen from him is strategic: In the first place, this is a guy whose entire life revolves around him being a "winner" – even failures (like multiple bankruptcies) are to him successes (since he manages to shift harm to others and reap benefits). Also, it sets him up as a martyr (he's already compared himself to Jesus), to lead this phantom "movement" ("like nothing this nation has seen before," he claims), in order to bolster his newest business/narcissistic (Trump TV) media enterprise. (He is likely the first candidate in  history to make a profit on a campaign, with his campaign "expenses" being revenue to the Trump Organization.)
But there is strategy, as well: Trump's ploy in charging the system is rigged and inviting scorn saying he would not necessarily accept the results, thereby threatening a bedrock tradition preserving American democracy, the peaceful transition of power, is aimed at getting Democrats to insist the election cannot be rigged, and cower Hillary Clinton and Democrats from contesting elections that have in fact been manipulated, as in Florida 2000. He's already planted seeds that Ruth Bader Ginsberg should recuse herself if a Bush v Gore redux comes to the Supreme Court, which would give Republicans a 4-3 majority to anoint Trump.
But elections can be stolen and have been stolen. Florida 2000 provided a manual for how it is done. (Just watch the movie, "Recount," to see the GOP stole Florida in 2000, with complicity of Governor Jeb Bush, Secretary of State Katherine Harris, and Supreme Court Justice Antonin Scalia. Truly chilling.)
And Trump, by challenging the accuracy of polls that predict Clinton the winner, is aimed to disguise an actual election rigging and voter suppression, so that Trump can emerge the winner despite polls that predict otherwise. Trump will simply say "I told you so."
All of this should not discourage people from voting. On the contrary, people should be more determined than ever to exercise their right to vote, and a big margin is more important than ever to counteract a rigged election. That's what happened in 2008 with Barack Obama's election.
See next: 2016 Presidential Election Points to Needed Reform 
________________________________
© 2016 News & Photo Features Syndicate, a division of Workstyles, Inc. All rights reserved. For editorial feature and photo information, go to www.news-photos-features.com, email [email protected]. Blogging at www.dailykos.com/blogs/NewsPhotosFeatures.  'Like' us on facebook.com/NewsPhotoFeatures, Tweet @KarenBRubin