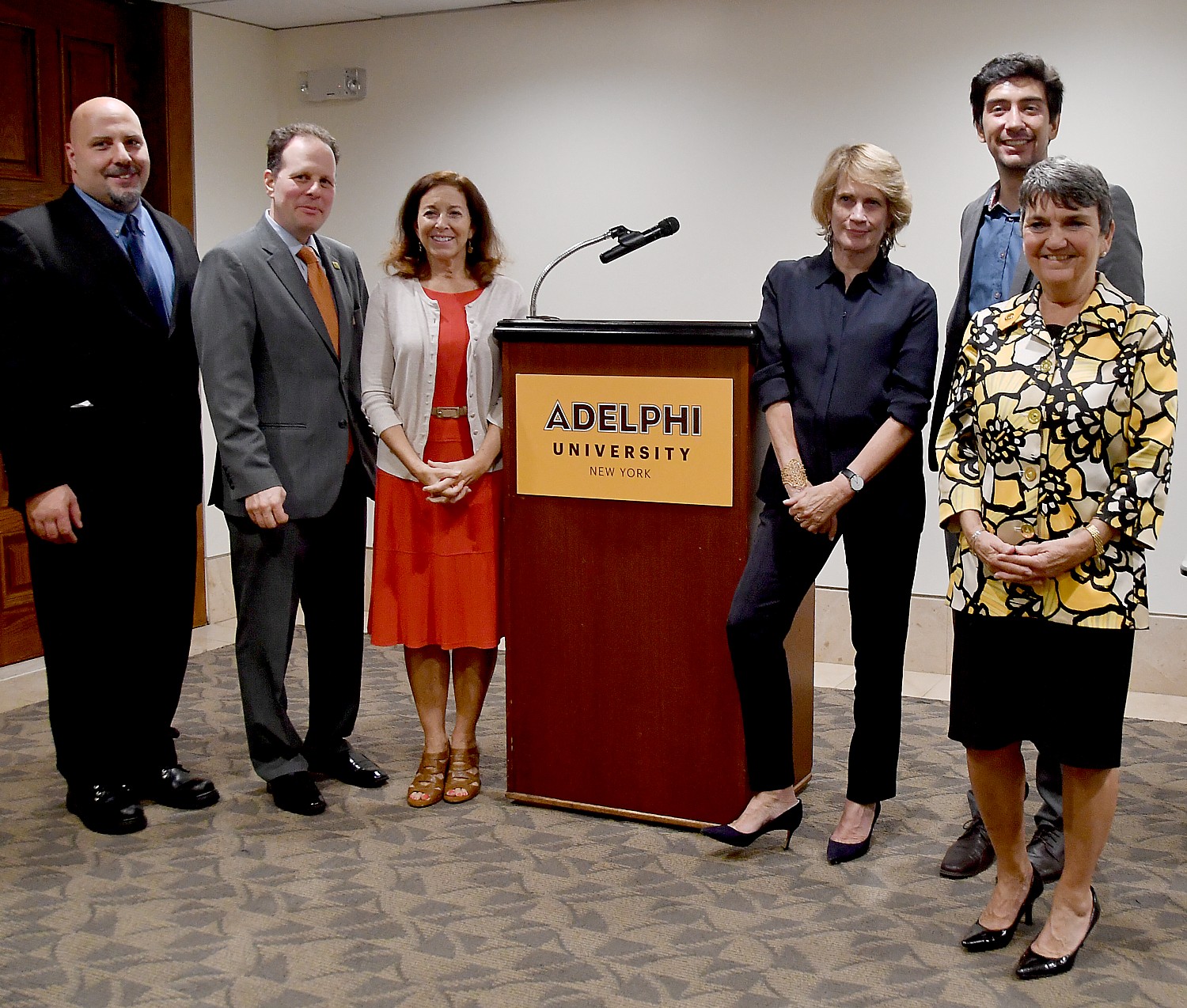 The New York League of Conservation Voters Education Fund hosted the 2017 Nassau County Executive Candidate Forum on Environment & Sustainability at Adelphi University in Garden City on October 15. The format was a panel of three posing questions to the candidates individually and separately, first to Laura Curran, the Democratic candidate, then, in a second session, posing the same questions to the Republican candidate, Jack Martins. With the Trump Administration and Republican Congress pulling back on environmental protection and climate action, the stand that localities take becomes more significant. What follows is a loosely edited transcription, putting the candidates' replies together after each question—Karen Rubin, News & Photo Features
Opening Statements: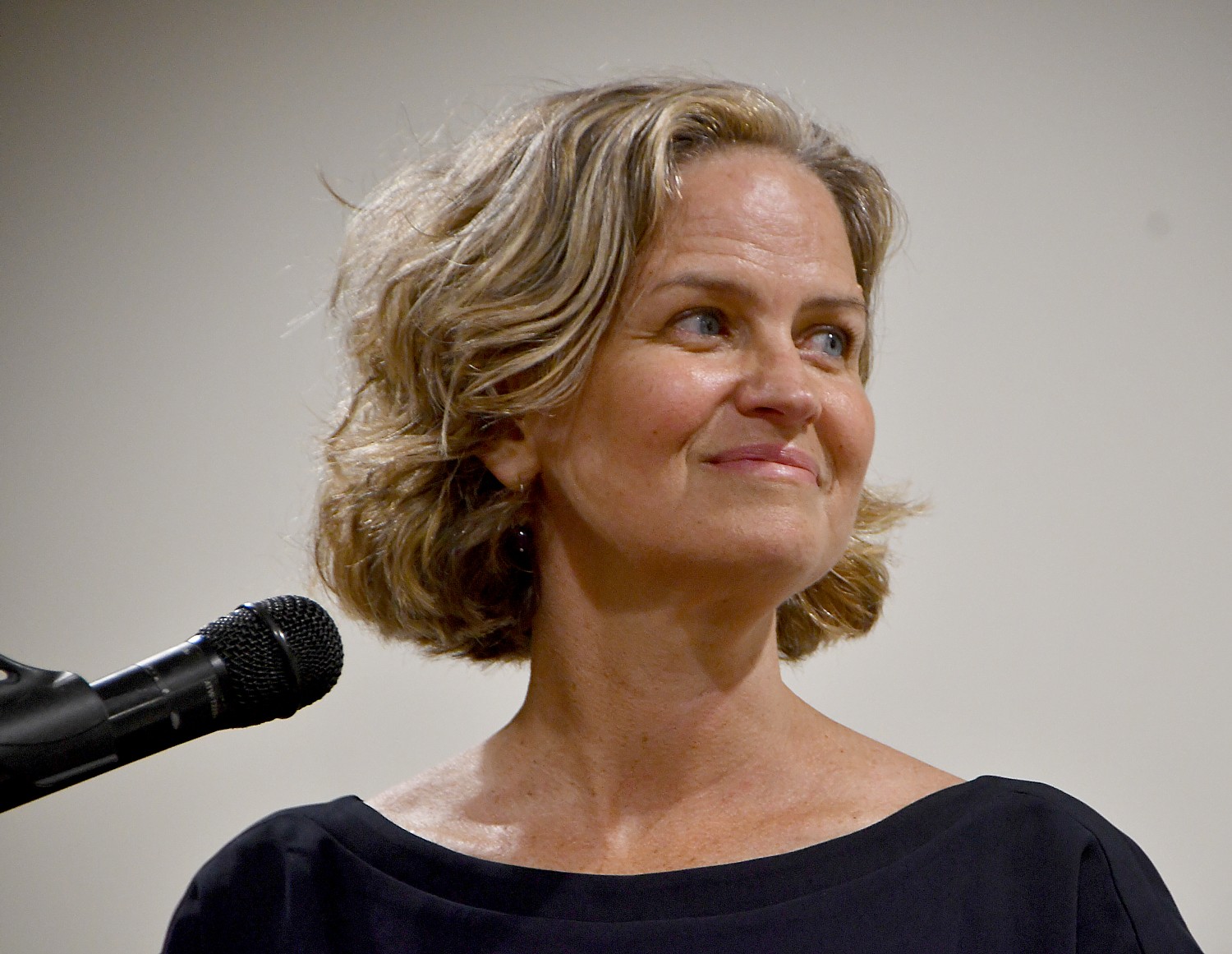 Laura Curran: I never planned to get involved in politics. I wanted to help my schools, my community, succeed. That sparked my interest to step up and serve the community in a bigger way – I have been in the Nassau County Legislature for four years, I am proud to have worked across the aisle when it was the right thing to do for the people I represent –For example, I was able to restore 10 bus routes that were cut.
As a legislator, I have had a front row seat to the corruption, the mismanagement [of county government]. I know how hard people work, the high taxes we pay. I believe we deserve a government that lives up to us. When I hear about indictments, it's clear that the machine is breaking down, is not accountable to the people.
Jack Martins: I believe strongly in the Kenyan proverb, we don't inherit the land from our parents we borrow it from our children. That is motivating. It hasn't always been the case – water quality, the way we have treated sole-source aquifer historically, the lack of comprehensive sewering, nitrogen outflow to bays and and Sound, have significant environmental issues that is our responsibility to take care of and not simply kick the can down the road. Options for us – priorities, investments in infrastructure – I have had a history of working across the aisle – with Schimel in Assembly – But if there is a critical issue for us here in Long Island it's water. Environmental sensitivity, wind energy, opportunities for our economy, need to expand bus service.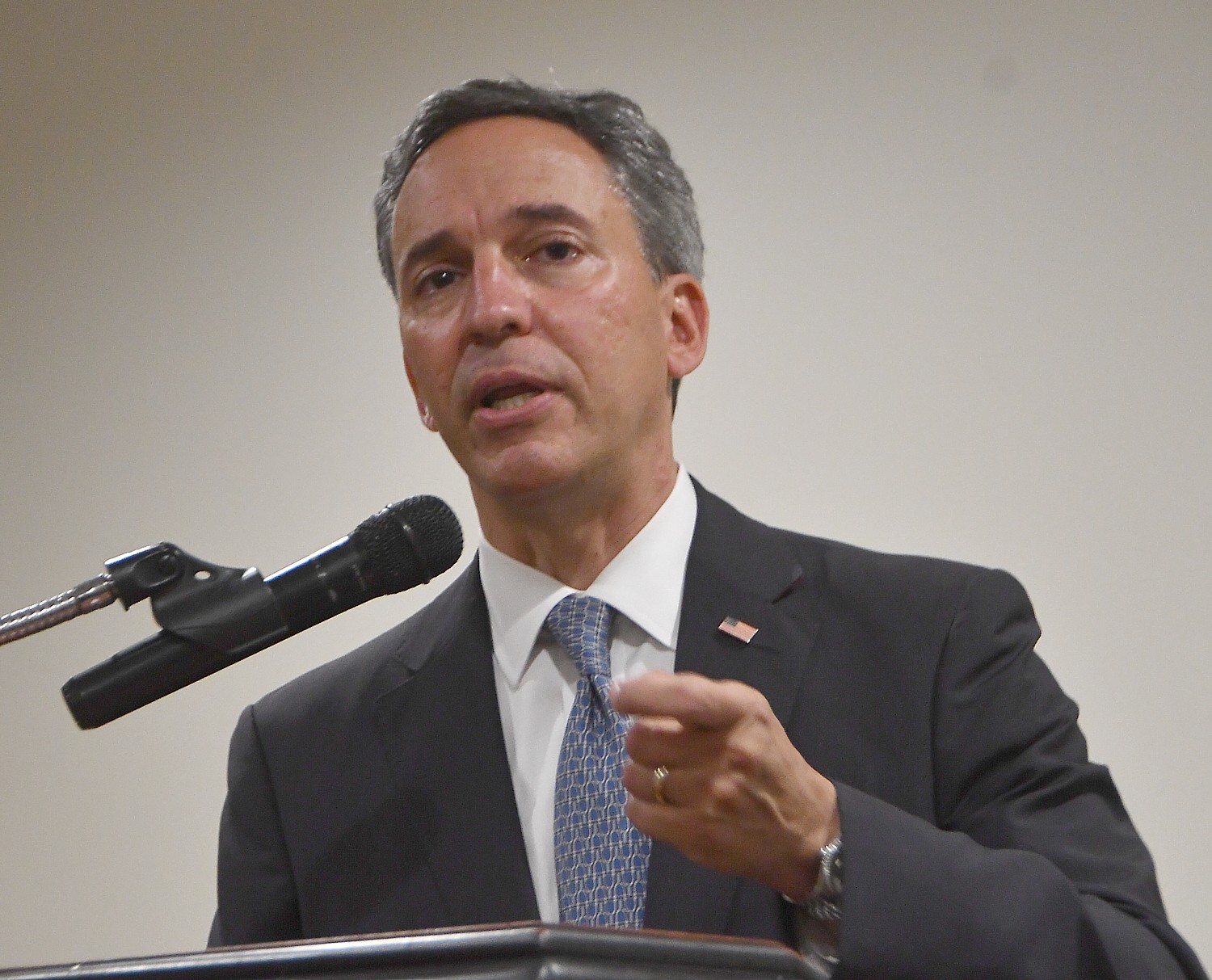 Addressing Nitrogen Loading
 Adrienne Esposito, Citizen's Campaign for the Environment: You know the first question: nitrogen. The Bay Park sewage treatment plant is responsible for 85% of the nitrogen loading into the western bays and the western bays are dying – depleted fish, closed shellfish beds, wetlands degrading. The solution is to combine Long Beach with Bay Park, take treated effluent, use the water viaduct currently in place, and discharge out the Cedar Creek ocean outfall pipe. Will you expedite the process of hooking up Long Beach to Bay Park to the existing pipe to the ocean outflow pipe – so bays can be restored and thrive? 
Curran: This is a very exciting project. The county was trying to get outflow pipe for bay…. It's expensive. The county wasn't able to get (funding?) from the state, federal government. [But] this is an example of how government works well: smart guys had a eureka moment: they realized there is a viaduct under Sunrise Highway,100 years old from an old waterworks, so big, a grown man could stand up in it .What if we bring water up to the viaduct, out to Cedar Creek, 6-7 miles, then there is 2 mile outflow pipe already in Cedar Creek? Altogether it would be half the cost. A viability study showed the plan is viable – they would put a  polymer sleeve inside.
The key is expediting [the plan]. We have to work closely with towns and villages because we've got to get the treated effluent from Bay Park up the viaduct and back down. We've got to work with communities on either side, so we have to make sure they understand and have buy in –we  don't want to shove it down people's throats. It will reduce the amount of nitrogen into the bays immediately, restore the shellfish. It doesn't take long before nature will rebound. It would be good for economy, too. A win- win.
Jack Martins: There is a critical need on Long Island, how we discharge effluent into South Bay. Right now, both Long Beach and Bay Park go to Reynolds Channel and we know the effect. Someone came up with the ingenious proposal to connect via existing viaduct – the most complicated part is how to connect from Bay Park to the water viaduct…The viaduct is viable, we can move forward immediately…There are a couple of different options. The sooner we close Long Beach sewer treatment plant …Connect Cedar Creek – lateral to plant to outflow – and discharged 3 miles out. It's important because of nitrogen loading [which] killed the shellfish industry, killed coastal wetlands. We realized after Sandy that those coastal wetlands protect against tidal surge during these 100-year storms. That's my commitment, that's what we will do.
Complete Streets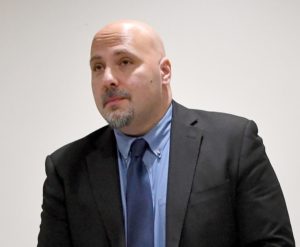 Eric Alexander, Vision Long Island: This issue is on human level: Nassau County has some of most dangerous roads in NYS for pedestrian, bikers, – restaurants, downtowns, growing 55-plus population, growing number of young people who don't want to drive – what will you do to encourage walkability, 'Complete Streets'. 
Curran – I often talk about how transit oriented development [TOD] will be what saves us as a region – it keeps young people, empty nesters, creates a tax base, jobs. But [existing] infrastructure doesn't quite support TOD. There are places where we have to reengineer what already have.
I live in Baldwin in the town of Hempstead. We  won $5 million in funding for a Complete Streets project to redo our main road, Grand Ave, to make it more navigable for bikers, walkers, cars and buses. This is called a "road diet":  taking two lanes in each direction and turning them into one lane in each for the part of the road that's in the plan. There is [often] a lot of resistance because people are concerned about change, that it will take longer. But [delays are mitigated by] engineering traffic lights, making turn lanes that fan out so drivers can get to lights in time – that will make it more navigable. But when people can walk around, ride bikes, have alternatives to using a car, people tend to spend more money – they want to stop, shop – which is good for economic development. We're built up in Nassau County, so we need to reengineer what we already have. That's what we are doing in Baldwin. I am looking forward to working with zoning municipalities.
Martins: As we consider the next generation of downtown residents, transit oriented development, how we get around safely. I supported Safe Streets legislation in Albany – it made a requirement that when we reengineer streets, we do so in a way that is safe for cars but also pedestrians and cyclists. For us, it's a question of who we are as a county. We have to have every option for transit – bicycles, pedestrians. We need to make sure we keep roads safe. I represented one of the most dangerous areas in New York State – Hempstead Turnpike – more fatalities – Complete Streets have to be integral to what we do. The county has hundreds of miles of county roads, some of the most heavily traveled in the country. As roads are redesigned, maintained, [we need to be] using Complete Streets [strategies]. That is my commitment. As we stress the need for transit-oriented development, Complete Streets are more important [including] connectivity to train stations.
Improving Public Transportation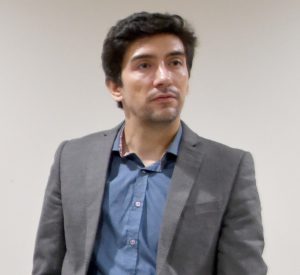 Nick Sifuentes, Tri-State Transportation Campaign: Transit oriented development requires good transit – something that is slipping. Governor Cuomo announced an advisory council to address dual crises: congestion in/out of New York City, and lack of funding for MTA (including Long Island Railroad). As the future leader of Nassau County what are the policies and proposals you would like to see?
Curran: I would make sure we have strong advocate on the council – Suffolk has a strong guy, Nassau, we don't even know who it is. I am happy that the third track is on track, because we need to ease getting on/off the island – how trains operate. I would also look to buses and encourage more people to ride the bus even if they don't have to [instead of driving]. The more choice bus riders, the better we will be. There are interesting examples all over the country: ideas include creating smaller, more flexible routes, more app-based routes to make an appointment to catch a bus. I am excited to pursue these: for every $1 spent on bus transit generates many more dollars in economic activity. It's not just poor people who need to use buses. It is obviously important for people to take buses to doctors appointments, university, jobs. That's economic development… Also ride-sharing –I'm glad it's [now] legal in Nassau County – young people aren't driving as much.
Martins: Make mass transit more affordable. Use it to make LIRR more affordable, encourage people to leave their cars. As a parent, when I take my children into the city, I have to take out a loan to pay the roundtrip fare. We shouldn't have that consideration instead of taking car. [Transit] has to be affordable . if they do something with congestion pricing, make it affordable for Nassau County.
Climate Change & Sustainable Development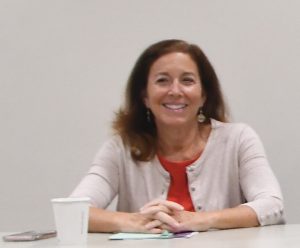 Adrienne Esposito: Climate change is real. There is no debate. And Long Island is at the forefront of impacts. New York State set a goal of 50% renewals by 2030 but we can't get there unless offshore wind is part of the [energy] portfolio. Will you support offshore wind (with site-specific environmental assessment)? 
Curran:  Absolutely. We have to look for renewable energy. Wind is a gift and we should be harnessing it and anything we can do to harness wind. Also renewables are a growing industry, and I don't want to be on the losing end. I fought against the LNG [Liquified Natural Gas] port off Long Beach.
Solar panels have a really hard time with permitting – people have to deal with towns, villages, all with different permits that expire differently. We have to work hard with partners –because that is right to do for the environment and the economy.
Climate change. I am concerned with the rhetoric of the president that [the US] will be getting out of the Paris Climate Accord– especially being a coastal community, we see the ravages [of superstorms, sealevel rise]. I am heartened that governors and mayors around the country say they will stick to the Paris Agreement, and I have vowed as county executive to do the same.
Trump has said it is no longer necessary to [require that tax money used for infrastructure must take climate change resiliency into account]. I would insure that every penny would be used [would take] climate change [into account, that is, sustainable development].
Martins:  Absolutely. Curious at [the goal of] 50% [renewable] by 2030. I visited Portugal a couple of years ago – toured their renewable portfolio. Portugal gets 60% of their energy from renewable – hydro, wind, solar, voltaics. We should too. I'm a big believer in offshore wind, a great resource for us – the corridor for offshore wind runs from Block Island to south Jersey. We're in a great position to benefit from cheap energy from wind. I also understand great strides are being made in developing battery technology to store energy at Brookhaven National Labs. That would be an economic boost for us. Right now, the largest project in New York, the east end off Long Island is being staged from Rhode Island. That means jobs are in Rhode Island, economic development is in Rhode Island. It needs to be here on Long Island. If we make a commitment to offshore wind as energy, we should make a commitment to have those jobs here. We live on an island, we have a maritime history. Embrace it, make offshore wind industry here -manufacturing blades, turbines, opportunities for engineering next generation of offshore wind.
IDA Tax Incentives 
Eric Alexander: Sustainability and smart growth, but also economic development. To focus growth in downtowns, the Nassau County IDA over the last 7 years provided tax incentives to thousands of units of affordable housing, mixed-use development by train stations… In an election year, attacking IDA incentives is politically popular but they have been anchors of revitalization efforts such as in Farmingdale's affordable housing component. Will you continue that policy?
Curran: Farmingdale is a perfect example of transit oriented development.. The biggest problem now is you can't get parking on a Saturday night. IDAs play a serious role, but are subject to attack because if you have nine self-storage facilities getting tax breaks, they aren't economic drivers that create jobs. But when done right, [IDA tax incentives] can be real motivator, bring the right kind of development into Nassau County. That involves land use planning, that when we do a deal with a developer or business, that real jobs are being created or real taxes being generated from an enterprise, so the investment of taxpayers is returned. We need more transparency in the IDA – open up meetings to the public, let the public give input. When I talk about getting community buy-in for projects, that's the way. You can't force things on communities.
IDA is a real asset but must be used properly and if a developer or business doesn't do what was promised, that there be a muscular way of addressing that.
Martins: My experience as mayor of Mineola, master plan, transit oriented development, overlay district –I  see the effects when a community comes together – the commitment it has to expand housing stock, providing affordability for senior, next generation housing. The role for county government: it needs to work with local communities to identify areas where TOD makes sense – Hicksville, Farmingdale, Westbury, Glen Cove ….  We as a county could expedite and incentivize. What I would do differently would be to make sure developers who are seeking tax (rebates) make sure they tell communities. Communities feel let down. Developers come before zoning boards and say they need greater density, etc, and then will have the ability to build this, and the community makes a decision to support that request, gives a variance they wouldn't have gotten otherwise. [The community] expects a revenue stream and a tax base that comes back to community. But the first thing is [the developer] goes to the IDA and gets tax credits which undermines what the community expects. So there needs to be transparency, part of the discussion before the decision, not after, that causes so much friction we see.
Generating Revenue for NICE Bus 
Nick Sifuentes: How would you create additional revenue for the NICE bus?
Curran: I have suggested pots where money could come from:  there is money that was borrowed 8 and 10 years ago that hasn't been spent (that is a one-shot); the fund balance has way more than needs to be (also a one-shot). You are talking about recurring revenue. I propose that a small piece of ride-sharing money, Uber or Lyft – say 25 cents or 50 cents a ride – to go to buses. It makes sense because all are part of transportation. We could use a small portion of MTA tax and put that toward buses. And red light cameras are $12 million over budget – use some of that for buses. That's also within the theme of transportation.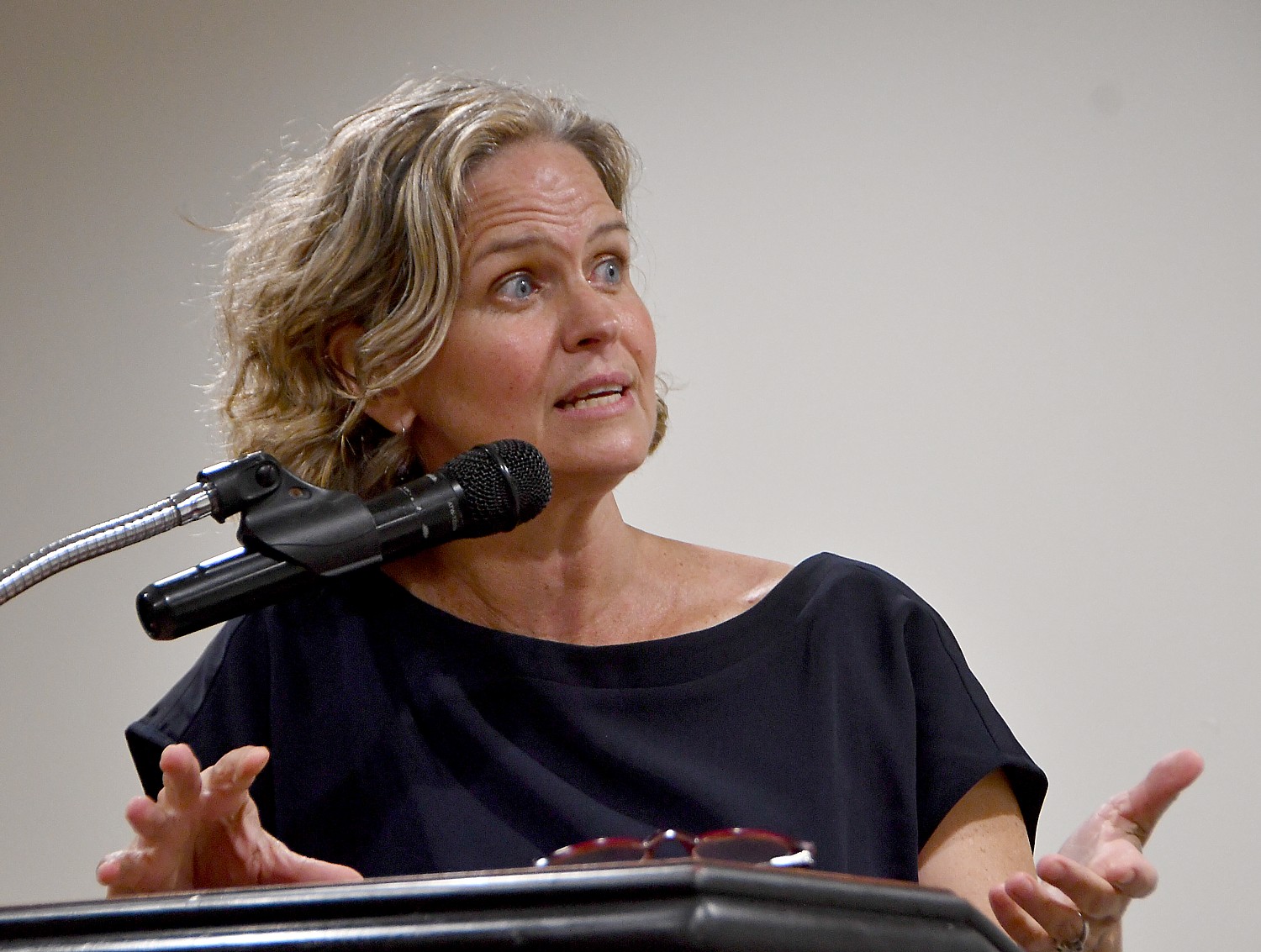 Martins: One of the first things I did in in the senate in 2010 and 2011 – I was identified as one of 50 most influential people on Long Island – my efforts to secure funding for Long Island bus was underpinning – NICE bus has a $130 million budget, $66 million from New York State, $45-50 from the fare box, the county puts in $6 million and the rest from ancillary fees, etc. – unbelievable the County only provides $6 million for a system that is so critical to the economy, when years ago, the county paid $20 million. Our responsibility is to put money in place because most who take bus have no other option – we want them to leave the car home – going to work, school, doctors appointments, that they have access to vibrant bus service. I suggested that for ride hailing, we have a surcharge – Uber, Lyft – that surcharge go toward bus. 10-11 million rides a year, 50c surcharge, would put $5-6 million directly into buses. A 50c surcharge is not only appropriate, but would provide a dedicated, steady revenue for buses.
Protecting Drinking Water 
Audience Question: What is the most Important environmental issue facing the county and how would you address it?
Curran: The aquifer. We get our drinking water from one place: underground. I am concerned New York City is looking to open 70 wells in Queens. We don't get another source of water but the city does [upstate reservoirs]. They are concerned about flooding basements so they want to bring down the watertable, but the consequences for us could be disastrous: saltwater intrusion, and could cause Grumman and Lake Success plumes [of contamination] to shift [direction. The Grumman plume is 4 miles by 2 miles and 800 feet deep, almost reaching Massapequa. I am glad to see Cngressmen King and Suozzi working together to [get the federal government] to clean it up. The fact this has gone on this long and the Navy and Grumman are not held accountable for decades….
Martins: The most critical issue facing us as a region, Nassau County, is water supply, making sure we protect our sole-source aquifer against all comers. We live on an island, and the aquifer is tied to Suffolk, Queens & Brooklyn. Our responsibility is to protect it. New York City has other options to get water from upstate reservoirs. Our only plan, A to Z is the sole-source aquifer. We haven't treated it well over the years, with industrial and manufacturing years post World War II, a lot of damage done – Lake Success, Bethpage. We've seen the water supply under constant attack. We have great water providers – we do a good job in maintaining water supply –it is as clean as you get from bottled water- but we have a responsibility to do more – responsibility to surface water – protect our coastal waterways, make sure we enhance sewer systems, sewer treatment plants, make sure that years and decades of nitrogen charging, loading into bays are a thing of the past.
Preserving Open Space
Audience Question: How would you preserve open space in Nassau County from development?
Curran: A Great question because pretty much [all of Nassau] is developed. We have to keep what we have green – that is good to recharge the aquifer. We have to use space we have more wisely – in-fill. You sometimes see suburban sprawl – there is already concrete – you can in-fill with transit oriented development, with the buy-in of the community. There is a lot of new technology now. For example, the boat basin parking lot was redone with permeable pavement – that's expensive, so you can only do it in small places but I hope it will become less expensive down the road. But in this way, it also keeps water coming into the aquifer.
Something I am excited about – with all the potential – is to look to a resiliency officer [for the county] to coordinate all these things, work with Public Works, the IDA, and other departments to coordinate efforts for environment.
Martins: The good news in Nassau County: we don't have farms any more. We don't have the kinds of open space issues that perhaps they have out east. We do have open space, it has to be preserved. Most of our development going forward – transit oriented – is reusing space already used, and taking and reassembling parcels. We have seen it in communities with TOD has been predicated on assembling parcels downtown – see it in Westbury, Farmingdale – we are mature communities. That development will take place not on existing open space but existing used space that is being recalibrated and brought into 21st century – to meet energy, parking, density requirements – so we have a more robust selection of housing than we have currently. Nassau County doesn't have the housing stock, the variety, it needs – a lot will take place in downtowns around train stations to be most effective. Protect open space that exists, protect parks, invest in them, make sure are as good as ever have been.
Future of Renewables in Nassau County
Audience Question: What do see as the future of Nassau County when it comes to solar, wind, charging stations for electric vehicles? 
Curran: We should have charging stations for electric cars. We have a county employee who plugs in and was written a letter to 'cease and desist' from the county attorney for 'stealing county property'. We should start by the county using electric vehicles.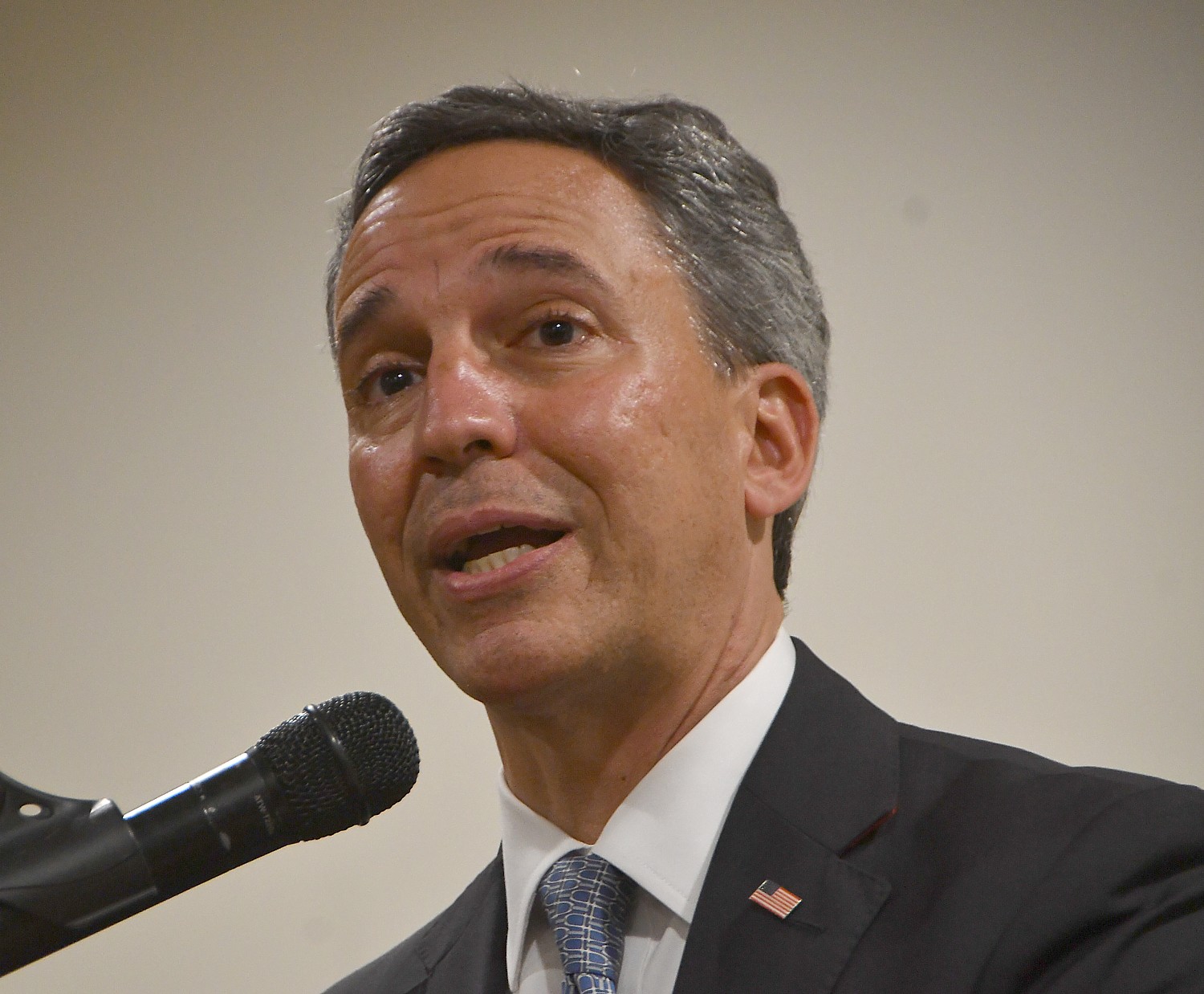 Martins: Charging stations, infrastructure wise, is easy. If we made a commitment to have more readily available – we can see best practices in other states, countries, where they have taken the initiative so we have more robust use because people trust infrastructure to be there to recharge. We haven't done it. There is need need for a full array of renewable energy resources. We should look at the entire portfolio and see where it makes sense – voltaic cells as car canopies in parking lots – why aren't we? Acres and acres of asphalt we can use to create energy and electricity now through EV. We have a corridor of offshore wind east of Long Island. I spoke to Deepwater Wind, no one better positioned than Long Island to build, maintain, develop that offshore wind corridor. Shame on us, New York State, if they aren't going to prioritize those turbines, and those blades aren't built here on Long Island. If we are going to spend billions of dollars for commitment to offshore wind, I want to make sure it is here in Nassau County economy.
Communities Impacted by Climate Change
Do you support legislation to provide for equitable distribution of resources to communities impacted by climate change specifically communities of color often left out?
Curran: We have to make sure all communities treated fairly. See the effects of climate change. The south shore still has zombie houses because of Sandy. They didn't have an adequate advocate to help them rebuild. As legislator, I helped them connect to NY Rising, get small business funds, to get resources to rebuild.
Martins:  Tax money, investment. We have to look at how dealing with county that is predominantly viewed as affluent while understanding we have areas of significant poverty – in places you wouldn't necessarily think of – people have a home but are struggling to pay mortgage, taxes, raise families because the high cost of living isn't an accident. We have among highest costs, so we have people relatively wealthy given their home, but still living with challenges. How we take resources, distribute, whether having to do with infrastructure improvements, access to cheap renewable energy, water safety quality, we have that synergy. I have never seen in my experience certain areas cut out of resources that way, but we have to be sensitive to it.
Recycle Treated Effluent
Why not recycle sewage and turn into drinkable rather than dispose into the ocean?
Curran: That's not so crazy – people who run sewage treatment plants are working on a project – try to explain in not-boring way –to  treat sewage so it looks like water – Sewage treatment plants use hundreds thousands gallons of water a day to do the work of cooling, etc. – Now, they draw that out of the aquifer. Wouldn't it be better to take treated effluent, treat a little more and use that to do the work of sewage treatment plant, instead of drawing water out of aquifer? We are close to make this happen.
Martins: It's an interesting point. I was happy to participate in Great Neck Water Pollution Control District – state of art facility – where they treat to a level where potable. I said, 'You first.'
I had an opportunity to deal with different groups, where sewage can be treated and used for irrigation, plant maintenance and different things where not wasting potable water, can be reused for different purposes –  not quite 'there' for drinking water… But if we send [effluent out to ocean] 3 miles – dilution rate for effluent – it will have negligible effect on ocean – it is coastal wetlands that are impacted if released right there – like Reynolds Channel. I would like to see part reused – whether for irrigation. We have to focus on continuing the current process of getting it as far from shore as possible so not to impact coastal wetlands, coastal environment, coastal economy. 
Closing Statements 
Curran:  I want to make Long Island environmentally sound, safe, healthy. I moved to Nassau County 20 years ago before we had kids. I came for the Long Island dream:  single family house, great school down the block, parks, beaches. We knew we would pay high taxes, but that was part of the deal. As a taxpayer, resident, it is frustrating to see money spent on nepotism, bloated contracts when it could be used to develop technology. Your money is being wasted. I'm in this race because want to restore trust in government, make sure I hire people based on what they know, not who they know, that your money is not part of my reelection campaign. I am eager to get to work. Elect me to give Nassau County the fresh start it so richly deserves.
Martins: There are a lot of issues at play in this year's election . I encourage you to do your homework, read up on candidates. Whether challenges are environment,t economy – up to county to pay for own budget. For 17 years, we have been under NIFA, not elected – make decisions, affects ability for us to make decisions for ourselves. We need to take control of own finances, pay bills, balance budget – get rid of NIFA so we can commit resources ourselves – whether environment, infrastructure, TOD, creating jobs we all want – so our children have the ability to come home, find jobs, rent apartment and stay here. The best years for the county are ahead, but contingent upon us making decisions about taking control of own county – an  idea we haven't been able to do, so should be shameful to all of us, myself included. Write that check and make that commitment going forward.
________________________
© 2017 News & Photo Features Syndicate, a division of Workstyles, Inc. All rights reserved. For editorial feature and photo information, go to www.news-photos-features.com, email [email protected]. Blogging at www.dailykos.com/blogs/NewsPhotosFeatures.  'Like' us on facebook.com/NewsPhotoFeatures, Tweet @KarenBRubin