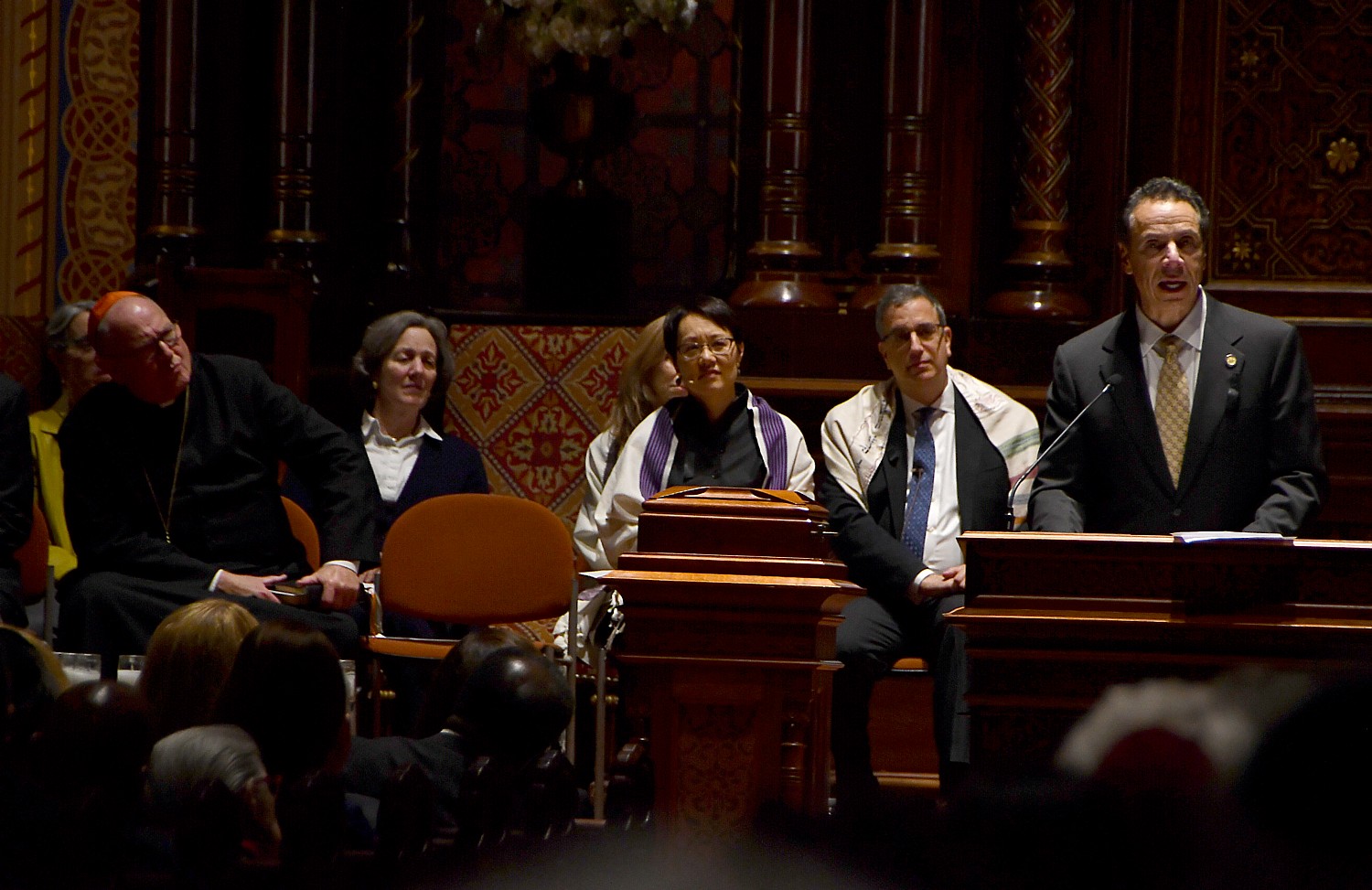 By Karen Rubin, News & Photo Features
Following the deadliest assault on the Jewish Community in US History, Governor Andrew M. Cuomo delivered remarks at an Interfaith Prayer Vigil at Central Synagogue in New York City with Rabbi Angela Buchdahl and other interfaith leaders including Cardinal Timothy Dolan, Reverend Amy Butler, Pastor Amandus Derr and Rabbi Chaim Steinmetz.
Earlier in the day, Governor Cuomo announced that the $10 million grant program to help protect New York's non-public schools and cultural centers, including religious-based institutions, against hate crimes is now accepting applications. Additionally, the Governor directed that flags on all state government buildings be flown at half-staff until sunset on Sunday, November 4 in honor of the victims of the shootings at the Tree of Life Synagogue in Pittsburgh and at a supermarket in Jeffersontown, Kentucky.
Cuomo began by evoking Rabbi Angela Buchdahl's extraordinary background as exemplifying America and New York State: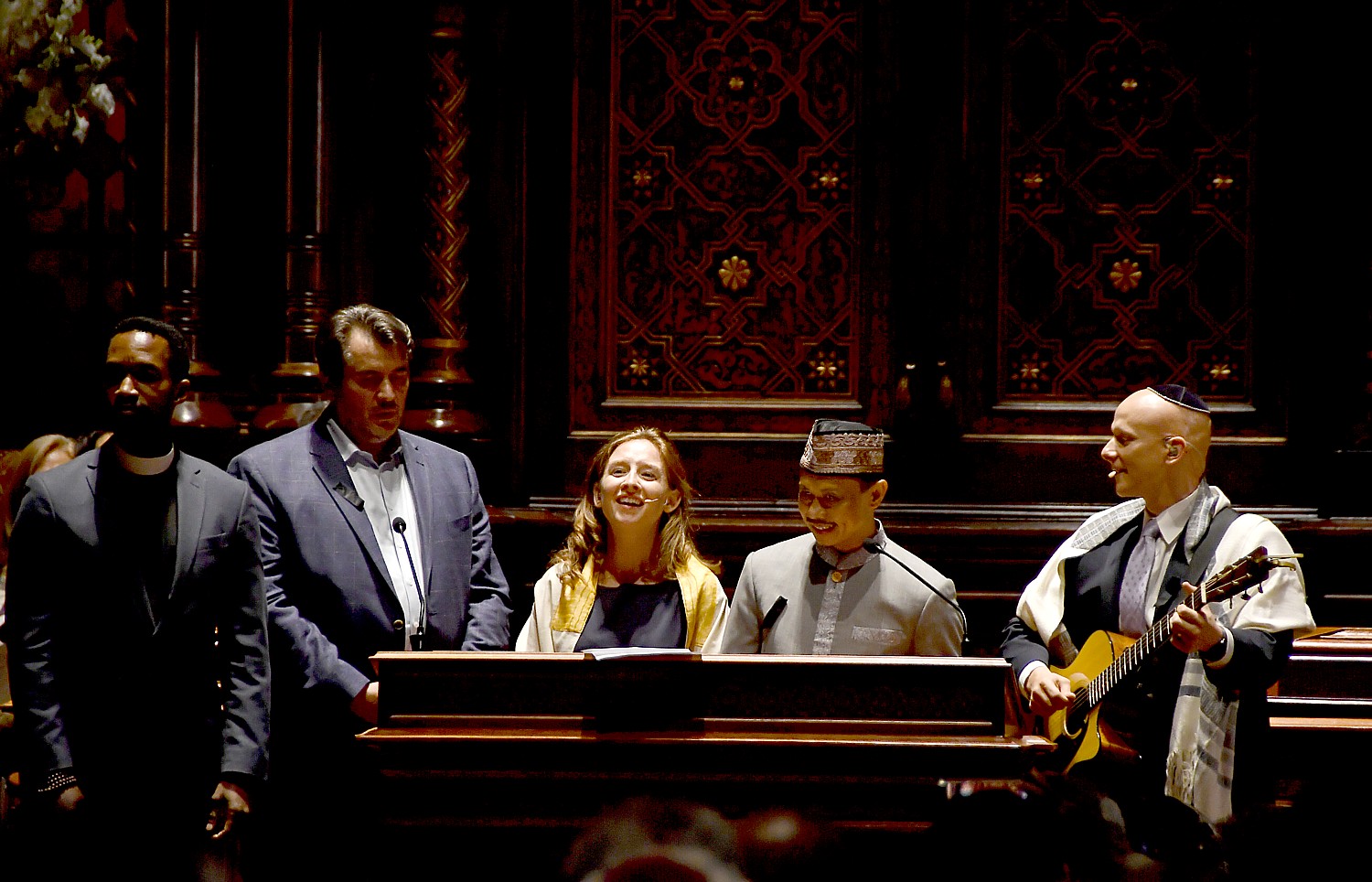 "The Rabbi was born in South Korea, to a Japanese-born Korean Buddhist mother, and a father who was an American Ashkenazi Reform Jew.  Her father's ancestors emigrated from Romania to the United States. At the age of five, she moved to the United States with her family.
"She was raised Jewish, attending Temple Beth El in Tacoma, Washington, which her great-grandparents had assisted in founding a century before. Rabbi Buchdahl is the first Asian American to be ordained as a cantor and as a rabbi in the world. My friends, that says it all – God Bless America. Only in America. She is the first woman and the first Asian-American to be the Senior Rabbi of Central Synagogue in its 175-year history.  God Bless the state of New York.
"But we gather tonight on a somber moment, because this is a dark and frightening time in our nation. Our better angels are being overpowered. The character of America is being perverted. And yes, the power of hate is overtaking the power of love. We mourn and we embrace the families of the 11 victims in Pittsburgh and grieve with them. We mourn and grieve for the African American community in Kentucky. And, we suffer with those who endured the anxiety and threats of mail bombs last week.
"But we would not be here tonight if these were isolated incidents. They are not. There is a frightening pattern developing on many levels of American society. Anti-Semitic incidents have increased 57 percent nationwide. Neo-Nazi groups have increased 22 percent in this country. Nativists and white supremacy groups are on the rise. At the demonstration in Charlottesville in August, 2017, members of the Ku Klux Klan felt so empowered they didn't even need to wear hoods to hide their faces. The societal fabric of America is stressed and frayed. We gather this evening to pray and to marshal the voices of support and love as an antidote to the forces of division and hate.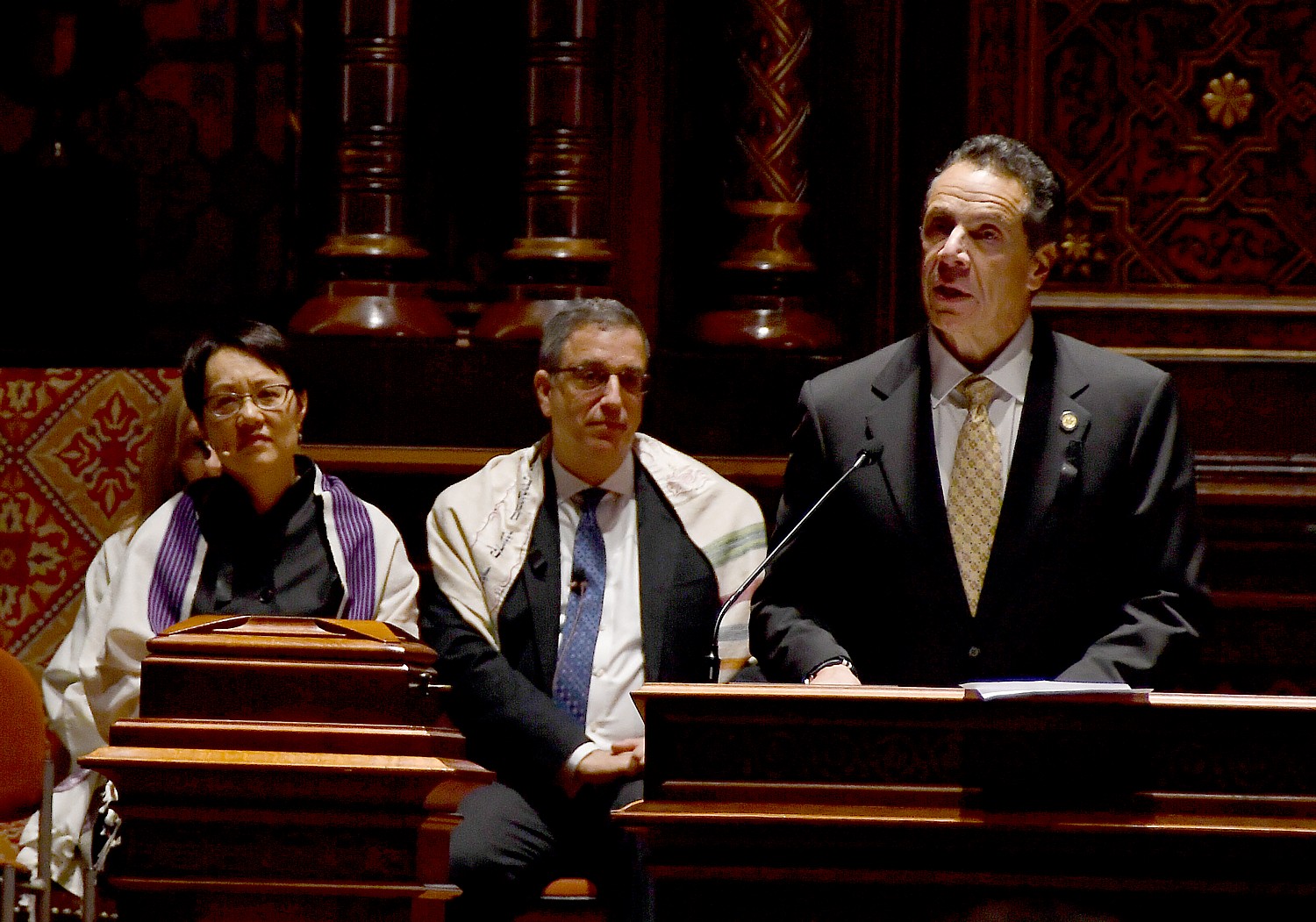 "Elie Wiesel said, 'there may be times when we are powerless to prevent injustice, but there must never be a time when we fail to protest.' As Governor, I pray with you this evening. But as Governor, I also state in the strongest terms that we are a nation of laws and we are a state is a state of laws, and we have zero tolerance for discrimination or hate in the state of New York. Hate is not protected by our law, not in speech and not in action. Quite the opposite. And our state has the most aggressive hate crimes laws in the county and I announced today that we are doubling both our security efforts and our prevention efforts. You have my word as governor that we will stamp out the evil of discrimination wherever it rears its ugly head.  The Jewish community is an important member of the family of New York and we will protect our family–all together, all united.
"But I am afraid that enforcing the law, while an essential important step is not the only step. Being prepared to fight the fire is necessary, but we must work to prevent the fires from starting in the first place. I feel as if we are standing in a field of dry grass with smoldering embers surrounding us.  And a strong wind is shifting directions. We must stamp out the embers before they become flames and we must reduce the winds of hate that threaten the fields of peace.
"There are those who now will wrap themselves in the flag of America and then go out and do violence in the name of America. But they could not be more wrong or more misguided. They do not begin to understand the character of America, and they disgrace the very flag they carry. Our founding fathers would be repulsed by these ignorant acts of violence.
"In school, one of the first lessons we learn about America is when we are asked to raise our hands to the Pledge of Allegiance. I pledge allegiance to the flag of the United States of America, indivisible, with liberty and justice for all. Indivisible. With liberty and justice for all. Whatever your religion, whatever your race, whatever your creed, we are indivisible.
"Our founding fathers anticipated that there would be differences because we were born as a collection across the globe. But we would have, as Jefferson said, "a decent respect" for the opinions of others. One of our Founders' first acts was to pass a law to make the motto on the seal of the United States, "E Pluribus Unum"—out of many, one. It set the tone of unity and commonality. The very same founders didn't fear immigration, they embraced it. It was the British government's bid to block migration to the colonies, that was among one of the reasons cited for the Revolution and the Declaration of Independence.
"The tremendous right to practice your religion of freedom was a powerful magnet drawing many to America. The Pilgrims were separatists from the Church of England, the Huguenots settled the Hudson Valley, French Protestants fleeing persecution in Roman Catholic France, English Catholics under George Calvert colonized Maryland, Quakers in Pennsylvania, Jewish people in Rhode Island, seeking the religious freedom established by Roger Williams.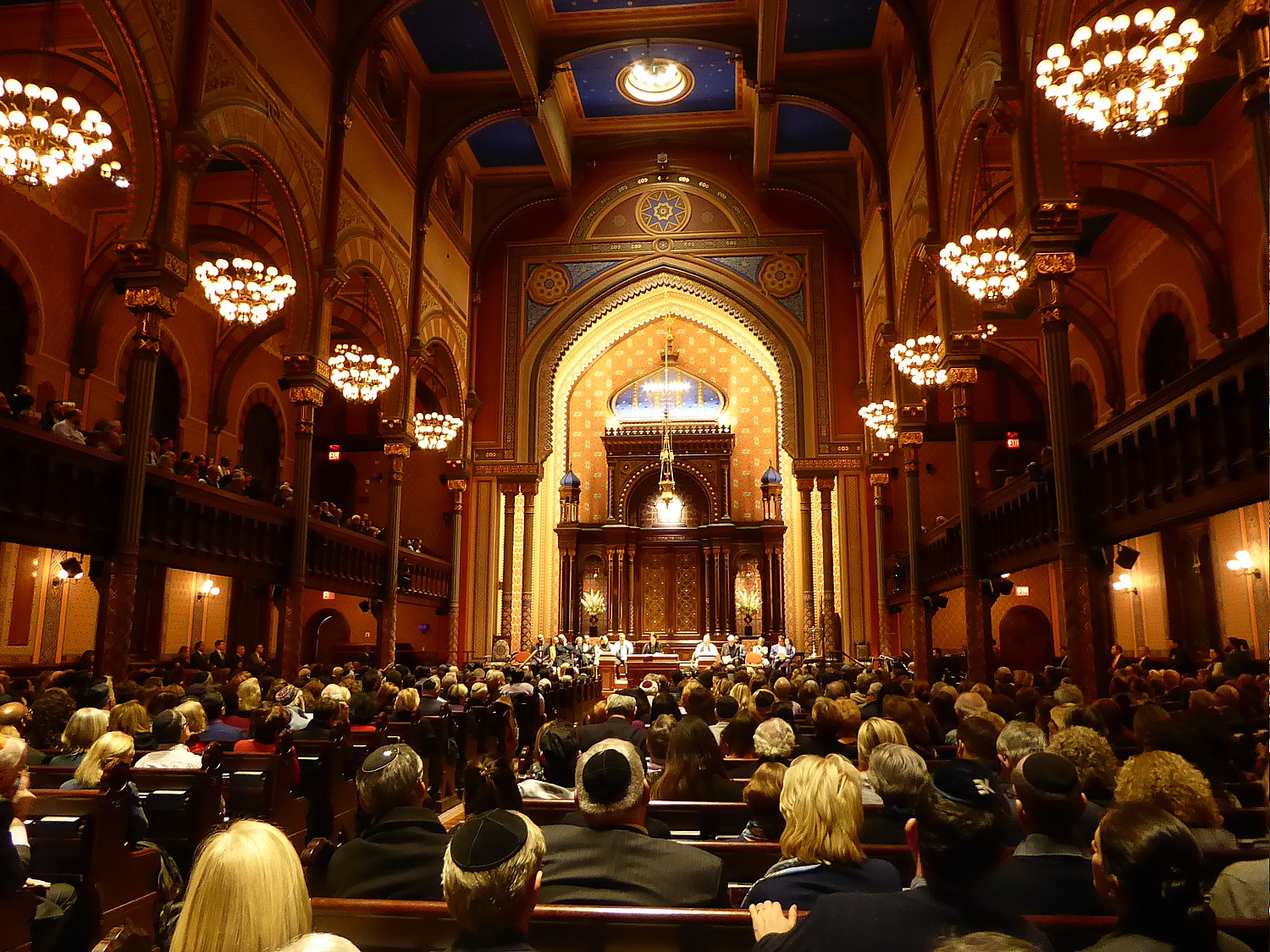 "One year into his presidency, George Washington visited a synagogue in Newport, Rhode Island as the first amendment was being debated. To his Jewish hosts, Washington wrote a remarkable letter.  He reasserted that the Government of the United States, quote, 'gives no sanction to bigotry, no assistance to persecution, and requires only that the people who live under the protection of the government conduct themselves as good citizens.'
"Washington quoted the bible to remind them that, in effect, they had reached their Promised Land: 'May the children of the stock of Abraham who dwell in this land continue to merit and enjoy the good will of the other inhabitants—while everyone shall sit in safety under his own vine and fig tree and there shall be none to make him afraid.'
"That was George Washington. There was no period that tested our unity more than the Civil War. And as the war closed, President Abraham Lincoln pointed the nation to the future in his Second Inaugural Address, saying: 'With malice towards none; with charity for all; with firmness in the right, as God gives us to see the right, let us strive on to finish the work we are in; to bind up the nation's wounds — to achieve and cherish a just, and lasting peace.'
"Lincoln's invoking god is relevant and instructive. We are one nation under God. It is not just our government that instructs peace and tolerance, but our religious heritage as well. We are gathered in a house of worship today. Christianity teaches us tolerance. Matthew 25 instructs us Catholicism to do for the least of our brothers.  Judaism speaks to the concept of Tikkun Olam, to reach out and heal the breach, and the concept of Tzedakah literally charity, but more broadly meaning the concept of social justice. Buddhism, Islam, virtually every religion speaks of tolerance, acceptance, and condemns violence.
"The victims in Pittsburgh were engaged in a sacred Jewish naming ceremony of a newborn—a bris—celebrating the joy of a new life, only to perish in the face of hate. We will not let them die in vain. We must once again, in Lincoln's words, "bind up the nation's wounds." We must rise above our traditional political divisions. We must refrain from fanning the embers of hate before the flames are out of control. Our American values override our political, partisan differences. Intolerant voices of division must be condemned by all, and not episodically, but consistently. Not only for public consumption but genuinely with personal commitment. Political debate must honor Jefferson's mandate of civil discourse. Our political leaders must heed this wisdom today.
"At this time of chaos, confusion, ignorance and fear, this nation needs a light to follow. And Let that light be the torch that is held by the great lady in our harbor. Let New York State once again serve this nation as an example to follow. That is the legacy of this great state: throughout history, a beacon of progressive values. We are home to 19 million people from every nation on the globe–New York State is the laboratory of the American experiment in democracy. We are not threatened by diversity, we celebrate diversity. Generations of immigrants stepped off ships and planes onto our shores. This state has thrived because we have no tolerance for discrimination. Not in our laws, and not in our spirit. We are a people of differences, but we have forged community through chords of commonality. This state exemplifies the best of the American spirit.
"The Rabbi asks us what we can do. Let us commit ourselves this evening to a constructive course of action. Let New Yorkers exemplify what it means to be a true American patriot. Let New York show this nation what the flag actually means. Let us lead forward in the way of darkness. Let us lead as a government, as a community and let us lead as individual citizens. Let us lead this nation at this time of confusion by the power of our example. There is no place for hate in our state and New York lives by the credo: that the most powerful four-letter word is still love."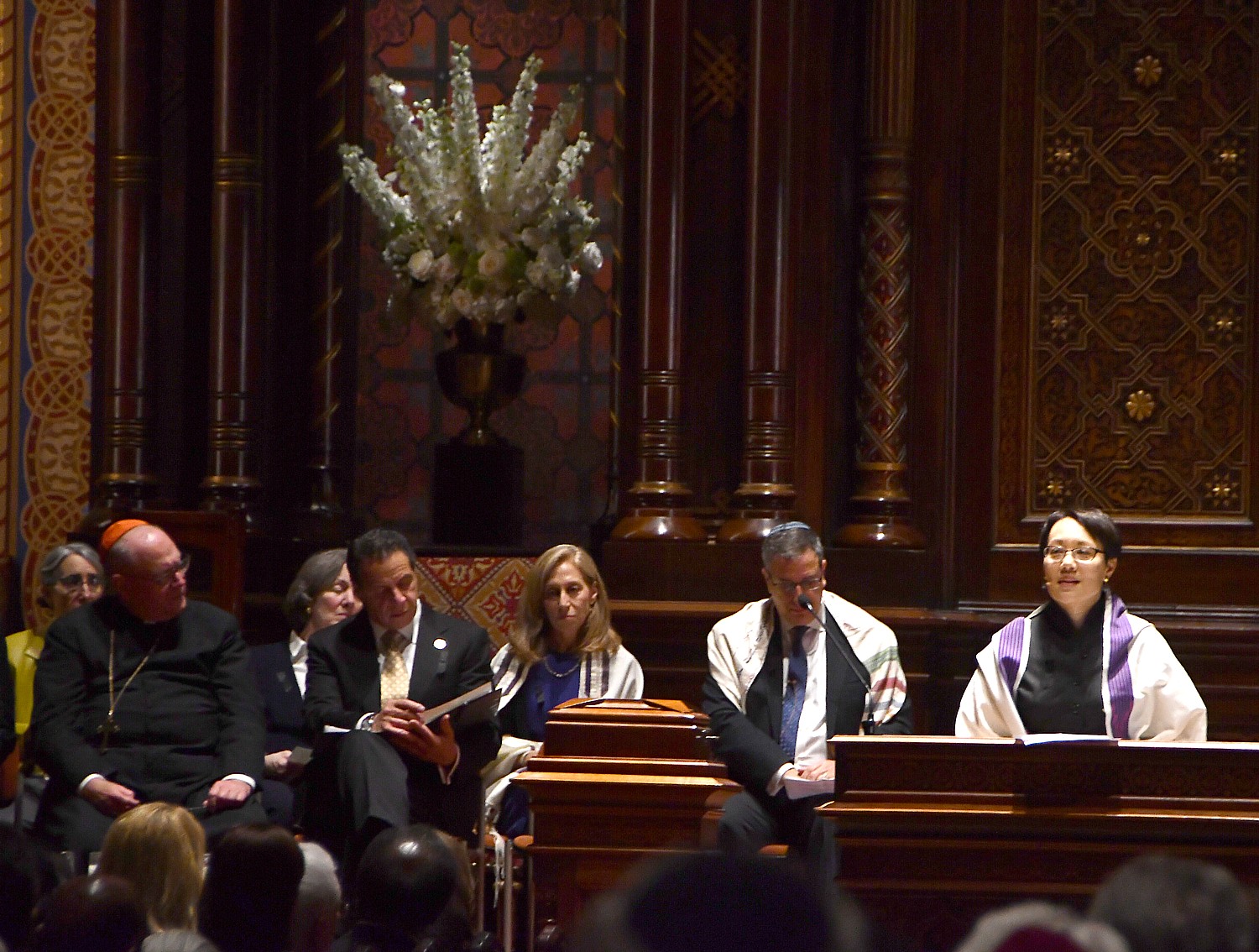 In her remarks, Rabbi Buchdahl noted that she expressed concern of the rise in anti-Semitism during Rosh Hashanah services. "I never expected, six weeks later, the worst attack on Jews in the United States ever. It is the Jewish community's worst nightmare, impossible to believe here in America. Not just as Jews – Muslims, immigrants – day after pipe bombs against prominent Democrats, and two Blacks shot dead. Charlottesville. A gay nightclub in Florida. A Sikh Temple in Wisconsin. There is a systemic environment where hate can grow.
"Anti-Semitism is the oldest, most adaptive hatred in history. But where tolerance for anti-Semitism, there is tolerance for hate of all kinds. This is not an America we want to leave to our children.
Rising Anti-Semitism, demonization of immigrants and refugees, gun violence, fake news on social media and the dark web.
"But now, we call to our higher selves. We ask, how do we make sure love wins, solidarity and faith and goodness win. There are hundreds of vigils taking place all over the nation and the world.
"You may have needed courage to show up in a synagogue. You will need more courage to build alliances even with people with whom you don't agree and to people who hate us, in order to build bridges and rise above cynicism."
The bimah was lined with representatives of the spectrum of faith in New York.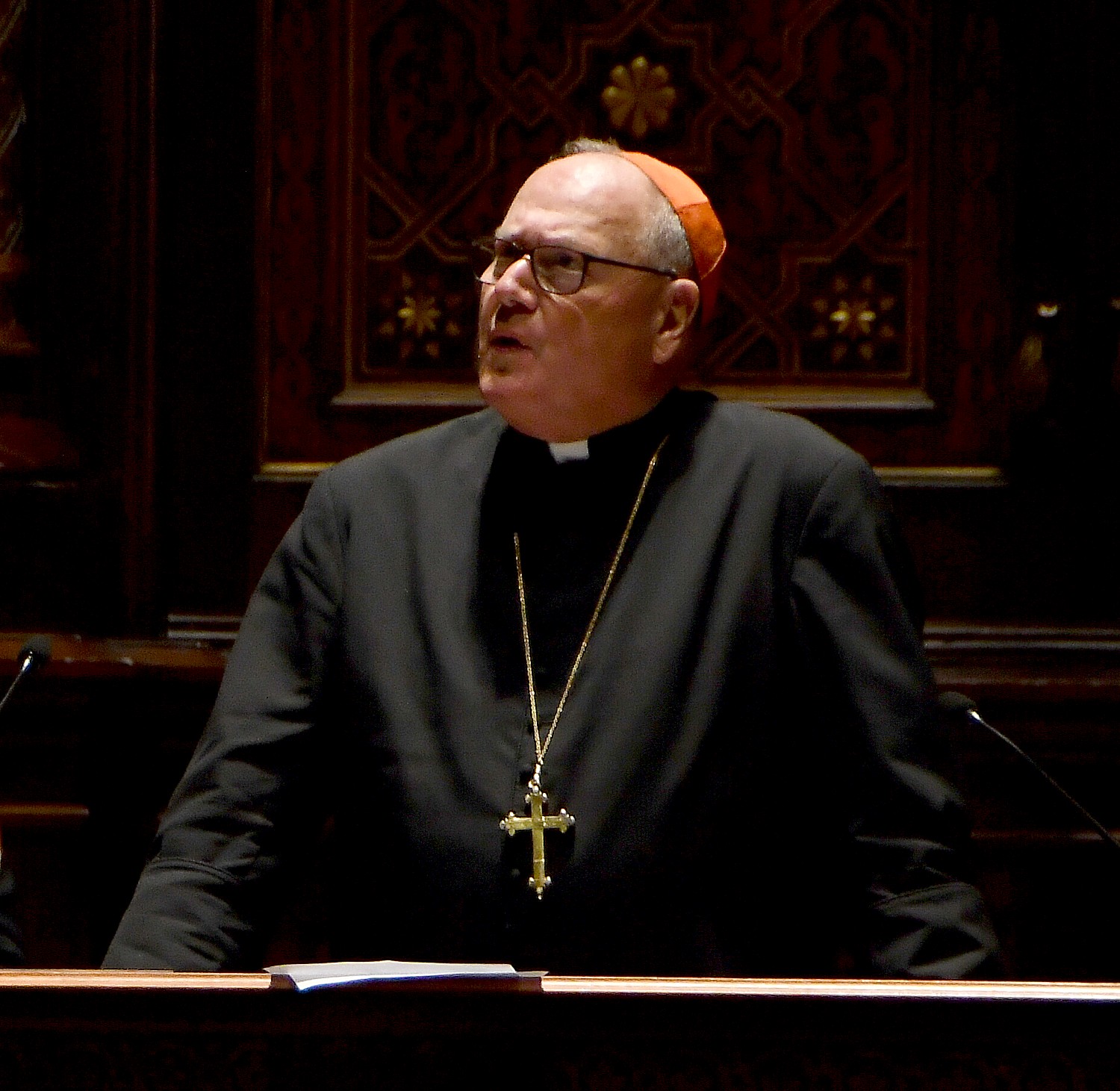 Cardinal Timothy Dolan noted that the gospel on Sunday, the day after the massacre at Tree of Life Synagogue began, "It was the Sabbath and Jesus went to the synagogue to pray." "The people in St. Patrick's gasped at the profound nature of that: "it was the Sabbath and Jesus went to the synagogue to pray." Jesus, he said, "the faithful Jew."
Reverend Amy Butler pointed to the power of words. "The violence we saw did not begin at 9:54 on a Saturday morning. It was generations of hate, lies that has found refuge in the political climate where words are weaponized for political gain. Language that dehumanizes, foments suspicion and fear rather than love and compassion. That's what resulted in a gunman walking into a synagogue. We reject discrimination and hatred."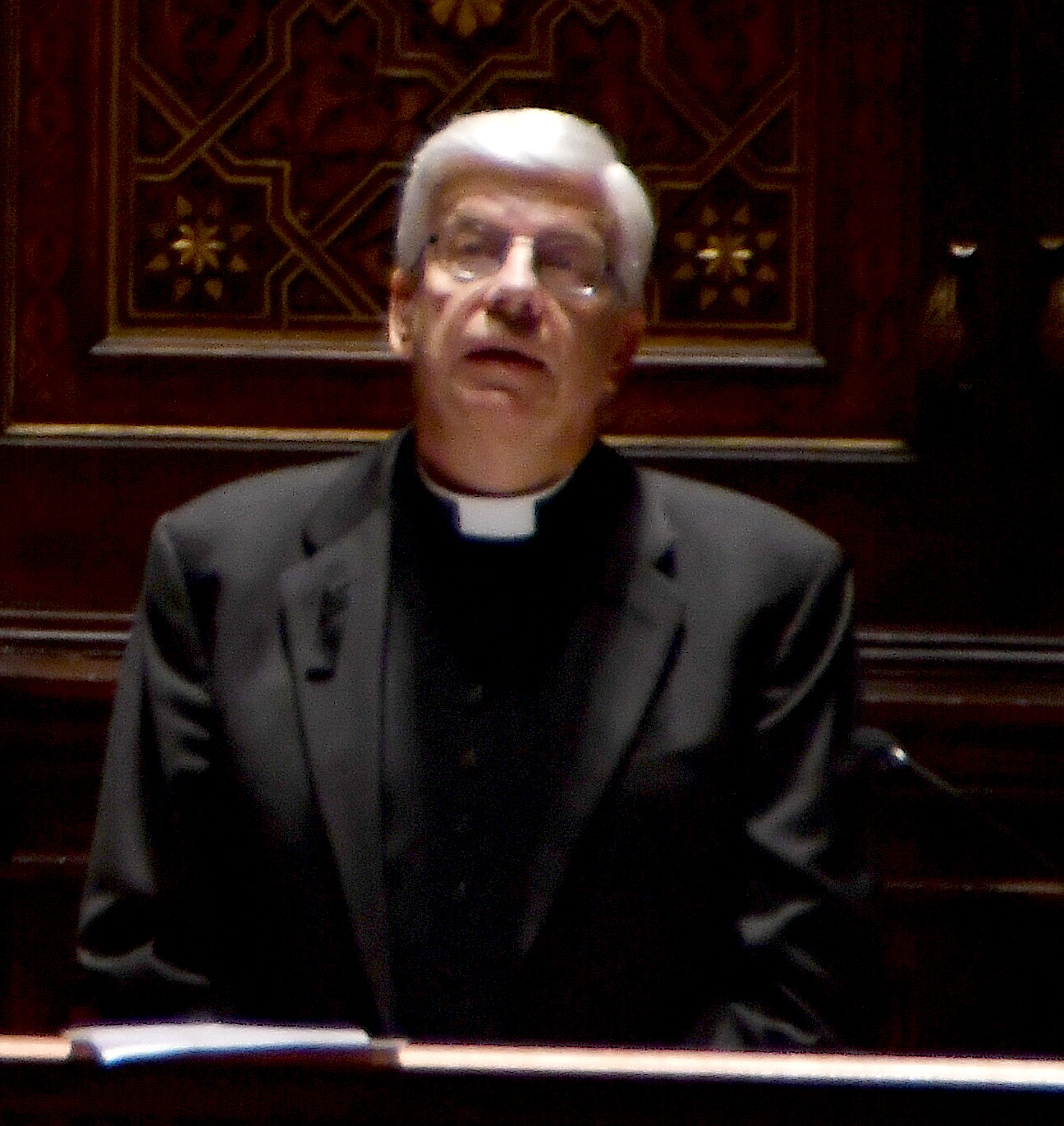 Pastor Amandus Deer  noted that he has spoken from Central Synagogue's bimah dozens of times to mark "Shoah," which marks the beginning of the Holocaust, with a call to "Never Again."  "I am heart broken," he said, leading a reading of the 23rd Psalm, "The Lord is my shepherd… Yea, though I walk through the valley of the shadow of death, I will fear no evil: for thou art with me; thy rod and thy staff they comfort me…"
Rabbi Buchdahl pointed to the ancient Jewish custom of tearing cloth to mourn a close relative. "We lost 13 innocent souls [11 in Pittsburgh and two African Americans gunned down in Kentucky] to acts of hate and violence. We are all mourners. They might want to t3ear our community apart; they can't tear what binds us together as Americans. The ribbons remind us of the work we have to do."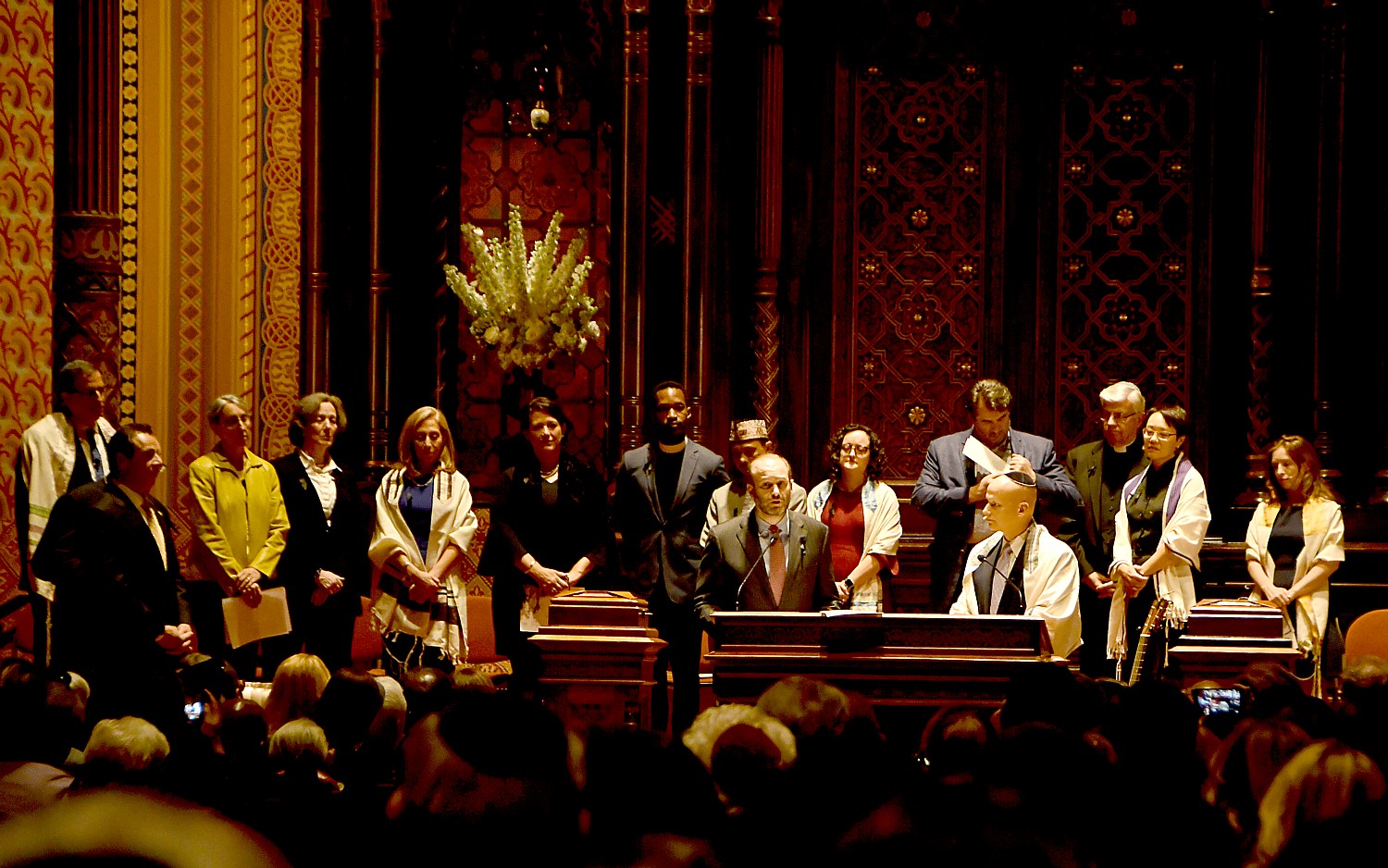 Each of the dignitaries then lit a candle for those who were taken and a special prayer of memory was recited.  Noting the obligation to remember those who have died, Rabbi Steinmetz remarked that  one of the murdered, Dr. Jerry Rabinowitz, would say kaddish for those who died but did not leave family to recite the prayer. "His reason was that they would not be forgotten. "
The synagogue, which dates from 1872 and is the oldest synagogue in continuous operation in New York City, packed some 1,250 people into every seat.
Participants included Governor Andrew Cuomo, Rabbi Angela Buchdahl, Cantor Dan Mutlu,Cantor Julia Cadrain, Rabbi Mo Salth, Cardinal timothy Dolan, Reverend Amy Butler, Pastor Amandus Derr, Iman Shansi Ali, Rabbi Chaim Steinmetz, Iman Tahir Kukaj, Reverend Bertram Johnson, Dianne Lob, Rabbi Deborah Joselow, Rabbi Lori Koffman, Rabbi Nicole Auerbach, and Dr.Simran Jeet Singh.
The interfaith service concluded with a prayerful singing of a song which begins, "It is a tree of life to those who hold fast to it."
____________________________
© 2018 News & Photo Features Syndicate, a division of Workstyles, Inc. All rights reserved. For editorial feature and photo information, go to www.news-photos-features.com, email [email protected]. Blogging at www.dailykos.com/blogs/NewsPhotosFeatures.  'Like' us on facebook.com/NewsPhotoFeatures, Tweet @KarenBRubin