State Police Have Seized 662 Guns in 2022, Represents a 98 Percent Increase Compared with the Same Period in 2021
Ghost Gun Seizures Have Increased 38 Percent Compared with Same Period in 2021
State Police Have Conducted 346 Gun-Tracing Investigations in 2022, Resulting in 70 Investigative Leads Across 22 States
Exhaustive Efforts Coincide with First Drop in New York City Gun Violence in More than Two Years, Shooting Incidents Down 12 percent in New York City Compared with Last Year
Shooting Incidents Down Nearly 7 Percent in 20 Jurisdictions Participating in State Gun Involved Violence Elimination (GIVE) Initiative
Governor Hochul Continues to Work Closely with the Legislature on New Policy in Response to Supreme Court Concealed Carry Ruling; Extraordinary Session Set for Thursday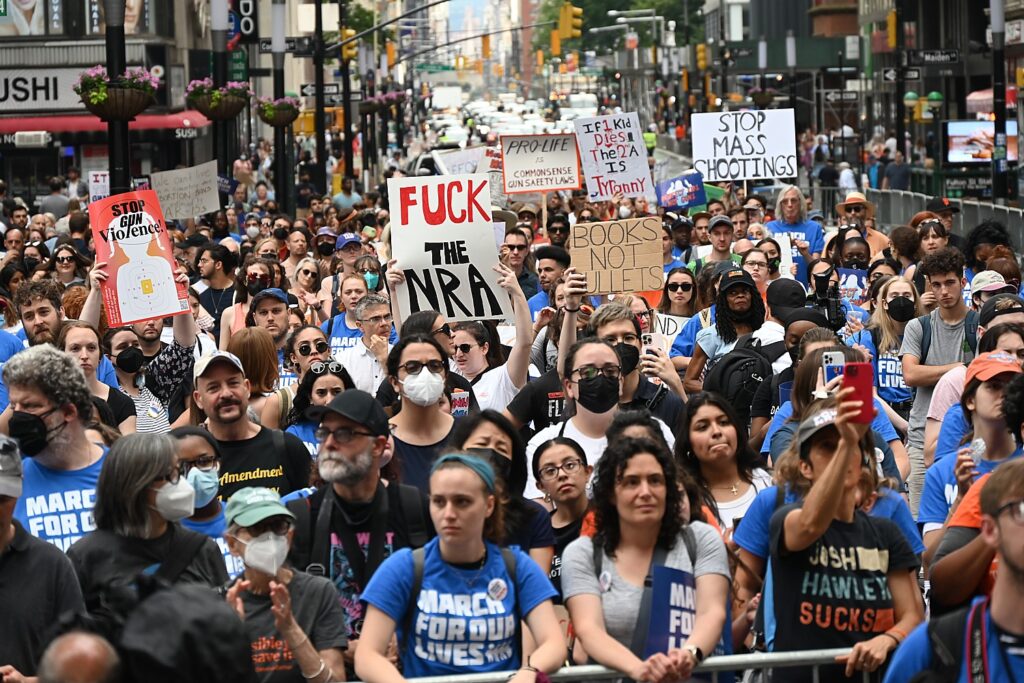 Hey you Christo Fascists on the Taliban Court and Republicans in the clutches of the NRA, pretending to run on an anti-crime platform to justify racist injustice! It appears gun control laws actually do save lives – that is, if the federal government weren't barred by the NRA and gun lobby from collecting data, or allowing physicians, pediatricians to suggest parents store their weapons safely. New York State just released its own data on gun seizures, gun-tracing and gun-related crime that proves a state's efforts and strategic investments to stem the gun violence epidemic actually work. Not that you actually care, even though you claim to be "pro-life." Nonsense. Commonsense gun safety laws work  (so does women's reproductive freedom and access to safe health care) work. Here's the fact sheet:
Governor Kathy Hochul unveiled new data on gun seizures, gun-tracing investigations, and gun-related crime that indicates New York State's exhaustive efforts and strategic investments to combat the gun violence epidemic are beginning to show signs of progress. The data includes a substantial year-over-year increase in State Police gun and ghost gun seizures—both coinciding with the formation of the Interstate Task Force on Illegal Guns. The Governor also highlighted the first discernible drop in New York City gun crime in more than two years—with a 12 percent reduction in shooting incidents over the last year. Outside of New York City, 20 jurisdictions participating in the State's Gun Involved Violence Elimination (GIVE) initiative have experienced a nearly seven percent drop in shooting incidents compared with last year.
"With substantial state investment in gun violence prevention programs and unprecedented collaboration between law enforcement agencies, we are beginning to see meaningful progress in our exhaustive efforts to eradicate gun violence from our communities," Governor Hochul said. "We are aggressively ramping up our efforts to get deadly weapons—including ghost guns—off of our streets, and have developed hundreds of investigative leads spanning 22 states—work resulting in the first discernible reduction in gun violence in more than two years. While this is undeniable progress, our work is just getting started. In the wake of the reckless Supreme Court decision to strike down the 'proper cause' provision of New York's concealed carry law, I am convening an extraordinary session of the legislature tomorrow, where we will enact new policy that carefully regulates access to concealed carry permits within the confines of the decision. My staff has been working with the legislature around-the-clock to get this done right. We will stop at nothing to protect New Yorkers."
"I join with Governor Hochul in calling for common-sense legally sustainable gun laws that will keep New Yorkers safe," said Lieutenant Governor Antonio Delgado. "The Interstate Task Force on Illegal Guns is making great progress but more work still needs to be done to ensure guns aren't falling into the wrong hands, and with the meeting of the Legislature this week we hope to soon have sensible concealed carry laws in place to help protect New Yorkers on public transportation and in businesses."
Governor Hochul outlined these key highlights during a press conference following a meeting of the Interstate Task Force on Illegal Guns at the New York State Intelligence Center in East Greenbush. The meeting included law enforcement representatives from Connecticut, Maine, Massachusetts, New Hampshire, New Jersey, Pennsylvania, Vermont, Quebec, as well as the Bureau of Alcohol, Tobacco, Firearms, and Explosives (ATF) and the New York City Police Department. Key highlights include:
Between January and June, State Police seized 662 guns. That represents a 98 percent increase over the same period last year.
Non-NYC state gun seizures (State Police + other non-NYC jurisdictions) are up 94 percent compared with 2020 and 40 percent compared with 2021.
Year to date, State Police have conducted 346 gun-tracing investigations. From these cases, they have forwarded 70 investigative leads to 22 states. These cases are investigations of residents of those states being arrested in New York for illegally possessing and trafficking on firearms.
Ghost gun seizures have increased 1800 percent since 2018, 212 percent since 2020, and 38 percent when compared with the same period last year. Law enforcement statewide have seized 360 ghost guns year-to-date. State Police have seized 65 ghost guns in 2022, four more than were seized in all of 2021.
Data unveiled during today's announcement shows that improved collaboration between cities, states, and federal partners is beginning to pay dividends, particularly in New York City, which saw the first significant drop in gun-related violence since May 2020. State Police and DOCCS are working closely with the NYPD and other partners through the Gun Violence Strategic Partnership (GVSP) and compared to last year, murders in New York City declined 13 percent and shooting incidents decreased by 12 percent.
Local law enforcement agencies also are making noticeable progress outside of New York City. The State's GIVE initiative —administered by the Division of Criminal Justice Services—provides state funding to local law enforcement agencies for personnel, equipment, training, and technical assistance. GIVE supports 20 departments in 17 counties that account for more than 80 percent of violent crime in the state outside of New York City. Compared with last year, shooting incidents involving injury are down nearly 6 percent and the number of shooting victims declined by nearly 7 percent across GIVE jurisdictions. This year's reduction in gun violence comes after significant increases in these jurisdictions in 2020 and 2021, including a 75 percent increase in shootings involving injury from 2019 to 2020. Working with the legislature, Governor Hochul secured $18.2 million in funding for GIVE in the FY 2023 State Budget — the largest state investment in the program since its 2014 inception.
State Police Superintendent Kevin P. Bruen said,"Thanks to the Governor's leadership and continued support of the State Police, we continue to work with law enforcement agencies at all levels of government in New York State, around the northeast, and in Canada, to slow the tide of illegal guns that are finding their way into our communities. Our members are focused and committed to reducing gun violence, and we are encouraged by the progress we have made in recent months."
Division of Criminal Justice Services Commissioner Rossana Rosado said, "The past two years have been extremely challenging for our GIVE partners and the communities they serve. They have seen first-hand the devastation wrought by gun violence but they also know that evidence-based strategies implemented through GIVE are effective in reducing shootings and saving lives. We thank Governor Hochul for her support and investment in this initiative and commend our law enforcement partners for the work they do every day to serve and protect their fellow New Yorkers."
Governor Hochul is convening an extraordinary session of the legislature on Thursday, June 30 to pass new gun safety legislation in response to the United States Supreme Court's decision in NYSRPA v. Bruen. The decision reversed a 100-year-old legal precedent requiring individuals to demonstrate "proper cause" to obtain a license to carry a concealed firearm. In response, the administration continues to work closely with the legislature to devise new policy that will strictly and carefully regulate access to concealed carry permits while remaining within the confines of the law.
While the Supreme Court decision has long-term implications, it has no immediate impact on firearm licensing or permitting. This means people cannot immediately legally carry a concealed firearm without obtaining the currently required permits or licenses. As of now, the application process to obtain a license or permit is unchanged. Those wishing to change their permit status to acquire an "unrestricted carry" permit must file an application with their designated local licensing authority. Gun owners must continue to follow current restrictions.
The announcement builds on Governor Hochul's continued commitment to aggressively attacking the gun violence epidemic in New York State. Earlier this month, the Governor signed a landmark legislative package to immediately strengthen the state's gun laws and close critical loopholes exposed by shooters in Buffalo and Uvalde. The ten-bill package bans the sale of semiautomatic rifles to anyone under 21 by requiring a license, puts restrictions on the purchase of body armor for anyone not engaged in an eligible profession, and strengthens the Red Flag Law.
The FY 2023 State Budget includes $227 million to fund bold initiatives that will strengthen the gun violence prevention efforts of law enforcement and community-based organizations. It includes $13.1 million to expand the use of Community Stabilization Units, $18 million in direct support to local law enforcement for gun violence prevention, $20 million for regional needs in the aftermath of gun violence, and $3 million for the Office of Gun Violence Prevention.