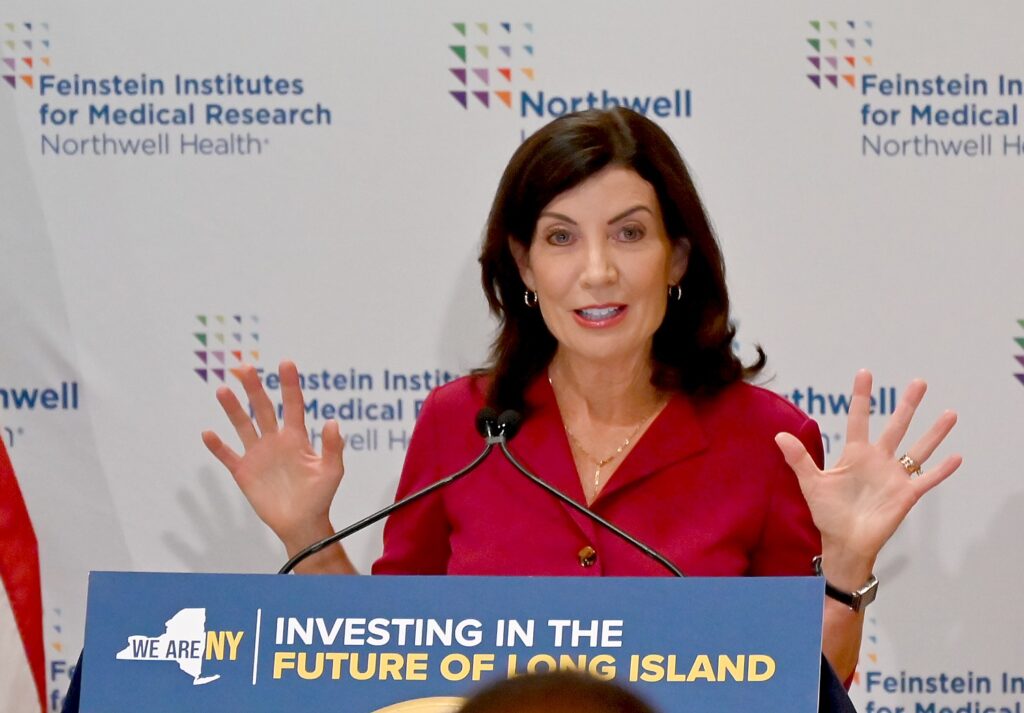 By Karen Rubin, News-Photos-Features.com
New York State Governor Kathy Hochul today announced the $350 million Long Island Investment Fund awarded its first grant to the The Feinstein Institutes for Medical Research to construct 40,000 square feet of new state-of-the-art labs to support medical and infectious disease research. The $10 million Long Island Investment Fund grant complements an additional $30 million in State support previously awarded to the Feinstein Institutes to modernize 20,000 square feet of its Institute of Bioelectronic Medicine, which Governor Hochul opened today. New York State's assistance is part of an $85 million modernization effort at the Feinstein Institutes for Medical Research in Manhasset, Nassau County, and a broader initiative to highlight the growing life science industry on Long Island. The Feinstein Institutes is the research arm of Northwell Health and is one of the leading laboratory and research centers in the country, conducting cutting-edge studies that seek to cure diseases.
"New York is leading the way in medical innovation, and the Long Island Investment Fund will support life-saving research on the cutting edge of the life sciences industry," Governor Hochul said."Our investment in the Institute of Bioelectronic Medicine is already improving the lives of everyday New Yorkers, and the additional Long Island Investment Fund award announced today reaffirms our commitment to remaining a national leader in the health and medical research fields. I am proud to support the Feinstein Institutes and their research, which will lead to life-changing medicine and treatments that will improve the lives of New Yorkers on Long Island and across the State."
The field of bioelectronic medicine was born here, she said, thanks to the pioneering work of Dr. Kevin J. Tracey, President and CEO of Feinstein Institutes, and the funding will enable this work to be greatly expanded, attracting top scientists from around the world.
Included as part of Governor Hochul's FY 2023 Enacted Budget, the Long Island Investment Fund focuses on projects that will support and grow the regional economy, enhance communities, and have lasting economic impacts across Long Island. The Fund's $10 million award to the Feinstein Institutes for Medical Research will support the renovation and construction of 26 new state-of-the-art research labs on two floors as well as the hiring of 10 new principal investigators and 60 research employees. These modernized labs will advance research efforts to develop novel therapies for cancer, diabetes, obesity, lupus, and other conditions.
Long Island has become a life sciences hub, with a defined corridor that links Stony Brook University, Brookhaven National Labs (energy), Cold Spring Harbor Laboratory (genomics) and Northwell's Feinstein Institutes.
The state is also launching a $50 million life science business competition on Long Island, in order to bridge the divide between research and commercialization, and bring the innovations to market with start-ups, many of which may well come out of the four research institutions.
In all, New York is investing $620 million in life sciences sector, statewide.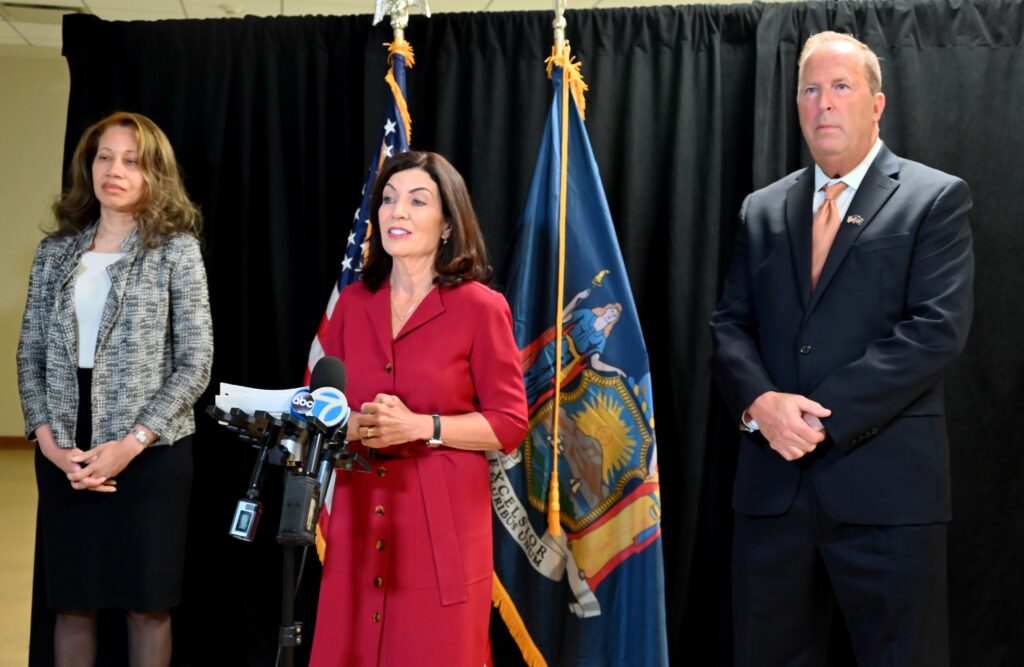 "The Long Island Investment Fund represents a strategic investment to further enhance the region as a powerhouse for the life sciences industry, which is an important driver of New York State's economy," Empire State Development President, CEO and Commissioner Hope Knight said. "The Feinstein Institutes play a critical role in life-changing medical discoveries and therapeutics that can improve our everyday lives. ESD is proud to support the growth of visionary life sciences companies like the Feinstein Institutes, whose work is crucial to building a healthier and stronger Empire State."
The Feinstein Institutes is the global scientific home of bioelectronic medicine, a growing scientific field that uses technology to read and modulate electrical activity within the body's nervous system. The new, modernized labs at the Institute of Bioelectronic Medicine will support discoveries to find cures that will reduce the need for drugs, reduce painful side effects, and give life back to people who are suffering. Early discoveries have emerged from its labs, opening new treatment options for patients with diseases such as rheumatoid arthritis, diabetes, paralysis, and even cancer. Clinical studies in bioelectronic medicine have already yielded results with those who are paralyzed: recent research utilizing an over-the-skin spinal cord stimulation patch has allowed participants to regain their ability to move and feel.
Governor Hochul acknowledged that the new technology could also help in the state's effort to diagnose and treat Long COVID which is afflicting so many New Yorkers.
The Institute of Bioelectronic Medicine's renovation includes wet-lab bench space, multiple tissue culture rooms, cold storage rooms, workstations for researchers, and a brand-new Biosafety Level 3 facility to allow new research into infectious diseases and other complex viruses, such as COVID-19. The expansion also supports the hiring of 13 new principal investigators and 100 new research employees.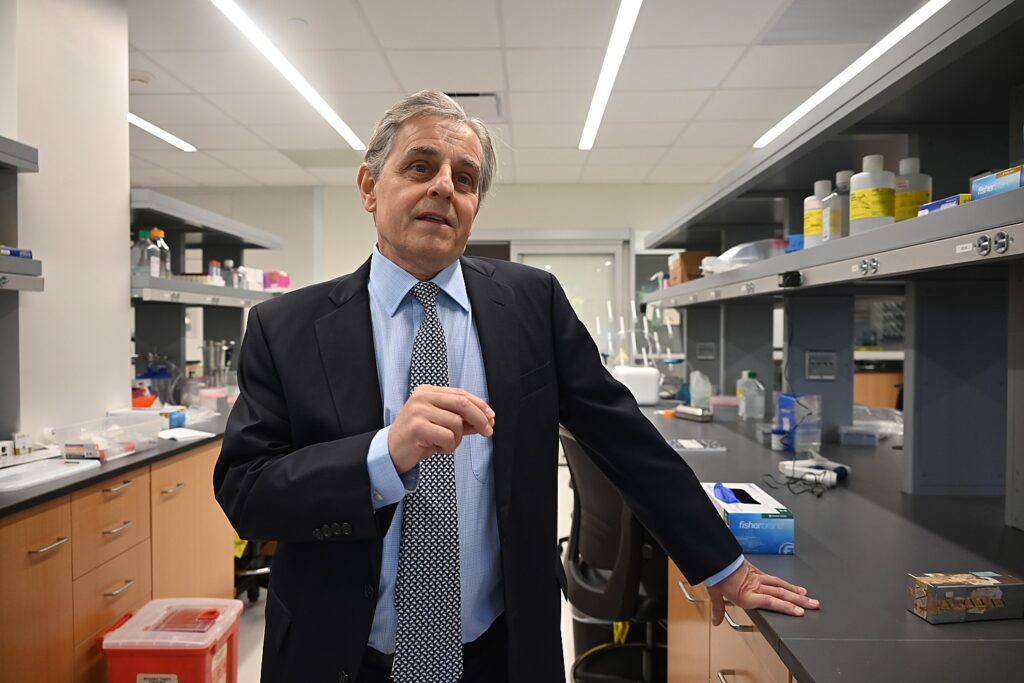 The Feinstein Institutes President and CEO Dr. Kevin Tracey said, "At the Feinstein Institutes, scientific progress is made every day. With the proper facilities and tools, we can help advance that progress even further. We are thankful to the Governor and Empire State Development for their funding of our new space, and we look forward to continuing our breakthrough medical research that will benefit our Long Island communities and beyond."

Northwell Health's President and CEO, Michael Dowling said,"This new facility and its resources, made possible by Governor Hochul and the Empire State Development, will allow our researchers at The Feinstein Institutes – Northwell's home of research and the global scientific home of bioelectronic medicine – to pursue their mission of discovering new treatments to cure disease and improve the health of the communities we serve."
Long Island is at the forefront of the life sciences industry as new research and discoveries in bioelectronic medicine – a new scientific field born and bred on Long Island – will attract the best and brightest researchers and world-leading strategic partners to create the cures that can transform lives. The life sciences industry has become a powerful engine of economic growth and innovation for New York, turning key regions of the State into dynamic life science hubs. Investing in life sciences is crucial to identify the next scientific or medical breakthrough that will develop new life-saving technologies. Through its support of the Feinstein Institutes' growth, New York is expanding its ability to commercialize research and spur the growth of a world-class life science industry on Long Island and across the State.
"Under Governor Hochul's leadership, New York is making smart investments to catalyze economic growth on Long Island. The Long Island Investment Fund will help the region thrive and strengthen New York's leadership in the global innovation economy," Empire State Development Board Chairman Kevin Law said. "The Fund's $10 million award to the Feinstein Institutes reaffirms our commitment to the growing life sciences ecosystem that will support the advancement of game-changing medical discoveries."
"Thanks to smart investments by the State of New York in partnership with the private sector, Long Island's life sciences industry is growing and thriving, bringing great jobs to our community, and driving innovation that will make our world a better place," State Senator Anna M. Kaplan said. "I fought for the Long Island Investment Fund to be included in this year's state budget because we need to continue making smart investments in our community that build on our many strengths and make our region more attractive for private investors and job creators to set up shop and expand their operations locally. I'm thrilled that, thanks to this fund, the world-class Feinstein Institute for Medical Research right here in Manhasset will be able to modernize their Institute of Bioelectronic Medicine that's doing incredible work to cure diseases and change the world."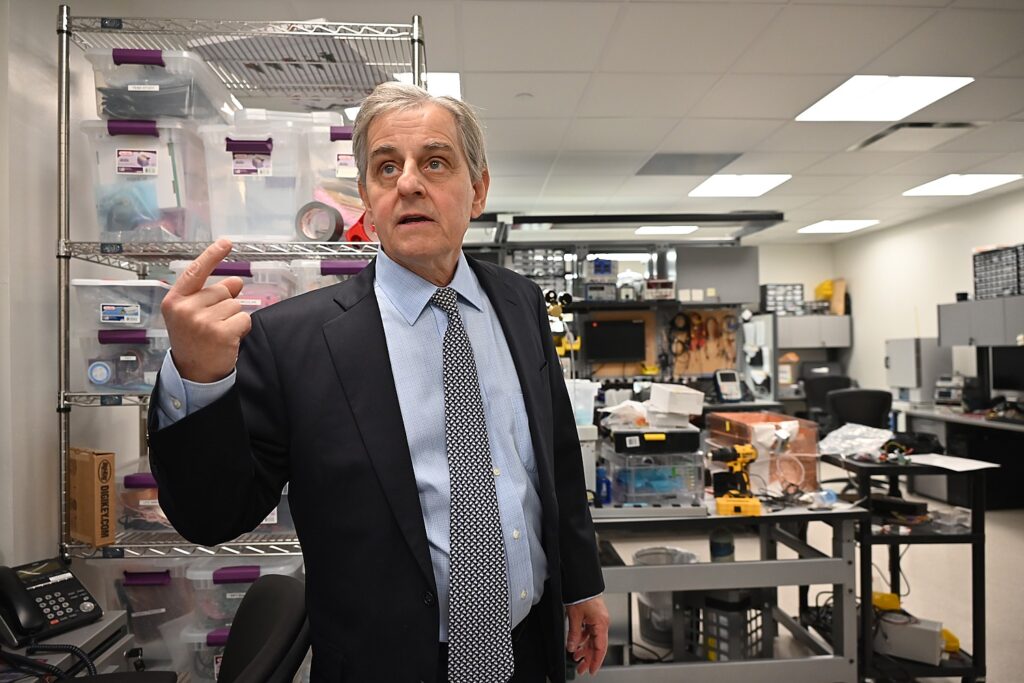 During a walk-through of the new and renovated labs, Dr. Tracey explained how bioelectric medicine involves building devices to control nerves, to treat disease. "Pick a disease, pick target, figure out the neural signals to control target." The technology can be used to activate immune system to intercept a disease. "Send the right neural signal to the right nerve to trigger immune system." It can be used to create new neural pathways to restore function to stroke victims, and has application to rehabilitation, such as the loss of hand function after a car accident.
But, he adds, you can't treat a disease until you understand its mechanism, which is why mental illness is not on the list at this time.
"Things are happening fast," he said, The FDA granted the technology "breakthrough" designation, which means the innovations can be fast tracked.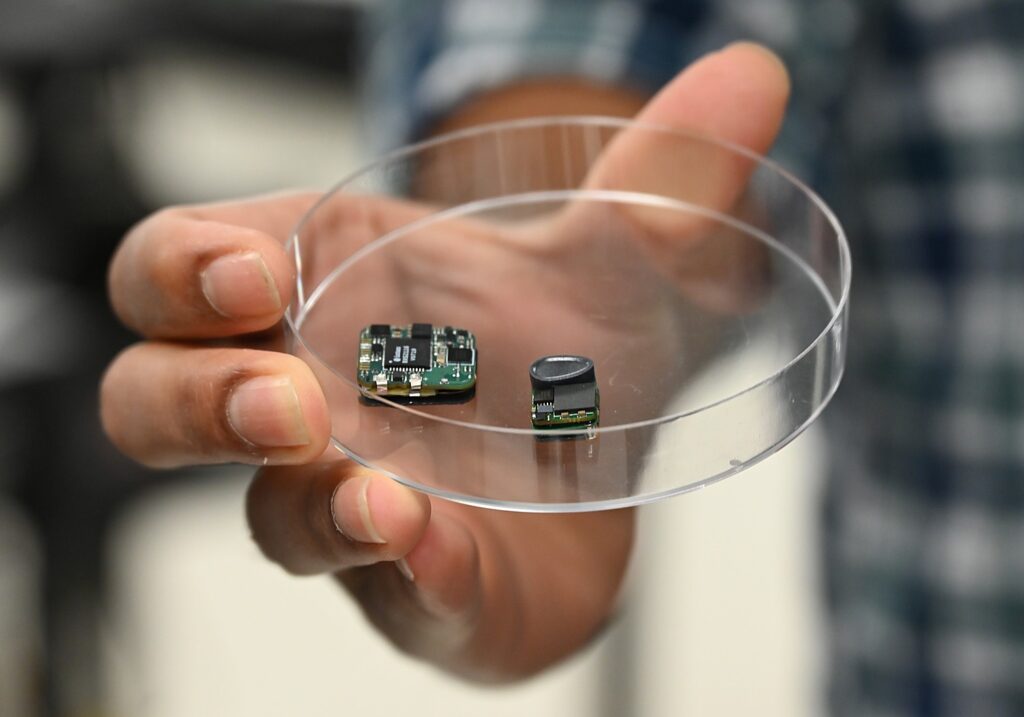 In the bioengineering lab, he points to the "wireless mouse" – not the computer device, but devices that can be inserted into a mouse to receive signals to stimulate specific nerves, and send the nerve recording back. A mouse is important for research because scientists can create disease in the mouse genetically, locate it, and generate the evidence that can be used to treat humans.
Investing in the Future of Long Island
The $10 million Long Island Investment Fund grant announced today complements historic initiatives and investments for Long Island:
$157 million investment — repaving 300 lane miles of state highways to date.
More than $457 million for school aid – a 12.7 percent increase compared to FY 2022.
$63 million for addiction treatment, recovery and prevention services.
The homeowner Tax Rebate Credit, with an average benefit of $1,300 for 494,000 Long Island homeowners.
$500 million to develop New York's offshore wind infrastructure and supply chain – ultimately creating more than 2,000 green jobs.
Completing Long Island Rail Road's historic Third Track project, allowing trains to run more often and creating a smoother ride for LIRR commuters.
____________________
© 2022 News & Photo Features Syndicate, a division of Workstyles, Inc. All rights reserved. For editorial feature and photo information, go to www.news-photos-features.com, email [email protected]. Blogging at www.dailykos.com/blogs/NewsPhotosFeatures. 'Like' us on facebook.com/NewsPhotoFeatures, Tweet @KarenBRubin