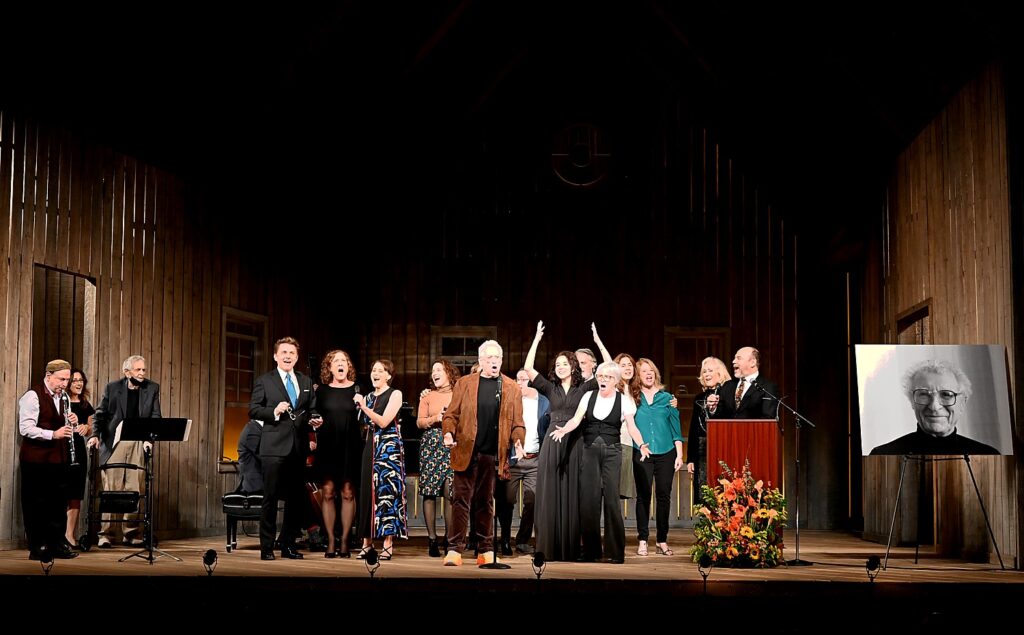 By Karen Rubin, Travel Features Syndicate, goingplacesfarandnear.com, [email protected],
The Broadway theater community gathered at the Music Box Theatre on Thursday, November 9, for a touching tribute celebrating the life of the lyricist who celebrated life, who gave the world "Fiddler on the Roof" and so much more, Sheldon Harnick.
One of our nation's and world's most beloved treasures, Sheldon Harnick passed away at the age of 99 on June 23,2023. During his iconic career working on Broadway and spanning more than seventy years, Sheldon wrote many of Broadway's greatest critically-acclaimed and timeless hit shows.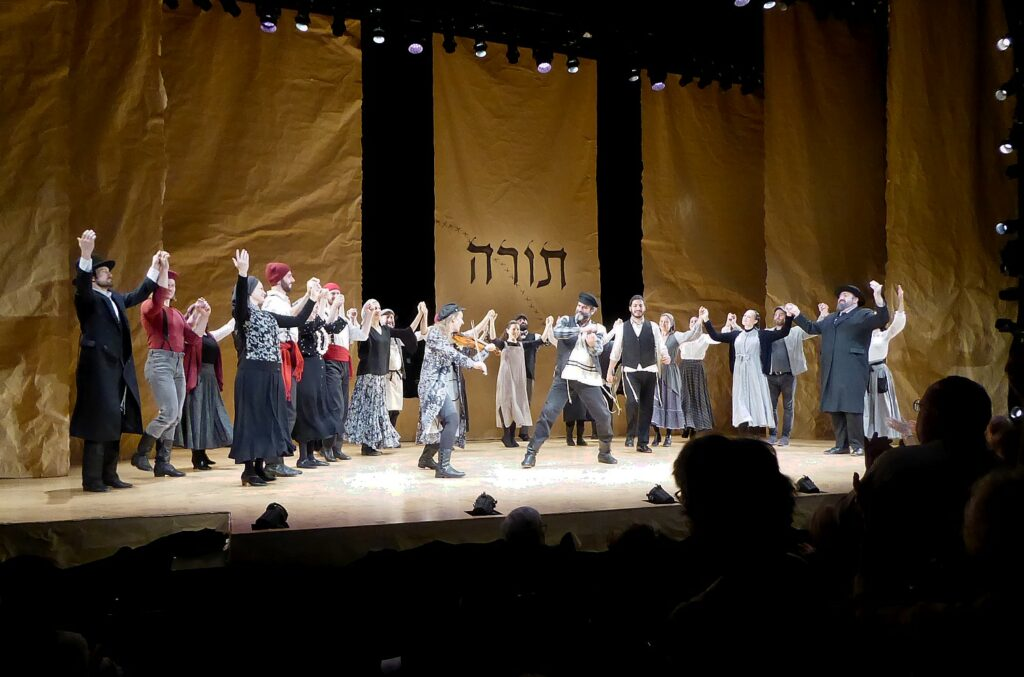 His prodigious work earned him numerous awards, including a Pulitzer Prize, 4 Tony's and a Grammy. Sheldon, together with his longtime collaborator Jerry Bock, created some of the most important and influential pieces of theater in the world including but not limited to; Fiorello! (1959): Pulitzer Prize, Tony Award; Tenderloin (1960); She Loves Me (1963): Grammy Award; Fiddler on the Roof (1964) Tony Award; The Apple Tree (1966) and The Rothschilds (1970). Other collaborations include A Christmas Carol with Michel Legrand (1981); Rex with Richard Rodgers (1976); A Wonderful Life with Joe Raposo (1986) and The Phantom Tollbooth with Arnold Black (1995). For Dragons and Malpractice Makes Perfect, he provided book lyrics and music, He has written songs for the films The Heartbreak Kid (1972) and Blame It On Rio (1984) both with music by Cy Coleman; and Aaron's Magic Village (1995) with Michel Legrand.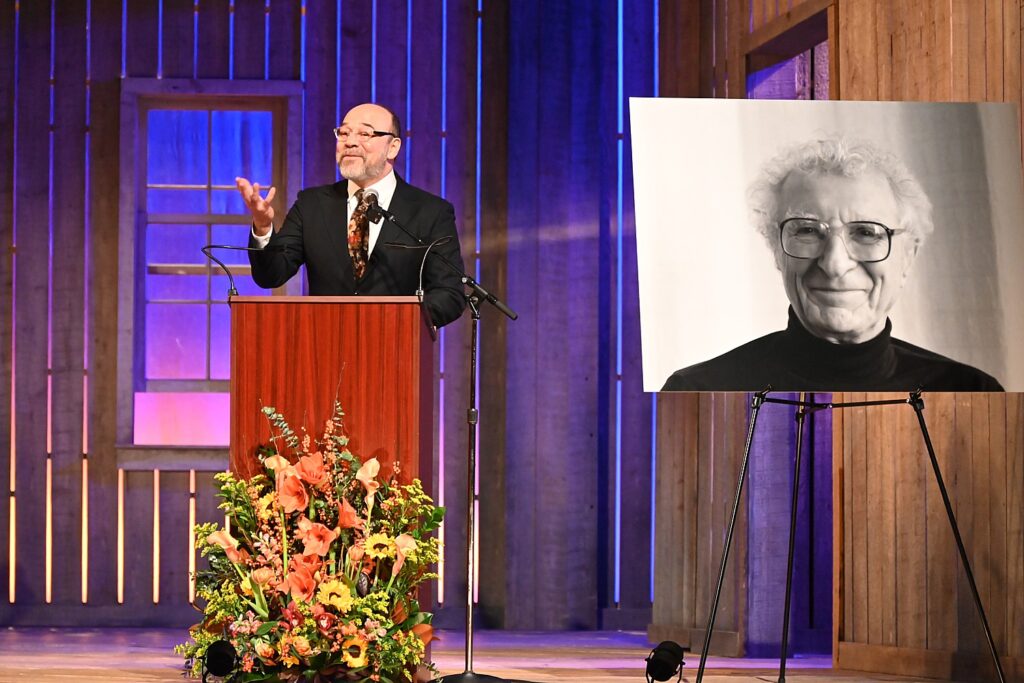 An array of Broadway luminaries, including Danny Burstein, Robert Cuccioli, Jason Danieley, Harvey Fierstein, Rob Fisher, Jenn Gambatese, Jessica Hecht, John Kander, Judy Kuhn, Nancy Opel, David Rockwell, Alan Schmuckler, Elena Shaddow, Alexandra Silber, Deborah Grace Winer, Sherman Yellen, and Karen Ziemba, celebrated Harnick through music, reflections and remembrances.
Together, they provided a portrait of who Harnick was and the legacy he leaves – this loving and beloved man who never failed to lift up and support others, whose greatest wish was for world peace, but if that was not possible, inner peace.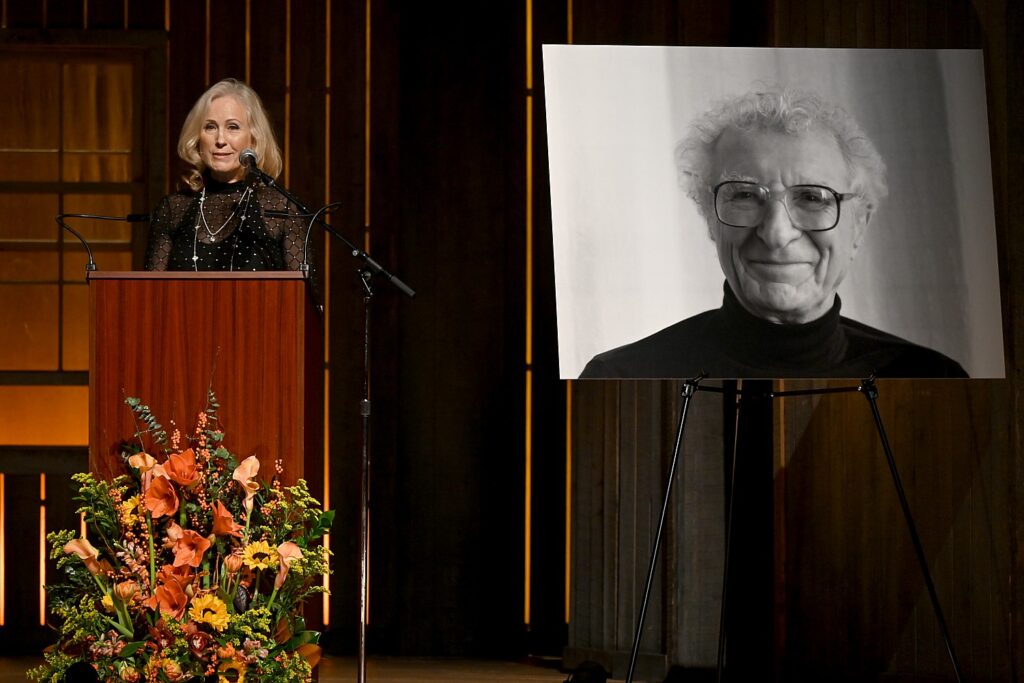 "He lived words," his daughter, Beth Harnick Dorn, reflected. His goal in life was to use art to achieve world peace, "but we all have the ability to experience inner peace, and that's how world peace will come about."
She spoke of his work ethnic (Harnick means "hard worker"), his pragmatism, and frugality (turned off lights, refused her request to throw him a birthday party at 95).
Sherman Yellen, who has known Harnick for most of his adult life and wrote the book for "The Rothschilds" and "Rothschild and Sons," said, "Wonder of wonders, miracle of miracles, Sheldon as man and artist was filled with wonder He wrote songs that were conversations with the audience – honest, witty, charm, compassion, some sadness, human and wise.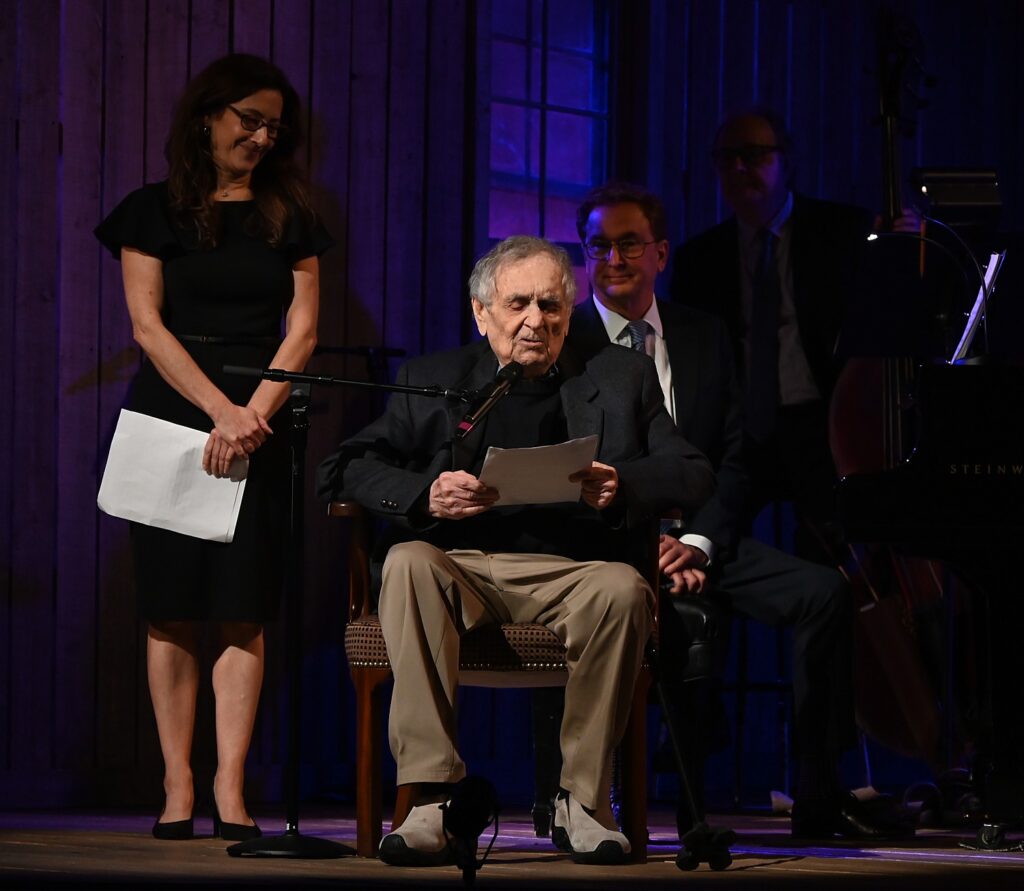 Harnick was hesitant to revisit the subject of Jewish life, in "The Rothschilds," as he had in "Fiddler." Yellen said. "But he found my treatment fresh – wealthy and successful bankers who would not be defeated by antisemitism, a family's struggle for safety in a dangerous world. It was a deeply felt anthem for peace, deeply needed today.
"He was the best of collaborators – good humored but he could be stubborn as hell, neither a pussycat nor a pushover."
He wrote one of the most beautiful love songs, 'Away From You," with Richard Rogers for "Rex." "He knew love. He created a celebration of life in every show he wrote."
"On the last day of his life, he spoke a sentence. Then a few minutes later, he spoke another sentence – and it rhymed. His last words, a lyricist, were in song in the company of the woman he loved."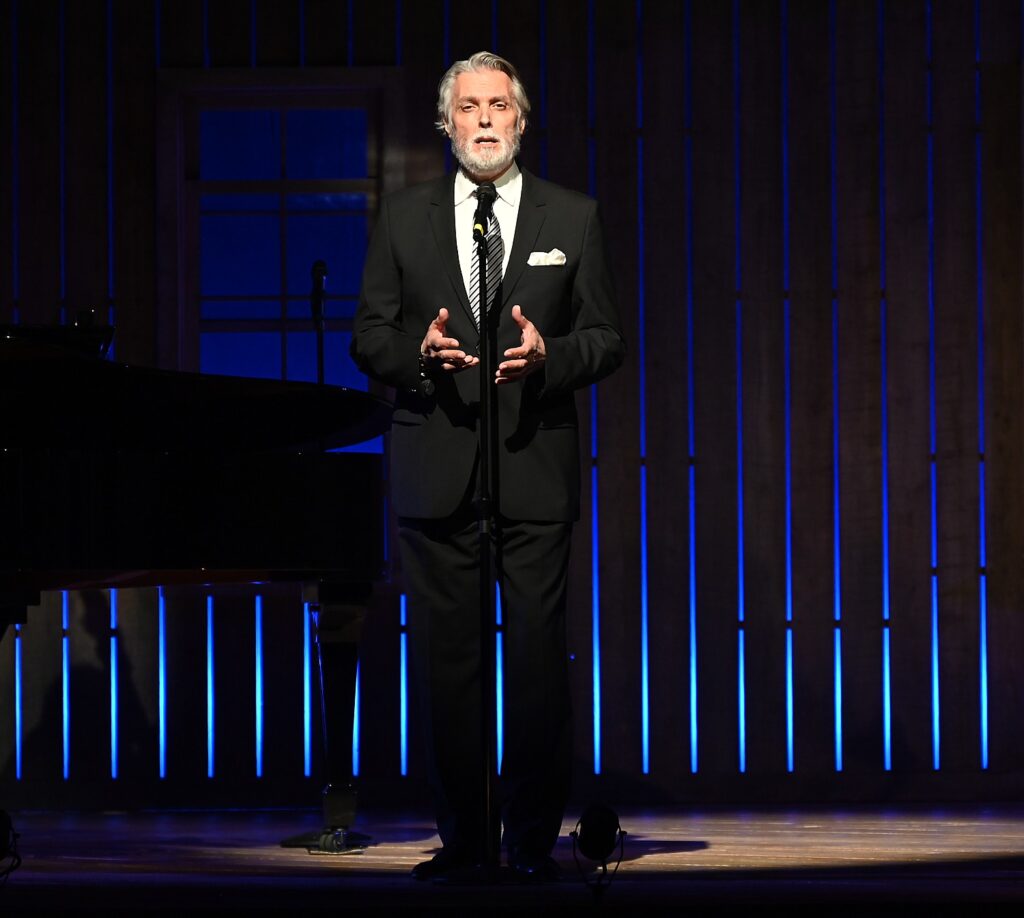 Deb Winer, a writer and Harnick's friend, Harnick wrote "Shape" for Charlotte Rae. "It came out fully formed in a dream – the only time in his entire life that happened. It was my favorite lyric and for my 50th, he wrote it out by hand for me."
"So many have had their lives changed by Sheldon – he mentored, collaborated. This Pulitzer-prize winner made us feel as equals, that he valued our talent. He is a Super Hero – our Super Hero.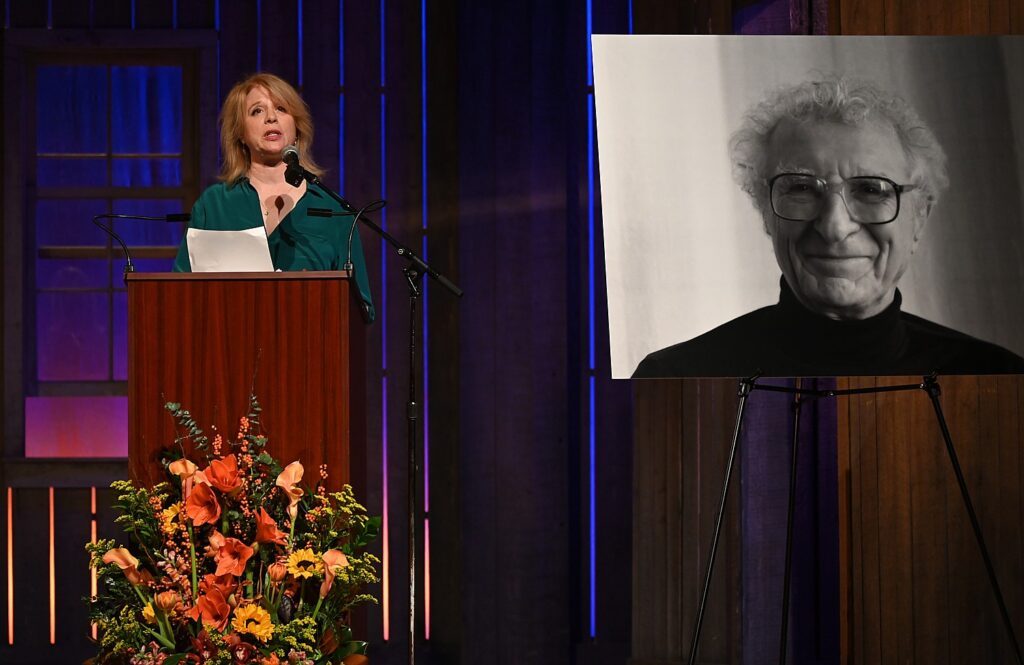 "We kept waiting for him to get old – he never did. At his 90th birthday, he broke open a bottle of champagne in a dressing room of one of his shows he was watching. At 95, he picked up a book in French that he thought might make a good but had to translate from French to English first. At his 96th, two days before COVID lockdown, he sang with Margery, 'Do you love me?' At 97, he surgically analyzed a script and came up with the perfect solution. At 98, still pandemic, there were three of us in his apartment, when the doorman called up that a gift was being delivered. We thought it would be flowers, but instead, a Hasidic rabbi was sent to deliver birthday prayer, who broke into song. At 99, in the hospital, he said he needed to go home to get back to work. He went through several books a week – he kept feeding his mind.
"Super Heroes never die. They are here with us always to inspire…. standing up for what is right. No weapon is as mighty as wit and if necessary, a good joke… Your power will guide us always…"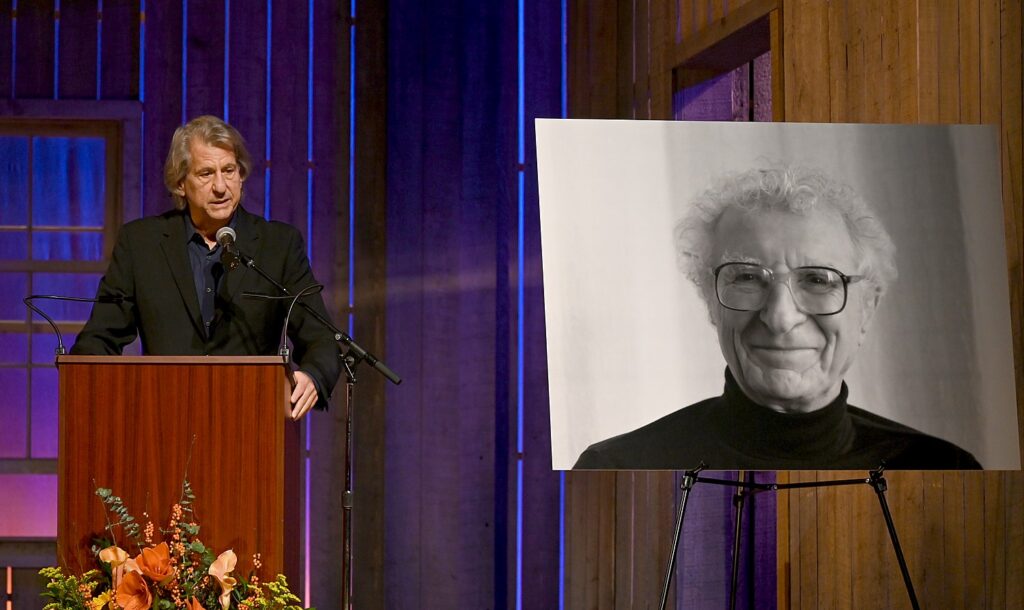 David Rockwell, a set designer and architect, who worked with Harnick on "She Loves Me" eight years ago (for which he got the tony for set design, in the "Hamilton year," said, "I looked forward to meeting this legend, Sheldon Harnick." "Fiddler on the Roof," he said, was the first show he had ever seen. "I was mesmerized, moved – the story, the brilliant lyrics merged seamlessly into artistic vision. It was life changing. I was met with love – Sheldon and Margery more or less adopted me.
"Sheldon celebrated his 99th birthday – he was sharp as a tack. He said, 'Birthdays are so great, I'd like to have one every year.' His artistry, his zest for living inspire me, his goodness, his menchiness."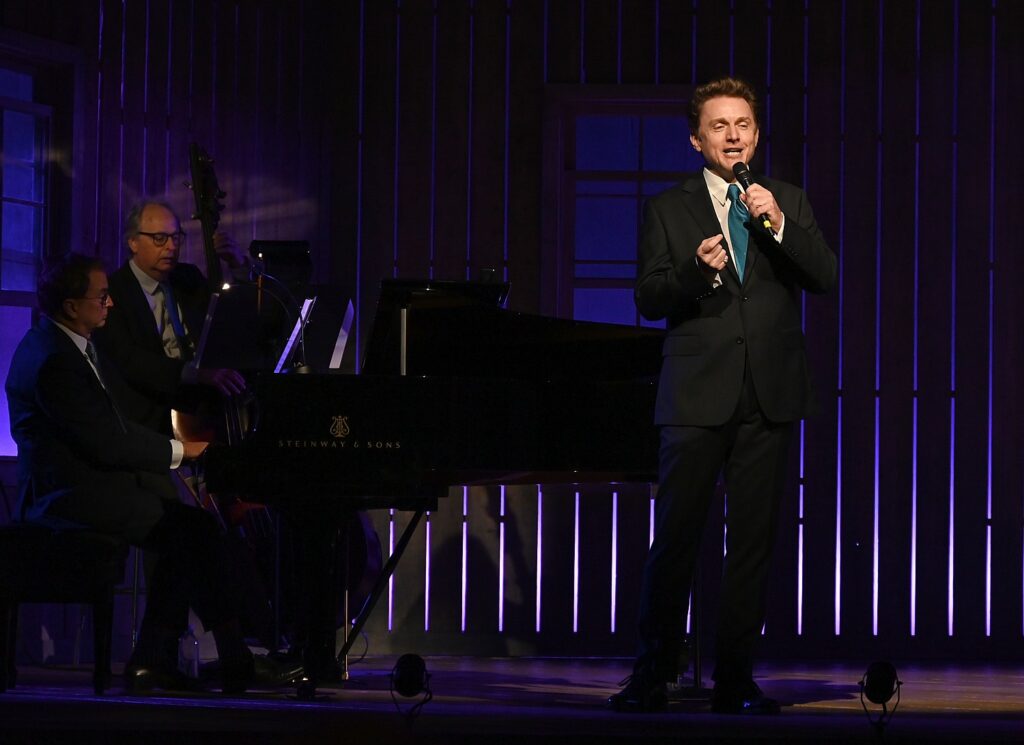 Jason Danieley and his late wife would often get together with Sheldon and his wife of 58 years, Margery. 'We felt we had found the love of our life – the way they speak to and about about one another. Not only had we found someone to love, but also, to give us something to live for," and then went on to sing "Now I Have Everything," from "Fiddler on the Roof," with its stunning lyric, "Besides having everything, I know what everything is for."
John Kander, speaking from the piano, said, "For my generation who got to play in the sandbox of theater, we always knew Sheldon was the best of us."
Harnick "wasn't all peaches and cream, Sheldon had a cynical side as well," Kander related,then performed, "They're Rioting in Africa (The Merry Minuet)" (which is often attributed to Tom Lehrer and also listed as "unknown lyrics"), which ends with, "What nature doesn't do to us
Will be done by our fellow man." (https://www.lyricsondemand.com/u/unknownlyrics/theyreriotinginafricamerryminuetlyrics.html)
Harnick is survived by his wife of 58 years, Margery Gray, his two children Beth Dorn and Matthew Harnick and four grandchildren.
Later that night, at exactly 6:45 pm, the Broadway League's Committee of Theatre Owners dimmed the lights of all 41 Broadway theaters for one minute in Harnick's honor.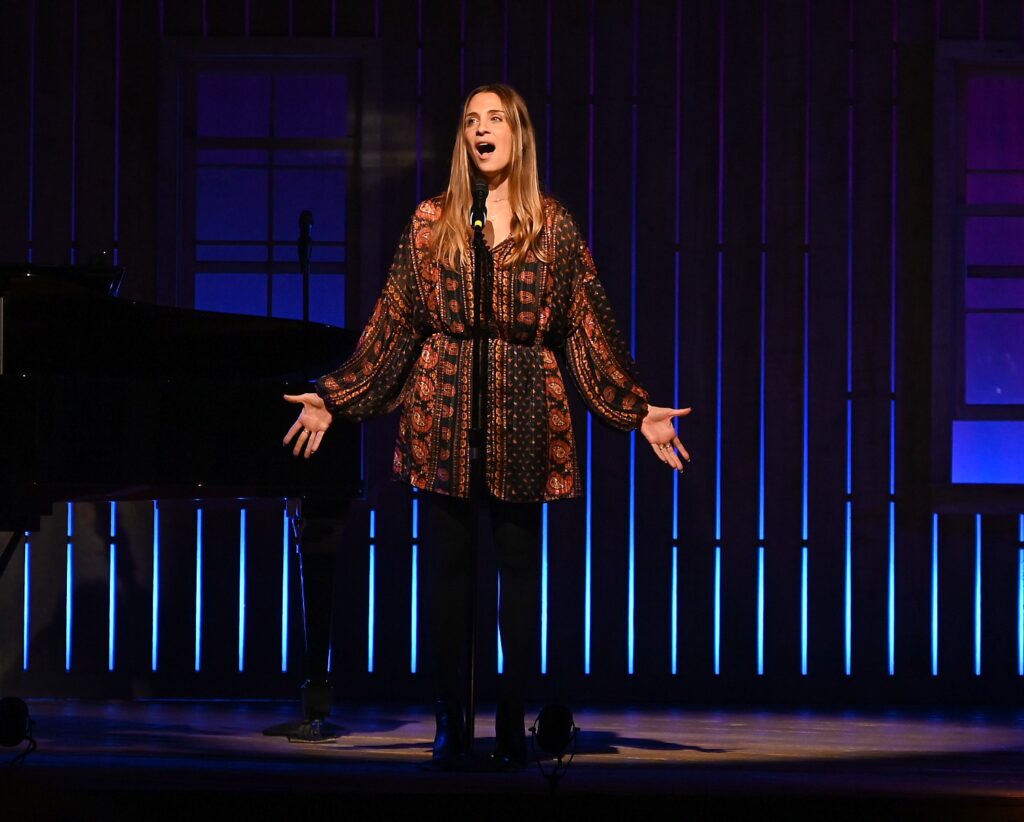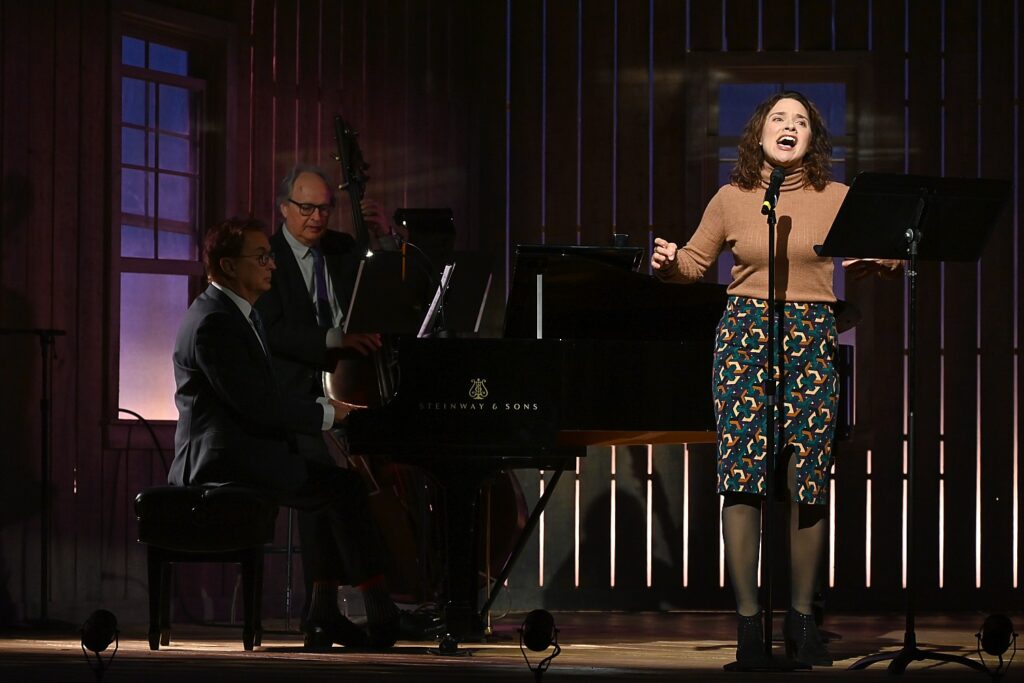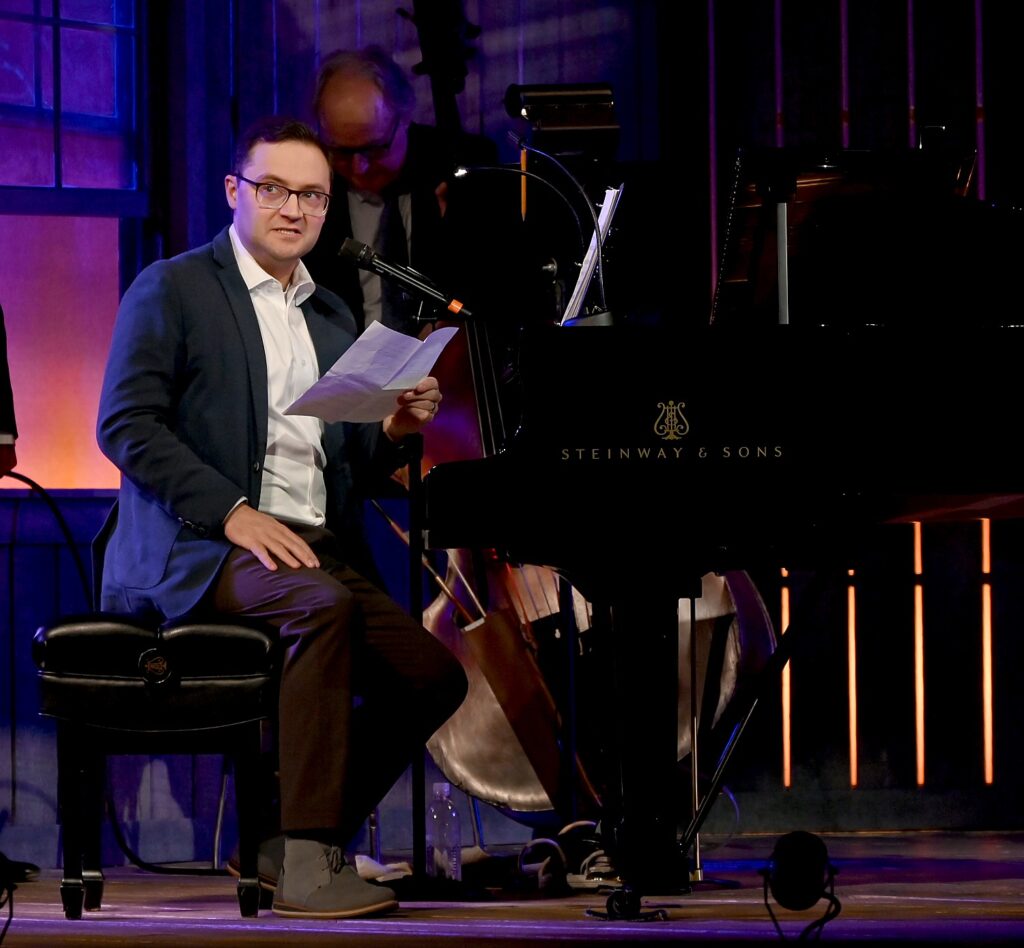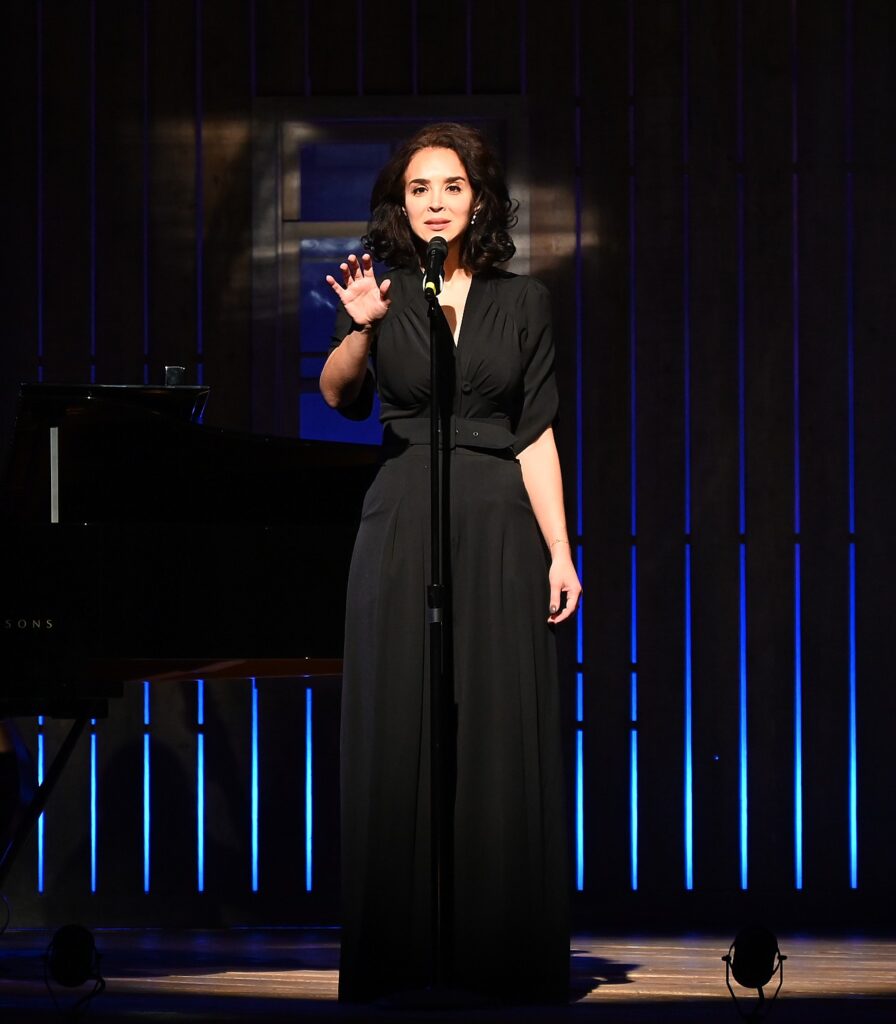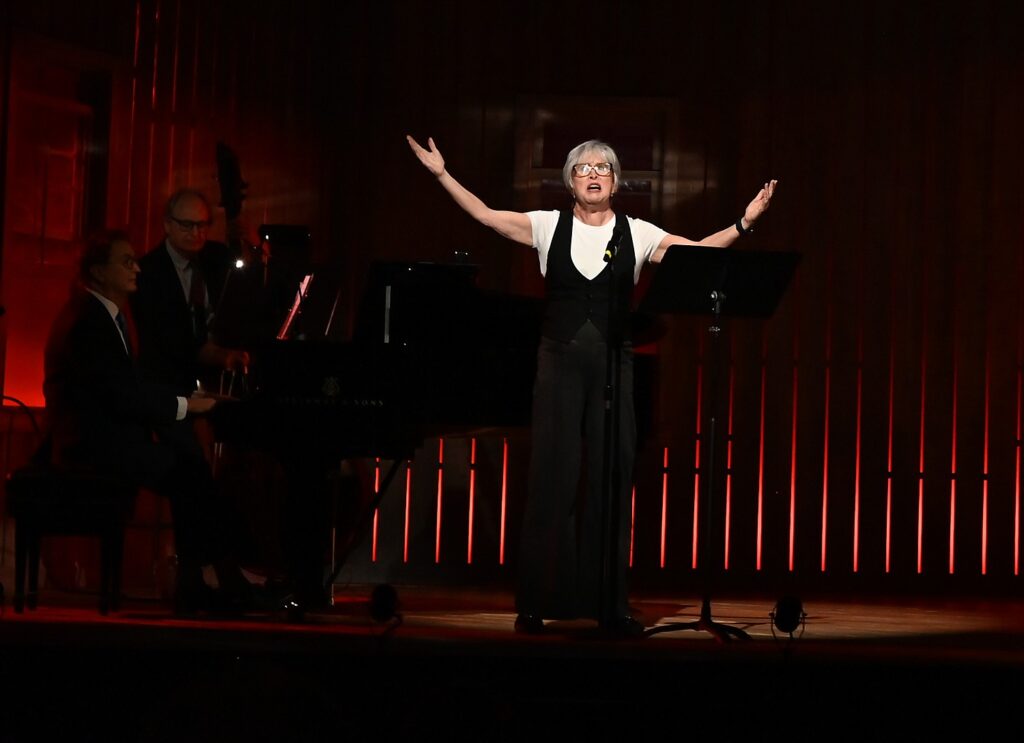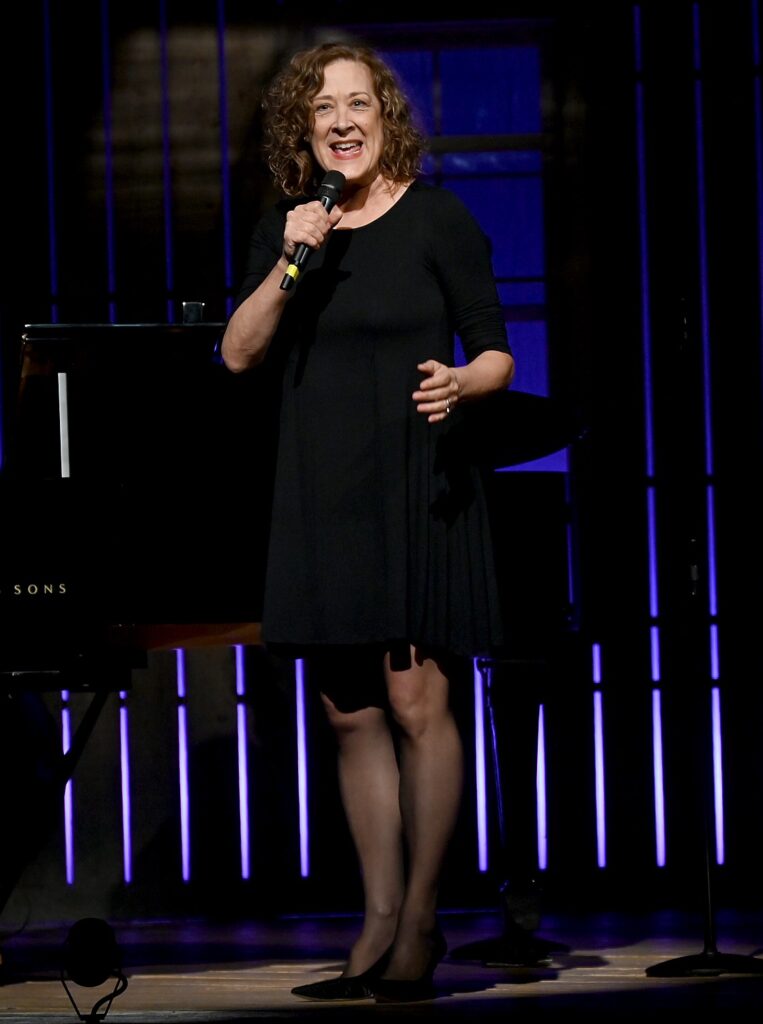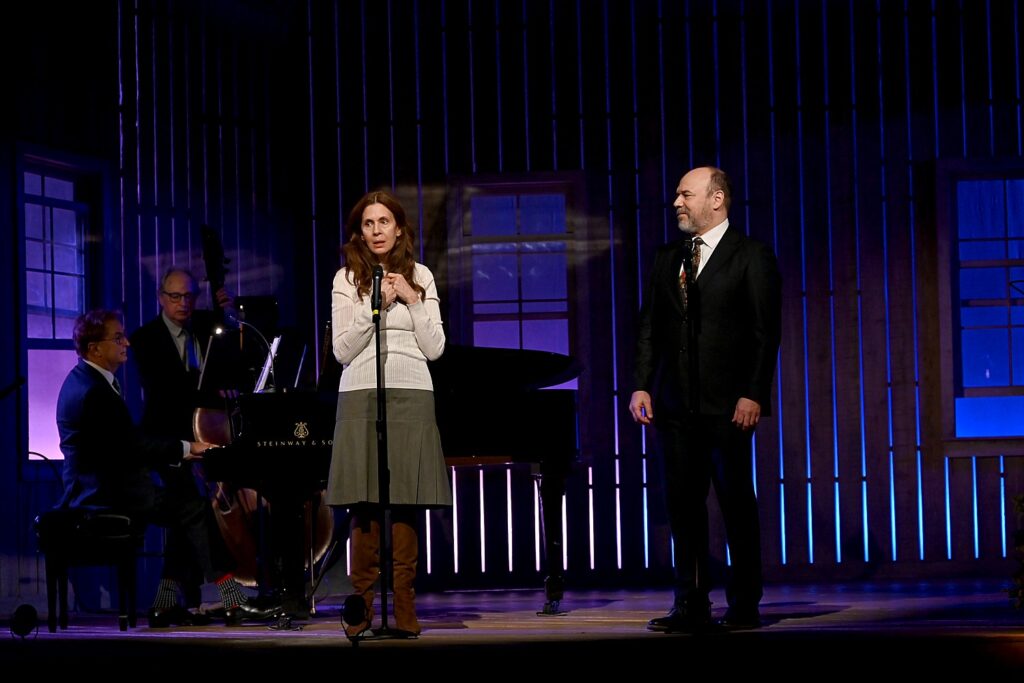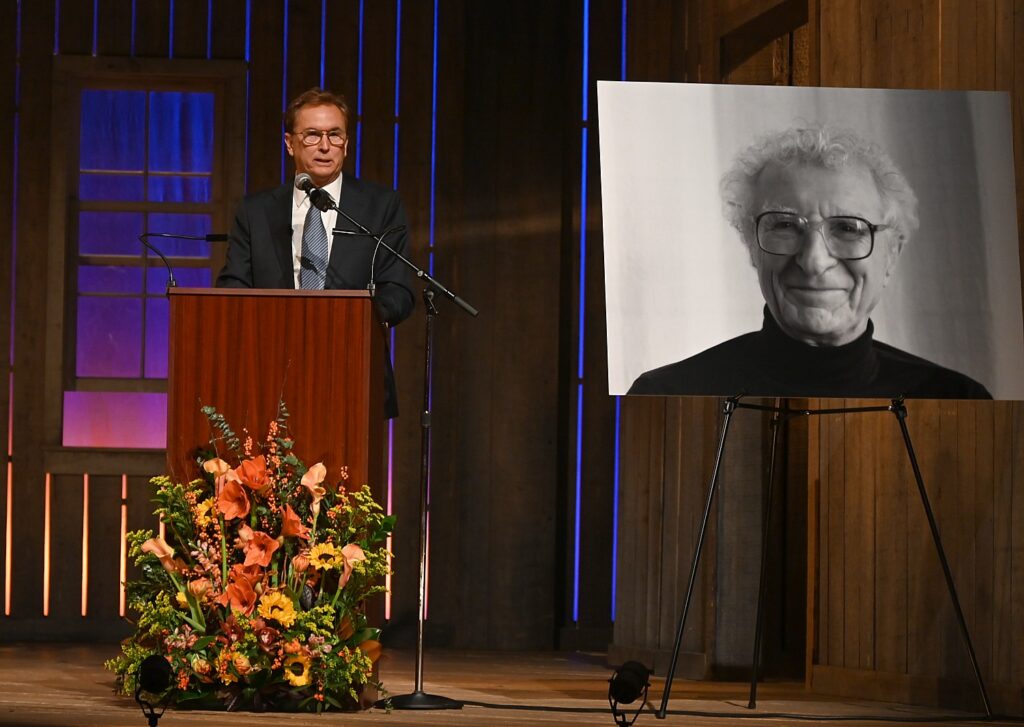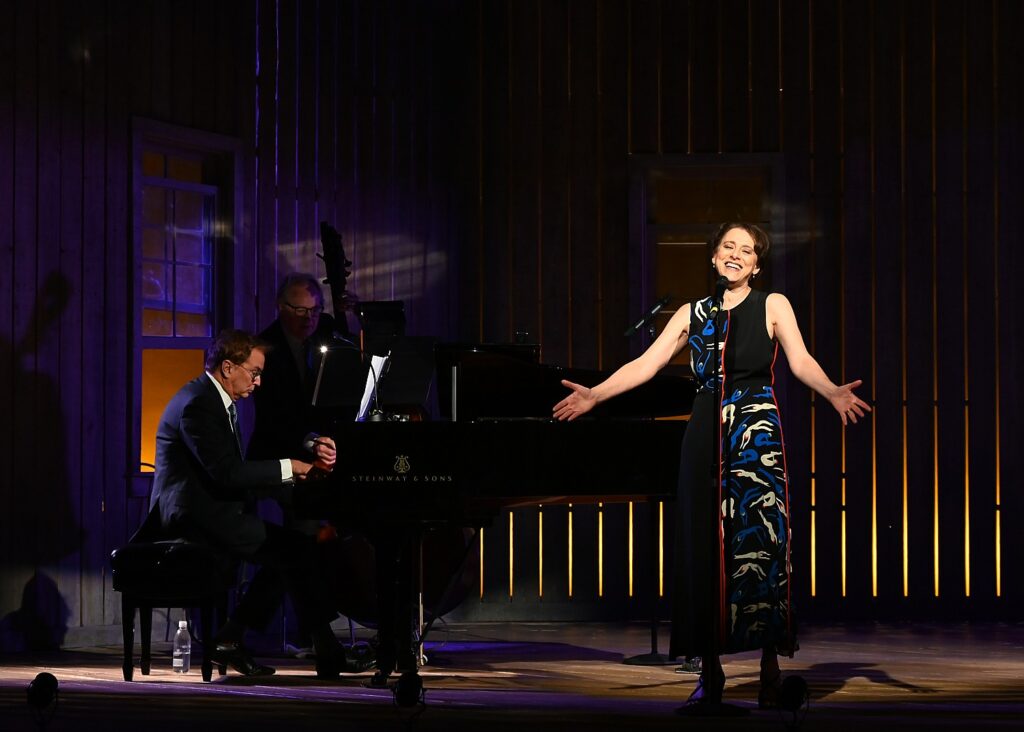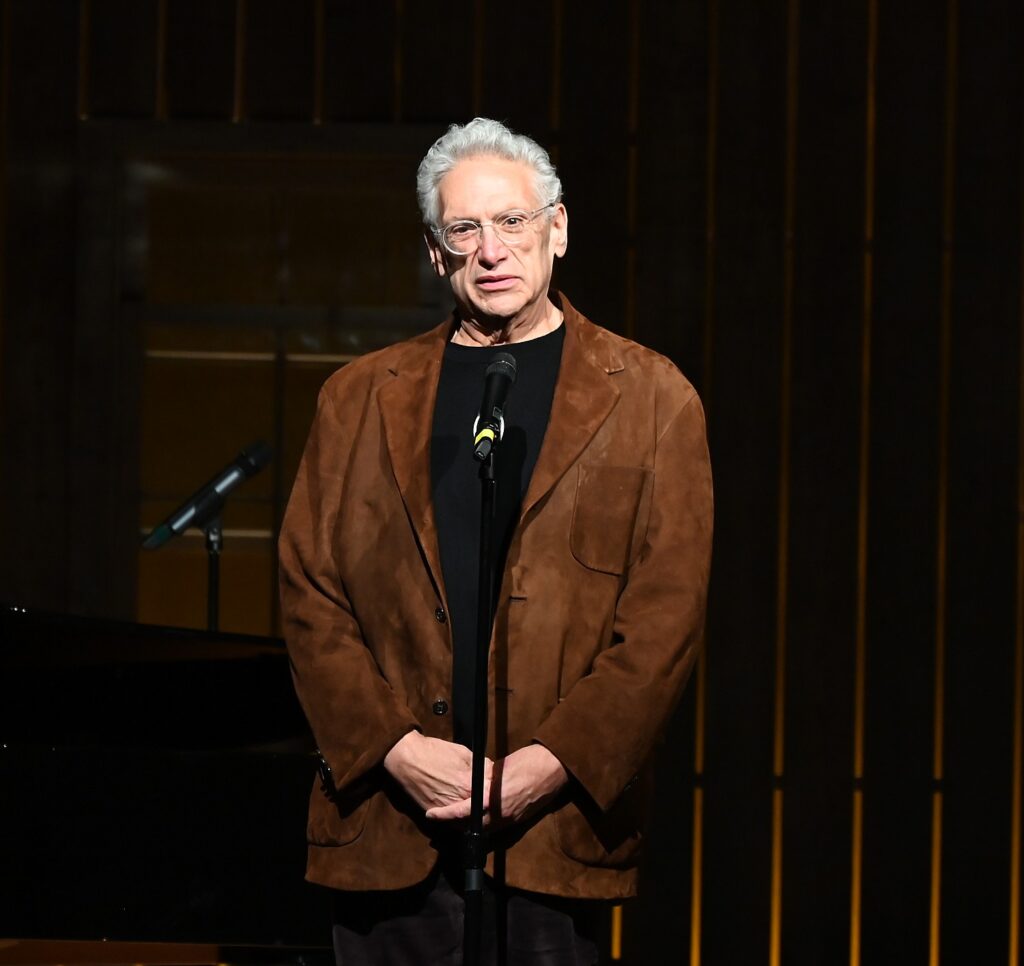 To see more about Sheldon Harnick, his place in the "Golden Age of Broadway," the artifacts, props, costumes, sets and the history, legacy and highlights of Broadway theater, visit the Museum of Broadway. The Museum of Broadway, 145 West 45th Street, New York, NY 10036, 212-239-6200 or 800-447-7400, www.themuseumofbroadway.com, follow @museumofbroadway on social channels.(See: NEWLY OPENED MUSEUM OF BROADWAY CELEBRATES ARTISTRY, LEGACY OF THEATER)
____________________________
© 2023 Travel Features Syndicate, a division of Workstyles, Inc. All rights reserved. Visit goingplacesfarandnear.com, www.huffingtonpost.com/author/karen-rubin, and travelwritersmagazine.com/TravelFeaturesSyndicate/. Blogging at goingplacesnearandfar.wordpress.com and moralcompasstravel.info. Visit instagram.com/going_places_far_and_near and instagram.com/bigbackpacktraveler/ Send comments or questions to [email protected]. Tweet @TravelFeatures. 'Like' us at facebook.com/KarenBRubin