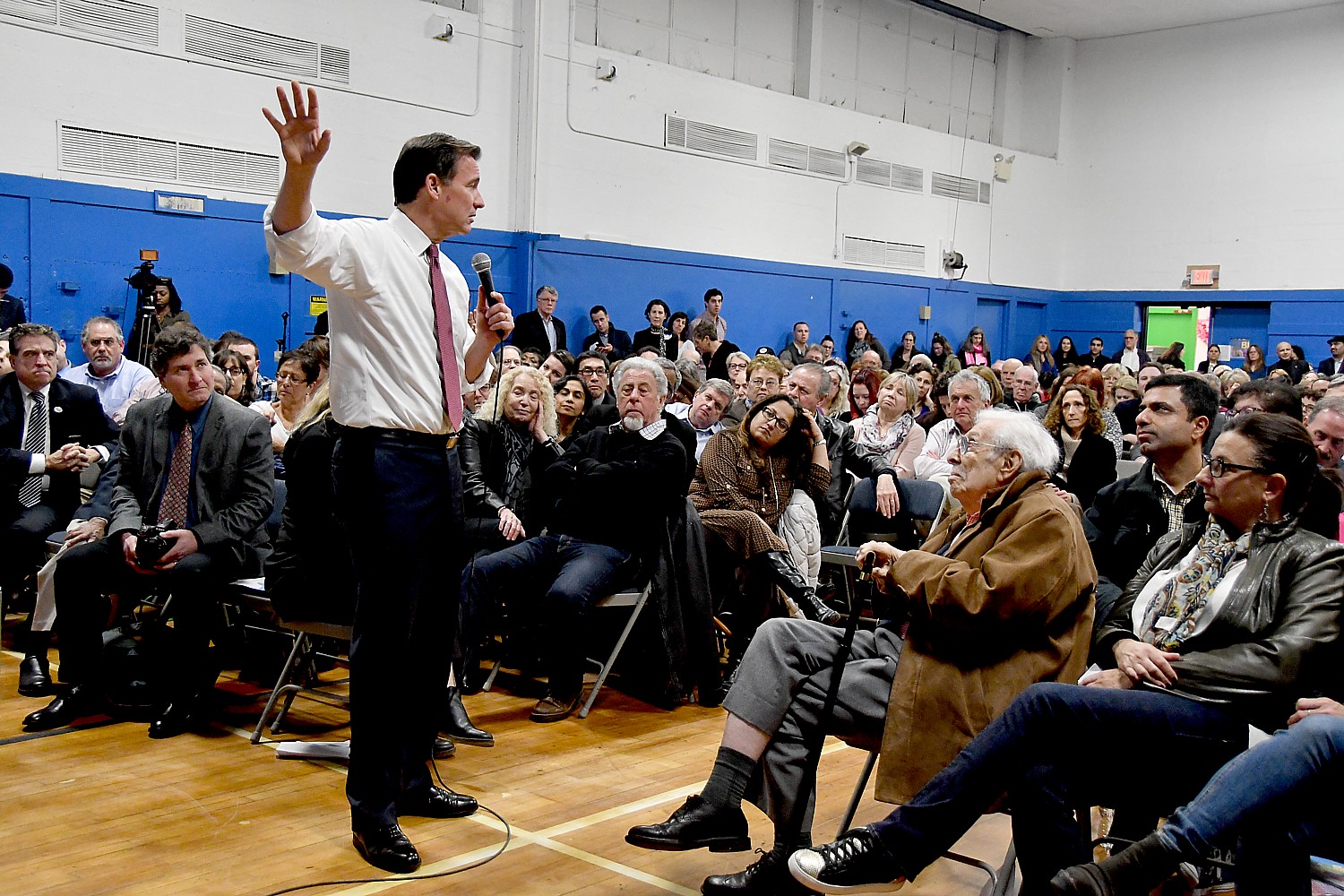 By Karen Rubin, News & Photo Features
Tom Suozzi's town hall, his first as the Congressman representing New York's 3rd District, was Standing Room Only, but he handled it with grace and aplomb, managing to organize what could have been an unruly outpouring of frustration, consternation, anger and anxiety into a productive discussion.
He presented the four key issues he believed most people wanted to discuss – Obamacare (Affordable Care Act), Trump-Putin ties and conflicts of interest, the travel ban, immigration and the environment – then held it up to a vote to ask if that met with approval. Then he picked four or five people to ask questions before moving on to the next topic.
Who wants to stay until 8:30? 9:15? 9:30? All night? 9:30 was the decision.
That's how it went throughout the night with a return to key points: this is what democracy looks like. Let's be realistic: I'm a junior Congressman from a minority party. And finally: it is up to you. Your voice. Your activism.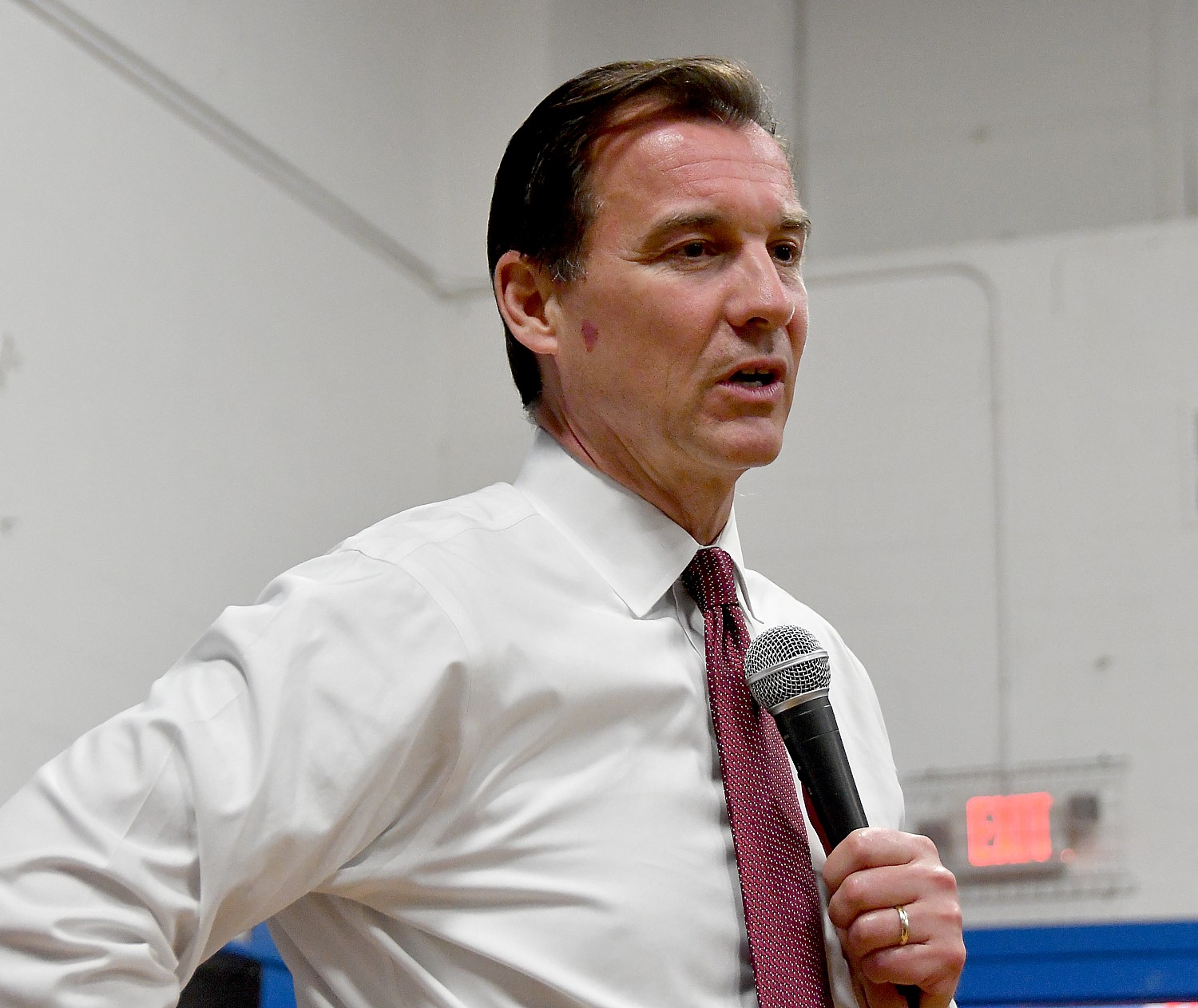 Most ingenious of all: he divided up his 3rd Congressional district into 16 neighborhoods – "The Third Will be Heard" – and tried to recruit people to join committees to stay active – write letters to local newspapers (the media with the most trust, he said), go door to door if necessary, engage in conversations with friends, family and others, instead of that old-saw of politics being a taboo subject.
Whenever someone introduced themselves as an expert – such as the scientist with Feinstein Institute who is a member of a newly formed Science Advocacy of Long Island (who have much to be concerned with as the Trump Administration destroys data on climate change and looks to shut down NASA's Climate monitoring activities) – he would recruit them onto the committee. The high school fellow too young to vote whose friends are completely apathetic? You're recruited. Get your friends engaged.
"Take that energy, that excitement and use it in a constructive forum to win the battle," he said.
With the debate swirling over whether Democrats should be as obstructionist as the Republicans were during Obama's presidency, Suozzi clearly appreciates that "politics is the art of the possible" (as Hillary Clinton said, much to the consternation of the Bernie Sanders ultra-left progressives who likely were among the 92 million voters who did not come out and vote, handing the reins of power and policy to the exact opposite of Obama/Clinton).
Indeed, Suozzi as Congressman is functioning exactly as he said he would during the campaign: as someone who prefers to find common ground in order to accomplish something.
He told the packed audience that filled the room to capacity that he is a member of a newly formed (can you imagine?) Problem Solvers Caucus, consisting of 20 Republicans and 20 Democrats. They are trying to find some consensus on issues such as infrastructure and tax reform (good luck with that).
Interestingly, when Suozzi asked for a show of hands of people who had never been politically engaged before, an estimates 40% of the room raised hands.
Some of the questions and comments were extremely moving: the woman whose husband is being treated, thanks to Obamacare, for cancer "he's on the verge of being cured, but if Obamacare is repealed, he would have a preexisting condition"; the son whose father has advanced Parkinsons, who lost his job and if Obamacare is repealed, faces the dilemma of providing quality of life for the father or the family.
A woman speaking haltingly because of her disability, fearful of proposals to cut Medicaid, Medicare and Social Security and instead to send money to states to use as a block grant, a fear echoed by parents and of siblings of disabled people, who declared "I'm tired of people characterizing us as lazy".
An immigrant man whose college-age son can't get an internship because of his status; the woman who migrated from India 28 years ago as a 15 year old, who described the "extreme vetting" then, which has only gotten more intense under Obama; and people who asked what can be done to alleviate the anxiety in their communities over sweeps.
Suozzi noted that as Glen Cove Mayor he fought against having local police become defacto ICE agents because of the importance of the community having trust in its government and law enforcement and the value of "community policing".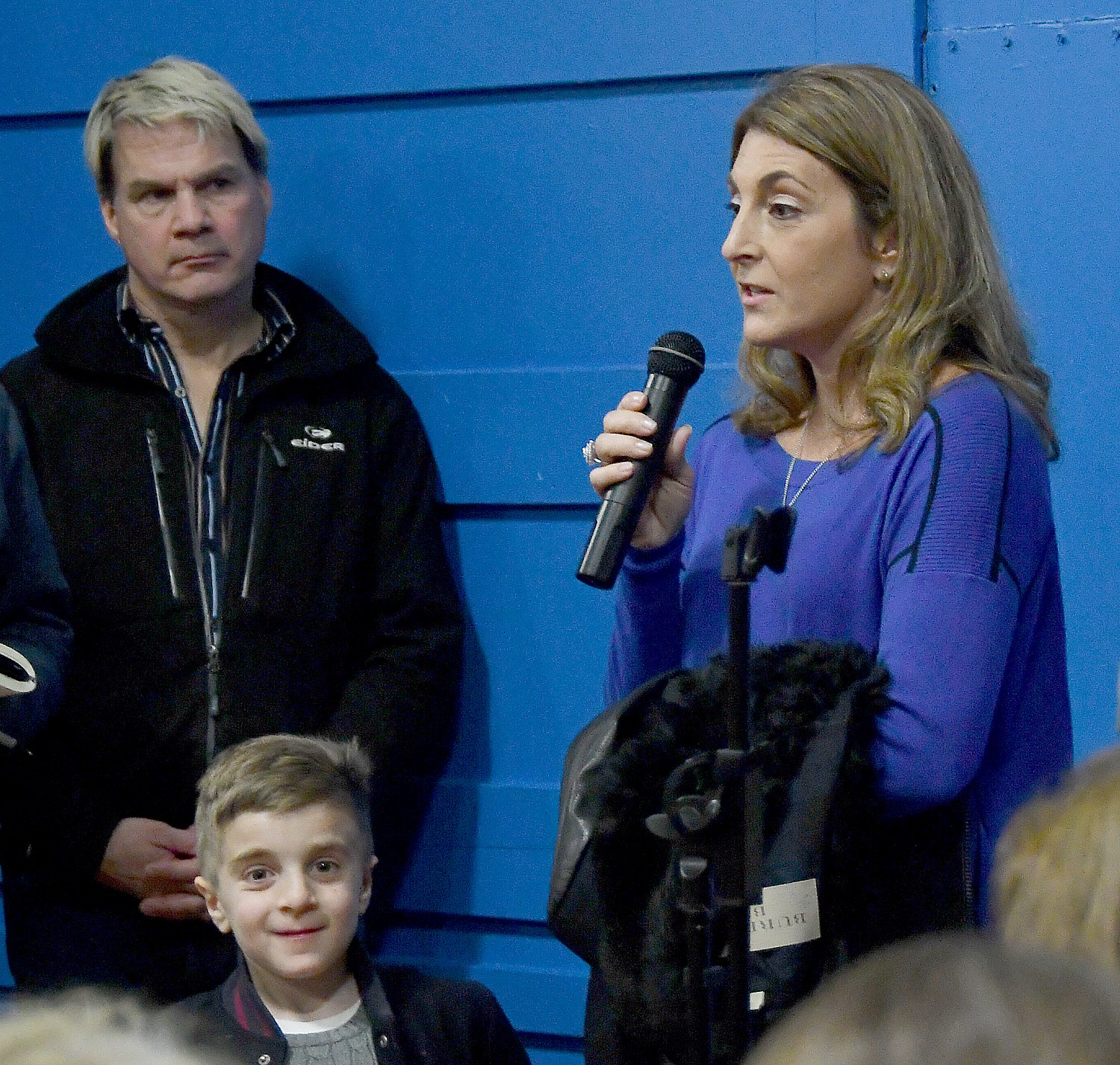 He also acknowledged when someone brought up something that he was not aware of – like the problem with a local pre-school that serves special needs children which has to negotiate individually for grants from state and county government, and has seen only a 2% increase in funding over the last six years.
"The Third Will be Heard" 
Suozzi did not disguise the surprise at the turnout, noting that in his years as an elected official (Mayor, Nassau County Supervisor) well accustomed to holding town halls, he has never seen anything like this.
He asked what groups were represented: a number were newly formed in response to Trump's election including several Indivisible groups, who came with pre-printed signs "Agree", "Disagree" (an effective mechanism to communicate with the Congressman. Others included Reach Out America, Moveon.Org, Science Advocacy of Long Island, Long Island Together, Every Child Matters, Planned Parenthood of Nassau County, 10100, NY Civil Liberties Union, Human Rights Campaign, NOW of Nassau-Suffolk, Code Pink Long Island, Long Island OptOut, Huntington Democrats, among others.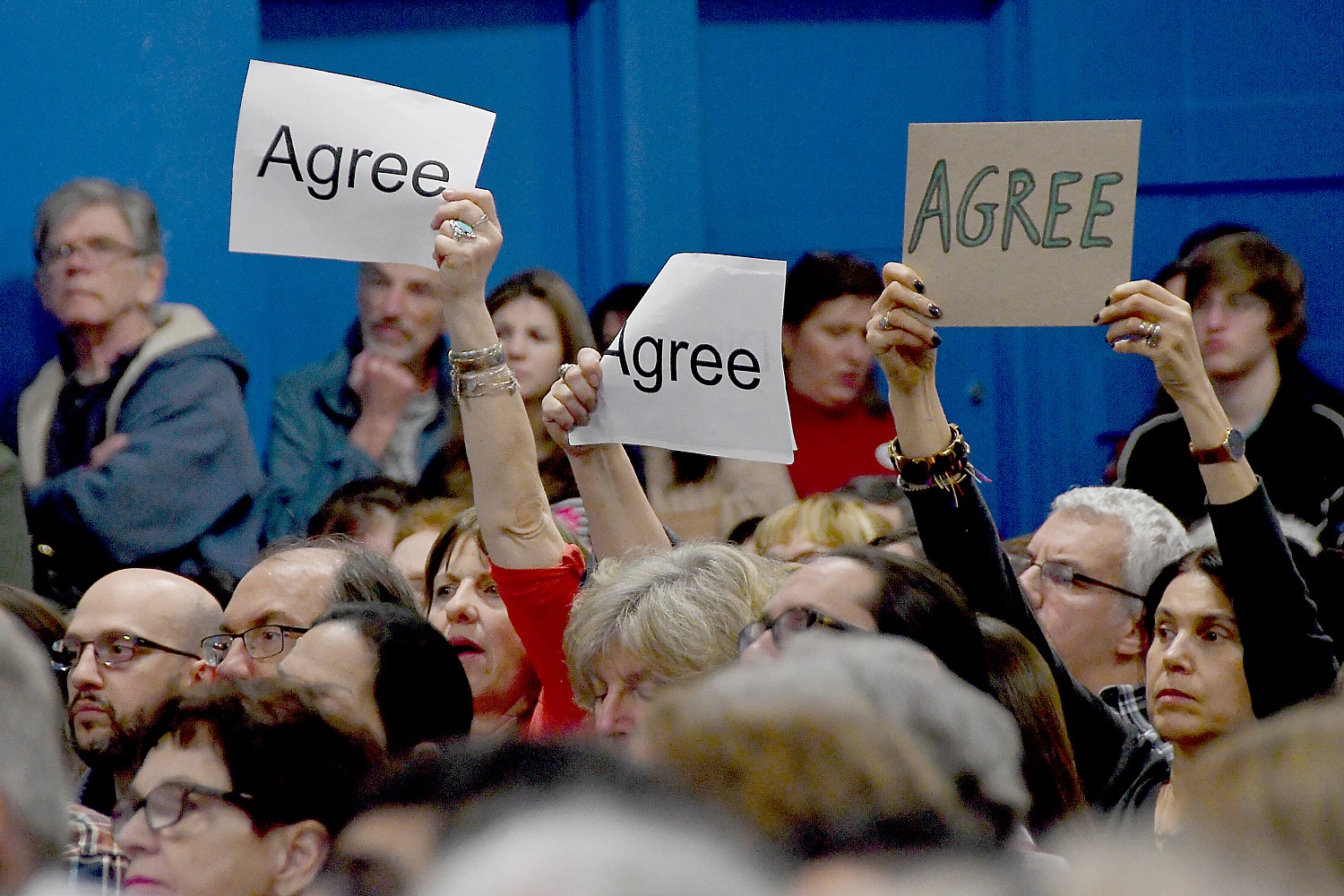 One of reasons Democrats lost is because they didn't mobilize locally, he said, which is why he hopes to try to keep the energy going, and why he kept going back to the need for the people to get the change they want.
He started off with some of his own comments:
Travel Ban? We are less safe, he said, and putting the ramifications of the Muslim ban and curtailment of immigrants and refugees, he said.  "There are 80,000 people worldwide in organized terror groups. There are 65 million refugees, due to climate change, civil war, feminism. This is a nation of immigrants, a nation dedicated to two propositions: all men and women are created equal and entitled to respect and dignity."
The enhanced sweeps of undocumented immigrants (unfurled in a way that shows the lie of only going after the "bad hombres") "makes us less safe when communities distrust their local police force. People turn to gangs for protection when they are afraid of law enforcement."
He was asked about the Stop Arming Terrorists Act that Tulsi Gabbard has proposed. "I have to research further," he said honestly, adding, "It's true the US funded Osama bin Ladin against the Russians, and Saddam Hussein, and funded the Syrian regime before, and we are still funding the Saudis who fund terror groups. We did it to have access to oil.
"But, for the first time 50 years we are not dependent on oil from the Mideast. This is an opportunity that is not likely to be seized on by the Trump Administration."
Had Trump not reversed all the Obama policies that bolstered homegrown, clean renewable energy, the US could have said to these dictators, "We don't want your land your oil. But we need to move more to clean energy to make this happen." (Trump, in his speech to the CIA the day after the inauguration, as the Women's March was going past the White House, said that he thought we would have a second chance at taking Iraq's oil, because he had been taught that "to the victor belongs the spoils.")
Obamacare: Mend It Don't End It
On the first topic, Obamacare, a man said he was walking proof of the problems, because his wife suffers from cancer, and over the past two years, one insurance company after another pulled out, until the hospital where his wife was being treated said they would not treat her because there was no carrier in the exchange. Now, his wife has a pre-existing condition.
Suozzi said, "There are problems with ACA. But we need to mend it, not end it." He said he supported single-payer (essentially Medicare for All), but that wasn't possible under Obama, who instead bent over backwards, even picking up on the right-wing Heritage Foundation's model that preserved for-profit health insurance companies as the intermediary for obtaining health care which had been put into place in Massachusetts under Governor Romney. Obama was unable to get a public option. But even after bending over backwards to accommodate Republicans, not a single one voted in favor of ACA, but instead, spent six years voting 60 times to repeal it, even forcing a government shut down.
People raised concern about the proposal to tax people differently for health care based on age, not income, a scheme to cut $216 billion in spending ; of capping how much employers give to employees for health insurance which then would be taxed as income.
"It's time to get out the Uzzi and go after Price [the new Secretary of Health & Human Services, whose 2015 bill repealing Obamacare is the most likely model]. Go after Republicans for raising taxes."
A young man described how his father had advanced Parkinsons and then was laid off and lost his health insurance. Now he has a pre-existing condition. Repealing Obamacare, he said, "would force our family to choose between my father's well-being and our family's."
Suozzi responded, "This is real life, the devastating effect of repealing Obamacare."
Turning next to the Trump-Putin and conflicts of interest topic, Suozzi said he would support a bill to require Trump to release his taxes, and would support an independent (not just bipartisan) commission to investigate his ties to Russia and possible collusion of his campaign with Russian agents to swing the election.
"This is why you are so important," he said. "I don't want you to understate what you are doing. It's working. We need reasonable Americans to put country ahead of party. Since McCarthy, Republicans have tried to paint Democrats as unpatriotic. This is a generational opportunity to change that dynamic."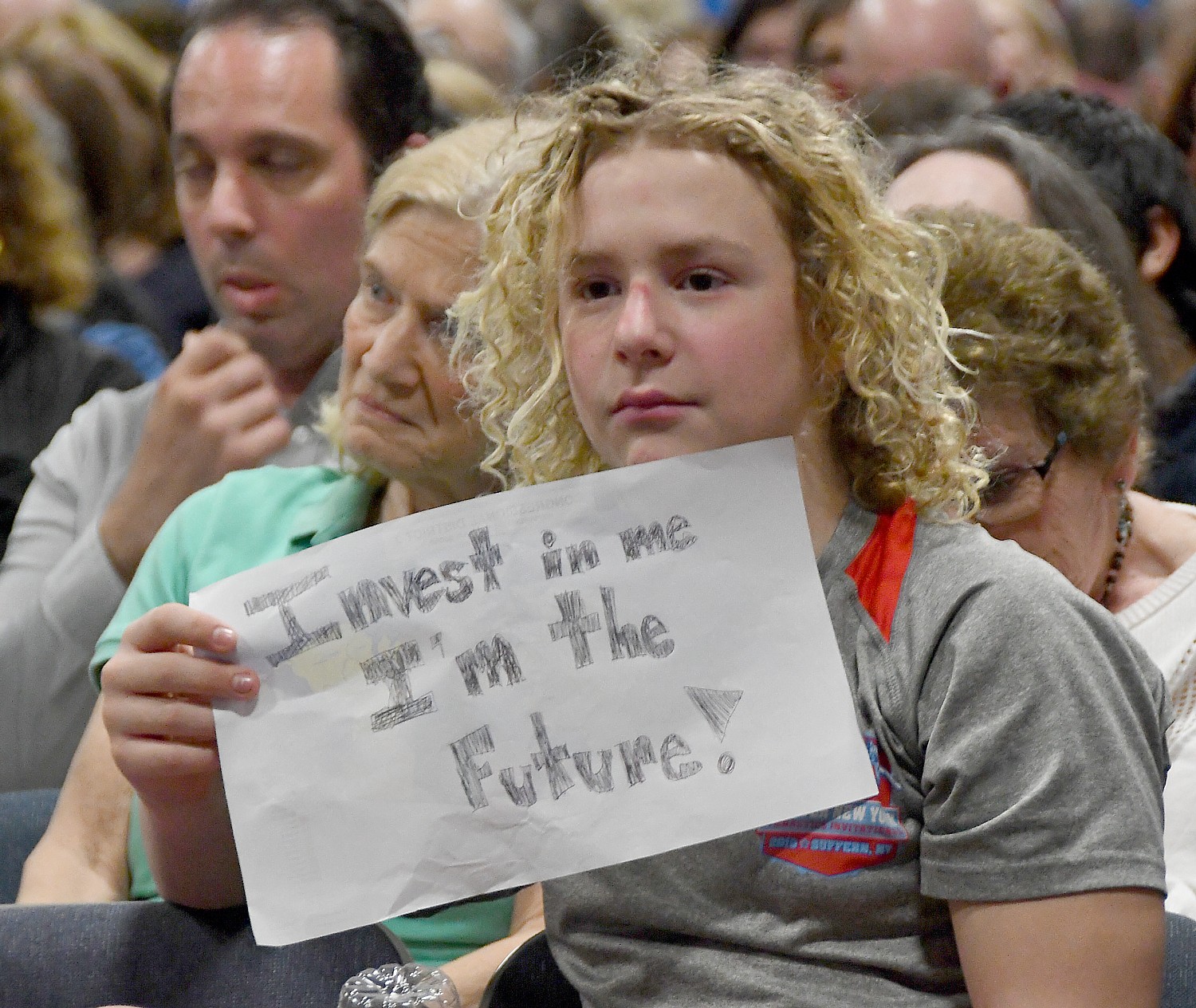 Travel Ban: Guns Kill, Not Refugees
A man noted that none of the 7 countries under Trump's ban has had anything to do with terrorism in the US since 1975 (on the other hand, terrorist acts were committed by people from Pakistan, Afghanistan and Saudi Arabia and none of these were included in the ban), using the premise of public safety. But 34,000 people are killed each year by gun violence.
"Guns kill, not refugees," a woman said.
Suozzi said that even when he brought together gun rights advocates with gun control advocates, there was general consensus on the need for universal background checks (instead, the Republicans just overturned Obama's requirement for mentally ill people receiving services from Social Security to be included in the database). The reason there is no commonsense gun regulation is the same that reasonable health care is blocked: moneyed interests. "It's always about the money."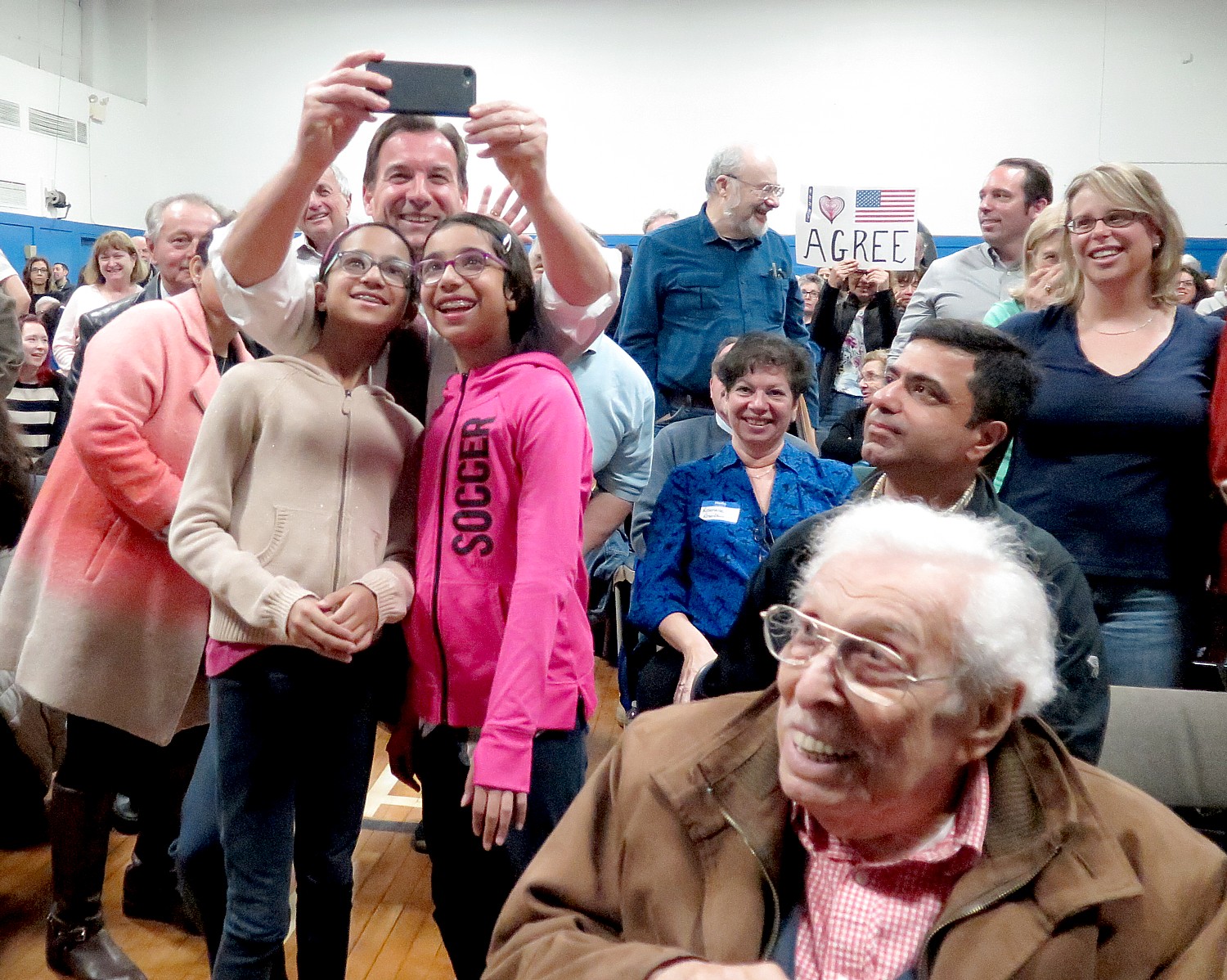 But the focus on Trump's use of fear and under the guise of "national security" push through anti-democratic policies (such as his threat to "send in the feds" to Chicago and use military precision to round up undocumented immigrants with expedited review so that their cases are not properly adjudicated, his attacks on free press and an independent judiciary and reestablish private prisons) prompted a woman to remark, "Be afraid. The America you know won't exist in 15 years. Republics disappear. Commitment is important. We should be afraid that America will slip away from us, we must persevere."
This raised the issue of campaign finance reform and gerrymandering and voter suppression. Suozzi confessed his inability to significantly change any of that, but that it is up to the people to get people out to vote, which is another compelling reason for his neighborhood-based activism. He said his office would be engaged in voter registration campaign.
Rachel Carcalelli of Great Neck Plaza, an environmentalist, noted that Superstorm Sandy cost $75 billion. "We need to rebuild infrastructure in sustainable ways – public transportation, water systems, renewable energy, sanitation."
Instead, Nassau County will see $6.5 million cut in bus service.
In each case, Suozzi went back to his go-to – that people need to stay active and engaged, to join his neighborhood teams in order to spread the word.
Challenged by a Sanders supporter to reject everything the Republicans propose, Suozzi said, "I've been in politics 20 years. I won a lot, lost a few. JFK described himself as an idealist without illusions. I'm not a sucker. I still believe in this country, the power of people. Politics is a noble profession. I will remain an idealist as long as I can, but with eyes wide open."
A woman noted that many in the audience "are new to politics, to this forum" and might be helped to have more realistic expectations of what Suozzi and the Democratic party, being essentially powerless in the House, can achieve.
Indeed, Suozzi offered a dose of reality to many of the speakers, such as when he was asked to solve the eons old problem of campaign finance reform and gerrymandering. "Nice idea but it's not realistic for junior member in minority party," he told one speaker. "All the stuff coming over transom – there's no free time." He listed what he is engaged in so far:  foreign affairs committee, armed services committee,. "I want to focus on important things in the district- the Northport VA,  the North Shore plume (the Navy and Grumman are the responsible parties to clean up a 40-year old site estimated at $500 million to clean up); airport noise in northeastern queens, two major research centers (Cold Spring and the Feinstein Institute), a Coast Guard facility. I decided to make the Problem Solvers Caucus one of my big focuses –if I could get Republicans interested in campaign finance reform and gerrymandering."
The youngest speaker of the evening, Zachary, about seven years old, stood on a chair to say, "Impeach Trump. He's messed up. How did we get into this mess?"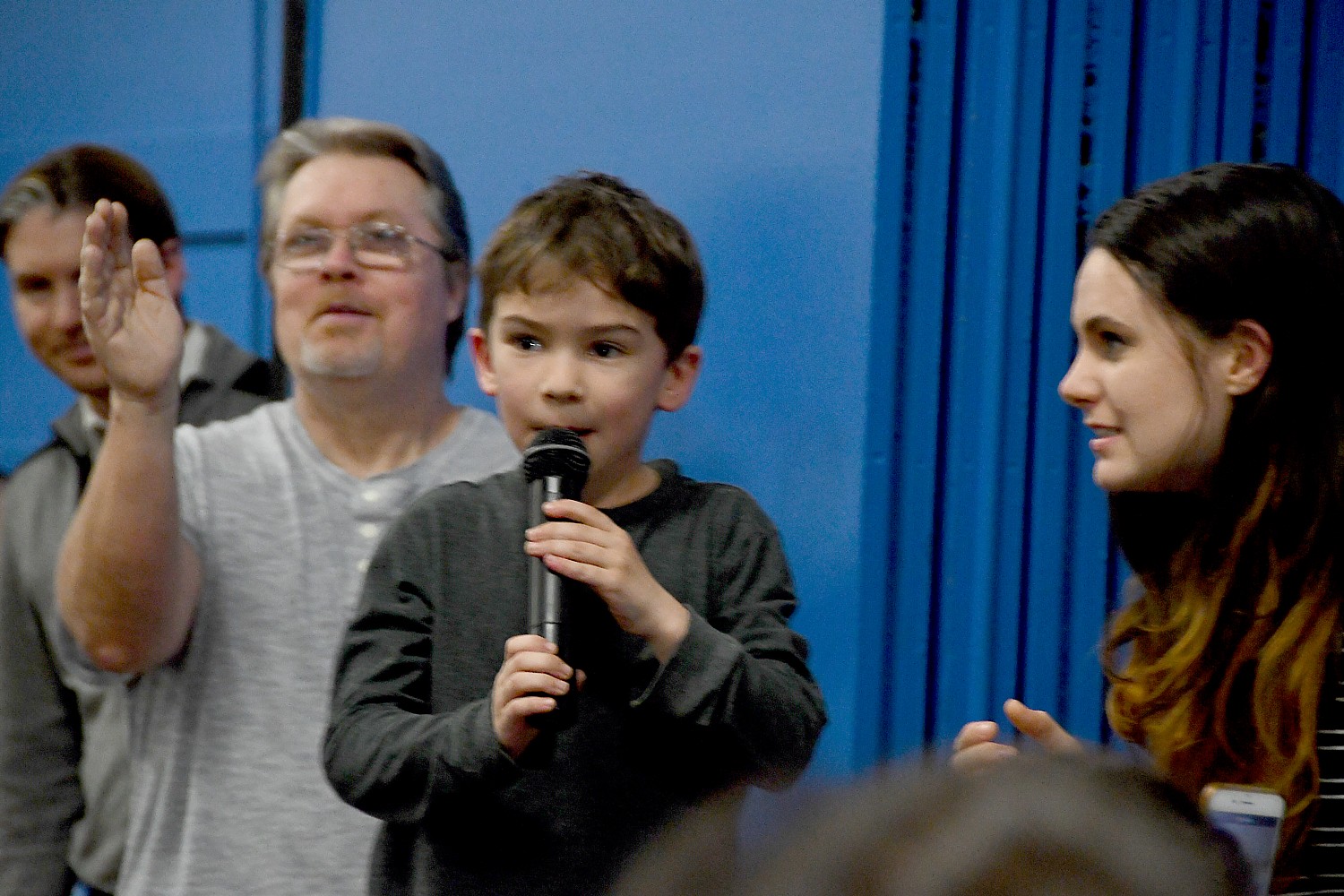 One of the older speakers of the evening, Harry Arlin, wearing an Army baseball cap, said, "I lived briefly under Hitler, had to run; lived under Mussolini and was incarcerated, then under Stalin and had to flee… Now I am living under Trump. Impeach Trump. I'm too old to run again."
Though the issue of the alarming increase in anti-Semitic incidents across the country since Trump's election was not specifically raised in this Long Island community with a significant Jewish population, Suozzi acknowledged at one point that the town hall was being held in a Jewish Community Center in Plainview, and JCCs have received over 50 bomb threats in recent weeks.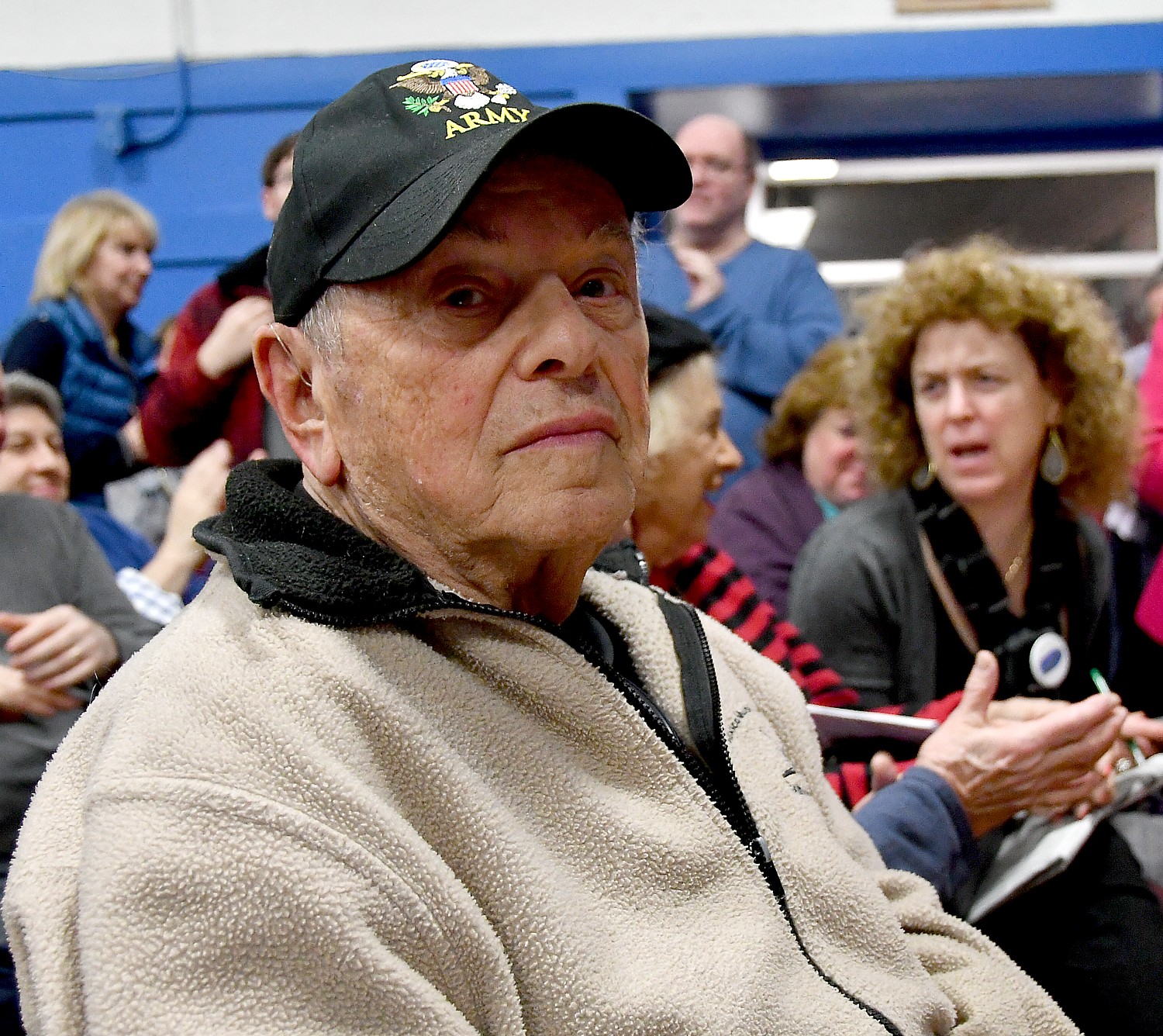 Suozzi periodically would stop and poll the audience again to get their sense of whether to move on to the next topic. It was remarkable to see how he could actually offer a wide opportunity for people to air grievances, questions, comments in such a large and energized group and have something constructive come out of it: namely, a better understanding of issues and concerns, and also to gauge where constituents are on these key issues.
It wasn't even close: the 3rd Congressional district wants to retain and improve Obamacare, overturn the travel ban but okay to vet, end the terror and insecurity in immigrant communities and provide a path to some kind of legal status, protect the environment, protect the integrity of the election from foreign influence while protecting the ability of people to cast their ballot.
Gabby Giffords Mocks Republicans Dodging Town Halls
Suozzi's town hall was very different from what many Republican Congressmen are experiencing around the country – Long Island's Peter King didn't even hold one during this President's Week when traditionally Congress members return to their districts to hear from constituents. Trump and his sycophants have accused those coming out in force to protest the repeal of Obamacare as "paid liberal activists" or, as Trump told CPAC, "the losing side" (neglecting to mention there were 65 million voters, three million more than his side).
And ironically, many of the Republicans are citing fear of their constituents as the reason, prompting Gabby Giffords, who was a Congresswoman until she was shot in the head while holding a public availability at a shopping center in Tucson, to write:
"As a member of Congress, I believed that listening to my constituents was the most basic and core tenet of the job I was hired to do. So I was a little surprised yesterday to hear Congressman Louie Gohmert invoke my shooting as a reason not to face his constituents at a public town hall.
"I was shot on a Saturday morning. By Monday morning my offices were open to the public. Ron Barber – at my side that Saturday, who was shot multiple times, then elected to Congress in my stead – held town halls. It's what the people deserve in a representative.
"So to Congressman Gohmert and others who are abandoning their civic obligations, I say this: Have a little courage. Face your constituents. Hold town halls.
"Many of the members of Congress who are refusing to hold town halls and listen to their constituents' concerns are the very same politicians that have opposed commonsense gun violence prevention policies and have allowed the Washington gun lobby to threaten the safety of law enforcement and everyday citizens in our schools, businesses, places of worship, airports, and movie theaters.
"In the past year, campaigning for gun safety, I have held over 50 public events. And if I am still willing to do it, they should be too."
______________________________
© 2017 News & Photo Features Syndicate, a division of Workstyles, Inc. All rights reserved. For editorial feature and photo information, go to www.news-photos-features.com, email [email protected]. Blogging at  www.dailykos.com/blogs/NewsPhotosFeatures.  'Like' us on facebook.com/NewsPhotoFeatures, Tweet @KarenBRubin