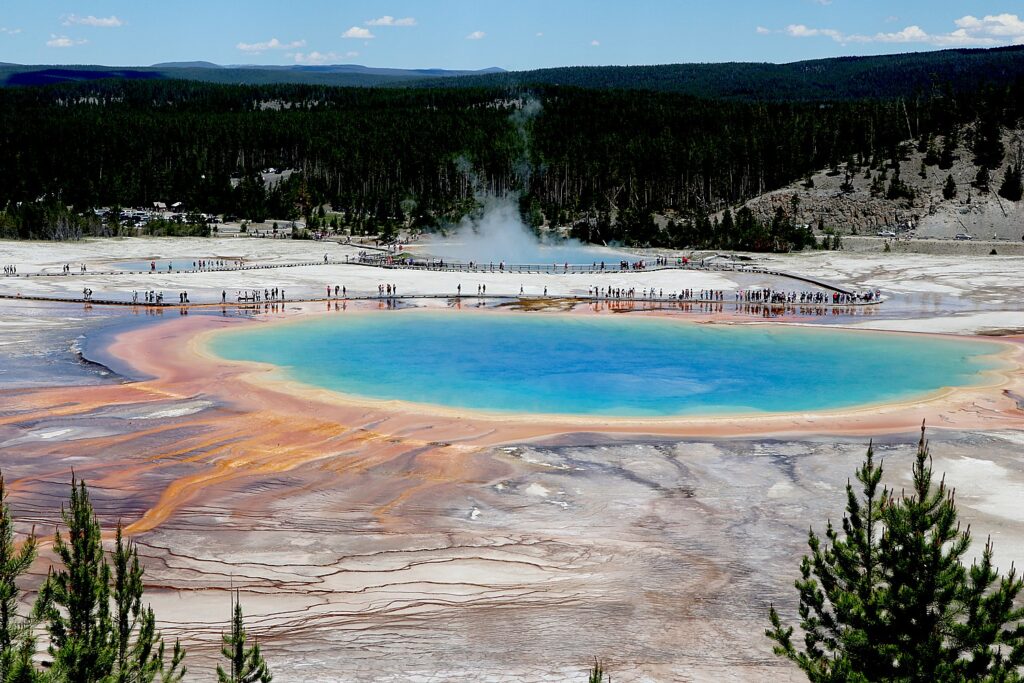 By Karen Rubin, Travel Features Syndicate, goingplacesfarandnear.com
Travel companies are going big for Black Friday and Cyber Monday, and no doubt are weighing both the massive outpouring of pent-up demand for travel against potential travelers' concerns for tightened budgets. Here is a snapshot of offerings – it can be a discount on the package price, or upgrade, or special features added on. Take advantage because not only are the deals limited, but space is booking up.
Xanterra's "Thankful for Travel Sale" Nov. 22-29
Xanterra's "Thankful for Travel Sale" is lasting a full week, from Tuesday, Nov. 22 – Tuesday, Nov. 29 for value and money-saving deals on lodges in Yellowstone, Zion, Glacier, Death Valley and Grand Canyon South Rim; Windstar Cruises, the Grand Canyon Railway & Hotel, The Oasis at Death Valley, Holiday Vacations, Country Walkers and VBT Bicycling Tours; the Broadmoor Hotel in Colorado Springs and Sea Island Resort in Georgia are also participating in the sale. Highlights include: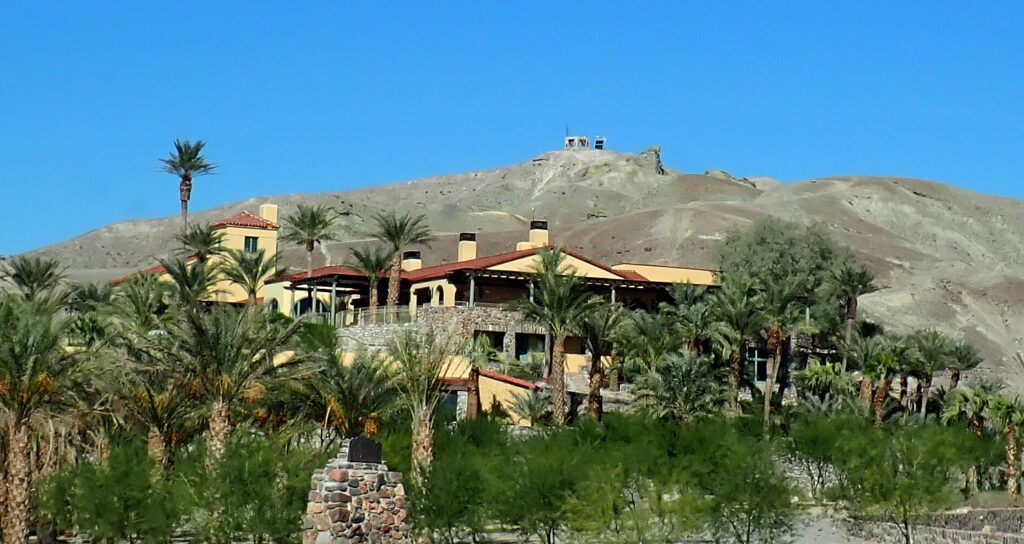 The Oasis at Death Valley – 30% off hotel stays at the beautifully renovated historic AAA Four-Diamond Inn at Death Valley and newly revitalized, family-friendly Ranch at Death Valley, including new, cozy cottages, spring fed pools and the lowest elevation golf course. Valid for select overnight stays between Dec. 1, 2022 and Feb. 9, 2023.
Historic Grand Canyon Railway & Hotel – 30% off roundtrip train tickets on an entertaining journey in fully restored historic train cars to the Grand Canyon's fabled South Rim when booking a two-night Getaway Package over select dates between Jan. 2, 2022 and March 5, 2023.
Grand Canyon South Rim – Save 30% on in-park lodging at newly built Maswik Lodge, Kachina Lodge, and Bright Angel Lodge and 20% at the historic El Tovar Hotel. All lodges are in the Historic Grand Canyon Village within walking distance of the rim of the Grand Canyon, Lookout Studio and Hopi House. Take advantage of the Secret Season at Grand Canyon and enjoy the park without the crowds.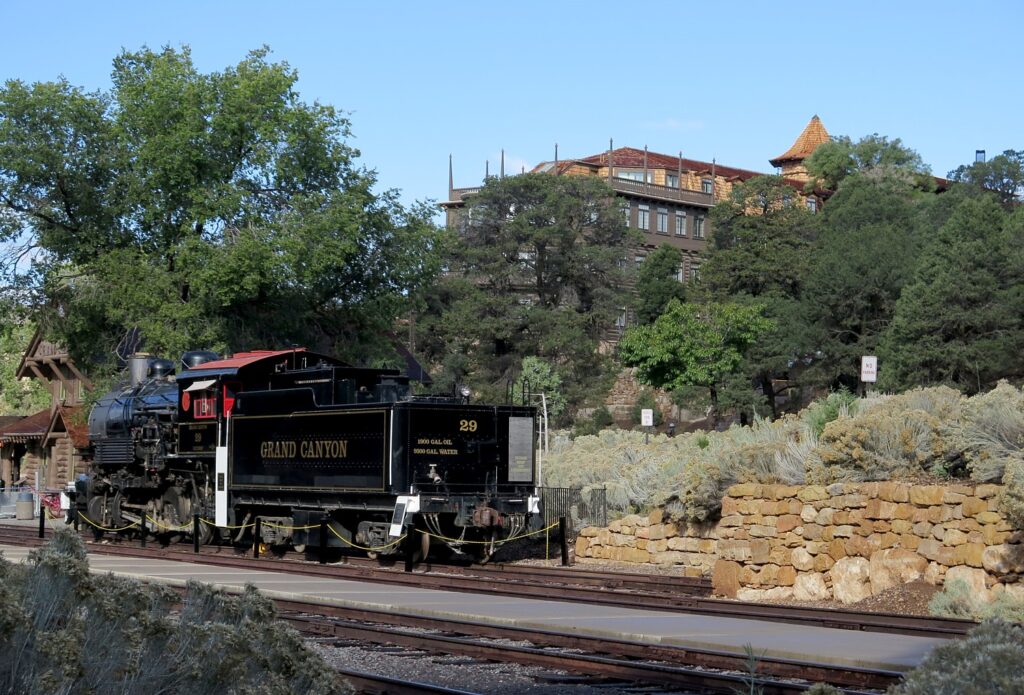 The Grand Hotel – 30% off at the only AAA Three-Diamond hotel near the Grand Canyon in Tusayan (just one mile from the South Rim entrance) on select dates between Dec. 1, 2022 and March 9, 2023.
Zion National Park – 30% off overnight stays inside the park at Zion National Park Lodge on select dates between Dec. 4, 2022 and Feb. 28, 2023.
Cedar Creek Lodge, at the gateway to Glacier National Park – Save 30% on Rooms (for select dates Dec. 2022-April 2023)
Yellowstone – Save 25% on daily rates for specific stay dates in deluxe rooms at Canyon Lodge, deluxe and standard rooms at Lake Yellowstone Hotel, and deluxe rooms at Grant Village. Offer available for new reservations booked between Nov. 22 and 29, 2022. Stay dates for Canyon Lodge: May 19 – 25, 2023; May 30 – June 17, 2023. Lake Yellowstone Hotel: May 12 & 25, 2023; May 30- June 17, 2023; Grant Village: May 30 and June 17, 2023
The Broadmoor – Rates as low as $259 for select dates and suites available at 25% off published rates; 20% off all-inclusive Wilderness Properties for select dates during 2023.
Sea Island – Receive a $100 resort credit per night of stay in December, January, February at The Cloister or Lodge. Minimum 2-night stay on the standard rate. Offer valid Nov. 22 – 29, 2023.
Bicycling Tours – Book any departure of the 2023 France: The Burgundy Wine Region & Dijon Guided Biking Tour and get the Post-Trip Extension to Paris free which includes a 2-night stay at the Hotel Château Frontenac or La Demeure Montaigne (both centrally located in the 8th Arrondissement in Paris), daily breakfast, airport car service for departure and a city information packet.
Walking Adventures – Book any departure of the 2023 Italy: Tuscany & Umbria Guided Walking Tour and get the Post-Tour Extension to Rome free which includes a 2-night stay at the Hotel Dei Mellini in the center of Rome (between the Spanish Steps and St. Peter's Basilica), daily breakfast, airport car service for departure and a city information packet.
Holiday Vacations – Book a Timeless France with Burgundy & Provence River Cruise from April 24 – May 4, 2023 and receive $200 off exploring Paris and French waterways with included airfare, 7-day river cruise, accommodations, most meals, and attractions.
Windstar Cruises – Select one Perk on your upcoming cruise. Perk offerings vary depending on cruise length and room category. Perks include a free upgrade to an All-Inclusive Fare or one Easy Stays hotel night or up to $1,000 in Onboard Credit. Enjoy reduced deposits of only 5% during one week sale only.
Looking for an unparalleled gift of discovery and wanderlust? Xanterra Travel Collection Gift Cards are redeemable across all Xanterra Travel Collection destinations for accommodations, experiences, dining, retail purchases and more. The recipient can choose their adventure with this gift of A World of Unforgettable Experiences. Learn more at Xanterra.com/GiftCard.

For a complete list and to take advantage of Xanterra and its affiliates' "Thankful for Travel" offers, visit xanterra.com/thankful-for-travel-sale.
Black Friday/Cyber Monday Tours Sales
EF Go Ahead Tours' Black Friday Sale started early this year! Week 3 deals are running until November 17th with a variety of tours discounted to Scotland, France, Italy, and Ireland. Week 4 deals start Nov. 18 and feature more deep discounts on bucket list trips to destinations like Australia, Costa Rica, Portugal. (https://www.goaheadtours.com/travel-deals/black-friday)
Contiki is offering its Cyber Sale from Nov 23-Dec 1 (see https://www.contiki.com/en-us/activity/black-friday
Trafalgar is offering 15% off worldwide trips for Black Friday; book before December 5 for limited time savings (https://www.trafalgar.com/en-us/deals/black-friday-travel-deals, 866-513-1995. (Plus, get a $250 per couple Travel Credit toward your first trip when you sign up to our newsletter.)
GA Adventures is offering up to 30 percent off on on a huge number of its popular adventures like Inca Discovery, Morocco, Jordan, Peru, Costa Rica, Thailand, and even Antarctica with travel by April 30, 2023.and up to 10% on select trips departing between May 1-and June 30, 2023 (https://www.gadventures.com/travel-deals/cyber-sale/, 1 888 800 4100)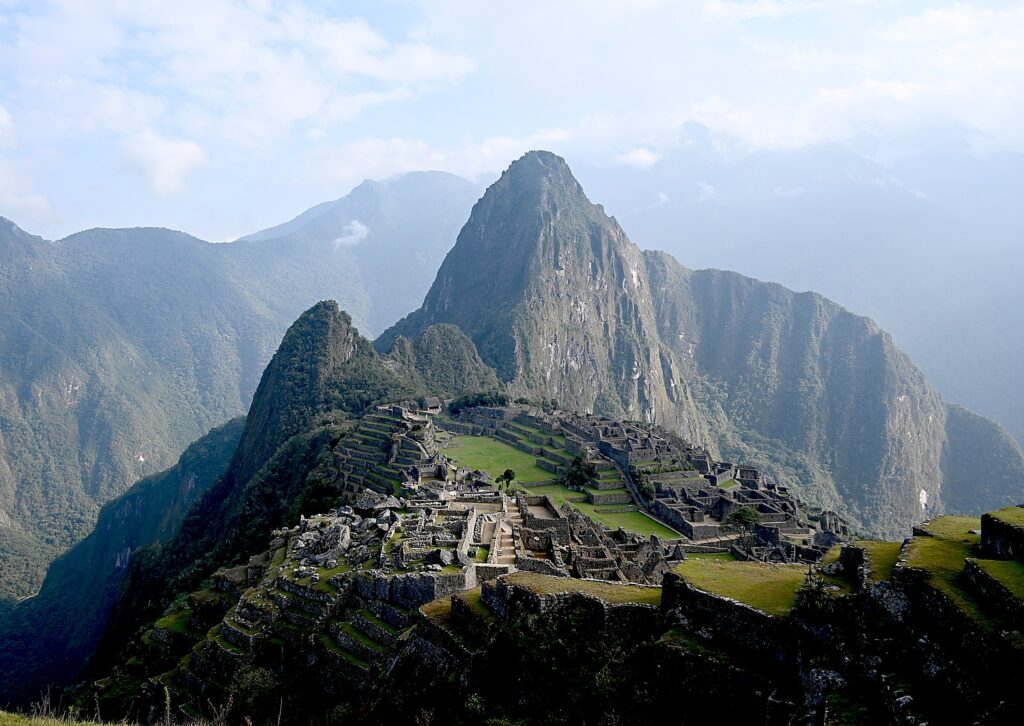 Black Friday/Cyber Monday Travel Offers at Luxury Hotels, Resorts
Black Friday and Cyber Monday present limited-time offers that put luxury hotels and resorts from the Caribbean to Belize to Maldives to the Florida Keys, Martha's Vineyard, Nantucket, North Carolina, New York City, to West Hollywood, in reach. Here are a sampling of offers for travelers to snag the steepest travel deals of the year and enjoy unforgettable experiences at reduced rates:
Club Med, the pioneer of the all-inclusive concept, is offering its best discount of the year with its Black Friday sale. Travelers can receive up to 60% off their upcoming winter, spring or summer getaways at Club Med's spacious all-inclusive resorts in the Caribbean, Mexico, and Canada – like family-friendly Club Med Punta Cana, the five star eco-chic Club Med Michès Playa Esmeralda, or the new Club Med Québec, opened December 2021 offering four-season mountain escapes. Additional participating resorts include Club Med Caravelle, Guadeloupe, French Caribbean, Club Med Buccaneer's Creek, Martinique, French Caribbean, Club Med Ixtapa Pacific, Mexico, and Club Med Columbus, Bahamas. The deal includes 60% off Deluxe and Suite Rooms and 55% off Superior Rooms. Additional perks include free cancellations and free stays for kids under 4. Book between November 16-27, 2022 for travel November 26, 2022 to June 30, 2023 (check out on July 1, 2023). Perks include: kids under 4 stay free and no single supplement. Book at https://www.clubmed.us/o/black-friday.
Coco Collection, Maldives: Comprised of two different boutique island resorts, Coco Bodu Hithi and Coco Palm Dhuni Kolhu, each create a unique and authentic Maldivian experience ranging from luxe amenities to eco-forward initiatives for travelers to begin indulging in as soon as they arrive. This Black Friday through Cyber Monday, Coco Collection is offering a 50 percent off total booking. The first 5 bookings within this timeframe at both resorts will receive 70 percent off their booking. Offer valid from Friday, Nov. 25 – Monday, Nov. 28 for stays from Nov. 26 through Dec. 25, 2022 and May 1, through Oct. 31, 2023.
Casa Kimberly, Puerto Vallarta, Mexico: Formerly Elizabeth Taylor and Richard Burton's home (it was his gift to her for her 32nd birthday, in 1962), this luxurious nine-suite boutique hotel is situated in the heart of Puerto Vallarta and has stunning views of Banderas Bay and the red clay rooftops that dot the Sierra Madre Mountains. From Black Friday (Nov 25) through Cyber Monday (Nov. 28), receive 50% off stays booked December 1, 2022 to May 31, 2023 (does not apply to reservations from Dec. 24-Jan. 3 and other blackout dates may apply). Use code CYBERCK to reserve at the discounted rate. Visit here to book.
Grand Residences Riviera Cancun, Puerto Morelos, Mexico is a secluded coastal resort located about half an hour outside of Cancun in Puerto Morelos. The resort itself and surrounding setting allows for both active and relaxing experiences, including a bike tour, spa treatments, cooking demonstrations, a Kids Club, and more. Private airport transfers to/from the resort are included in every stay. Grand Residences is providing a 25 percent discounted rate on all-inclusive stays for all room categories for those who book their travel up through Dec. 16, 2022. (Valid on new bookings only, no minimum length of stay required; blackout dates apply.)
Hawks Cay Resort, the Florida Keys is offering guests the ultimate Florida Keys vacation experience with on-site amenities like fishing excursions, dolphin encounters, snorkel trips, and more. This Black Friday (Nov. 21-29), Hawks Cay is extending 35% off accommodations booked under promo code CYBERW, for a 2-night minimum stay at the hotel and a 3-night minimum stay at its villas. Subject to availability, blackout dates apply.
Cayo Espanto, Belize: Located three miles off the coast of San Pedro, Belize, Cayo Espanto is home to seven villas, a helipad, private yacht, and endless opportunities to enjoy a barefoot luxury escape in a naturally beautiful setting. The private island resort is offering guests a free airfare credit (up to $750 per person) with the booking of a seven night stay this Black Friday through Cyber Monday. Travelers looking to take advantage of this offer must complete their booking online at aprivateisland.com between Friday, Nov. 25 – Monday, Nov. 28, 2022. A booking code is not required; all reservations made during this timeframe will receive airfare credit with confirmation. Offer valid on new bookings only and may not be combined with any other offers. Blackout dates apply and reservations are based on availability.
The Buenaventura Golf & Beach Resort, Panama, one of Panama's leading family-friendly luxury hotels, is extending a Flight Cash Back promotion that travelers in pursuit of a discounted luxury vacation will love! The new promotion extends $400 cash back upon check out; complimentary breakfast for 2 adults and 2 children under 12 years; and complimentary use of bicycle, tennis and volleyball courts. The offer is valid until Dec. 31, and a 5-night minimum booking applies.
Atlantis Paradise Island is offering a Cyber Week Sale for stays between December 1, 2022 – November 1, 2023 in The Coral, The Royal, The Cove and The Reef Towers. The Cyber sale is Atlantis' biggest sale of the year. Atlantis Paradise Island newsletter subscribers get early access from November 17 – 22 (sign up via the website here to receive the invite to this exclusive offer. Guests booking 5+ nights for stays during December 1, 2022 – November 1, 2023, save 20% on accommodations plus $500 Resort Credit or more at The Coral, The Cove, The Royal and The Reef. Those booking from November 23 – December 1, 2022, get 20% savings on 5+ nights at The Coral, The Royal, and The Reef PLUS receive a $250 Resort for stays during June – September.
Direct Offers include:

The Coral: 25% Savings on 2+ nights when booking Air + Hotel compared to rates of $500 during peak season and $200 throughout the year
The Cove: $500 Resort Credit per stay with BAR 5+ nights compared to rates of $2,000 during peak season and $500 throughout the year
The Royal: $50 daily Resort Credit on 2-4 nights for travel June-Sept 2023 compared to rates of $900 during peak season and $279 throughout the year
The Reef: 20% savings + $300 Resort Credit per stay of 6+ nights compared to rates of $1,500 during peak season and $350 throughout the year
Travelers will also have the option to book their reservation with flexible payment and cancellation policies. To book, visit: www.atlantisbahamas.com or call 1800-ATLANTIS. Blackout dates include December 27, 2022 – January 1, 2023.
Saba Rock, British Virgin Islands: Now with on-site amenities like snuba, diving, kiteboarding, island tours, beachfront spa, and more, the one-acre island recently reopened following a complete luxury rebuild after damages sustained from Hurricane Irma. Saba Rock is offering guests the opportunity to save up to 40% on a three-night or more stay, booked from Black Friday through Cyber Monday. Offer valid for bookings made Nov. 26 to 29, 2022 for stays Nov. 30, 2022 through February 15, 2023. Book at www.sabarock.com using promo code BLKFRI. Blackout dates apply, 3-night minimum required.
Mount Cinnamon Resort, Grenada: Tucked away on the hillside atop Grand Anse Beach, Mount Cinnamon is an eco-luxe hideaway with an enclave of 37 luxury villas and suites. Ranked as one of the Top 40 resorts in the Caribbean Islands from the 2022 Conde Nast Traveler Reader's Choice Awards This Black Friday, save 30% on stays of 5 or more nights, daily breakfast included. Booking window: Nov. 25 – Dec. 9, 2022. Travel window: Apr. 10 – Nov. 30, 2023. Booking code: MC-BLACKFRIDAY.
Also: This Giving Tuesday, November 29, for every reservation made, Mount Cinnamon Resort will donate one bag of pet food to the Grenada Society for the Prevention of Cruelty to Animals (GSPCA). The GSPCA is a no-kill shelter that is committed to providing all animals that come through the doors with the best possible love, care, and attention. No code needed.
Andaz West Hollywood: Those who choose to book a stay at Andaz West Hollywood will be right on the Sunset Strip, the perfect point between Hollywood, Beverly Hills. The hotel is home to the highest rooftop pool in Los Angeles which was recently renovated and is an artist's dream with works of art throughout the property.
Get 20% off rates for travel booked between now and Nov. 30, valid for stays until April 30, 2023. Use the code UNLOCK.
Little Gem Resorts is a family-owned and operated boutique hospitality company with three properties located in Martha's Vineyard, Nantucket and St. John in the USVI. This is the brand's first Black Friday/Cyber Monday sale. This Cyber Monday, they will be offering a 25% off discount off their regular rates. The three boutique, seasonal resorts all have high demand and occupancy rates, especially during their busy seasons. Their Cyber Monday deal is the biggest sale each property has ever done.
Lovango Resort + Beach Club is offering a 25% off stay in one of the property's glamping tents or luxury treehouses for a three-night minimum stay from April 30-June 15. Using the code CYBL, guests will receive $248.75 in savings on regular rates from $995 per night plus tax.
Winnetu Oceanside Resort is offering a 25% off stay in one of the property's accommodations for a two-night minimum stay from May 18-June 15. Using the code CYBW, guests will receive $98.75 in savings on regular rates from $395 per night plus tax.
The Nantucket Hotel + Resort is offering a 25% stay off stay in one of the property's accommodations for a two-night minimum stay from April 30-June 15. Using the code CYBN, guests will receive $73.75 in savings on regular rates from $295 per night plus tax.
NoMo SoHo soars across New York City's downtown with its 26 stories in the heart of SoHo. The neighborhood known for its fashion, design, art, and culture is the epicenter of creative up-and-comers, in addition to housing established brands, well-known artists, and cultural icons. Each room features floor-to-ceiling windows with stunning views of New York City and the hotel is also home to the wildly popular NoMo Kitchen, an iconic restaurant with a glass atrium and intimate outdoor patio. This Black Friday and Cyber Monday, NoMo SoHo is offering 30% off all room types for stays between November 28, 2022, and August 31, 2023. Past hotel guests and NoMo SoHo subscribers will get exclusive access to this offer. Travelers can sign up for NoMo SoHo's newsletter by clicking here in order to receive access to book this Black Friday / Cyber Monday offer.
Kimpton Hotel Eventi, located at the intersection of the NoMad and Chelsea neighborhoods, is inside a modern skyrise with floor-to-ceiling windows and stunning views. The property features an eclectic-chic "living room" lobby, curated art collection, technology touches everywhere and three restaurants run by Executive Chef Laurent Tourondel, Skirt Steak, L'Amico and The Vine. This Black Friday and Cyber Monday, Kimpton Hotel Eventi is giving back with their Kimpton Cyber Sale launching on November 22, 2022. This offer is available on stays from November 25-April 30, 2023; must be booked by December 5. Those who book directly at Kimpton Hotel Eventi's website (offer goes live on November 22nd) can save up to 20% off the best available rate. Each Cyber Sale booking made by IHG Rewards members will include a $5/night donation to No Kid Hungry.
The Art of Living Retreat Center located in the beautiful Blue Ridge Mountains of Boone, North Carolina (2 hours from Charlotte), is participating in Black Friday/Cyber Monday for the first time, and it is their biggest sale ever created, providing $200-600 in savings, depending upon the type of retreat booked. Book Nov. 21-28 to get 30% off December 2022 – March 2023 stays for Signature Retreats (Happiness, Stepping Into Silence, Meditation) and R+R Retreats. Book by entering the code BLACKFRIDAY (those who would like to give the gift of meditation and relaxation – to others or themselves – should use this exclusive deal.
Other hotel deals:
Book a stay at Virgin Hotels between Nov. 25, 2022 – Jan. 2, 2023, and receive 30% off the reservation, plus a chance to win a free upgrade to Richard's Penthouse Flat. Virgin Know Members can take advantage of a pre-sale, starting Monday, Nov. 21. Reservations can be made for stays anytime between November 25, 2022 – December 31, 2023. Participating properties include; Virgin Hotels Chicago, Virgin Hotels New Orleans, Virgin Hotels Nashville, Virgin Hotels Dallas, and Virgin Hotels Edinburgh.
Hyatt Hotels is offering up to 20% off stays through April 30, 2023, when you book by November 30, 2022; choose from over 950 participating hotels; use Special Offer Code UNLOCK to book your qualifying stay. (https://world.hyatt.com/content/gp/en/offers.html)
Cruise Deals
Princess Cruises' Black Friday Sale: from Nov. 22-30, choose from 60 sailings under $60 per day(per guest), and 100's more sailings under $100 per day(per guest), taking travelers to Alaska, the California Coast, the Caribbean, Panama Canal and Europe. In addition, guests booking through the sale can take advantage of $1 deposits, meaning those who reserve their sailings to worldwide destinations by Nov. 30 don't have to pay the remaining balance until 90 days before their trip, when deposits typically range between $100 – $800 at the time of booking (www.princess.com).
Take advantage of Celebrity Cruises' biggest Black Friday Sale with early access and turn your bucket list into your book it list. Enjoy 75% off your second guest's cruise fare, plus up to $800 savings per stateroom and up to $800 onboard credit per stateroom. On Cyber Monday, take advantage of $25 deposit and up to $500 to spend onboard (https://www.celebritycruises.com/cruise-deals/black-friday)
For Royal Caribbean Black Friday to Cyber Monday specials, go to https://www.royalcaribbean.com/cruise-deals/black-friday.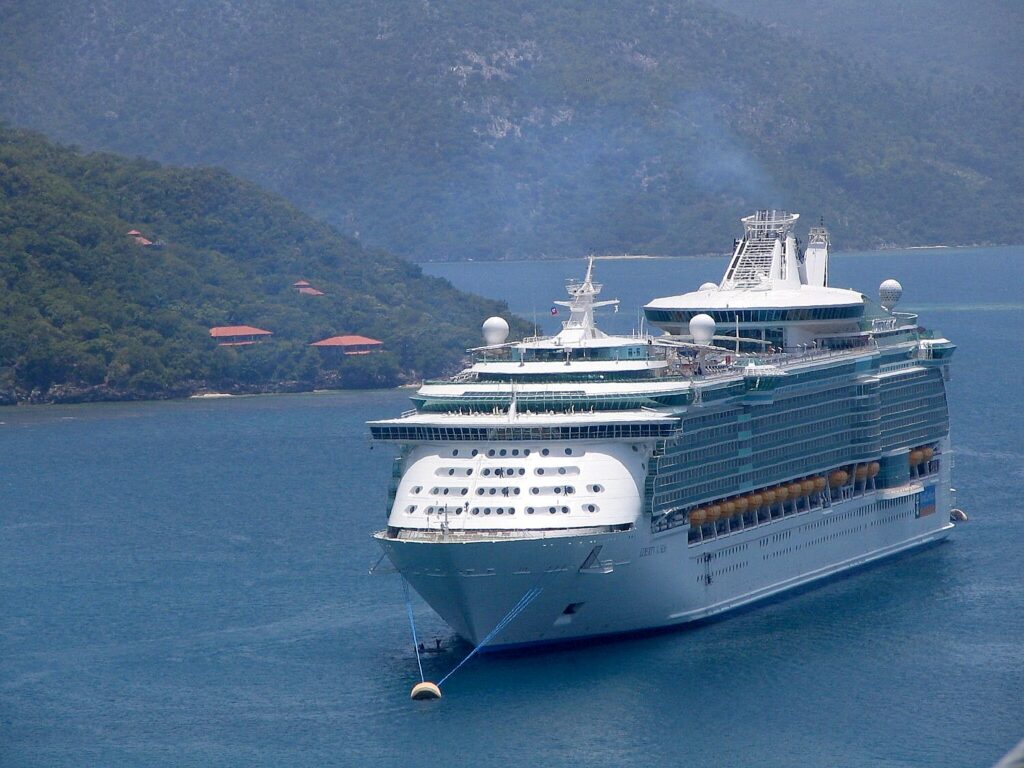 Rainforest Cruises has some special offers for Christmas Galapagos and Amazon cruises that are usually sold out years in advance, for bookings made by Dec. 4: Amazon: Zafiro's 5D/4N Amazon & Marañón Dec. 22-26 departure (from $3,879pp); 50% OFF the second passenger when staying in double occupancy; FREE* domestic flights between Lima and Iquitos (*Flight value up to $250). Galapagos: Galapagos Sea Star's 6D/5N Southern Islands Dec 20-25 (from $6,139pp); $2000 OFF the second passenger when staying in double occupancy. Eco Galaxy's 6D/5N Western Islands Dec 24-29 (from $5400pp); $1500 OFF the second passenger when staying in double occupancy; No Single Supplement in select cabins, subject to availability. Alya's 5D/4N Northern Islands Dec 22-26 (from $4,725pp); $1000 OFF the second passenger when staying in double occupancy. The Galapagos Christmas cruises also include FREE night's hotel stay before your cruise at the Wyndham Quito Airport hotel; PLUS your $100 Galapagos National Park entry fee; AND cover the cost of your Transit Control Card ($20)! RainforestCruises.com, 888 215 3555.

Quark Expeditions' Black Friday 2 for 1 Sale: book a voyage by December 2 to Antarctic 22-23 or upcoming Arctic 2023 season and bring a guest for free! Solo travelers also benefit from our Black Friday Sale by only paying 50% of the regular rate for a shared cabin. Additionally, guests can get a free cabin upgrade on any voyage in Quark's Antarctic 23-24 and Arctic 2024 seasons at in-market rate. So, if you're traveling on the game-changing Ultramarine, you could move up from a Terrace Suite to a Penthouse Suite (https://travel.quarkexpeditions.com/black-friday/, 866-250-7034).
A great source for Black Friday/Cyber Monday cruise deals is cruisecritic.com. "Black Friday and Cyber Monday 2022 deals are making waves, with cheap cruises and enticing bargains galore. Whether you have your heart set on cabin upgrades, free shore excursions, rock bottom fares or all sorts of onboard goodies, Black Friday and Cyber Monday cruise deals are your best bet to snag an irresistible bargain," writes Marilyn Borth, Assistant SEO Editor. She includes Norwegian Cruise Line, Azamara, Cunard, Holland America in her roundup. (https://www.cruisecritic.com/news/6617/)
Camping/Outdoors
Sun Outdoors, a leader in outdoor hospitality offering guests unforgettable experiences outdoors, has launched their Black Friday and Cyber Monday promotion, offering guests 40 percent off on select campground, RV site and vacation rental bookings from December 1, 2022 – December 21, 2023*. www.sunoutdoors.com/specials/black-friday
Sun Outdoors will kick off the season of giving by giving back 5 percent of ALL bookings made during the promotion period to charitable partner, the National Park Foundation. Donations will contribute to the NPF's ParkVentures fund, which supports equity-focused outdoor leaders and organizations by providing grants for programs and activities that help people create and strengthen life-long relationships with national parks. (www.sunoutdoors.com)
More Deals
Tuscany wine lovers can experience the top wine-producing sub-regions with the luxury boutique hotel Borgo San Vincenzo's Black Friday specials. Sangiovese by Air, Land and Trail:5- night stay with breakfast,explore Montepulciano by e-bike, Montalcino by helicopter, and Chianti Clasico with a private driver ($10,859); and Escape to Tuscany (four-night minimum stay). Direct bookings only. Email [email protected] or call +39 0578 810 137 and reference the Black Friday/Cyber Monday Escape to Tuscany special.
LEGOLAND® California Resort, the family theme Park in Carlsbad, CA is offering huge deals to the Park, LEGOLAND® Hotel and LEGOLAND® Castle Hotel exclusively through its website, for purchases Nov. 22-Nov. 28. Save up to $100 on Annual Passes, valid for a year of admission to LEGOLAND Park, SEA LIFE aquarium and Water Park, with discounts on dining, shopping, and LEGOLAND Resort Hotels; Save up to 50% on vacation packages at LEGOLAND Hotel or LEGOLAND Castle Hotel, which include 2-Day admission tickets to LEGOLAND California theme park (on select nights from Jan. 8 through May 26, 2023); Save 50% on LEGOLAND + SEA LIFE Hopper Tickets ($69.50 each), valid for admission to LEGOLAND Park and SEA LIFE aquarium from Jan. 1 through March 17, 2023 (plus option to add a second day for only $12.50). Sign up now at https://www.legoland.com/california/ to receive exclusive access to these deals before they become available to the general public. Each LEGOLAND California offer is limited and may sell out quickly.
SpaFinder is offering 20% off gift cards of $100+ with promo code FRIEDSGIVING for purchases through Nov. 30. Go toSpafinder.com. (https://myspafinder.spagiftcards.com/category/eGift-Cards)
Red Thread, which customizes made-to-order tailored clothes (with lifetime fit guarantee) ideal for travel is offering 40% off for its Black Friday Sale on pants, essential black dress, snap jackets. Email [email protected], visit redthreadcollection.com, call 775-384-9681.
Travel Gear
Black Friday/Cyber Monday is also an excellent opportunity to buy the specialized gear for your traveler. Among our favorite go-to's: EMS offering up to 75% off; REI.com (https://www.rei.com/s/gifts-for-travelers); B&H for camera/video (https://www.bhphotovideo.com/holiday-shopping/deals). Also Patagonia.com, REI.com, LLBean.com, TennisExpress.com, sunandski.com, www.basspro.com.
__________________
© 2022 Travel Features Syndicate, a division of Workstyles, Inc. All rights reserved. Visit goingplacesfarandnear.com, www.huffingtonpost.com/author/karen-rubin, and travelwritersmagazine.com/TravelFeaturesSyndicate/. Blogging at goingplacesnearandfar.wordpress.com and moralcompasstravel.info. Visit instagram.com/going_places_far_and_near and instagram.com/bigbackpacktraveler/ Send comments or questions to [email protected]. Tweet @TravelFeatures. 'Like' us at facebook.com/NewsPhotoFeatures