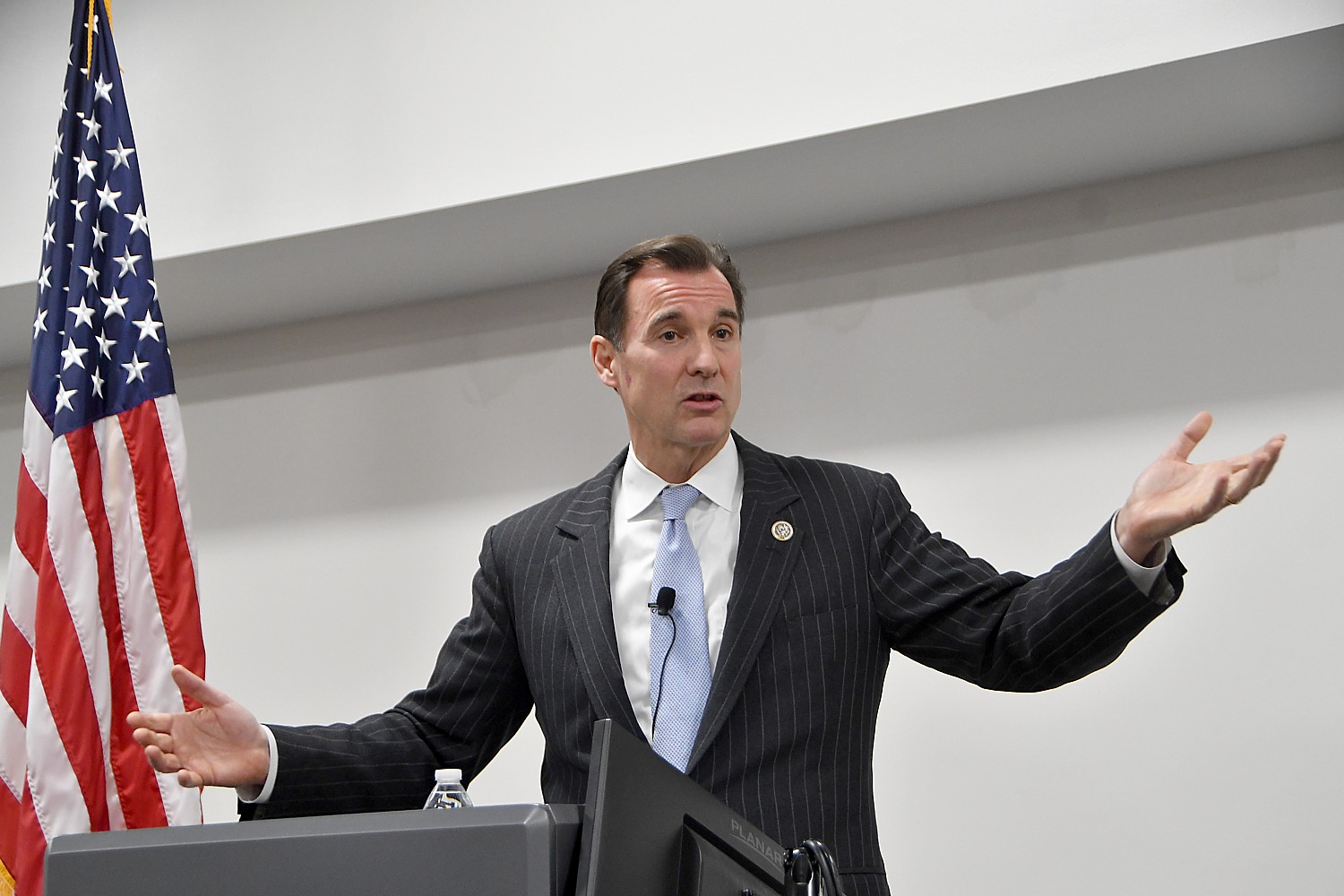 By Karen Rubin, News & Photo Features
The Republican tax plan (scam) – whether the House or the Senate version or whatever will come out of conference – would be devastating to New Yorkers in particular, but the nation as a whole. More than 50 percent of American households will wind up paying more in taxes, with the various cuts in deductions for all the things that enable upward mobility – home mortgage, local property taxes, education loans, medical costs.
Instead of simplifying the tax code and eliminating loopholes, the Republicans have only cut taxes for the wealthiest and corporations without eliminating the loopholes that enable profitable multi-nationals like Apple shelter profits from US tax. There is no incentive for corporations or wealthy individuals to invest in the US, or to create jobs, or even to raise wages. Instead, the Republicans would cause the biggest transfer of wealth from the poorest and middle class to the wealthiest, at the same time, creating a new American aristocracy of wealth and political power. It would intensify the already growing gap between rich and poor – the greatest gap since the Gilded Age and the Robber Barons –  hollow out the middle class. Meanwhile, the poor and middle class would be living with heightened insecurity because of loss of access to affordable health care.
The nonpartisan Congressional Budget Office released its report which clearly shows that the federal government would be raising taxes on those making less and generously benefiting those making more. For instance, Americans making less than $30,000 in 2019 will pay $2,580,000,000 more in taxes – while those making over $200,000 will pay $118,550,000,000 less in taxes in 2019.
"The Republican tax plan [which eliminates the deductions for state and local taxes] would be devastating for Long Island," Congressman Tom Suozzi, Democrat of Long Island told a Town Hall attended by 150 people in Great Neck. "The current tax bill passed by the House and proposed by the Senate would be bad for the country but especially bad for New York State and Long Island. Devastating…. It will cause people to move out – make people move away – not just the billionaires and millionaires making oodles of money, but people who are just making it."
Housing values will likely fall because the tax deduction of the mortgages – $1.5 million is average home cost for New York City – will be eliminated. Houses will be even less affordable.
The Republican tax plan is "structured in a way to take money out of the middle class to pay for tax cuts for the very wealthy and corporations. They had to find revenue to pay for tax cuts – they couldn't go over $1.5 trillion deficit over 10 years in order to pass the bill with only 51 votes in the Senate." They came up with the biggest reduction in deductions –  eliminating the deductions for  SALT (state and local taxes), which if they put back in, can't give the tax cuts to corporations." It is even questionable if it is constitutional, since it would essentially double-tax that income – first at the state and local level and then again at the federal level.
"It's a conscious decision that affects states like New York, New Jersey, California, and a few others" – states with high state and local taxes which also are "donor states" sending far more to the federal government than comes back in federal aid., which also happen to be "blue" states. It's also part of the strategy to "shrink the federal government" and attack the social safety net put into place since FDR's New Deal that came out of the Great Depression and continued by LBJ's Great Society: Medicare, Social Security and Medicaid because budget deficits will trigger mandatory reductions in spending – $25 billion worth in 2018 alone.
"This is the issue we have to shut down the government on," said a town hall participant, Howard Weitzman who was a village mayor and member of the Nassau County Board of Assessors. "They cannot destroy the economic engine of this country – all this tax money going to government. They are willing to destroy this area to give tax cuts to people who don't need them. [Budget Director Mike Mulvaney charged, "Why do people in Alabama have to support New York" but the opposite is true: he knows very well that New York sends $48 billion more to the federal government, which go to states like Alabama. "Shut down the government."
Democrats would be right to shut down the government. And the Donor States like New York, California, New Jersey (not coincidentally which are Democratic), should withhold the excess revenue to the federal government, much like a tenant-landlord dispute, putting the money into escrow for use to accomplish the infrastructure projects and transition to clean-energy economy that would have been federally funded. (See: Republican Tax Plan is Attack on Blue States; Fight Back by Holding Money 'in Escrow')
Trump and the Republicans intend to bankrupt the nation, to justify $25 billion in cuts to Medicare, Social Security and Medicaid next year, and billions more thereafter. Their tax policy would saddle the nation with $1.5 trillion more in debt while doing nothing to pay down the $20 trillion in debt we already incur – that interest payment alone, unless Trump defaults as he has on his own debt, will amount to 5% of the annual budget, more than $200 billion worth each year.
The Republican tax plan would raise taxes on the 59 million households that make $50,000 or less; and by 2027 the 86 million households who make less than $75,000. Trump appealed to the suffering masses whose salaries haven't kept up in the 40 years since the Reagan "revolution" – but as Suozzi said, "the world is dramatically changed because of globalization and technology. We need to figure out how to get more companies to locate in US and create jobs where people make a decent living –enough to buy a house, educate their children, have health insurance and retire without being scared." But the Republican plan will "starve the beast" and break the "engine" of economic growth by cutting off revenue that would pay for education, infrastructure and health care, while increasing the national debt which will raise interest rates. It is a cycle of destruction.
NYS Governor Andrew Cuomo Reacts
Here's New York State Governor Andrew Cuomo's response to Senate Budget Committee's 12-11 vote strictly along partisan lines:
"The President and Republican members of Congress appear determined to pass a tax plan before the end of the year because after an otherwise entirely fruitless legislative year, they are in desperate need of an accomplishment. They must believe in the old adage that "doing something is better than doing nothing."  In this case, that could not be less applicable.
"The GOP tax plan is not just a marketing fraud. It is a schizophrenic hybrid of extreme conservative political ideology and crass electoral politics.  The House and Senate have different plans, but both have the same DNA.  Both plans pretend to offer tax relief to the middle class, but in reality the policy they advance is just old, discredited trickle-down economics on steroids:  disproportionate and large cuts for the rich and the big corporations that are then supposed to result in economic growth that is magically passed on to the workers as wage increases.  This is a purely ideological concept that lacks data to support either the idea that the economy will be stimulated or that higher wages will result.
"Both the Senate and House plans are financed in large part by the particularly obnoxious, and possibly illegal, elimination of deductions of state and local taxes (referred to as the SALT deduction). The GOP plan eliminates the deductibility of state and local taxes which is a direct attack on the states with higher state and local taxes.  New York and California top the list of the twelve states that will most directly face hardship if SALT deductions are removed.  Curiously, all twelve are "blue" states and if this change to accepted tax law passes, these states will be at a competitive disadvantage to other states with lower local taxes.
"The deductibility of state and local taxes has been a sacrosanct principle of tax law for the past one hundred years.  It is the underpinning of the economic system for state and local governments.  Republican ideology that has always espoused "state's rights" now tramples on that theory with the elimination of this provision.  And anti-tax conservatives are now proposing the first ever double taxation – to tax the taxes an individual pays locally.  There is a serious legal question as to whether this double tax is constitutional.
"The elimination of the SALT deduction is the ultimate redistribution of wealth making conservatives who vehemently oppose this philosophical concept all the more hypocritical and disingenuous as they now support it. Eliminating the SALT deduction will redistribute wealth from richer states to poorer states.  New York and California will effectively serve as piggy banks to finance tax cuts for other states.  Our loss is their gain.
"In New York, six of nine Republican Congress members opposed this plan.  The three who stood in support, voted in opposition to the interests of their constituents out of sheer party loyalty.  Their justification for supporting this plan is flawed factually and ideologically.  If New York raises taxes on the rich and corporations, people and business will leave the state for lower tax states and the remaining tax burden will fall to those left behind.  The deduction of state and local taxes is not a federal subsidy for New York.
"New York State is the number one donor state in the nation, sending $48 billion dollars more to Washington than we get back.  Eliminating SALT will compound the Federal taking adding approximately $18 billion to the $48 billion now taken. If the Republican Congress returns the $48 billion that New York sends to Washington, then I would be open to discussing eliminating the SALT deduction.
"And to make matters worse, the Senate GOP version proposes to repeal the Affordable Care Act, another legislative promise that the GOP controlled Congress has failed to achieve. It is just healthcare policy masquerading as tax reform. The reality is that lower income Americans won't have access to health insurance and the individual tax cuts that are set to expire in 2027 will result in half of American households paying higher taxes than they would have if the Senate bill had never passed.
"The Republican Congress is correct that the American people expect action from their government.  But in their attempt to save legislative face, they should heed the old adage: "do no harm."  It's true in medicine and politics.  This tax reform plan hurts the country's poor, working and middle-class families and will have a devastatingly negative economic impact on the twelve states targeted by Washington.
"To be this reckless and dismissive of the economic interests of so many Americans, the Republican's political assumption must be that they have lost the "blue" states anyway. That is no way to govern or – dare I say – to prepare for mid-term elections."
See also: Republican Tax Plan is Attack on Blue States; Fight Back by Holding Money 'in Escrow'
________________________
© 2017 News & Photo Features Syndicate, a division of Workstyles, Inc. All rights reserved. For editorial feature and photo information, go to www.news-photos-features.com, email [email protected]. Blogging at www.dailykos.com/blogs/NewsPhotosFeatures.  'Like' us on facebook.com/NewsPhotoFeatures, Tweet @KarenBRubin