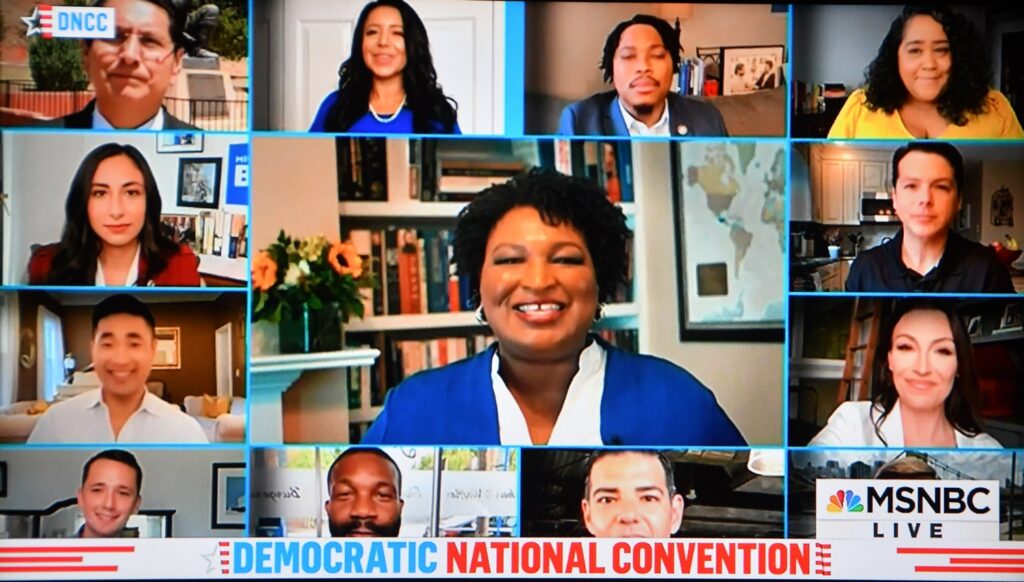 MILWAUKEE—Reimagined for a convention that will look and feel different than anything ever before, the Keynote Address for the second night of the 2020 Democratic National Convention, themed "Leadership Matters," wove together powerful and diverse voices from the next generation of party leaders into a unified pledge to step up and lead in this critical moment for the nation.
The address featured not one, but 17 of the Democratic Party's rising stars from all across the country—ranging from state representatives, to mayors, to a Navajo Nation President, to members of Congress. These young electeds offered a diversity of different ideas and perspectives on how to move America forward, but they also spoke to the future our party is building together—a future with Joe Biden at the helm, but Stacy Abrams, former Georgia State House Minority Leader, Former Georgia gubernatorial candidate, voting rights activist (Atlanta, GA), brought home the unique challenges and urgency of voting this year.
Here are Abrams' remarks:
This nation belongs to all of us. And in every election, we choose how we will create a more perfect union, not by taking sides but by taking stock of where we are and what we need.
This year's choice could not be more clear. America faces a triple threat: a public health catastrophe, an economic collapse, and a reckoning with racial justice and inequality. So our choice is clear: a steady, experienced public servant who can lead us out of this crisis just like he's done before, or a man who only knows how to deny and distract; a leader who cares about our families or a president who only cares about himself.
We know Joe Biden. America, we need Joe Biden. To make your voice heard text Vote to 30330.
In a democracy, we do not elect saviors. We cast our ballots for those who see our struggles and pledge to serve; who hear our dreams and work to make them real; who defend our way of life by protecting our right to vote. Faced with a president of cowardice, Joe Biden is a man of proven courage. He will restore our moral compass by confronting our challenges, not by hiding from them or undermining our elections to keep his job.
In a time of voter suppression at home and authoritarians abroad, Joe Biden will be a champion for free and fair elections, for a public health system that keeps us safe, for an economy that we build back better than before, and for accountability and integrity in our system of justice. We stand with Joe Biden because this isn't just about defeating Donald Trump. We are in this to win for America. So let's get it done.

Other participants included:
State Senator Raumesh Akbari; Tennessee (Memphis, TN) 
Congressman Colin Allred; TX-32 (Washington D.C.)
Congressman Brendan Boyle; PA-2 (Pittsburgh, PA)
State Senator Yvanna Cancela; Nevada (Las Vegas, NV)
Former State Rep. Kathleen Clyde; County Commissioner, Portage County, OH (Kent, OH)
Commissioner of Agriculture Nikki Fried; Florida Commissioner of Agriculture and Consumer Services (Tallahassee, FL)
Mayor Robert Garcia; (Long Beach, CA) 
State Rep. Malcolm Kenyatta; Pennsylvania (Philadelphia, PA)
State Senator Marlon Kimpson; South Carolina (Charleston, SC)
Congressman Conor Lamb; PA-17 (Pittsburgh, PA)
State Rep. Mari Manoogian; Michigan (Birmingham, MI)
State Rep. Victoria Neave; Texas (Dallas, TX)
President Jonathan Nez; Navajo Nation President (Widow Rock, AZ)
State Rep. Sam Park; Georgia (Lawrenceville, GA)
State Rep. Denny Ruprecht; New Hampshire (Landaff, NH) 
Mayor Randall Woodfin; (Birmingham, AL)