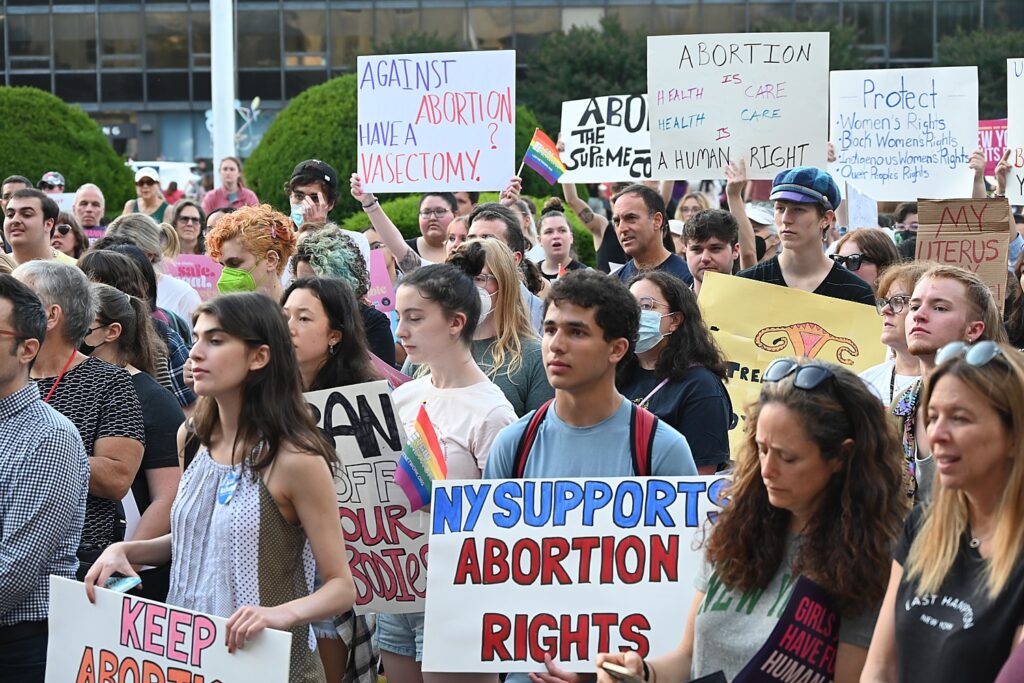 Efforts are underway at the federal and state level to protect women's reproductive rights. This is a fact sheet from the White House on Biden-Harris Administration's efforts to protect access to medication abortion:
Addressing the Interagency Task Force on Reproductive Healthcare Access, Vice President Kamala Harris said, "We are having an experience where the women of America in particular have been in a state of fear about what this means for them, what this means for the people they love. 
 
"We are looking at a situation in our country where healthcare providers — most of whom have had a calling to do the good and important work of taking care of other people — are in fear of losing their licenses and, worse, even being prosecuted and criminalized for the work that they do that is about providing healthcare for people in our country.
"I have met, for example, with a woman by the name of Amanda, who talked with me — I met with she and her husband — about how when she was pregnant, she then had suffered a miscarriage and three times went to seek medical care and was denied because of the healthcare provider's fear that they would be prosecuted or in some way penalized for helping her through her miscarriage, and only helped her when she got to the point where she had sepsis — a life-threatening situation. 
 
"I have met with and talked with doctors who are in fear of losing their license, of being prosecuted, and of this situation actually having an impact on the relationships of trust that they have with their patients. 
 
"This indeed is a healthcare crisis in America.  And we have to acknowledge and understand it to be just that. 
 
"And then, five days ago, a district court in the state of Texas ruled to block access to abortion medication in every state in the country — in effect, if this ruling stands, creating what could very righteously be considered a nationwide ban, at least as it relates to what we believe to be half of the women who when seeking abortion care, receive it through abortion medication.
 
"So we have, in effect, a situation where politicians and politics have driven lawyers to go to a court of law where a judge who is not a medical professional is making a decision to undo the ruling 20 — over 20 years ago of the FDA that declared a specific medication safe and effective for the American people.
 
"So, one must appreciate that when we think about the integrity of our healthcare delivery systems and attacking the very credibility of the FDA on this one matter for the sake of politics and a political agenda, the wide-sweeping ramifications this can have. 
 
"And I'd ask every person who is aware of this to understand the implications of this ruling by just opening your medicine cabinet, because it is very likely that you rely on some type of medication prescribed by a doctor, approved by the FDA, to alleviate your health concerns and to improve your condition in life.
 
"So, the ramifications of this decision five days ago are wide-sweeping and, for that reason, require, we do believe, a very serious response.
"And again, I will state that our administration and our President, Joe Biden, has been very clear that we will stand to protect the integrity of the healthcare system in America and we will stand to protect those who have a right to be able to make decisions about their own body and their own life."
Fact Sheet: Protecting Access to Medication Abortion

Protecting access to reproductive health care has been a priority since the beginning of the Biden-Harris Administration, made even more urgent by the Supreme Court's decision to overturn Roe v. Wade. The President and Vice President are focused on ensuring access to mifepristone, which the FDA first approved as safe and effective to end early pregnancy more than twenty years ago and which accounts for more than half of abortions in the United States.

Despite this decades-long safety record, a single court in Texas has taken the dangerous step of attempting to override FDA's approval of medication abortion—which is used not only for abortion but also for helping women manage miscarriages. If this decision stands, it will put women's health at risk and undermine FDA's ability to ensure patients have access to safe and effective medications when they need them.

This lawsuit is part of broader efforts to ban abortion nationwide and to prevent women from making their own decisions about their own bodies without government interference.

The Administration is fighting this ruling in the courts, and stands by FDA's scientific and evidence-based judgment that mifepristone is safe and effective. Shortly after the ruling last Friday, the Justice Department filed a notice of appeal to the Fifth Circuit and sought a stay of the injunction pending appeal. A wide range of stakeholders, including FDA scholars, leading medical organizations, and pharmaceutical companies, have expressed their support for maintaining access to this FDA-approved medication.

In addition to defending in court FDA's ability to approve safe and effective medications, the Biden-Harris Administration has taken the following steps to protect access to medication abortion:
This Presidential Memorandum was issued in the face of attacks by state officials to prevent women from accessing mifepristone and discourage pharmacies from becoming certified to dispense the medication. These attacks, and the Presidential Memorandum, followed independent, evidence-based action taken by FDA to allow mifepristone to continue to be prescribed by telehealth and sent by mail as well as to enable interested pharmacies to become certified.
Engaging Medical Experts and Reproductive Rights Leaders to Underscore the Need for Medication Abortion. In February 2023, Vice President Harris convened a roundtable of leading medical experts and reproductive rights advocates to discuss how a court decision to invalidate the approval of mifepristone would affect patients and providers. Participants represented Physicians for Reproductive Health, American Medical Women's Association, the Society of Family Planning, the American Academy of Family Physicians, Planned Parenthood of Metropolitan DC, the National Women's Law Center, NARAL Pro-Choice America, the Center for Reproductive Rights, the American College of Obstetricians and Gynecologists, the ACLU, and Sister Song.
Meanwhile, several states including New York and Massachusetts are stockpiling abortion medication.
Governor Kathy Hochul delivered remarks at the Planned Parenthood of Greater New York's virtual press conference on medication abortion rulings where she announced that the State will stockpile the abortion medication Misoprostol as part of ongoing efforts to protect access to abortion. At the Governor's direction, the New York State Department of Health will immediately begin purchasing Misoprostol in order to stockpile 150,000 doses, a five-year supply, in order to meet anticipated needs.
"When it comes to reproductive freedom in this country, we are right now facing historic, horrific setbacks," Hochul said. "Just one year ago, women in this country had a constitutionally protected right to an abortion. And then in June with the Dobbs decision, we are forced to confront a painful reality that the fundamental rights that my grandmother's generation had to fight for were stripped away with one decision. Now, the MAGA anti-abortion extremists, legislators, and judges alike are hell-bent on continuing down this path. They're coming after all forms of reproductive health care. And they took their latest step just on Friday, with the ruling that'll further limit access to Mifepristone and for millions of women across this country.
"One judge in Amarillo, Texas thinks he knows better than thousands of doctors and scientists and experts. And not to mention the countless women who've used this medication safely for decades. This isn't just an attack on abortion, it's an attack on democracy. Courts have never before revoked a science backed decision made by the FDA.
"And if this decision stands, it could have unprecedented consequences that reach far beyond abortion, threatening the FDA's critical role in our country's public health system. So, this moment calls for bold leadership at every level of government, and I'm glad the Biden Administration came out so strong against this ruling and we've been standing shoulder to shoulder with them. And at the State level here in New York, we're not going to let one extremist judge turn back the clock on more than 20 years of safe, reproductive care.
"New York has always been at the forefront of this fight. In the wake of the Dobbs Decision, we allocated $35 million to reproductive health care providers. We mandated all insurance companies doing business in New York cover abortion, and I signed a package of legislation protecting providers and our patients. And last year, the attacks were on abortion procedures. This year, medication abortion. What's next? Contraception? Birth control? Well, I'm here to say, 'Not New York. Not now, not ever'."
"So, last year we called an extraordinary legislative session. We took one step closer to passing New York's Equal Rights Amendment. The ERA, as written, will enshrine abortion and contraception rights and protect all forms of reproductive healthcare in our state constitution. The ERA and these fundamental rights will be on the ballot next year. Once again, states have become the battleground on these fights and the latest steps to tear down these rights have only strengthened our resolve, so I'm proud to announce that New York State will create a stockpile of Misoprostol, another form of medication abortion.  
"Extremist judges have made it clear that they won't stop at any one particular drug or service, so we are going to ensure that New Yorkers will continue to have access to medication abortion no matter what. 
"We're also announcing that if this decision stands by this judge, we'll dedicate up to $20 million more for reproductive health care providers beyond our current $35 million to support methods of access to other forms of care, including procedures. And we're in conversations with the legislature right now about requiring private insurance to cover medication abortion as well when it's prescribed off-label. 
"All this is in addition to actions we laid out in my proposed 2024 budget, which increases the Medicaid reimbursement rights for reproductive health services, provides more funding for providers, and allows pharmacists to prescribe birth control, as well as implementing data privacy protections and expanding abortion access on SUNY and CUNY campuses. 
"We'll always protect access to reproductive health care and all individual rights here in New York – it's part of our legacy. And in fact, abortion was legal here in New York three years before Roe v. Wade was even decided. So, as long as I'm governor, New Yorkers will have access to the care they need when they need it. And we'll continue to open our arms to all people seeking freedoms and autonomy. And it's important that we're still fighting this fight yet again. But here we are with all of you, our partners, suiting up for battle, in partnership. Let's continue and let's win this fight."