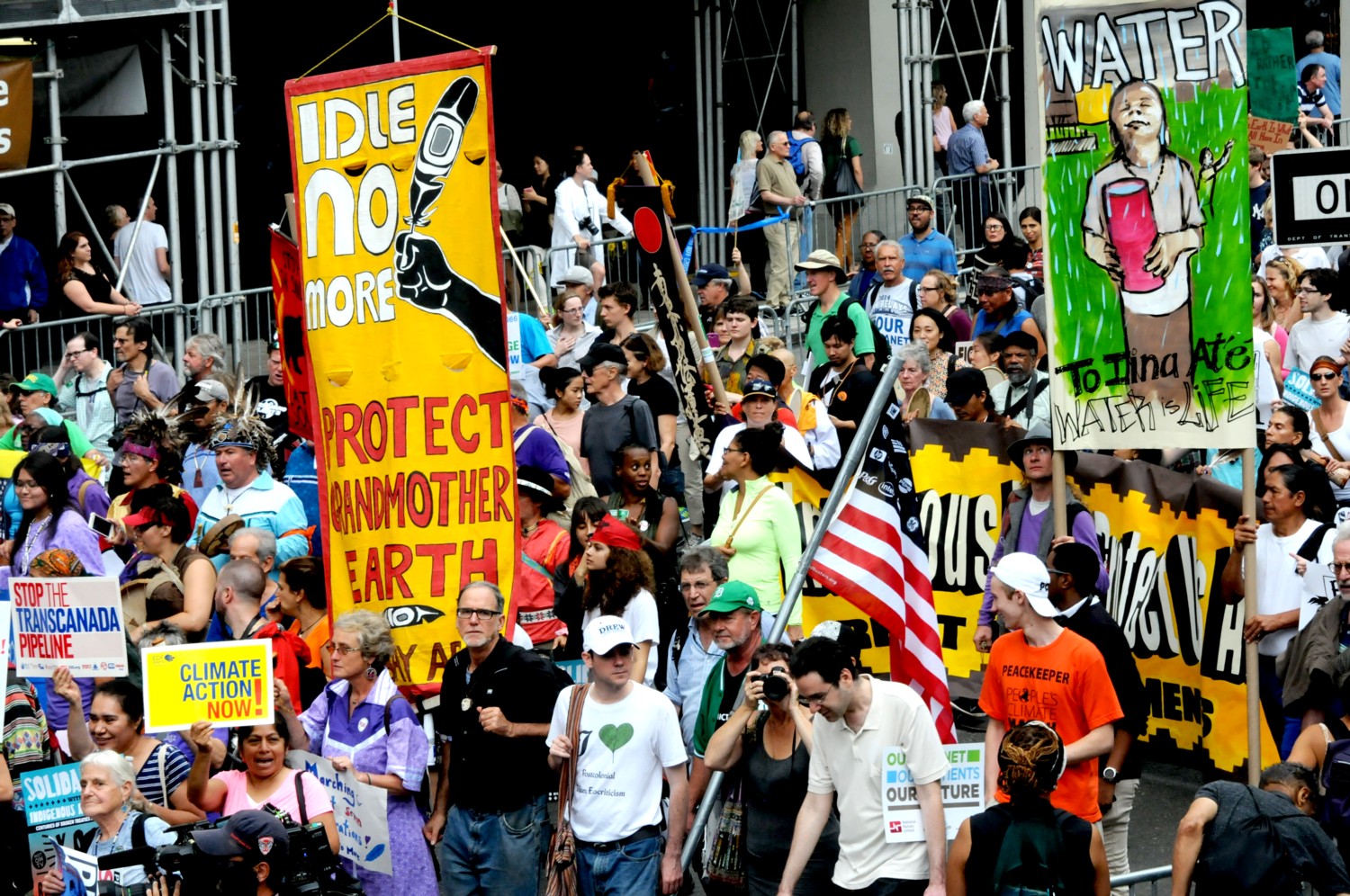 by Karen Rubin, News & Photo Features
In a statement on Friday, Nov. 6, President Barack Obama declared that the State Department, under Secretary John Kerry, made the determination that "Keystone would not serve the national interests of the United States… and I agree."
Flanked by Vice President Joe Biden and Secretary of State John Kerry, President Obama said the Keystone XL pipeline would contradict America's efforts – and its global leadership – to transition to clean, renewable energy in order to mitigate the worst impacts of climate change before communities are rendered "inhospitable" and even "uninhabitable."
"Today, the United States of America is leading on climate change with our investments in clean energy and energy efficiency.  America is leading on climate change with new rules on power plants that will protect our air so that our kids can breathe.  America is leading on climate change by working with other big emitters like China to encourage and announce new commitments to reduce harmful greenhouse gas emissions.  In part because of that American leadership, more than 150 nations representing nearly 90 percent of global emissions have put forward plans to cut pollution.
"America is now a global leader when it comes to taking serious action to fight climate change.  And frankly, approving this project would have undercut that global leadership.  And that's the biggest risk we face — not acting.
"Today, we will continue to lead by example [to prevent] a large part of this earth from not only becoming inhospitable but inhabitable in our lifetimes.
"As long as I'm President of the United States, America is going to hold ourselves to the same high standards to which we hold the rest of the world.  And three weeks from now, I look forward to joining my fellow world leaders in Paris, where we've got to come together around an ambitious framework to protect the one planet that we've got while we still can.
"If we want to prevent the worst effects of climate change before it's too late, the time to act is now.  Not later.  Not someday.  Right here, right now.:
The President took to task how Keystone was being used as a "political cudgel."
"For years," he said, "the  Keystone pipeline occupied an over-inflated role in political discourse – a symbol, a campaign cudgel rather than a serious policy matter.
"This pipeline was neither a silver bullet for the  economy as promised by some, nor an express lane to disaster as implied by others." Ultimately, he said, the State Department rejected Keystone XL because, "it did not make a meaningful long-term contribution to our economy."
But, he said, if Congress were serious about creating jobs, "this was not the way to do it. What we should be doing is passing bipartisan infrastructure bill that would create more than 30 times the jobs each year than pipeline, and create long-term benefits."
Indeed, in the absence of the Keystone XL pipeline, the United States added 271,000 jobs in October, the fastest pace so far this year as the unemployment rate declined to its lowest level since April 2008. 
"Our businesses have now added 13.5 million jobs over 68 straight months, extending the longest streak on record," reported Jason Furman, Chairman of the Council of Economic Advisers. "The unemployment rate ticked down to 5.0 percent in October—its lowest level since April 2008—with stable labor force participation. Wages continued to rise; average hourly earnings for all private employees have now risen 2.5 percent over the past year, the fastest pace achieved since 2009…Overall, our economy has created 8.0 million jobs over the past thirty-six months, the fastest pace since 2000." 
But if Congress were serious about jobs creation, President Obama continued, "This Congress should pass serious infrastructure plan and keep those jobs coming. That will make a difference. The pipeline would not make serious impact on those numbers and the American people's prospects for the future."
Moreover, he said, Keystone would not have lowered gas prices for the American consumer. On the other hand, "gas prices have already been falling steadily: 77c over a year ago – a $1 over 2 years, $1.27 over 3 years ago. Today in 41 states, you  can find at least one gas station selling for less than $2/gallon."
Shipping the oil  from Canada's tar sands, the dirtiest form, would not contribute to America's energy security, either, Obama said. "What has increased energy security is decreasing our reliance on dirty fossil fuels imported from other parts of the world."
He noted that three years ago, he set a goal of reducing America's dependence on importing foreign oil, and that goal has been met five years early. "We now produce more oil than we buy from other countries."
"The United States will continue to rely on oil and gas as we transition, but we must transition to a clean energy economy."
That transition is happening "more quickly than many anticipated.
"Since I took office, we have doubled the distance we can go on a gallon of gas, tripled power from wind, multiplied the power we get from the sun 20 times over. Our biggest and most successful businesses are going all-in on clean energy. Thanks to the investments made, power from wind and sun is cheaper than conventional.
"The old rules said we couldn't promote economic growth and protect our environment at the same time.  The old rules said we couldn't transition to clean energy without squeezing businesses and consumers.  But this is America, and we have come up with new ways and new technologies to break down the old rules, so that today, homegrown American energy is booming, energy prices are falling, and over the past decade, even as our economy has continued to grow, America has cut our total carbon pollution more than any other country on Earth."
The President said, "Today, we're continuing to lead by example.  Because ultimately, if we're going to prevent large parts of this Earth from becoming not only inhospitable but uninhabitable in our lifetimes, we're going to have to keep some fossil fuels in the ground rather than burn them and release more dangerous pollution into the sky.
"I'm optimistic about what we can accomplish together.  I'm optimistic because our own country proves, every day — one step at a time — that not only do we have the power to combat this threat, we can do it while creating new jobs, while growing our economy, while saving money, while helping consumers, and most of all, leaving our kids a cleaner, safer planet at the same time.
"That's what our own ingenuity and action can do.  That's what we can accomplish.  And America is prepared to show the rest of the world the way forward."
See:
FACT SHEET: ADMINISTRATION ANNOUNCES NEW INITIATIVE TO INCREASE SOLAR ACCESS FOR ALL AMERICANS
FACT SHEET: Continuing to Drive Growth in Solar Energy Across the Country-Administration Announcing More than $120 Million to Scale Up Clean Energy in 15 States
FACT SHEET: Obama Administration and Private-Sector Leaders Announce Ambitious Commitments and Robust Progress to Address Potent Greenhouse Gases
FACT SHEET: White House Announces Commitments to the American Business Act on Climate Pledge
FACT SHEET:  Obama Administration Joins with Public and Private Sector to Increase Access to Off-Grid Clean Energy and the Deployment of Innovative Technologies Globally
FACT SHEET: Obama Administration Announces New Efforts to Promote Sustainable and Climate-Smart Agriculture