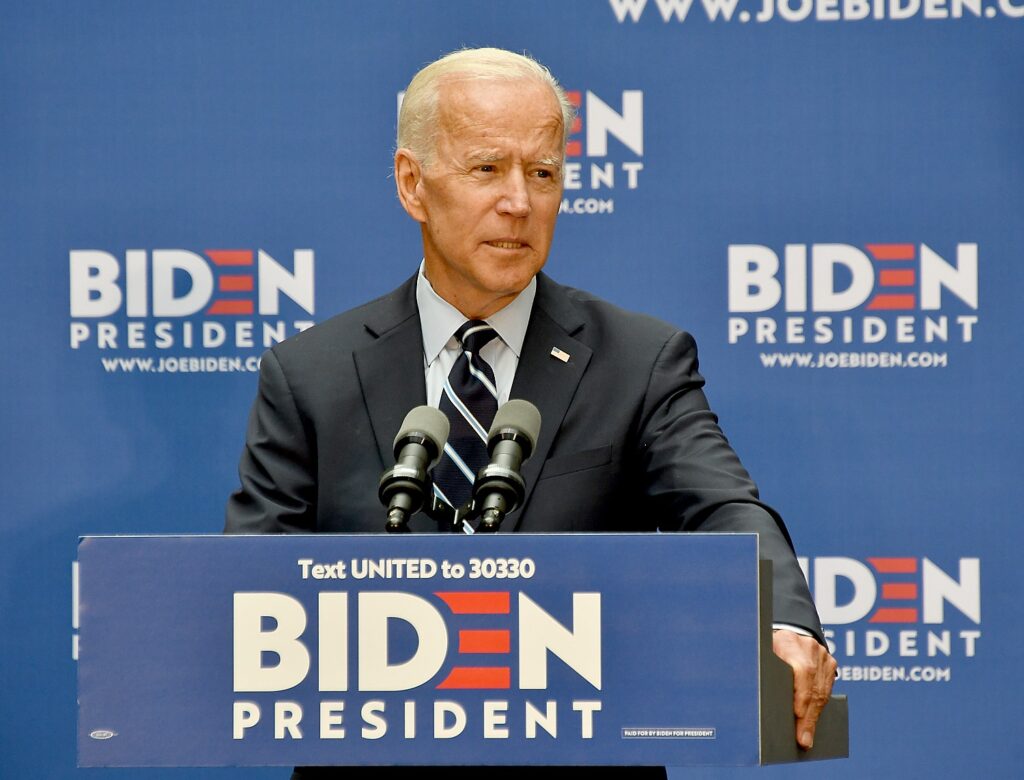 MILWAUKEE—The Democratic National Convention Committee (DNCC) today previewed the official program for the final night of the 2020 Democratic National Convention, which will take place Thursday, August 20 from 9:00-11:00 PM Eastern.
The theme of Thursday's program is "America's Promise." The measure of a president is the same as the measure of a person: What principles guide them? How do they handle adversity? Being president doesn't change who you are—it reveals who you are. Joe Biden is a good man who believes in the promise of America, and as president, he will deliver on that promise for all.
A former public defender, a leading senator, and two-term vice president, Joe Biden is one of the most experienced candidates to ever seek the presidency. Throughout his career, he has been tested by historic recessions, global conflicts, pandemics, divisive politics, and the never-ending quest for justice and fairness in America. Every step of the way, he has risen to the moment with steady and effective leadership. When he gets knocked down, he gets back up.
Joe Biden is a leader who believes in America's Promise—and believes in delivering on that promise for all of us.
Tonight features Americans sharing where they hope to be this time next year, elected officials standing up for the right to vote, including Senator Cory Booker, California Governor Gavin Newsom, Atlanta Mayor Keisha Lance Bottoms, 2016 candidate Pete Buttigieg, Senators Tammy Baldwin, Tammy Duckworth, and Chris Coons, and the highlight of the evening, Vice President Joe Biden officially accepting the Democratic nomination for president.
As has been featured every night of the convention, between speeches segments, ordinary Americans across country will share their story and the hope they have in electing Joe Biden President and Kamala Harris Vice President.
Highlights from tonight's program include:
THE PROMISE OF AMERICA
"This Time Next Year"
A collection of everyday Americans and prominent leaders share where they want to be this time next year—when Joe Biden is president.
Remarks
Andrew Yang
American businessman
Introduction
Julia Louis-Dreyfus
American actress
Pledge of Allegiance
Cedric Richmond, Jr.
Son of The Honorable Cedric Richmond, Member of the U.S. House of Representatives, Louisiana
National Anthem
The Chicks
Natalie Maines, Martie Erwin Maguire, and Emily Strayer
Invocation
Sister Simone Campbell
American Roman Catholic Religious Sister
Remarks
The Honorable Chris Coons
United States Senator, Delaware
Remarks
The Honorable Keisha Lance Bottoms
Mayor of Atlanta, Georgia
A Tribute to John Lewis
Directed by Dawn Porter
Performance
John Legend
American singer-songwriter
Common
American rapper, actor, and writer
Remarks
Jon Meacham
American writer and author
Remarks
The Honorable Deb Halaand
Member of the U.S. House of Representatives, New Mexico
Remarks
The Honorable Alex Padilla
California Secretary of State
The Honorable Jocelyn Benson
Michigan Secretary of State
Remarks
The Honorable Cory Booker
United States Senator, New Jersey
"You Built America": A Conversation on the Economy with Vice President Biden
Joe Biden listens to, and engages with, union workers around how to build an economy that rewards work.
Remarks
Dr. Vivek Murthy
Former Surgeon General of the United States
Remarks
The Honorable Tammy Baldwin
United States Senator, Wisconsin
The Biden Plan: Military Families
A video that focuses on Joe Biden and Dr. Jill Biden's deep commitment to military families.
Remarks
The Honorable Tammy Duckworth
United States Senator, Illinois
A Tribute to Beau Biden
A video that focuses on the remarkable life and career of Beau Biden.
Remarks
The Honorable Pete Buttigieg
Former Mayor of South Bend, Indiana
"United We Stand"
Joe Biden through the eyes of those who ran against him in 2020—featuring Senator Cory Booker, Former Mayor Pete Buttigieg, Senator Amy Klobuchar, Former Congressman Beto O'Rourke, Senator Bernie Sanders, Senator Elizabeth Warren, and Andrew Yang.
Remarks
The Honorable Michael Bloomberg
Former Mayor of New York City, New York
The Biden Grandchildren
A video focused on Joe Biden's family—and in particular his grandchildren, and their close bond.
Remarks
The Biden Children
Ashley Biden and Hunter Biden tell us about their father.
Biden Introduction
The story of Joe Biden's life, up to this moment—from his parents, to his upbringing, to his greatest challenges, to his biggest successes, to the type of leader, father, husband, and person that he is.
Remarks
The Honorable Joe Biden
2020 Democratic Nominee for President of the United States
Former Vice President of the United States
How to Watch the 2020 Democratic National Convention
Viewers will have more than a dozen options for watching the 2020 Democratic National Convention, ensuring that this year's convention will reach viewers where they are, however they prefer to watch, all across the nation.
With an unprecedented number of ways to tune in, this year's convention will engage voters in new, innovative ways and unite the country around our shared values. The convention will take place over four nights from August 17-20, 2020. Convention programming will air live from 9:00-11:00 PM Eastern each night.
The official live stream for the 2020 Democratic National Convention will be hosted on DemConvention.com, where viewers can also find the full convention schedule, a digital toolkit to get involved, more resources for viewers, delegates and the media and additional plans and details.
In addition, the DNC is organizing watch parties all over the country, hosted with prominent leaders, as well as drive-in watch parties, like drive in movie theater where you watch on big screens – in Wisconsin, New Hampshire, Iowa, Pennsylvania, Virginia, and Delaware.
The convention will air from 9 p.m. to 11 p.m. Eastern time every day, Monday through Thursday. There are a variety of ways to watch:
The official livestream will be here. It will also be available on YouTube, Facebook, Twitter and Twitch.
C-SPAN, CNN, MSNBC and PBS will cover the full two hours each night. ABC, CBS, NBC and Fox News will carry the convention from 10 p.m. to 11 p.m. each night.
The New York Times will stream the full convention every day, accompanied by chat-based live analysis from reporters and real-time highlights from the speeches.
Streams will be available on Apple TV, Roku and Amazon Fire TV by searching "Democratic National Convention" or "2020 DNC," and on Amazon Prime Video by searching "DNC."
The convention will air on AT&T U-verse (channels 212 and 1212) and AT&T DirectTV (channel 201). It will also air on Comcast Xfinity Flex and Comcast X1 (say "DNC" into your voice remote).
You can watch on a PlayStation 4 or PSVR through the Littlstar app.
If you have an Alexa device, you can say "Alexa, play the Democratic National Convention."
Then, after the Convention, tune into a star-studded after-party happening on Thursday, August 20, at 11:00pm ET.

Hosted by Emmy Award-winning host, producer, and author, Andy Cohen, the event will be dropping into the homes of A-list celebrities and activists across the country for several segments, and the after party will be headlined by a never-before seen set for a special musical performance by Grammy Award-winning artist, record producer and DJ Diplo, one of the most dynamic forces in music today.

Other big names attending the after party include Alyssa Milano, Aubrey Plaza, Cat and Nicole Ehrlich Cora, Jaime Camil, Jason George, Elena Delle Donne, Keith Powell, Liza Koshy, Neil Casey, Michelle Kwan, and Zooey Deschanel.

This will be carried on the official livestream following the convention on all social platforms across the Biden campaign, DNC, and DNCC including official Facebook, Youtube, Twitter accounts, joebiden.com, and Twitch.