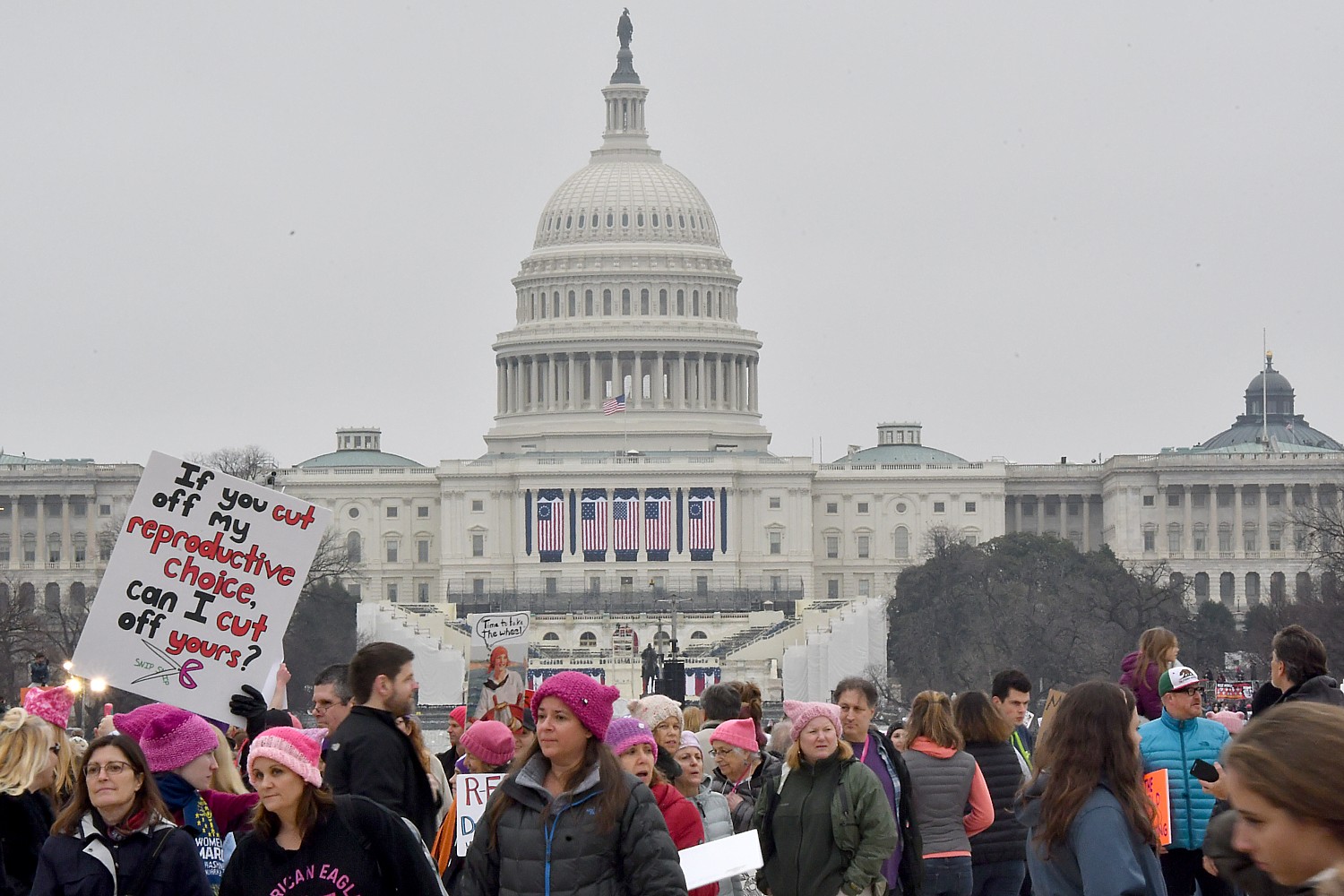 By Karen Rubin, News & Photo Features
It's already begun. The unraveling of eight years of progress under Obama. Contrast their first actions: Obama signed the Lily Ledbetter Act so women can have a legal remedy for pay equity. Trump signed  an executive orders to dismantle Obamacare and to withhold funding from any NGO anywhere that funds abortions.
Donald Trump doesn't care that more than twice as many people came out to protest his illegitimately gained presidency, his morals and his agenda than came out to support his inauguration (I was at both. I saw despite the lies that Trump is spewing.) His warped ego will probably take it as a matter of pride that more than 500,000 people descended on Washington from all over the country while millions more filled out gargantuan protests in NYC (400,000), Los Angeles (750,000), Chicago, Atlanta, St. Louis – indeed, all across the US – plus cities in 50 countries including Paris, London, Sydney.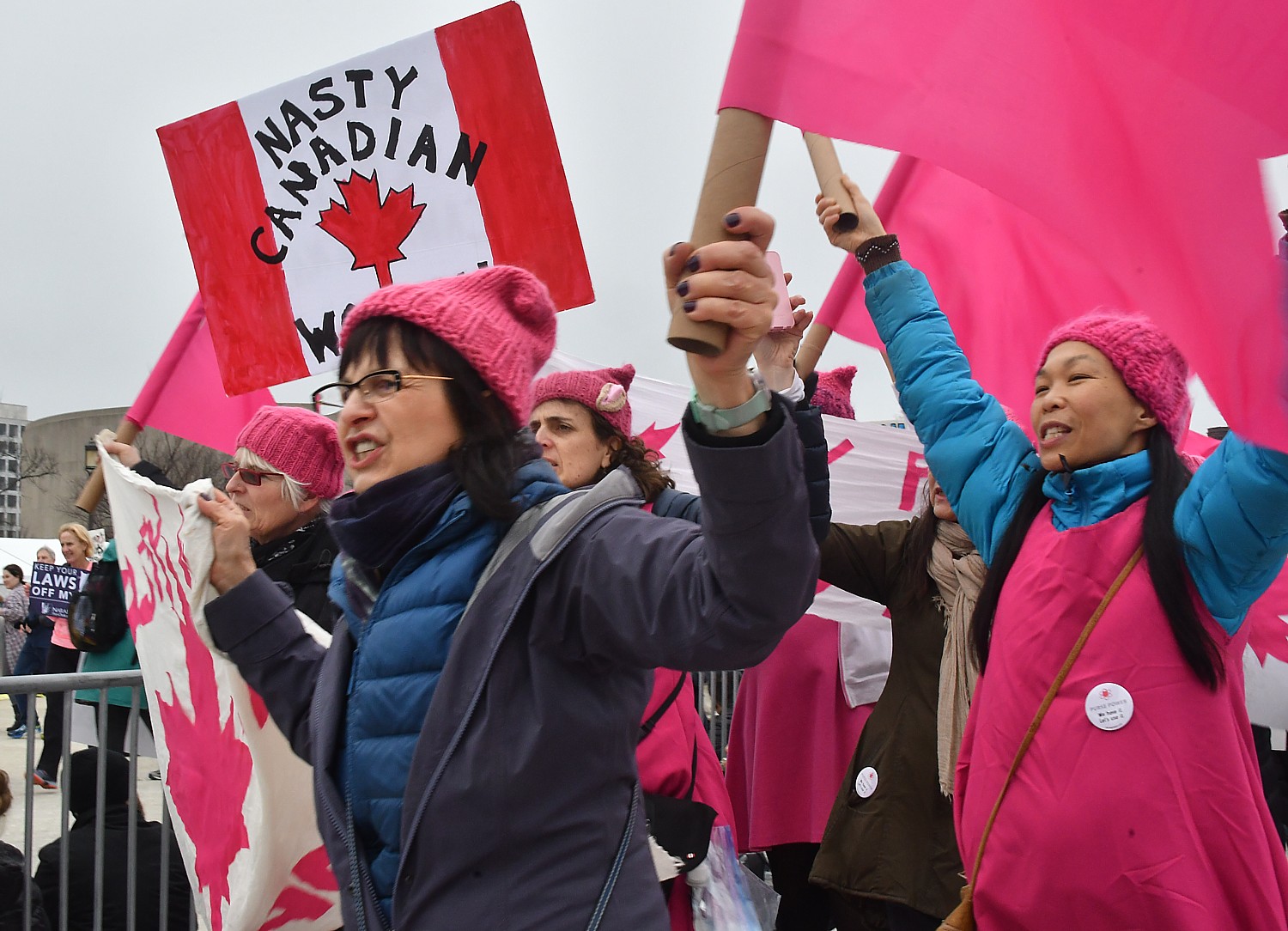 They came out to declare: Women's Rights are Human Rights, women are not chattel, a mere vessel (vassal) to harbor an embryo. And so women and their men and children were standing up for reproductive rights, access to health care, gun safety, climate action, immigration reform, criminal justice, pay equity, public education, voting rights, campaign finance  – all those things that together constitute "women's issues". Economic justice, climate justice, criminal justice, social justice, political justice, national security and peace in the world are all "women's issues."
"From the shores of Sydney, Australia to the tundra of Kodiak, Alaska we marched. Signs held high, our voices carried across Little Rock, Arkansas and Nashville, Tennessee, Phoenix, Arizona and Lansing, Michigan. Pink knit hats stretched as far as the eye could see in London, England, New York City, Los Angeles, California and Washington DC," writes Heidi L. Sieck, Co-Founder/CEO,  #VOTEPROCHOICE.
In fact, this was the single largest political demonstration day of protest in US history and most certainly the largest outpouring of opposition at the opening of a new administration. Trump, who lost the popular vote by 2.6 million and carried only 42% of The Women's Vote, comes into the White House with the lowest favorability rating probably since Lincoln, and 20 points lower than the outgoing president, Barack Obama.
And if Trump would actually have listened to his own nonsensical, dystopian, bizarre inaugural speech, he would realize that the women, men and children who protested rightfully have the political power that Trump said no longer resided in Washington.
"January 20th 2017, will be remembered as the day the people became the rulers of this nation again," Trump intoned. "The forgotten men and women of our country will be forgotten no longer. Everyone is listening to you now…. At the center of this movement is a crucial conviction: that a nation exists to serve its citizens."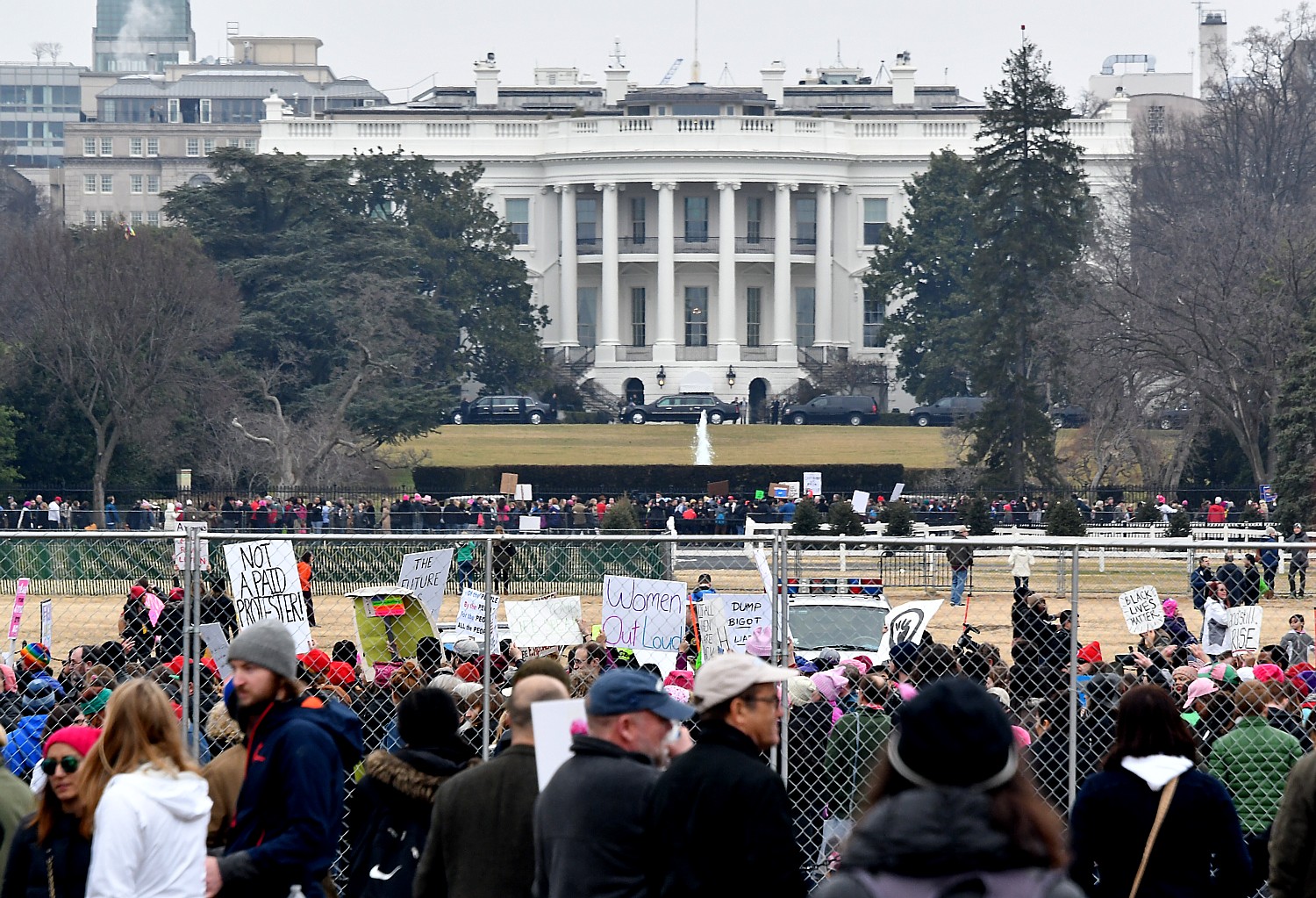 And yet, Trump managed to turn a deaf ear to the roars from the Women's March that literally shook buildings with its force (yet he had to see them because his motorcade drove through twice on his way to the CIA).
In his first 100 days, what Trump vows to do would undo the progress of 100 years, violating the will of the vast majority of Americans.
But here it is: Trump managed to resurrect a militant feminism that, frankly, was dormant during the election campaign when Hillary Clinton could have, should have (in fact did, were it not for the Electoral College), break that ultimate glass ceiling to run the White House. Women of all ages, all races and creeds, and men and children, marching together in solidarity. A man carried a sign saying "I can't believe we're still fighting for this".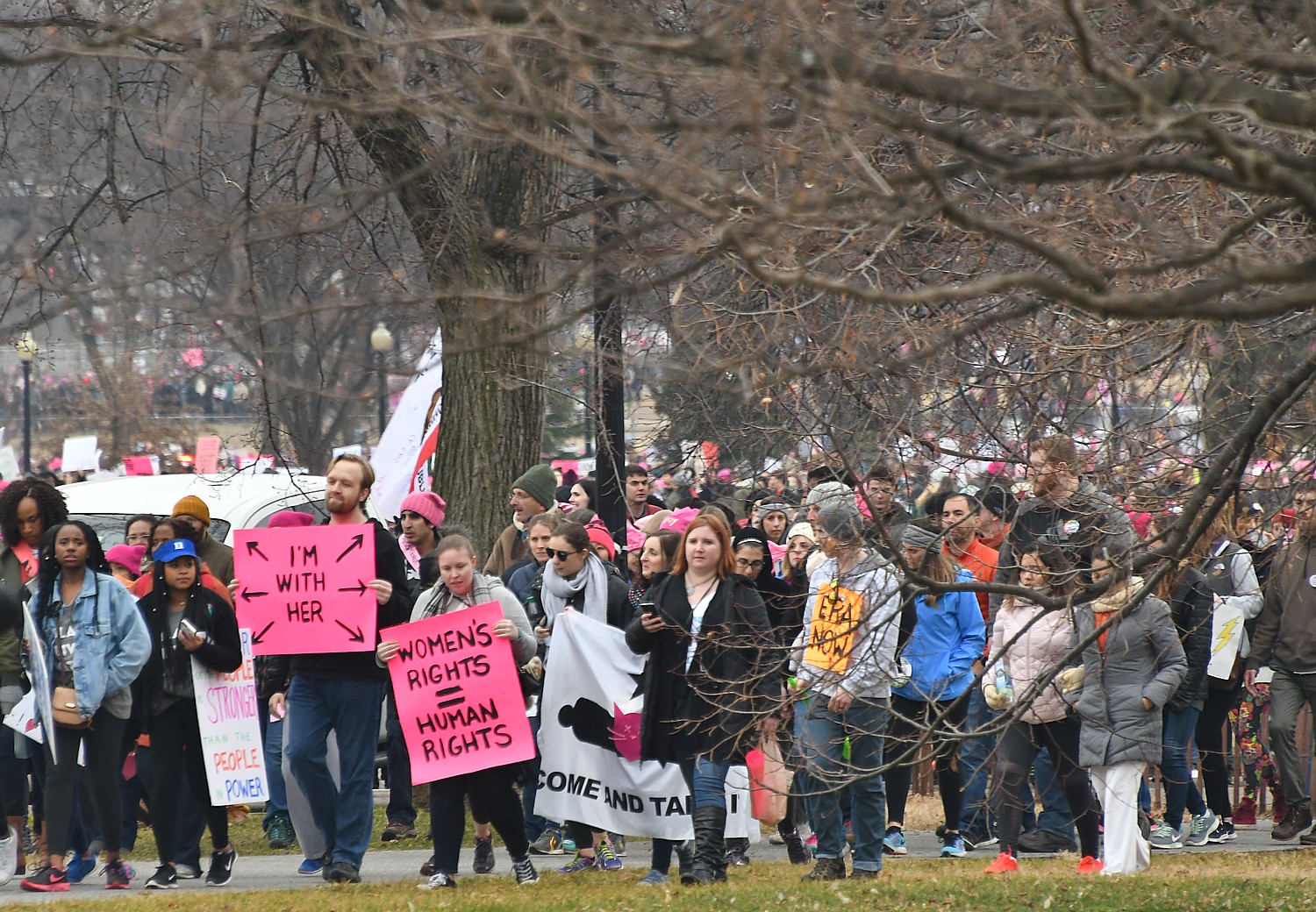 Now what will those who marched do? What will happen? Will that energy and activism be sustained against the forces of disillusionment, frustration, paralyzing despair and self-preserving apathy? Or will they return home feeling vindicated and affirmed that their fears and concerns are real and they are not to be silenced? I think they will return empowered, invigorated with a mission, with a voice, a language to articulate grievances and a clarity of purpose. Indeed, the Women's March organizers are posting 10 action items for the first 100 Days at womensmarch.com.
Also, there are ways and avenues and organizations to channel that rage and turn it into strategic, well articulated constructive action, in order to fight against the despair that will come when we aren't able to immediately stop the steamroll of anti-democratic, regressive initiatives that come from the Trump/Republican camarilla.
Donald Trump may not care about the protests, feeling somehow above and immune in his bubble of sycophants. In a creepy way, he probably drew orgasmic delight that 4 million people around the world focused their attention on him, no matter that he was the target of their contempt, disdain and hatred.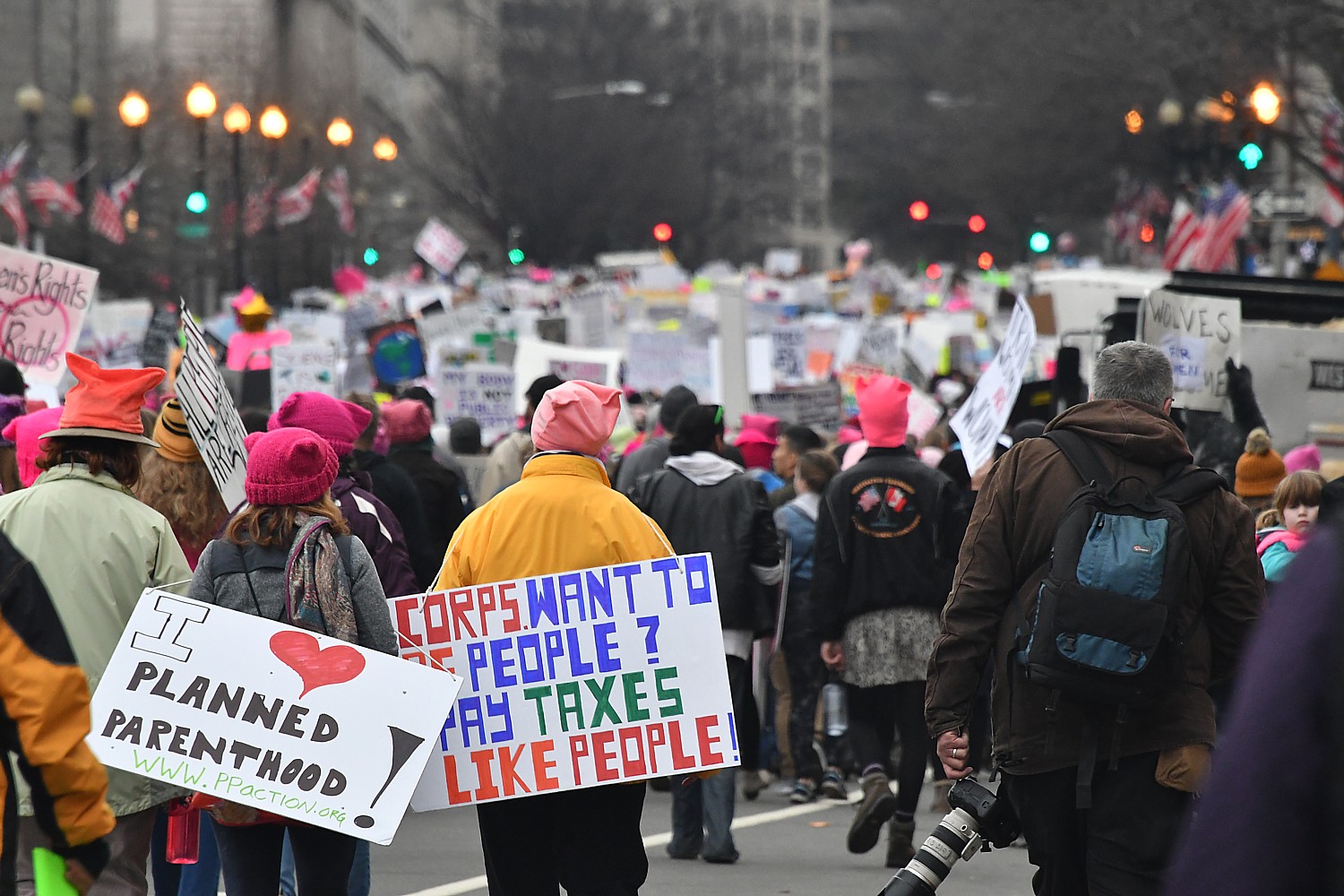 Women's Marchers in numbers hard to ignore by Congressmen, Senators, State Legislators© 2017 Karen Rubin/news-photos-features.com
But Congressmen know. Senators know. State legislators know. And they should be quaking in the reverberation of the marchers. And that's where the focus has to be. This is Day 1 of the 2017 campaign to take back state offices. This is Day One to take back the House and/or the Senate in 2018. Because taking just one house would cut Trump's Presidency to 2 years instead of an excruciating 4.
That is, if he isn't impeached first for his corrupt business practices and likely collusion with Russia (not likely with a Republican Congress that clearly doesn't care about actual illegalities like blatant violations of emoluments clause of Constitution and conflicts of interest that go against the national interest). He is more likely to be removed by a military coup when he orders bombing civilians, repopulating Guantanamo with prisoners snatched up with bounties, reopening black sites in order to torture, or, as he told the CIA, getting a second chance at taking Iraq's oil because, you know, he learned as a boy "to the victor belong the spoils."
Individually, we feel powerless, but collectively we have power. And it starts with pressing our village and city mayors, town and county supervisors, state representatives, governors and Congressmen need to be bold – like the San Francisco and New York mayors vowing to repulse Trump's attack on sanctuary cities, governors like Cuomo in New York State standing up for a climate action agenda and protecting women's reproductive rights; generals vowing to reject an order to bomb civilians or torture terror suspects. It's newspapers being willing to lose privileged "access" and risking lawsuits to publish investigations. It's government workers with the courage to be whistleblowers.
By these measures, the simple act of voting would seem an easy way to counter Trumpism, yet a disgraceful number don't even do this; people need to start early to get registered to vote and vote in every election, especially local and state elections and not just the presidential.
But all of this requires us to stay active. We have to resist being immobilized by despair (that's their strategy) and take action. If it seems too overwhelming with everything being thrown at us, just pick one or two issues to stay on top.
How to counter Trump?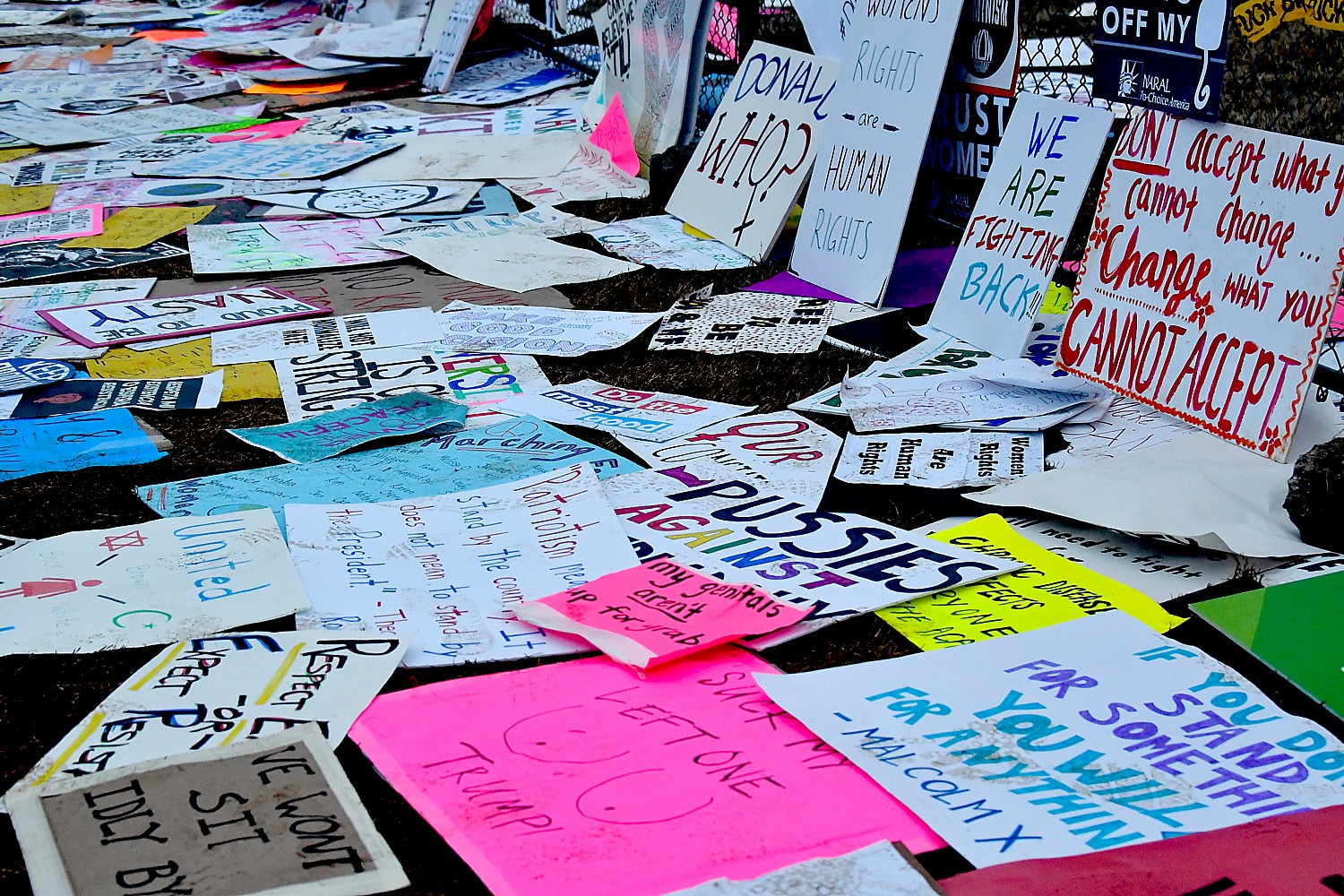 Conflicts of Interest: Support Sen. Elizabeth Warren's legislation that would require Trump to disclose his business holdings and require him to disclose his tax forms. Investigate – after all, what is Government Oversight Committee for, beyond investigating Benghazi and Clinton's emails? Sue for violations of the emoluments clause, for Trump Hotel in Washington violating the law that prevents an elected official from leasing property from the federal government. Impeach Trump and any of his lackeys for their self-serving, self-dealing conflicts of interest.  Boycott Trump's business holdings and the corporations that enable him, including Trump Hotels and golf courses, "Celebrity Apprentice," and Fox News.
Cabinet appointments: Democrats will be unable to stop Trump's appointments, thanks to the hypocritical Republican lapdogs. But Senate Democrats have a duty to expose their self-interest conflicts, their ineptitude, their extraordinary lack of qualifications so that they will be put on notice that their actions will be scrutinized.
"Through cutting-edge reports, social media, newspapers, radio and TV, and much more, we're going to highlight this rogues' gallery's history of law-breaking, how their corporate ties will corrupt policymaking, and how their reactionary views will harm everyday Americans." says Robert Weissman, President of Public Citizen (citizen.org).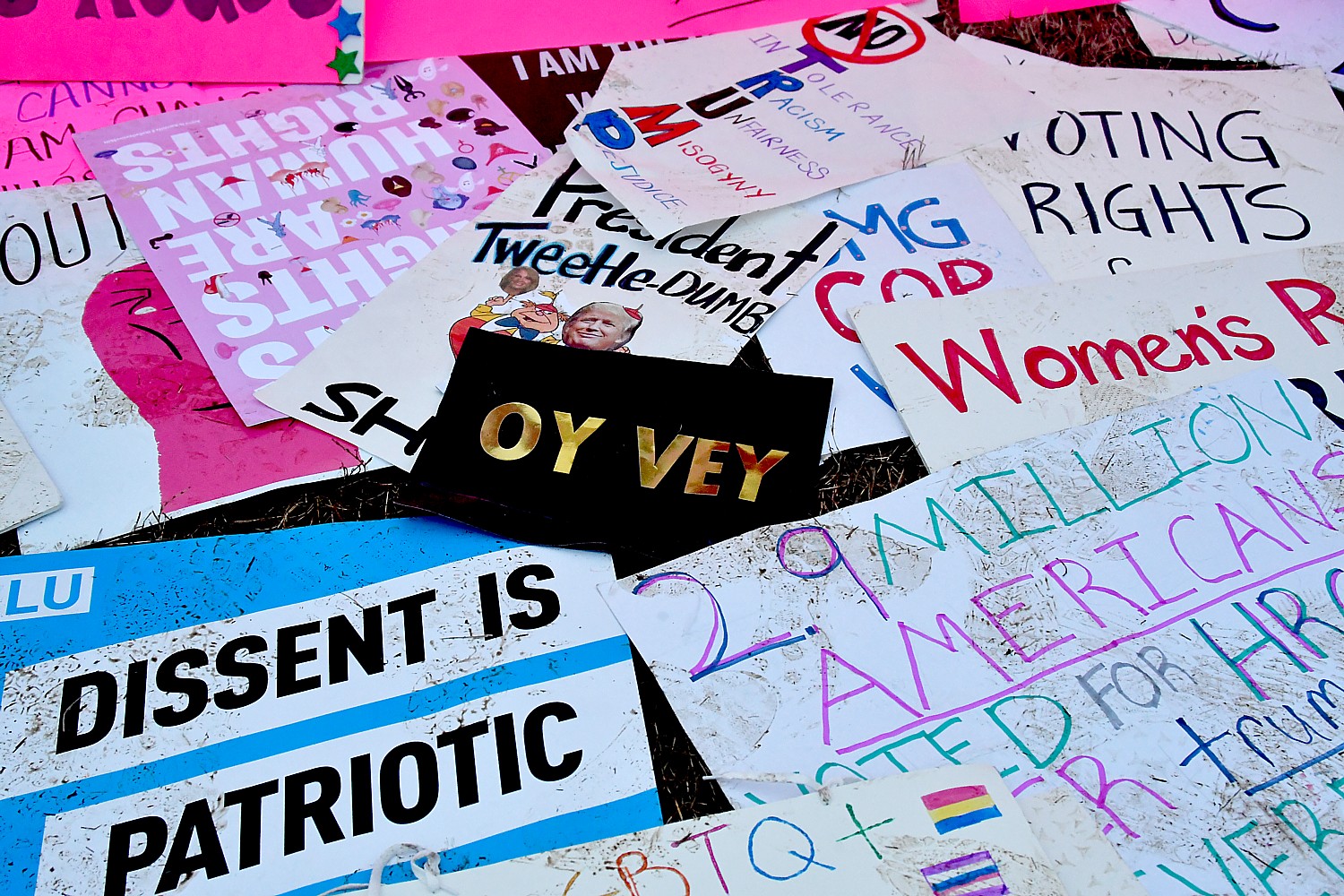 What should Senate, House Democrats do? Oppose with every tool and tactic they can the anti-Democratic principles, including using the Republican tactics against them like the filibuster, holds on nominations, lawsuits, articles of impeachment  (though McConnell and Ryan will likely take away the very tools they used to unprecedented degree). That isn't the same thing as opposing for opposing sake, to make the president fail, as Republicans did even as Obama was trying to keep the country from economic collapse. But Democrats are obligated to fight back where the agenda destroys progress. What Democrats should not do? Try to appeal to the pseudo-populism and the mythical "poor" "underserved" "voiceless" white working class, as if they are the only "real Americans" who matter. And yes, they should sue the Trump Administration just as the Republicans sued Obama over DACA and Obamacare. If Republicans don't offer any means to compromise or impact policy, Democrats should go nuclear.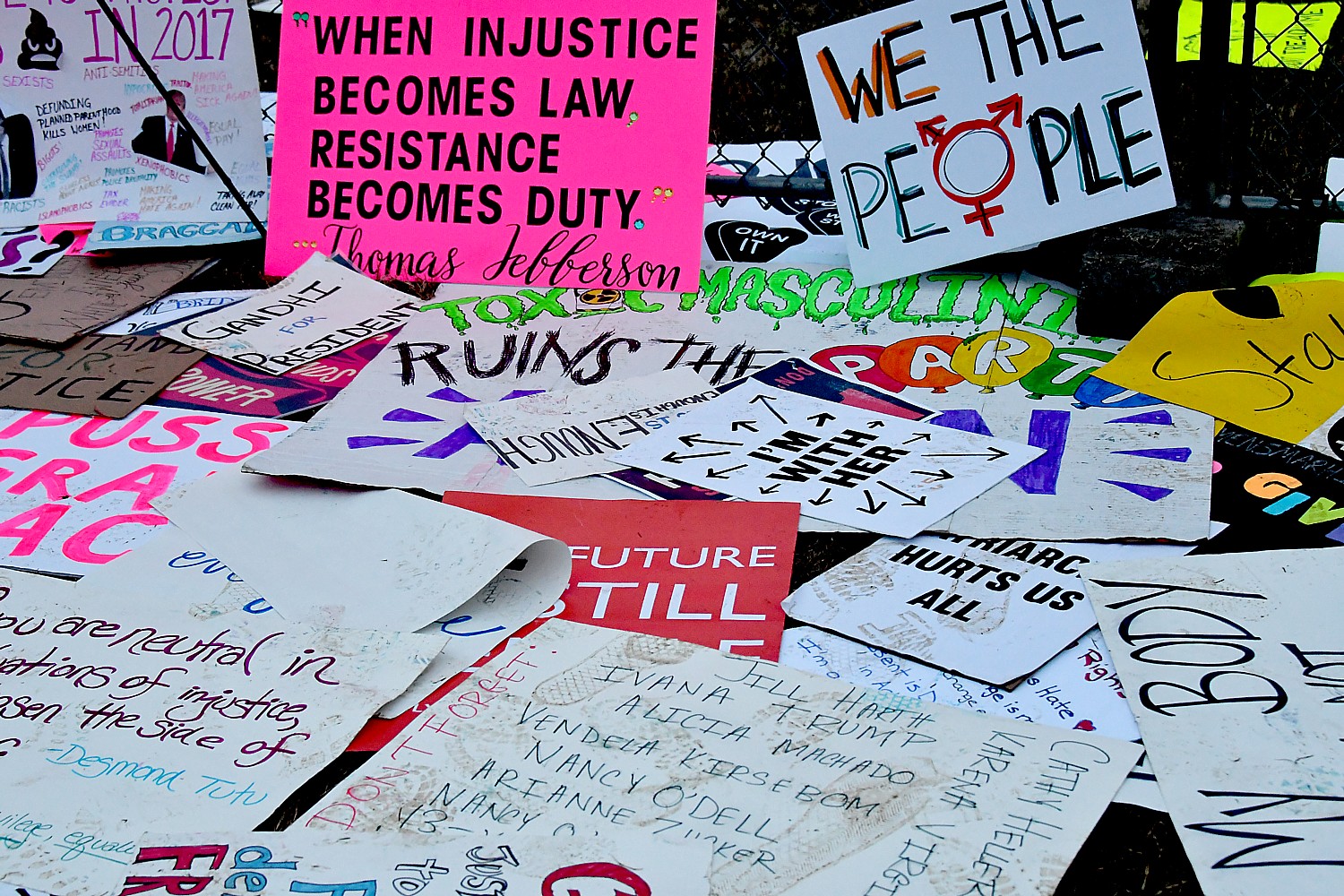 Support the Fourth Estate – the journalists who fulfill their function of investigating and being a watchdog on government and powerful interests. Be vigilant in calling out falsehoods, fake news and propaganda. That means that when the economy goes down, unemployment  goes up, tens of thousands die without access to health care and Trump and the Republicans blame Obama and the Democrats, that The Media hold them to account. Write letters to the editor, comments online. Alert news media to issues. Defend journalists who are doing their job. Cultivate social media networks to counter the right-wing propaganda machine. The success of the Women's March to rally support solely through social media shows these networks have taken root.
Fight the rabidly regressive agenda that Trump/Republicans will steamroll through in the first 100 days. The more that Republicans refuse to accept compromise or allow Democrats to participate in forming policy, the more militant the opposition has to become. Boycott, strike, protest, rally. Use your body, your voice, your pen.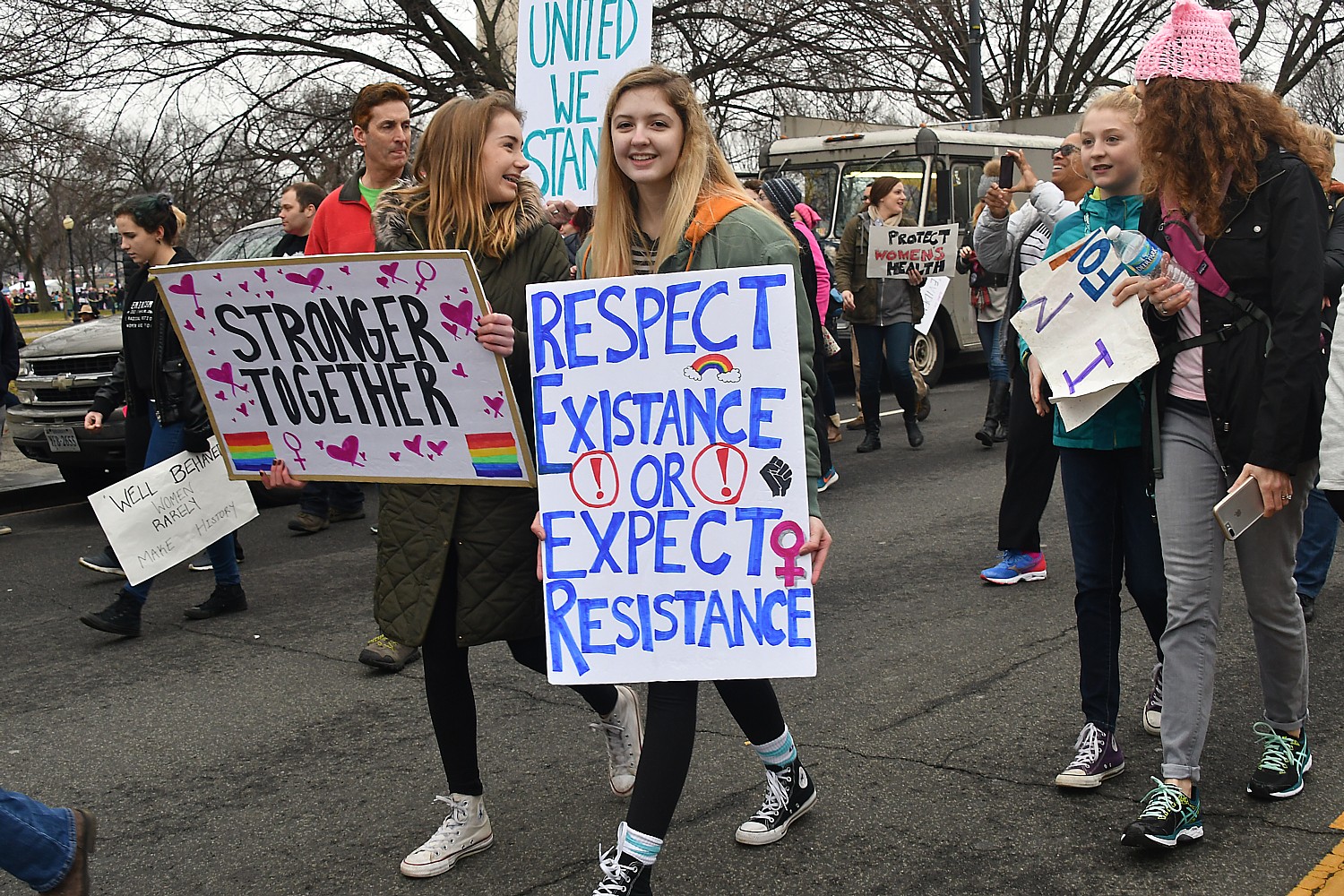 Sue. Sue. Sue. "Presidents do not rule by fiat," declared Mitch Bernard, Chief Operating Officer, for the Natural Resources Defense Council (NRDC). "Donald Trump may not simply undo international agreements, overrule enacted laws, or violate environmental regulations on his own say so. If — when — he ignores environmental laws, NRDC will meet him in court. And we're gearing up to give him the fight of his life."
The Trump/Republican strategy (copied from Karl Rove and the Bush/Cheney debacle) is to have so many outrages coming so fast, deflecting attention and paralyzing any action, and more significantly to normalize the destructive actions simply by being equivalent or (imagine) not as bad as the previous outrage.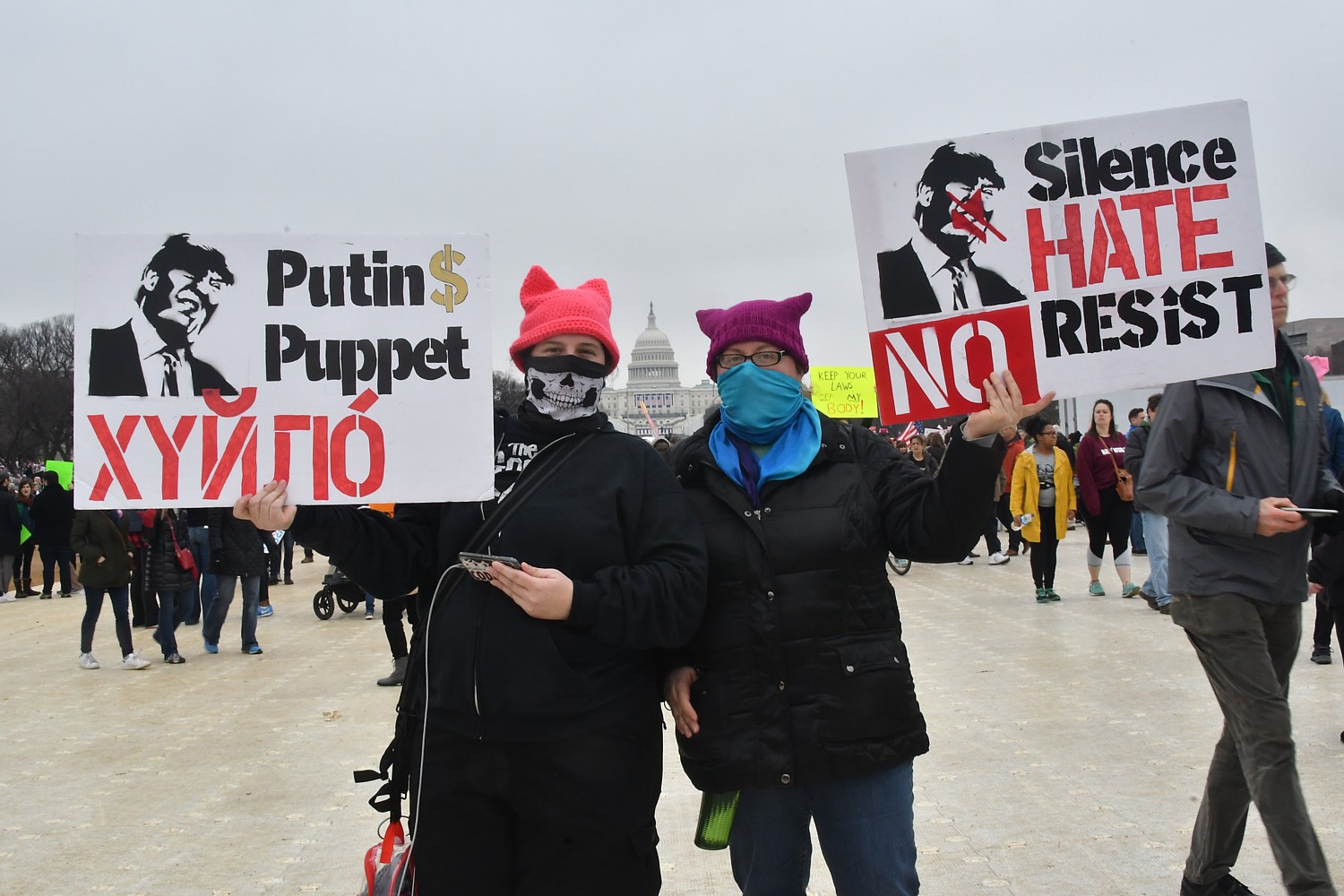 "In the face of Trump's parade of horribles," says Robert Reich of MoveOn.org, "it would be easy (and understandable) for people to get numb, hunker down, and pray that they'll make it through the next four years. But human history teaches us of the perils of complacency and fear in response to political extremism and violence."
If it is too paralyzing because of all the issues that are infuriating to your core, pick one, two or a few to focus on – keep active and aware of what Trump and his collaborators in the Congress and the Cabinet are doing. Write, call, visit, rally at representatives' offices. Speak up to family, friends and neighbors. Go to town halls and civic meetings. You cannot be a Silent Majority.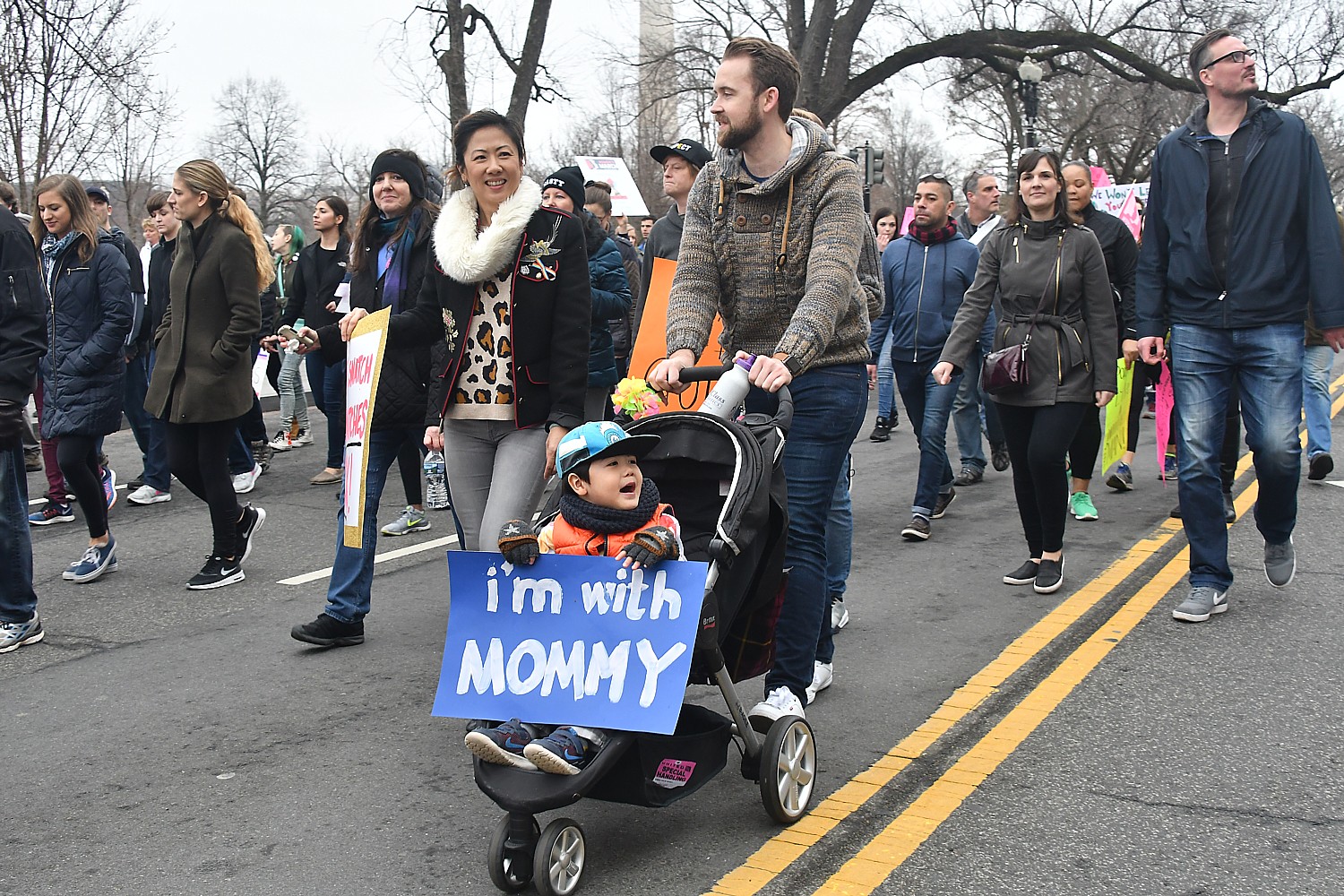 Support key organizations – give what you can – because they will need money to lobby, sue, organize protests and petition campaigns, can offer language for legislation and expose facts about the impacts of overturning regulations allowing corporations to pollute the air and water; repealing the Affordable Care Act, (losing 3 million jobs, adding billions to the budget deficit, depriving 18 million newly insured people of access to health care, instead of saving 87,000 lives, seeing 36,000 die needlessly for lack of health care); of the public health, environmental, economic, international repercussions of rolling back climate action. (Caveat: Organizations can't just seize on the latest outrage to fundraise without actually doing something.)
Some worthy organizations that have outlined effective strategies to beat back the forces of darkness include National Resources Defense Council (NRDC.org), Environmental Defense Fund (EDF.org), League of Conservation Voters (LCV.org), MoveOn.org, EmilysList.org, WomensMarch.com, PlannedParenthood.org, Public Citizen (citizen.org), just to list a few.
"Together, we must resist the Trump Dynasty with everything we've got — starting with marches all over the country today," declared Robert Weissman of Public Citizen. "It won't be easy. We can be honest about that. The fights that matter most rarely are. But with all of our vigilance, all of our acumen, all of our strength, we can — we will — prevail over greed and hatred and corruption."
______________________________
© 2017 News & Photo Features Syndicate, a division of Workstyles, Inc. All rights reserved. For editorial feature and photo information, go to www.news-photos-features.com, email [email protected]. Blogging at  www.dailykos.com/blogs/NewsPhotosFeatures.  'Like' us on facebook.com/NewsPhotoFeatures, Tweet @KarenBRubin