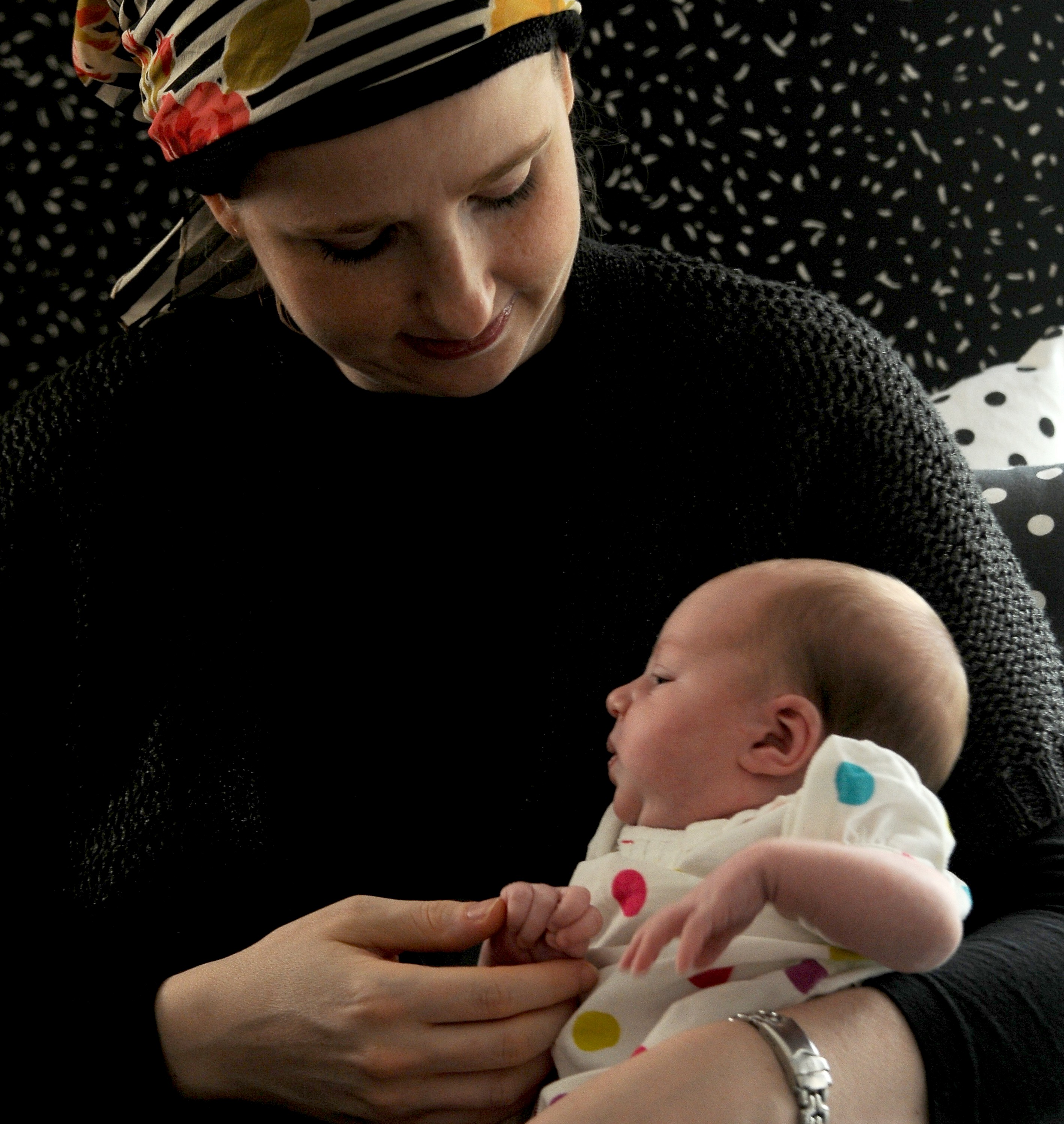 By Karen Rubin, News & Photo Features
To be the best mother she can be, a woman needs the ability to choose.
A woman needs to have the dignity of making decisions, to have the same right to self-determination as a man, to be the master of her own destiny.
Unless the government is going to adopt all the children who are born who should have been aborted because of ailments or deformities which would lead to a life of suffering, and pay for their care, their schooling, their continued support and health care into adulthood, a faceless government should not be making those decisions for the people who would be required to provide that care, draining resources from the family's other children and any opportunity for a woman to fulfill her own full potential.
A woman whose husband is abusive, a family that already has four children and can't afford more, a mother who doesn't have access to affordable day care and can't work (and therefore would not be eligible for food stamps or housing vouchers under the Trump Administration's new policies), should not be forced by the state to bear a child.
Iowa just passed a law banning abortion as soon as a fetal heartbeat can be detected – around six weeks – which is before many women would even realize they are pregnant, and certainly would not be aware of any grave abnormalities. Governor Kim Reynolds (R) invited a challenge to the Supreme Court, where anti-abortion activists are pretty confident the Trump Majority with Neil Gorsuch in the commandeered Supreme Court seat will overturn Roe v Wade altogether, despite each of the Justices' promises during their respective Senate confirmation, to respect "settled law" like Roe.
Meanwhile, Trump and the Republicans continue to chip away at access to affordable health care – for women, for children. The Trump administration is considering new tactics to take funds away from Planned Parenthood, often the only access to health services a family might have, proposing to cut off Title X funding to any organization that refers patients for abortion. Waivers for states will allow them to effectively cut off health care based on new work requirements, lifetime limits and such. Trump is also "rescinding" $15.4 billion in spending that had already been approved by Congress, including $7 billion from CHIP (Children's Health Insurance Program).
Consider the irony, then, of a Trump Administration pandering to the Religious Right, has moved to enable employers to deny women access to contraceptives, and attempted to prematurely cut off grants for programs that have already proved successful in bringing down the rate of teen pregnancy, replacing them with a return to useless abstinence education programs.
And this administration has shown zero interest in controlling for such birth-defect-inducing illnesses as Zika.
Texas now has maternal mortality rates on par with Third World countries. Yet, two bipartisan bills that would seek to solve America's maternal mortality crisis have been stuck in committee for about a year. The bills, sponsored by Rep. Jaime Herrera Beutler (R-Wash.) in the House and Sen. Heidi Heitkamp (D-N.D.) in the Senate, would support state-level efforts to form review committees that specifically track and investigate pregnancy-related deaths, and then look for ways to prevent future deaths from occurring. Despite having no organized opposition from members of Congress or outside groups, the bill hasn't had a hearing, moved out of committee or been scheduled for a vote. It has 107 co-sponsors in the House, including 23 Republicans.
My guess is the conclusion would have something to do with expanding and improving Obamacare, rather than sabotaging it (and what ever happened with that bipartisan committee?).
Instead, taking the anti-abortion crusade to an extreme, women are being prosecuted for miscarrying. A 2013 study by the National Advocates for Pregnant Women revealed a number of cases in which pregnant women were arrested and detained for complications during pregnancy, including miscarriage, with low-income and African American women most commonly targeted.
Utah is the first state to actually criminalize miscarriage, applying the legal standard of an "intentional, knowing or reckless act of the woman" as punishable as criminal homicide. This means that a woman who fails to wear a seatbelt and is in a car accident could be charged with reckless homicide if she miscarries. It also means that a woman who has a substance abuse problem would likely forego necessary prenatal care out of fear she could be prosecuted for "knowing" or "reckless" homicide by continuing to use illegal substances while pregnant.
I can't wait to see Trump's Mother's Day proclamation. Will he remark how much he cherishes Melania's motherhood so much that while she was still nursing 4-month old Barron, he had an affair with Stormy Daniels among others? Or will he take bows for terrorizing undocumented mothers with the prospect  they will be forced to abandon their American-citizen children, with continuing to terrorize DACA recipients over the prospect they will soon be deported, and threatening any mother fleeing with their children violence in Central America with having their children taken from them?
Indeed, Attorney General Jeff Sessions is actively trying to end asylum for domestic violence and sexual abuse survivors – which would be consistent with an Administration led by a sexual predator who enables other sexual abusers, and who wants to take America back to the "good ol' days" when men had all the power, control and rights and women had none.
The tyranny over mothers is also through various institutionalized economic levers, including the fact that women still earn 77% of what men do for the same job (African-American women earn 64 cents and Latina women earn 56 cents for every dollar earned by a Caucasian man) – which carries forward in terms of pension, Social Security and other retirement savings.
The lack of access to affordable quality child care is also a significant burden that impacts a woman's ability to achieve professionally. As Tammy Duckworth, the first US Senator to give birth while in office, noted, "Why should child care cost more than college tuition in most states? These are questions that simply should not exist in one of the most prosperous nations on the planet. And let's not forget that this is an economic issue, as well. When we lose people in the workforce because of outlandish childcare costs or inadequate family leave policies, it negatively impacts the economy as a whole. And those Americans who drop out of the workforce have a hard time re-entering."
In other words, women are not able to fulfill their full potential or productivity, are in less of a position to compete or challenge a man for a position or a male supervisor and are more dependent an unable to leave abusive relationship.
The last time women made inroads in the workplace – when there were screams for on-site child care, job-sharing, flex-time, work-at-home – was when there was such a demand for workers, employers were forced to draw women into their workplaces and retain them. It is not a coincidence that the "#MeToo" and "#TimesUp" movement coincides with another tight labor market.
"The Family and Medical Leave Act currently on the books was signed in 1993. The Internet had just gone public. Cell phones were still the size of bricks — and had just begun to text. Bill Clinton had just been inaugurated… The world was very different then. Our technology and our nation have come a long, long way. And yet our policies on paid family leave have gone nowhere," Duckworth writes.
"America remains one of the only industrialized nations in the world with no set policy on paid family leave. It leaves working parents in a tough position. And I'm one of millions working to balance family and career."
Though women are the main breadwinners or joint breadwinners, in two-thirds of the families in America, having a child is the single best predictor that a woman will end up in financial collapse; single mothers are more likely than any other group to file for bankruptcy and more likely than people living in poor neighborhoods; and single mothers who have been to college are 60 percent more likely to end up bankrupt than those with just a high school diploma.
Women make up two-thirds of minimum-wage workers, but Republicans in Congress have fought against raising the minimum wage or even thinking of requiring a living wage.
Yet the Republican-controlled Congress just gave the richest 1% of households in America a huge tax windfall of over $48,000 per millionaire, and slashed corporate tax rates virtually in half (even though many profitable companies paid zero or minimal tax), is now pushing to cut $20 billion in SNAP (Supplemental Nutrition Assistance Program), commonly known as food stamps, used by 40 million people, mainly children, seniors and people with disabilities. Walmart is getting a tax cut of $2.2 billion this year alone. Yet in just one state – Ohio, more than 11,000 of its employees and their family members qualify for SNAP because they earn so little. Walmart's ten-year tax cut could pay for the entire $20 billion in SNAP cuts proposed in the farm bill.
Policies like these put mothers in a constant state of insecurity – over finances, health care, child care.
"The deck has been stacked against working women and moms for years. And with the Republicans in charge, it's getting worse — a lot worse," noted Senator Elizabeth Warren.
In Trump's misogynistic, right-wing America, motherhood has come to mean a means of controlling, containing, disempowering women.
Here's a radical idea for Mothers Day: Honor mothers by respecting their rights, beginning with the right to choose motherhood. Add to that the right to access affordable health care, child care, and equal pay.
_____________________________
© 2018 News & Photo Features Syndicate, a division of Workstyles, Inc. All rights reserved. For editorial feature and photo information, go to www.news-photos-features.com, email [email protected]. Blogging at www.dailykos.com/blogs/NewsPhotosFeatures.  'Like' us on facebook.com/NewsPhotoFeatures, Tweet @KarenBRubin