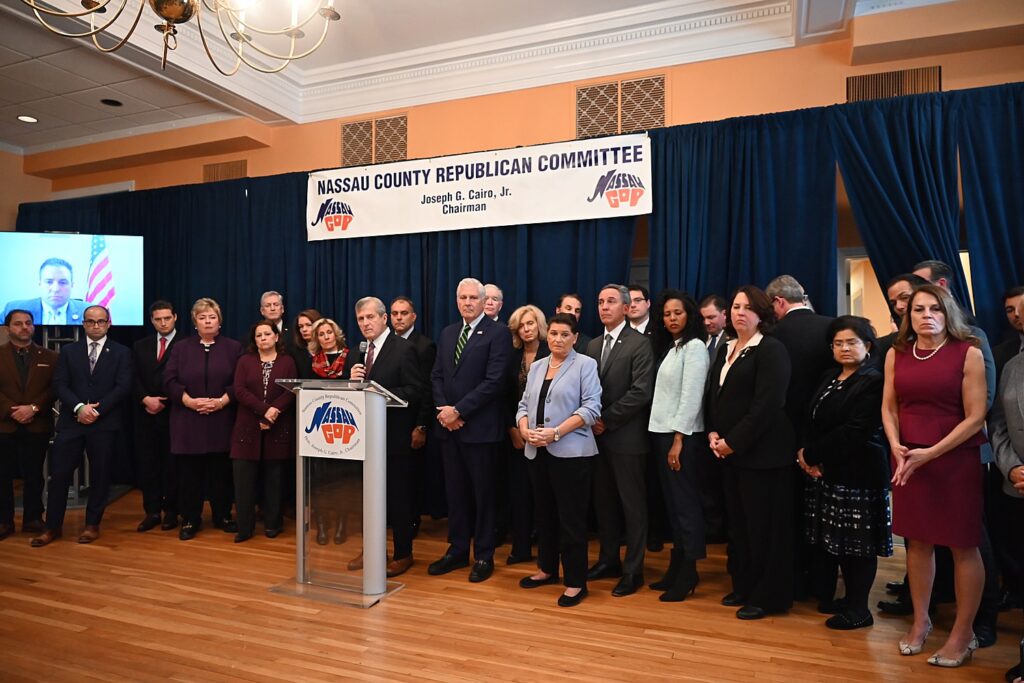 By Karen Rubin, News-Photos-Features.com
Offering a kind of mea culpa and looking contrite, Nassau County Republicans stood united in calling for now-Congressman George Santos to resign, condemning Santos for his dishonesty foisted upon voters of the 3rd Congressional District to win election.
The action was viewed as reputational damage control to bolster Republican candidates in upcoming elections.
But aside from declaring that none of them – at the village, town, city, county or state level – would work with Santos and declaring him a person non grata at Republican events (fundraisers), Nassau County Republican Committee Chairman Joseph G. Cairo Jr., said there was little they could do. to force Santos out Cairo said he had attempted to call now-Speaker Kevin McCarthy (whose election was secured by Santos' vote), but had yet to receive a reply.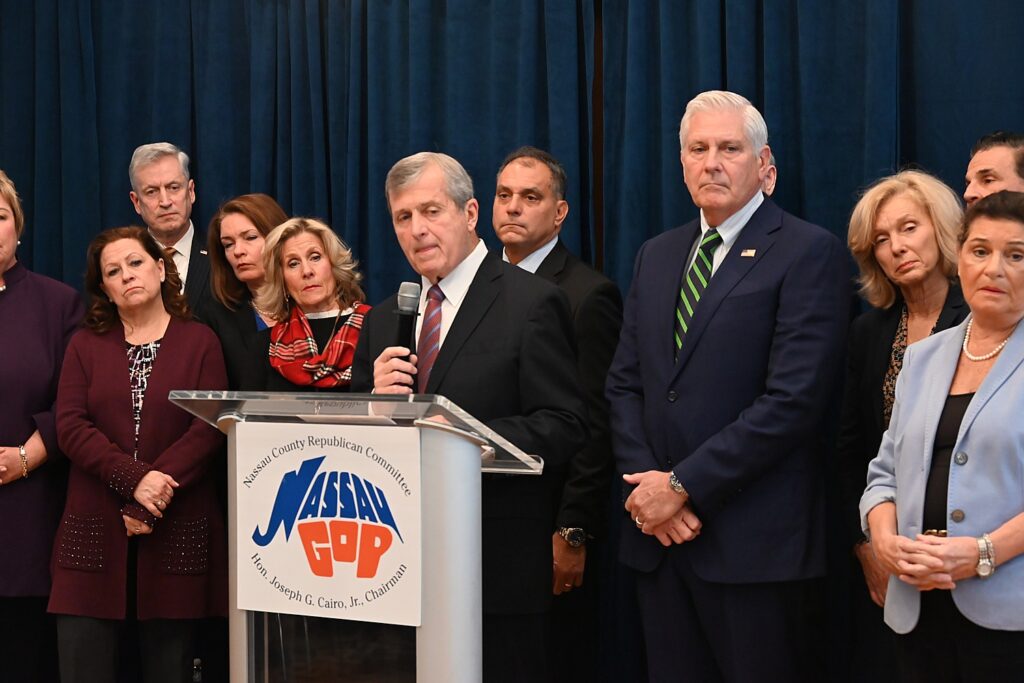 "George Santos has disgraced the House of Representatives and the Republican Party with a veritable profusion of lies, dishonesty, misstatements and hurtful false claims," Cairo declared. "The people of the 3rd Congressional District deserve a Congressional Representative who is honest and forthright. George Santos is not such a person. It's time for George Santos to resign his seat in the House of Representatives. He has no place in the Nassau County Republican Committee, he's not welcome here."
But Santos remained defiant, tweeting as the press conference was still underway, "I was elected to serve the people of #NY03 not the party & politicians, I remain committed to doing that and regret to hear that local officials refuse to work with my office to deliver results to keep our community safe and lower the cost of living. I will NOT resign!"
North Hempstead Town Supervisor Jennifer DeSena said she was duped into giving Santos her endorsement., "He betrayed the public trust. He is incapable and unwilling to take responsibility for his lies. There's no way he can be an effective member of Congress."
Congressman Anthony D'Esposito, who represents the neighboring district, stated, "Santos violated the trust of voters and people across America." He offered to help 3rd District constituents on the matters that, according to House rules, have to be handled by a Congressman.
Nassau County Executive Bruce Blakeman, who just a few weeks ago, had Santos stand alongside as he gave a proclamation to Ukraine's General Consul, spoke up for the people of the district who are "legitimately Jews" and those who are Holocaust survivors or their descendents. "For him to make up a story that his grandparents survived the Holocaust is beyond the pale."
"George Santos is clearly not capable of providing the integrity to which his residents are entitled," declared Nassau County Comptroller Elaine Phillips. "George Santos is clearly not capable of providing the integrity to which his residents are entitled. He will never be my congressman, and his resignation should be forthcoming.
Others who denounced Santos included Nassau Legislature's Presiding Officer Rich Nicolello speaking on behalf of the 12-member majority; Nassau County Clerk Maureen O'Connell, State Assemblyman Ed Ra, Hempstead Supervisor Don Clavin, Town of Oyster Bay Supervisor Joe Saladino, and City of Glen Cove Mayor Pam Panzenbeck. They said that none of them would work with Santos.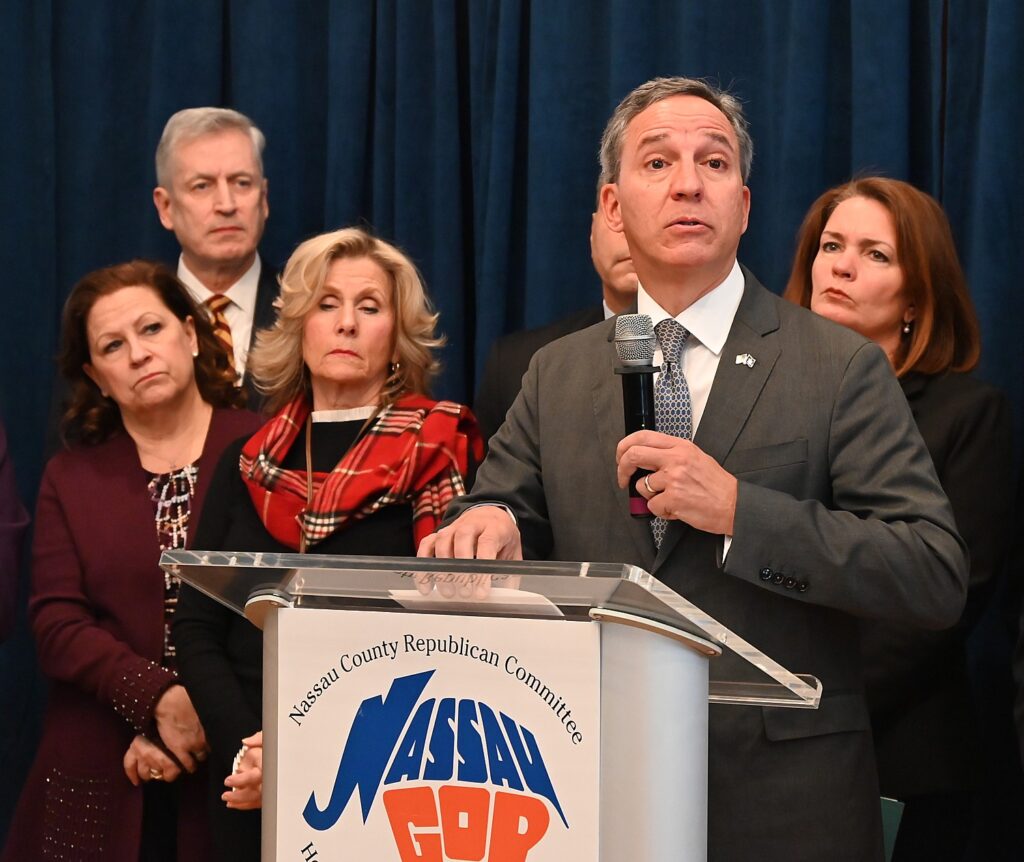 State Senator Jack Martins, whose pivotal role on New York's Independent Redistricting Commission led to the redrawing of the 3rd Congressional District from being a "safe" Democratic district that few Republicans came forward to challenge the incumbent to a competitive district, called on Santos to resign. "People of Nassau County deserve better. It's probably impossible to shame the shameless, to get him to do what is right. But we are united that until he resigns, we will perform our responsibility to represent Nassau County but not work with Santos."
Asked whether the Santos debacle reflected flaws in the Nassau County Republican Committee's vetting process, Cairo said that in the 2020 election, when Democratic Congressman Tom Suozzi was running for reelection in what was regarded as a safe district that Democrats had led for some decades, Santos was one of the few Republicans who came forward.
"He was recommended by the Queens Republicans. And he submitted a written resume," Cairo said.
In 2020, Cairo said, "the district was strongly Democrat, and Santos was the designated candidate. When Santos lost in 2020 to Tom Suozzi, "he was angry" and, like Trump, claimed that he had in fact won but blamed his loss on the committee.
Then, in 2022, the Court of Appeals changed the district so it became winnable.
Cairo insisted he did not have an inkling about the falsities into Santos' background until "it came to light" with the New York Times investigation and other media reports.
"Santos was not someone we knew from Nassau politics. We trusted him. Shame on us." He said he spoke to Santos once since the deception came to light and Santos has yet to make good on his promise to explain.
"Shame on me for believing him," Cairo said, promising to revamp the vetting process in the future.
As for the donors who were essentially defrauded, he said "some have connections overseas. Some believed in Republican philosophy, especially when they saw the odds changed, and this became a competitive district we could win."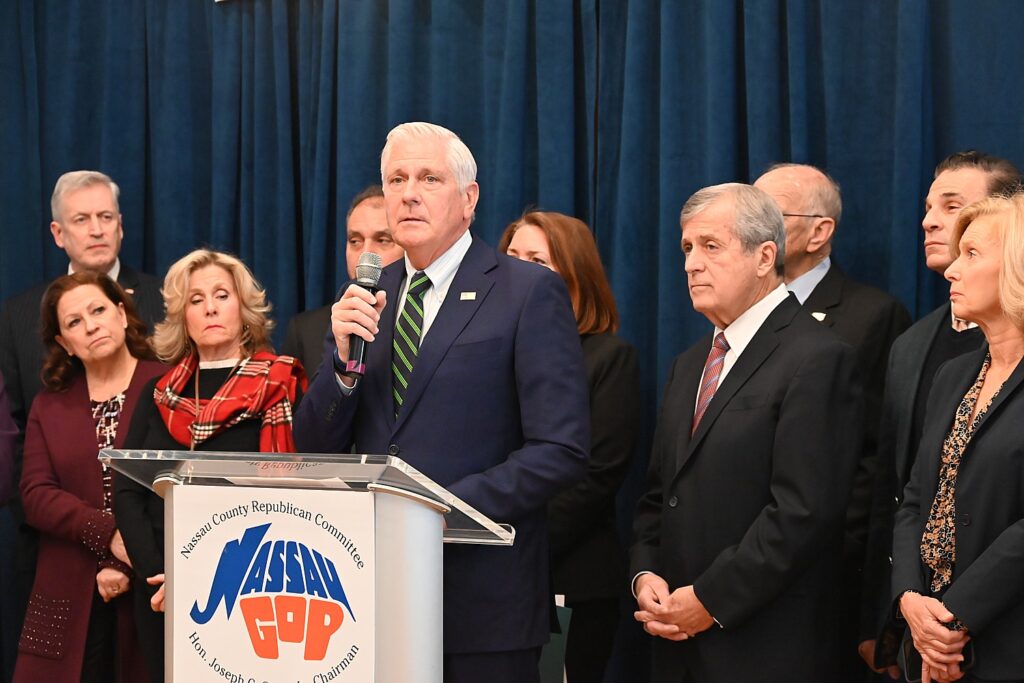 Asked why the Republicans are coming forward now to demand Santos resign and not before he was sworn in to Congress, Blakeman said he believed in due process and giving Santos the opportunity to clear his name. "But the situation has become untenable. How do you deal with someone who is an out-and-out liar. I came to the conclusion recently that we don't need the process to unfold. He needs help. A person who builds lies one on top of another needs help. This is a forgiving country. If he gets help, shows remorse, he will have a future."
Santos is currently under investigation by the US Attorney's office, the Federal Election Commission looking into suspected campaign funding violations, the New York State Attorney General, Nassau County District Attorney and Queens County District Attorney, in addition to being wanted by Brazilian authorities. And most recently, two Congressmen called for an Ethics Committee investigation, though McCarthy took care to effectively shut it down. While lying is not a basis for removal (though theoretically, only person of good character are supposed to be sworn into office and putting down a false address on the petition to be put on a ballot is a crime), Santos is also accused of federal crimes stemming from where his funding came from that enabled him to loan his campaign $700,000, when only two years ago, he reported income of $55,000 a year and was evicted for nonpayment of rent twice.
Santos also donated $126,000 to the Republican Committee, which Cairo said was returned to the committee that donated the funds, but other donations that Santos made to the county committee were spent on lawn signs and such.
See also:
NY3 Constituents Protest at George Santos' Queens Office Demanding He Resign; Call for Investigation, Special Election
NY 3rd Constituents Rally to Demand Disgraced Republican Congressman-Elect George Santos Resign
Constituents Call for Federal Investigation into Crimes Arising from George Santos Campaign
Viewpoint: Who owns George Santos? That is the question
__________________________
© 2023 News & Photo Features Syndicate, a division of Workstyles, Inc. All rights reserved. For editorial feature and photo information, go to www.news-photos-features.com, email [email protected]. Blogging at www.dailykos.com/blogs/NewsPhotosFeatures. 'Like' us on facebook.com/NewsPhotoFeatures, Tweet @KarenBRubin