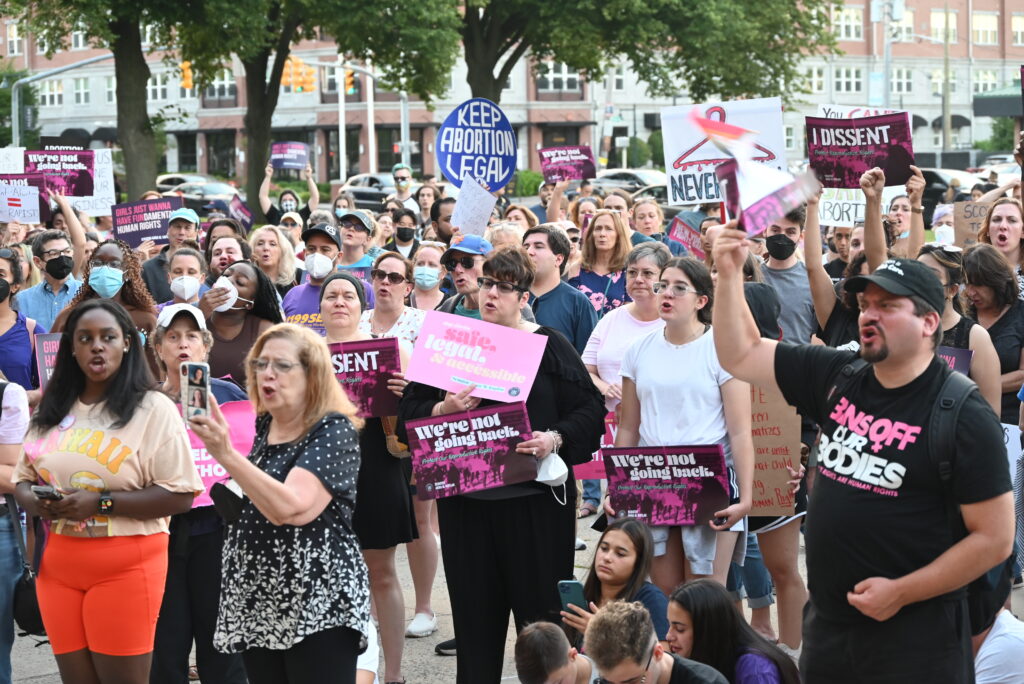 Justice Department Announces Reproductive Rights Task Force

The Task Force Formalizes the Department's Ongoing Work to Protect Reproductive Freedom Under Federal Law
The Justice Department announced today the establishment of the Reproductive Rights Task Force. The Task Force formalizes an existing working group and efforts by the Department over the last several months to identify ways to protect access to reproductive health care in anticipation of the possibility of the Supreme Court overturning Roe v. Wade and Planned Parenthood v. Casey. Associate Attorney General Vanita Gupta will chair the Task Force, which will consist of representatives from the Department's Civil Division, Civil Rights Division, U.S. Attorney community, Office of the Solicitor General, Office for Access to Justice, Office of Legal Counsel, Office of Legal Policy, Office of Legislative Affairs, Office of the Associate Attorney General, Office of the Deputy Attorney General and Office of the Attorney General and will be supported by dedicated staff.
"As Attorney General Garland has said, the Supreme Court's Dobbs decision is a devastating blow to reproductive freedom in the United States," said Associate Attorney General Gupta. "The Court abandoned 50 years of precedent and took away the constitutional right to abortion, preventing women all over the country from being able to make critical decisions about our bodies, our health, and our futures. The Justice Department is committed to protecting access to reproductive services."
The Task Force will monitor and evaluate all state and local legislation and enforcement actions that threaten to:
Infringe on federal legal protections relating to the provision or pursuit of reproductive care;
Impair women's ability to seek reproductive care in states where it is legal;
Impair individuals' ability to inform and counsel each other about the reproductive care that is available in other states;
Ban Mifepristone based on disagreement with the FDA's expert judgment about its safety and efficacy; or
Impose criminal or civil liability on federal employees who provide reproductive health services in a manner authorized by federal law.
The Task Force will identify such actions and coordinate appropriate federal government responses, including proactive and defensive legal action where appropriate. The Task Force will work with agencies across the federal government to support their work on issues relating to reproductive rights and access to reproductive healthcare.
The Justice Department is working with external stakeholders such as reproductive services providers, advocates and state attorneys general. The Task Force will continue this important effort. It will also work with the Office of Counsel to the President to convene a meeting of private pro bono attorneys, bar associations and public interest organizations in order to encourage lawyers to represent and assist patients, providers and third parties lawfully seeking reproductive health services throughout the country. In order to assist attorneys working to protect access to comprehensive reproductive health services, the Task Force will centralize online legal resources, such as filed Justice Department legal briefs and information about the Freedom of Access to Clinic Entrances Act.
Recognizing that the best way to protect reproductive freedom is through congressional action, the Task Force will also coordinate providing technical assistance to Congress in connection with federal legislation to codify reproductive rights and ensure access to comprehensive reproductive services. It will also coordinate the provision of technical assistance concerning Federal constitutional protections to states seeking to afford legal protection to out-of-state patients and providers who offer legal reproductive healthcare.
HHS Issues Guidance to the Nation's Retail Pharmacies Clarifying Their Obligations to Ensure Access to Comprehensive Reproductive Health Care Services

Today, following President Biden's Executive Order on ensuring access to reproductive health care, the U.S. Department of Health and Human Services (HHS) is issuing guidance to roughly 60,000 U.S. retail pharmacies, reminding them of their obligations under federal civil rights laws. The guidance makes clear that as recipients of federal financial assistance, including Medicare and Medicaid payments, pharmacies are prohibited under law from discriminating based on race, color, national origin, sex, age, and disability in their programs and activities. This includes supplying prescribed medications; making determinations regarding the suitability of prescribed medications for a patient; and advising a patient about prescribed medications and how to take them. The action is the latest step in the HHS' response to protect reproductive health care.
"We are committed to ensuring that everyone can access health care, free of discrimination," said Secretary Becerra. "This includes access to prescription medications for reproductive health and other types of care."
Under Section 1557 of the Affordable Care Act (Section 1557), 42 U.S.C. 18116, recipients of federal financial assistance cannot exclude an individual from participation in, denying them the benefits of, or otherwise subjecting them to discrimination based on sex and other bases (i.e., race, color, national origin, age, and disability) in their programs and activities. Under federal civil rights law, pregnancy discrimination includes discrimination based on current pregnancy, past pregnancy, potential or intended pregnancy, and medical conditions related to pregnancy or childbirth.
Read the guidance here: https://www.hhs.gov/sites/default/files/pharmacies-guidance.pdf.
HHS is committed to ensuring that people can access reproductive health care, free from discrimination. If you believe that your or another person's civil rights have been violated, you can file a complaint with HHS at: https://www.hhs.gov/ocr/complaints/index.html.
Below are a list of actions HHS has taken in the days following the Supreme Court's ruling to ensure access to reproductive health care:
Launched the ReproductiveRights.gov public awareness website, which includes a know-your-rights patient fact sheet;
Convened a meeting with health insurers, and sent them a letter, calling on the industry to commit to meeting their obligations to provide coverage for contraceptive services at no cost as required by the Affordable Care Act;
Issued guidance to patients and providers that addresses the extent to which federal law and regulations protect individuals' private medical information when it comes to seeking abortion and other forms of reproductive health care, as well as when it comes to using health information apps on smartphones;
Announced nearly $3 million in new funding to bolster training and technical assistance for the nationwide network of Title X family planning providers;
Met with Michigan Governor Gretchen Whitmer, Oregon Governor Kate Brown, and Maine Governor Janet Mills and state attorneys general to discuss state-specific concerns;
Issued guidance on the Emergency Medical Treatment and Active Labor Act (EMTALA) reaffirming that it protects providers when offering legally-mandated, life- or health-saving abortion services in emergency situations.