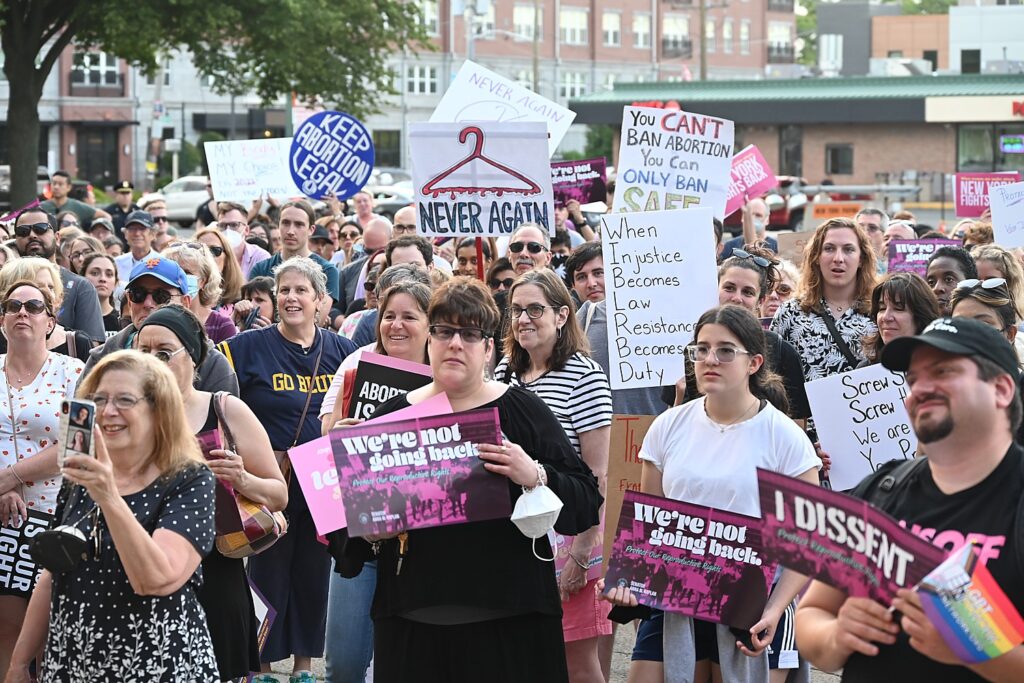 The Biden Administration reacted to the Texas judge's decision siding with anti-abortion extremists to remove approval for a key drug, mifepristone,  used in most abortions that has been used safely by over 5 million women over the past 23 years, and declared it would challenge the decision in court. Meanwhile, another federal court found in favor of Democratic Attorney Generals that the drug must be made more readily available. The contradicting decisions means that the cases will likely go before the Supreme Court, which has already overturned Roe v Wade based on a legal reasoning that states, not the federal government, should determine whether women have reproductive rights.—Karen Rubin/news-photos-features.com

Statement from President Joe Biden on Decision in Alliance for Hippocratic Medicine v. FDA
Today a single federal district judge in Texas ruled that a prescription medication that has been available for more than 22 years, approved by the FDA and used safely and effectively by millions of women here and around the world, should no longer be approved in the United States.  The Court in this case has substituted its judgment for FDA, the expert agency that approves drugs.  If this ruling were to stand, then there will be virtually no prescription, approved by the FDA, that would be safe from these kinds of political, ideological attacks. 
 
The prescription medication in question in this case is used for medication abortion, and medication abortion accounts for over half the abortions in America.  The lawsuit, and this ruling, is another unprecedented step in taking away basic freedoms from women and putting their health at risk.  This does not just affect women in Texas – if it stands, it would prevent women in every state from accessing the medication, regardless of whether abortion is legal in a state.  It is the next big step toward the national ban on abortion that Republican elected officials have vowed to make law in America.
 
My Administration will fight this ruling.  The Department of Justice has already filed an appeal and will seek an immediate stay of the decision.  But let's be clear – the only way to stop those who are committed to taking away women's rights and freedoms in every state is to elect a Congress who will pass a law restoring Roe versus Wade.  Vice President Harris and I will continue to lead the fight to protect a woman's right to an abortion, and to make her own decisions about her own health.  That is our commitment. 
Vice President Kamala Harris:
Today's unprecedented decision threatens the rights of women nationwide to make decisions about their health care and the ability to access medication prescribed to them by their doctors. Simply put: this decision undermines the FDA's ability to approve safe and effective medications—from chemotherapy drugs, to asthma medicine, to blood pressure pills, to insulin—based on science, not politics. This decision threatens the rights of Americans across the country, who can look in their medicine cabinets and find medication prescribed by a doctor because the FDA engaged in a process to determine the efficacy and safety of that medication.
At the same time as the court in Texas issued the decision to try to restrict access to FDA-approved medication, a court in Washington state reached a different conclusion.
Each person in our nation should have the right to access safe and effective medication which has been approved by the FDA. In the face of attacks on a woman's right to access an abortion, our Administration will continue to fight to protect reproductive freedom and the ability of all Americans to make health care decisions with their doctors free from political interference.
Attorney General Merrick B. Garland:
The Justice Department tonight issued the following statement from Attorney General Merrick B. Garland following the district court decisions in Alliance for Hippocratic Medicine v. FDA and Washington et al. v. FDA:

The Justice Department strongly disagrees with the decision of the District Court for the Northern District of Texas in Alliance for Hippocratic Medicine v. FDA and will be appealing the court's decision and seeking a stay pending appeal. Today's decision overturns the FDA's expert judgment, rendered over two decades ago, that mifepristone is safe and effective. The Department will continue to defend the FDA's decision.

Separately, the Justice Department is reviewing the decision of the District Court for the Eastern District of Washington in Washington et al. v. FDA.

The Department is committed to protecting Americans' access to legal reproductive care.
HHS Secretary Xavier Becerra:
This is a regressive ruling issued by a single court in a single state that will have a disastrous impact on women and families across America if not overturned. Mifepristone was approved by the FDA as safe and effective to manage abortion decades ago and has been approved by drug regulators around the globe. Today's decision jeopardizes the health of women across the country. It undermines our nation's entire system of drug approval. It opens the door for courts to overturn FDA's evidence-based decisions for purely political or ideological reasons.

Today's ruling affects more than just access to abortion care. Some physicians use mifepristone for miscarriage management, which can be one of the most difficult times in a woman's life.

We will vigorously fight this unprecedented decision in court. We have appealed the decision and will seek a stay. The Texas district court's ruling does not take effect for seven days, so mifepristone remains approved and available for the time being while we pursue our appeal. Separately, another temporary order issued today in Washington State seeks to maintain access to mifepristone by directing the FDA not to take action to alter the status quo as it relates to the availability of mifepristone under the REMS in certain states. We are reviewing that decision.