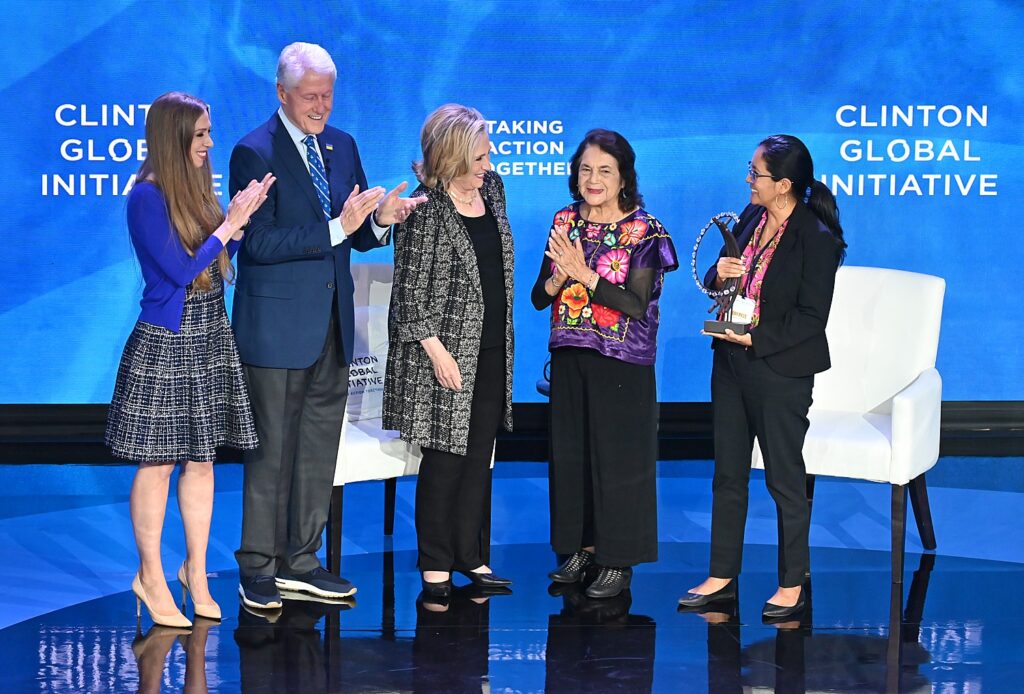 The Clinton Global Initiative taking place in New York City September 18-19, is aimed at bringing together organizations across government, business, and civil society; established and emerging leaders; activists and advocates; and community workers and doers who are on the front lines of our most pressing global challenges, and facilitate collaborations and actions that have real impact on people's lives around the world.
Launched by President Clinton in 2005, CGI has built a community of doers who are taking action to make a tangible difference in people's lives around the world.
CGI works with partners to develop Commitments to Action, which are new, specific, and measurable solutions. Since 2005, more than 3,900 Commitments to Action have been launched through CGI. At the 2022 meeting, members of the CGI community launched more than 140 Commitments to Action that are now improving access to health care, advancing sustainability, creating employment opportunities, supporting refugee resettlement, and more.
President Clinton, Secretary Clinton, and Chelsea Clinton, in a letter to the CGI community, said this year's meeting would focus on how to "keep going" – in spite of the difficulties that arise – to build a stronger future for all.
"We all have the power to make a difference, and therefore the responsibility at least to try. This fundamental belief is what led us to call the CGI community back together in 2022. The response was remarkable: more than 2,000 leaders attended our September meeting in New York City, where more than 650 partnering organizations came together to launch more than 140 Commitments to Action – new, specific, measurable projects. All told, the CGI community has now made more than 3,900 Commitments.
"Throughout 2023, we've built on that momentum, convening leaders, innovators and dreamers across geographies and areas of focus to forge new partnerships and drive further action, all to achieve more durable, meaningful and yes, measurable impact. In the spring alone, we hosted events on five continents to get input from the CGI network and bring more partners into the fold—and we heard from you over and over again how important it is to reconvene CGI again this September.
"That's why, on September 18-19, we will gather again in New York City. This year's meeting will focus on what it takes to keep going—to maintain and advance progress, in spite of the difficulties that arise, and increase our capacity to cross the divides and make common cause with one another wherever possible to build a stronger future for all.
"At CGI's annual meeting, we'll hear from those who are tackling some of today's most pressing issues, including climate change, health inequities, food insecurity, economic inequality, threats to democracy around the world, and record-breaking refugee displacement. We will examine ways to channel energy and investment to scale solutions that are already improving people's lives, and explore how tools like AI can be responsibly harnessed for good. As always, the focus will be on what we can do, not what we can't—and will highlight how even seemingly small actions, when taken together, can turn the tide on even our most stubborn challenges."
At CGI 2023, President Clinton, Secretary Clinton, and Chelsea Clinton will be joined by leaders from across business, government, philanthropy, and civil society, including Noubar Afeyan, Founder and CEO, Flagship Pioneering; Co-Founder and Chairman, Moderna; Ajay Banga, World Bank President; Jason Buechel, CEO, Whole Foods; Miguel Cardona, U.S. Secretary of Education; Brian Chesky, Co-Founder and CEO, Airbnb; Daniels, Daniel Kwan and Daniel Scheinert, Directors/Writers/Producers; Philip E. Davis, Prime Minister, The Bahamas; Patrick Dempsey, Actor, Producer, Founder and Board Member of The Dempsey Center; Michael J. Fox, Founder, The Michael J. Fox Foundation for Parkinson's Research; Maura Healey, Governor, Massachusetts; Kathy Hochul, Governor, New York; Padma Lakshmi, Host/Executive Producer of Hulu's Taste the Nation, Writer, and UNDP Goodwill Ambassador; Tjada D'Oyen McKenna, CEO, MercyCorps; David Miliband, President and CEO, International Rescue Committee; La June Montgomery Tabron, President and CEO, W.K. Kellogg Foundation; Wes Moore, Governor, Maryland; Ngozi Okonjo-Iweala, Director-General, World Trade Organization; Noel Quinn, CEO, HSBC; J.B. Pritzker, Governor, Illinois; Liev Schreiber, Co-Founder, Blue Check Ukraine; Simon Stiell, Executive Secretary, United Nations Framework Convention on Climate Change; Darren Walker, President, Ford Foundation; will.i.am, President & Founder, i.am Angel Foundation.
Additional featured participants include Rolando Gonzalez-Bunster, Founder, President, and CEO, InterEnergy; Nicole Hockley, CEO, Sandy Hook Promise; Eugenia Kargbo, Arsht-Rock Chief Heat Officer, Freetown, Sierra Leone; Francine Katsoudas, Executive Vice President and Chief People, Policy & Purpose Officer of Cisco; Sophia Kianni, Founder and Executive Director, Climate Cardinals; Nicholas Kristof, Pulitzer Prize-Winning Journalist and Author; Peter Laugharn, President and CEO, Conrad N. Hilton Foundation; Sage Lenier, Founder & Executive Director, Sustainable & Just Future; Louise Emmanuelle Mabulo, Founder, The Cacao Project; Janet Murguía, President, UnidosUS; Vaishali Nigam-Sinha, Co-Founder & Chairperson, Sustainability, ReNew Energy Global PLC; 'Aholotu Palu, Chief Executive of the Pacific Catastrophe Risk Insurance Company; Amy Pope, Incoming Director General of the International Organization for Migration (IOM); Keller Rinaudo Cliffton, Founder and CEO, Zipline; Lynn Forester de Rothschild, Founder & Chair, Council for Inclusive Capitalism and CEO, E.L. Rothschild; Paul Stormoen, CEO, OX2; Pete Upton, CEO and Chairperson, Native CDFI Network; Asha Varghese, President, Caterpillar Foundation; Gary White, Co-Founder, Water.org; Debra Whitman, Executive Vice President and Chief Public Policy Officer, AARP; Darrin Williams, CEO, Southern Bancorp.
Previously announced featured participants include José Andrés, Founder and Chief Feeding Officer, World Central Kitchen; Orlando Bloom, UNICEF Goodwill Ambassador; Albert Bourla, CEO, Pfizer; Jesper Brodin, Chairman and CEO, INGKA Holding; Matt Damon, Co-Founder, Water.org; Tony Elumelu, Founder and Chair, The Tony Elumelu Foundation; Ilan Goldfajn, President, Inter-American Development Bank; Filippo Grandi, United Nations High Commissioner for Refugees; Ashley Judd, Author and Goodwill Ambassador, UNFPA; Karlie Kloss, Entrepreneur and Founder of Kode With Klossy; Lorenzo P. Lewis, Founder, the Confess Project; Tsitsi Masiyiwa, Co-Founder and Chair of Higherlife Foundation and Delta Philanthropies; Cindy H. McCain, Executive Director of the World Food Programme; Ai-jen Poo, President, National Domestic Workers Alliance; Catherine Russell, Executive Director, UNICEF; Ai Weiwei, Artist; and more.
The schedule for CGI 2023, including plenary and spotlight sessions, can be found at www.clintonglobal.org/2023.
Sponsors for the CGI 2023 meeting span a broad range of supporters from business, philanthropy, and civil society. CGI is grateful for their support in building a convening that will help drive action across the major global challenges of our time. They include InterEnergy/Evergo, Domuschiev Impact, AFT, American Beverage, APCO Worldwide, Aurora Humanitarian Initiative, Beatrice Snyder Foundation, Bob and Jane Harrison, Caterpillar Foundation, Christie's, Cisco, Dream, The EKTA Foundation, The Elevate Prize Foundation, Elizabeth Hirsh Naftali, Flagship Pioneering, Fondation Botnar, Global Education Foundation, Global Sae-A, JetBlue, Joyce Aboussie, The Marc Haas Foundation, The Masimo Foundation, Mastercard Center for Inclusive Growth, MEBO International, Pernod Ricard USA, Pfizer Inc., SAP, Tarsadia Foundation, Teena Hostovich, The Nima Taghavi Foundation, and W.K. Kellogg Foundation. In addition, Postcode Lottery Group is serving as a partner for the CGI 2023 Meeting. For the second consecutive year, decision intelligence company Morning Consult is serving as the official data partner.
The CGI 2023 Meeting will also include the return of two programs launched in 2022 – CGI Greenhouse that directly connects entrepreneurs with partnership and scaling opportunities; and the CGI Story Studio that inspires action through stories of frontline leaders and lived experiences.
You can livestream the event by registering to participate.
For schedules and information, visit www.clintonglobal.org/2023. Follow CGI on Facebook, Instagram, Threads, LinkedIn, and X, for meeting news and highlights.