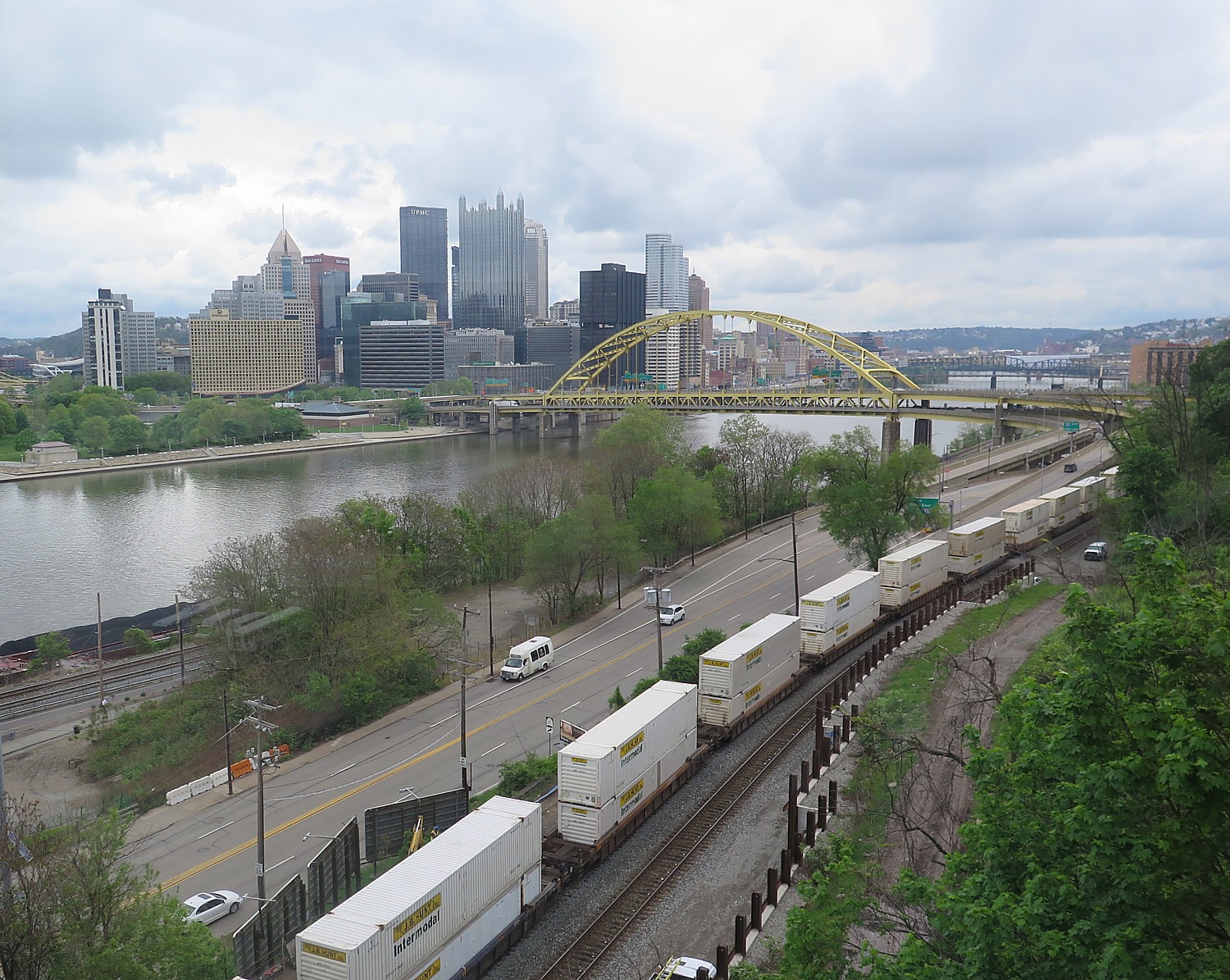 By Karen Rubin, News & Photo Features
My return visit to Pittsburgh for my second Rails-to-Trails Conservancy Sojourn bike tour on the Great Allegheny Passage reaffirmed for me the stupidity of Donald Trump's justification for abandoning the Paris Climate Agreement, that he was elected by the people of Pittsburgh, not the people of Paris, and that what Pittsburghers want more than anything is to roll back time a century to the days when coal was king and steel mills were belching putrid smoke and men died prematurely in horrid working conditions, their lives under the thumb of Robber Barons who controlled industry and politics. Indeed, the people of Pittsburgh voted 75% for Hillary Clinton's agenda and vision of America's future.
But Trump's entire agenda, beginning with a budget that would similarly reverse course on the very infrastructure and technology developments that would insure America's leadership in the 21st century, rather than put us back a century.
We get a glimpse of what that is like on the outskirts of the city, in Clairton, where a huge mound of coal dwarfs a tractor truck, and across the bridge over the rail lines, is a chemical plant emitting a foul smell that penetrates the modest residential neighborhood across the street.
The city of Pittsburgh, itself, has risen anew, with glistening office towers and a new economy based on finance, health care, academics, robotics and technology. Its waterfront, once dominated by dirty industrial plants, is now a gorgeous bike path, which you can see so spectacularly from Mount Washington, the place from which George Washington surveyed to find a location to put a fort to protect British colonial interests, but from which in those bad ol' days, the city would have been shrouded in haze.
Outside the city, where we start our bike tour near the beginning of the 150-mile long multi-purpose railtrail, in the state which built its economy on oil, coal and gas, there are windmills on the hilltops and solar farms in fields. Where we camp one night, in Confluence below the Youghiogheny River Reservoir dam built in 1944 to control flooding, the outflow has been tapped for hydroelectric power.
The biketrail – representing 150 of some 23,000 miles of similarly repurposed railtrails across the country – is a new lifeline for small towns like Meyersdale, which once supported six hotels, an elementary school and a high school, now all shuttered, and Dunbar, once a center for glassmaking and coal production. In Confluence, where the population today is 700, we add 200 to that roll during our stay.
The Trump agenda – and his budget to back it up – would cancel out the line for funding such repurposing projects that has existed since 1991, while eliminating incentives that helped jumpstart America's fledgling clean, renewable energy industry where jobs are growing at a rate 12 times faster than the rest of the economy. The 374,000 now employed in solar eclipse the 74,000 people working as coal miners, indeed, exceed all the workers in oil, gas and coal combined; while wind energy employed 100,000. Worldwide – and places like Europe which are legions ahead of the US in wind and solar –  some 10 million people are employed in clean renewable energy jobs.
At the same time, the Trump Administration – EPA Administrator Scott Pruitt, Energy Secretary Rick Perry, Interior Secretary Ryan Zinke – are sloping the playing field back in favor of climate-destroying fossil fuel industry, rolling back regulations that would allow coal mining companies to pollute water, removing protections on drilling and mining on federal lands, opening up exports of natural gas and oil, creating financial incentives for new nuclear plants, and ending tax credits for renewable energy, among a long, long list. Trump wants to really stick it to climate activists.
Trump's promise to invest $1 trillion in America's aging, decaying and obsolete infrastructure is also a sham – as evidenced by his Transportation director exiting the New York-New Jersey Hudson Gateway Tunnel project, and a budget that would rescind funding to rebuild the century-old tunnel.
One contrasts this myopia from the guy who boasted of being a "builder" with the bicentennial of the building of the Erie Canal, in 1817, a bold vision and engineering marvel, which quite literally made New York City the financial capital of the world by connecting the port of New York to the Midwest's resources and markets with Europe. Even then, globalization, not isolation, is what made the United States a world power.
It's not just the belching, choking pollution that Trump would like to go back to. In climate policy, energy policy, health care, tax reform, and now infrastructure, Trump envisions exacerbating the divide between rich and poor – and therefore political power as campaign finance and special interests increasingly determine who gets the "ear" in policy. His budget affirms his bias against transitioning away from a climate-destroying carbon energy economy in favor of clean, renewable, decentralized (and cheaper, less monopolistic) energy. His regulatory policy reverses the incentives as well as the progress. The Republican health care policy is as much a mechanism to cement power in the hands of the "haves" versus the have-nots – who are unlikely to challenge abusive employers if they are afraid of losing their health insurance; unable to join protest marches and rallies if they are in pain or suffering; and unable to have their concerns acted on by lawmakers if they don't have the funds to contribute to campaigns.
Infrastructure, energy policy, the environment, technological innovation and prospects for economic growth, prosperity, social mobility and yes, political power are all connected. Climate justice, social justice, economic justice, political justice are all intertwined.
Trump would have us go back a century or two and cost the United States its global leadership.
______________
© 2017 News & Photo Features Syndicate, a division of Workstyles, Inc. All rights reserved. For editorial feature and photo information, go to www.news-photos-features.com, email [email protected]. Blogging at www.dailykos.com/blogs/NewsPhotosFeatures.  'Like' us on facebook.com/NewsPhotoFeatures, Tweet @KarenBRubin