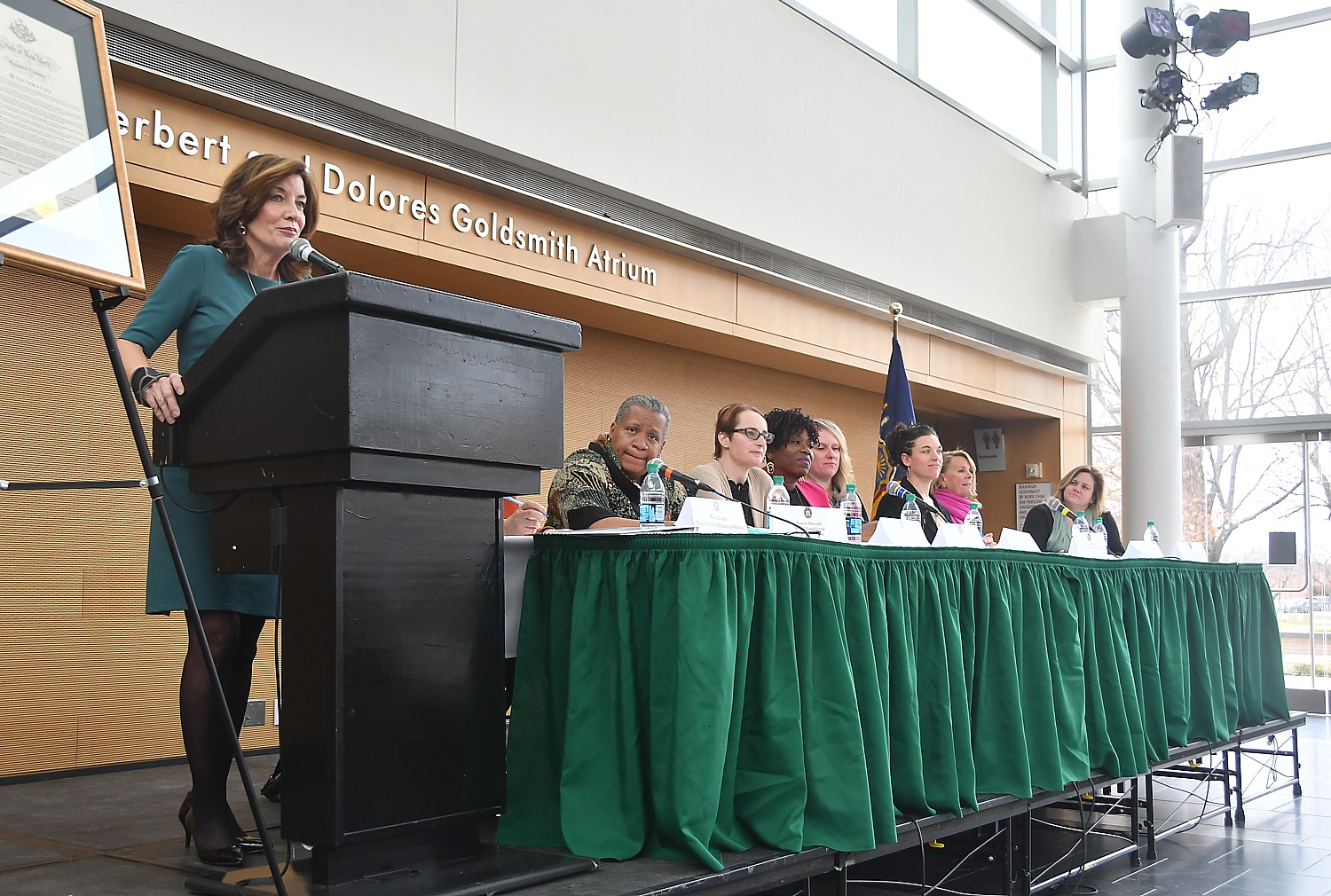 New York State Governor Andrew M. Cuomo today announced the launch of "If You Can See It You Can Be It" – a day for girls to see what is possible. On April 26, 2018, New York State will partner with companies across the state to show girls from lower-income communities and in the foster care system what roles are available outside of the "traditional" career paths for girls, and particularly women in leadership roles, for a day of mentoring and career-learning activities. The initiative is part of Governor Cuomo's 2018 Women's Agenda for New York: Equal Rights, Equal Opportunity.
"The New York philosophy is that if you work hard, you can be anything you want to be," Governor Cuomo said. "With our nation-leading policies that level the playing field and create opportunity for all, we will continue to raise the bar higher and higher for women in New York and show girls that they can do anything they set their minds to."
Marian Wright Edelman, renowned civil rights leader and founder of the Children's Defense Fund famously proclaimed, "It's hard to be what you can't see." Building on the 25-year legacy of Take Our Daughters and Sons to Work Day, the Governor's initiative will show girls a variety of opportunities available to them from science and technology organizations to construction to government to journalism to advertising.
Lieutenant Governor Kathy Hochul, Chair of the New York Women's Suffrage Commission, said, "Young girls in underserved communities of New York need to be made aware of the unlimited opportunities available to them to succeed in life. The 'IfYou Can See It You Can Be It' initiative will pair girls with leaders in New York to expose them to what is possible in diverse workplaces and to encourage them to achieve their dreams. I'm looking forward to teaming up with a young woman who will see firsthand a day in the life of a State official with a very energetic schedule."
"A key goal for the Council on Women and Girls is to meet the needs of the next generation of New York women," Melissa DeRosa, Secretary to the Governor and Chair of the New York State Council on Women and Girls, said. "With the first ever 'If You Can See It You Can Be It' day, we strive to meet this goal by providing girls with the opportunity to experience a day in the life of women working in a diverse range of jobs and careers. To close the gender and wage gap in all fields, girls must learn about potential career paths from a young age. I am thrilled that so many companies and businesses are participating in our inaugural program."
The following companies have already solidified their commitment to opening their doors for girls in the New York foster care system and low-income communities:
AT&T
CA Technologies
Emblem Health
Etsy
Gilbane Building Company
Mastercard
Oath
Turner Construction Company
Warby Parker
To showcase opportunities available to girls in government, Lieutenant Governor Kathy Hochul, and Commissioners from the Governor's cabinet will have girls shadow them on "See It Be It" Day. Additionally, the following State Agencies have solidified their commitment to having young girls shadow female leaders in government:
Department of Civil Service
Department of Environmental Conservation
Department of Labor
Department of Motor Vehicles
Department of State
Division of Homeland Security and Emergency Services
Dormitory Authority of the State of New York
Environmental Facilities Corporation
Higher Education Services Corporation
Housing and Community Renewal
Metro Transportation Authority
New York State Energy and Research Development Authority
Office of Alcoholism and Substance Abuse Services
Office of General Services
Office of Mental Health
New York State Police
Marissa Shorenstein, President, Northeast Region, AT&T, said, "Showing girls the opportunities available to them in the workforce can empower them to realize their full potential. Women from all industries and communities have seen and experienced the effects of gender inequality – and this fuels our commitment to lift up women and girls. AT&T is proud to support 'If You Can See It, You Can Be It,' and we look forward to helping our future female leaders cultivate their passions."
Susan Warner, Senior Vice President for Internal Communications for Mastercard, said, "Mastercard is proud to partner with Governor Andrew Cuomo and New York State's 'If You Can See It, You Can Be It' campaign.  For the past five years, we've reached more than 40,000 girls in 21 countries with our Girls4Tech program, and we're pleased to host our 145th program at our New York City Tech Hub on April 26 as part of this campaign to show girls that it takes all kinds of skills to pursue a STEM career." 
Erica Christensen, Vice President, Corporate Social Responsibility, CA Technologies, said, "We are excited to participate in Governor Cuomo's 'If You Can See It, You Can Be It' initiative, encouraging girls to consider educational opportunities and careers in STEM fields. CA Technologies is committed to promoting gender diversity and the advancement of women in technology. This is a long-term investment by our company – we are dedicated to supporting the next generation of IT leaders and helping to close the STEM skills gap."
Brennan Gilbane Koch, 5th Generation Family Member, Gilbane Building Company said, "At Gilbane, we've seen the positive impact of a diversified workforce with women in leadership. That's why we are focused on continuing to raise the benchmark in recruiting and promoting women throughout our ranks. As the future is female, we are thrilled to join the Governor in this effort to encourage young women and girls to consider our industry and the opportunities that come with it."
Lauren Tsuchuya, Community and Citizenship Manager, Turner Construction Company, said, "Turner believes that empowering young women is one of the best investments for growing the construction industry's talent, innovation and future."
Karen Igagni, President & CEO of EmblemHealth and Steering Committee Member for the Governor's Council on Women and Girls, said, "EmblemHealth is proud to participate in the Governor's Day for Girls initiative. We look forward to hosting a group of young, talented women, introducing them to our diverse and accomplished female leaders and lending a hand in their career development."
Apply here by April 15th to have your company welcome girls from around the state to learn about the variety of opportunities available to them. Once a company fills out this form, the Governor's office will work to connect the company with girls from elementary, middle or high schools from the region. If a company has an existing relationship with a school group, they can work directly with that group as well. For any additional questions, email [email protected].