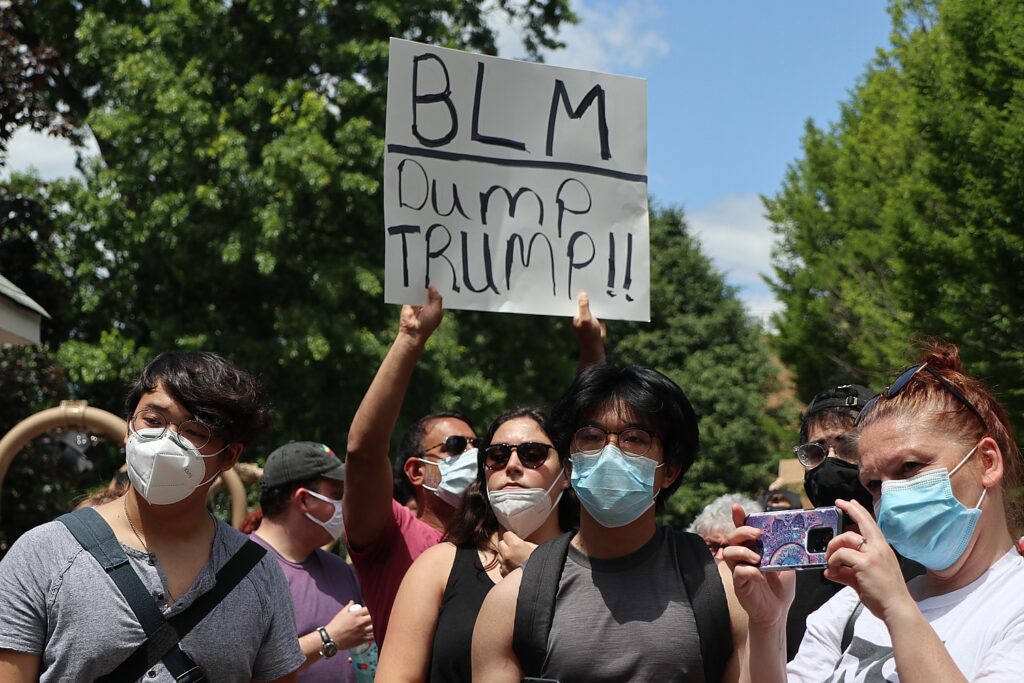 In the 2016 campaign, Trump, whose real estate business was sanctioned by the Department of Justice for discriminating against Blacks, absurdly told Black Americans, "What have you got to lose?" Well, in 2020, it is clear: your lives and your livelihoods. Blacks are disproportionately sickened and dying of COVID-19 and climate crises and are the victims of police brutality, killed by police and self-appointed vigilantes, in accelerated numbers.
While the Trump campaign parade Black Americans and people of color at the Republican National Convention and thousands assemble for a new March o n Washington in person and virtually, the Biden Campaign issued an indictment of how Trump has failed Black Americans and what a Biden administration would do to empower Black Americans.
Vice President Joe Biden and Senator Kamala Harris issued a statement on the 57th Anniversary of the March on Washington for Jobs and Freedom:
"The murder and violence toward Black Americans of the 1960s is happening today in broad daylight for the world to witness," . A pandemic and economic crisis lays bare the systemic racism that still plagues our way of life. And instead of seeking to heal and unite, too many in our nation seek to inflame and divide.

"We're in an ongoing battle for the soul of our nation. We condemn the violence. We cannot afford our cities and the bonds between us to be burned, broken, and scarred any further. We have to root out the racism, hate, and the vengeance.

"As our late friend John Lewis said with his final words, we must lay 'down the heavy burdens of hate at last.' We need to treat one another with the respect and dignity that each one of us deserves.

"And we must channel the spirit of this day 57 years ago as we've seen so many people of every age, race, and station do across the country over the last few months, and again this morning on the National Mall.

"With wisdom, courage, and faith, we must not turn away.

"We must choose the light and overcome."
FACT SHEET:
Trump Has Failed Black Americans
Trump has failed to deliver results for Black communities since Day One of his Administration. His failure to control COVID-19 has hurt Black Americans even more, leaving the community bearing the disproportionate brunt of COVID infections, deaths, and job loss. And, Trump's failure to get the virus under control has worsened the economic crisis. It didn't have to be this bad, and Black families are paying the price with their lives and livelihoods. Trump has:

Failed to address the racial disparities in the coronavirus pandemic and overseen a corrupt recovery that passed over Black small business owners. Trump didn't have a plan to address COVID-19 and still doesn't today. It didn't have to be this bad — particularly for Black Americans and other people of color, who are disproportionately getting sick. Black unemployment hit 14.6%, and the unemployment gap between Black and White Americans widened further last month. And, Trump botched the delivery of assistance to small businesses, cutting out Black-and other minority-owned businesses in particular.

Sabotage Black Americans' health care. Obamacare has saved the lives of countless Black Americans, increasing the number of insured by millions and prohibiting insurers from denying coverage due to pre-existing conditions like asthma, cancer, and diabetes. Now, Trump is asking the U.S. Supreme Court to strike down that landmark law, leaving millions without coverage in the middle of a deadly pandemic.

Put the wealthy and well-connected ahead of Black workers and communities. Trump has watered down key wage and workplace protections. He promised to veto a $15 minimum wage, and proposed a tip-pooling rule that would've let employers pay many non-tipped workers even less than today. He let federal contractors break laws requiring them to give workers of color a fair shot, and tried to let companies hide the truth when they don't pay Black workers equal wages. And, Trump has done just as badly by Black entrepreneurs: he tried to slash funding for and even eliminate the federal agency that's wholly dedicated to developing minority-owned businesses. Wealthy investors and Trump associates have reaped the benefits of Trump's Opportunity Zones, while communities of color they're supposed to help have been left behind.

Undercut the path to homeownership and affordable housing for Black Americans. Trump is trying to make it harder to fight housing discrimination and easier for lenders to exclude communities of color. He rolled back the Obama-era Affirmatively Furthering Fair Housing rule, which fought racial bias in housing. He repeatedly called for cuts to affordable housing programs, slamming Black families, which have lower homeownership rates and are more likely to be low-income renters. And, Trump called for drastic cuts to subsidized housing and voucher programs, and for changes that would raise rents for low-income families.

Reversed work for racial equity in education. Trump and Betsy DeVos revoked rules designed to protect students of color from racial bias in school discipline. They did away with measures meant to help schools to diversify or implement inclusive affirmative action plans. And, Trump abandoned his promise to help students manage crippling college loans, leaving Black Americans three times more likely to default on that debt.
Highlights: How Joe Will Empower Black Americans
For too long, Black Americans have lived with a knee on their neck. Joe Biden knows they'll never have a fair shot at the American Dream, so long as entrenched disparities are allowed to quietly chip away at opportunity. With Senator Kamala Harris, he will rebuild our economy in a way that finally brings everyone along—and that starts by rooting out systemic racism from our laws, policies, institutions, and hearts. Highlights of Joe's plans include:

Create wealth in the Black community. The typical white family holds approximately ten times more wealth than the typical Black family. Joe's plan to Build Back Better will close the racial wealth gap, opportunity gap, and jobs gap. He will create millions of good-paying jobs, increase the minimum wage to $15 an hour, end paycheck discrimination, provide affordable child care for families, and leverage more than $150 billion in new capital and opportunities in economically disadvantaged areas, especially for Black owned small businesses and other small businesses that have been structurally excluded for generations. Because homeownership is key to building wealth, he'll create a $15,000 down-payment tax credit for first-time home buyers. And Joe will set a goal that disadvantaged communities – including many Black communities – receive 40% of the overall benefits of his spending on infrastructure and clean energy.

Tackle health inequities. Black Americans are dying from COVID-19 at a higher rate than whites, shedding light on the long-standing, pervasive disparities across our health care system. Joe will protect and build on Obamacare to ensure access to high-quality, affordable care beyond the crisis, including by providing Black Americans with a new health insurance option – a public option. He'll also ensure Black communities have clean air to breathe and water to drink, and healthy foods to eat.

Address racial inequity in our education system. Joe will eliminate the funding gap between white and non-white districts, improve teacher diversity, and provide high-quality, universal preschool for all three and four-year-olds. He will invest over $70 billion in Historically Black Colleges and Universities and Minority Serving Institutions to lower students' costs, establish research centers, build high-tech labs, and more. Joe will also ensure Black Americans can attend community college without debt and make public colleges and universities tuition-free for families earning under $125,000 (including 90% of Black families). And he'll relieve student debt, especially key for Black students who hold more debt and are three times more likely to default on loans than white borrowers. He'll forgive undergraduate tuition-related federal student debt from public colleges and private HBCUs and MSIs for Americans earning up to $125,000.

Root out systemic racism in our police departments and justice system. Joe will outlaw choke holds, create a model use of force standard and a national police oversight commission, and push police departments to review their hiring, training, and de-escalation practices. He'll expand and use the authority of the Justice Department, created by legislation he authored, to address systemic misconduct in police departments and prosecutors' offices. He'll also invest in public defenders' offices, eliminate the death penalty and mandatory minimums, and end cash bail and private prisons. He'll decriminalize the use of cannabis and automatically expunge all cannabis use convictions, and end incarceration for drug use alone.