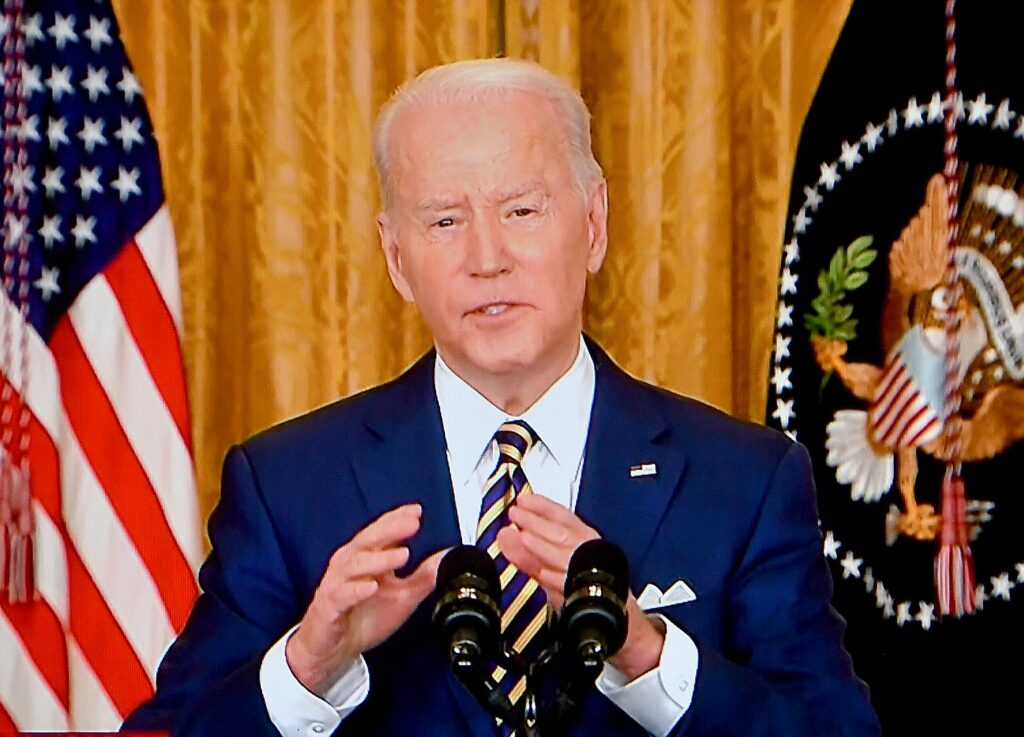 On January 21, President Biden addressed over 200 bipartisan mayors during their annual U.S. Conference of Mayors (USCM) Winter Meeting. This was the President's first time addressing the entire USCM since taking office. At this year's convening, the President highlighted the strong partnership between his Administration and mayors during the past year to tackle unprecedented crises, rebuild the economy, and deliver results for working families. The President also discussed ways to further partner with cities on implementing the American Rescue Plan (ARP) and Bipartisan Infrastructure Law, and the importance of passing the Build Back Better Act. 
Here is an edited transcript of President Biden's remarks:
Mayors carry the quality of the people's lives on your shoulders.

Everything you do every day affects their lives more than almost anything anybody else does. And you can make or break a person's day. "Will the bus get me home on time?" It sounds silly but, "Will the garbage get be picked up?" "Will I be safe walking in the park?"

These are the bigger questions: "Can I afford to give my family a good life?" "Will my kids have a chance to get a good job someday?" "How will I rebuild from the fire or the storm?"

You know, all of these questions, they're not partisan, but they're practical. People they look to are you…
That's why, when I put together my Cabinet, I called on former mayors –Tom Vilsack was a governor; he was also a mayor. Marcia Fudge, a mayor. Marty Walsh a mayor in Boston. Pete Buttigieg was a mayor. And I picked Mitch Landrieu to oversee the implementation of the infrastructure law, which is over a $1.2 trillion, because he knows how mayors get things done. (Applause.) .. Because mayors know the measure of success isn't scoring partisan points, it's did you fix the problem…

The infrastructure law is a perfect example of what we can achieve when we tackle problems the way mayors do. Everybody in America knows we've fallen behind on infrastructure. So we came together — Democrats and Republicans — and did something about it…

And, by the way, I want to thank you all. More than 360 of you signed a letter that was sent to me when we were trying to get this legislation passed. Three hundred and sixty of you. You lobbied Congress to get it done, and it's the reason it got done…
And now, after years of dead-ends and broken promises, not only has "Infrastructure Week" finally arrived — (applause) — but we can literally, because of you, look forward to an "Infrastructure Decade."…


We've announced billions of dollars for highways, ports, airports, water and sewage systems, high-speed Internet; funding to clean up the rivers in Ohio, chemical plants and sites in Florida, polluted lakes in Michigan and dozens of other sites; a new program to cap and plug orphaned oil and gas wells spewing methane into the air, cleaning up the communities that, in fact, they're affecting, while [creating] good-paying jobs…


A new initiative to bolster our energy grid with stronger transmission lines and towers to keep the power flowing more reliably and, consequentially, more secure energy supply…
You know, more forest, homes, buildings, and businesses have been burned to the ground than make up — if you're taking the square miles — than the entire state of New Jersey, from New York all the way down to Cape Henlopen. That's how much has burned to the ground. A lot of it because of the lack of resilience in those towers that get blown over and the wires snap…


Last week, we rolled out a historic investments in our nation's bridges, like the one I visited in New Hampshire, where restrictions forced school buses and fire trucks to go 10 miles out of their way just to get across a small river…
We're going to upgrade thousands of bridges, creating good-paying jobs, cutting commute times, ensuring that as we build back, no community gets left behind.

Folks, that mayor's view of problem-solving is exactly what we brought to the American Rescue Plan. It's designed so that you'd be able to have the resources and the flexibility to take both the short-term and long-term challenges created by this pandemic. A major part of the Rescue Plan was the $350 billion we allocated to state and local budgets. And again, because of you, over $100 billion of that went directly to cities and counties, not through anybody. (Applause.) A hundred billion.

It was not easy to get done, but it was important to get done because you know it's needed. You didn't have to go through your state legislature — or your governor – to get the money.

Today, communities are still putting those funds to work — keeping people on the job, connecting people to better jobs…
Use your funds to cover childcare costs or temporary paid leave to help certain workers dealing with Omicron; to build pathways to better jobs through union-based apprenticeships and on-the-job training; to give people in every ZIP code a chance to deal for themselves and deal them into this booming economy.

That also means building more affordable housing so people can have safe places closer to their jobs.

Funding proven programs to help fight violent crime. We shouldn't be cutting funding for police departments. I proposed increasing funding…



The truth is we have an incredible opportunity ahead of us this year. We still have a lot of work to do to defeat COVID, to bring down costs for families.

But just look at what we've accomplished together so far, even in the face of those headwinds.

In 2021, more jobs are created in America than ever in a single year in American history. More jobs — over 6 million. The unemployment rate dropped more than any year in American history. (Applause.)

Income — incomes for folks working frontline jobs in service industries rose more than any year in history — the folks at the bottom of the economic rung.

We lowered child poverty in this country by nearly 40 percent — more than any time in U.S. history. (Applause.)

You all know this: Business applications grew by nearly 30 percent last year — more than any year in history. If they're saying everything is so bad, why are people fighting to open businesses?

More Americans gained health insurance than any year in history.

These are facts.

To confront the climate crisis, we deployed more solar wind, batteries, and electric vehicles than ever, ever before.

And we're teaming up with mayors, labor, and industry to save families and businesses money by improving energy efficiency in our buildings.

And in the battle against the deadly virus, we've gone from putting 2 million shots — vaccinations – in people's arms to 210 million Americans fully vaccinated. (Applause.)

And you mayors have been critical partners…
And we still face tremendous challenges, though. But together, we've proven that we can get big things done in this country.

Last year, with your help, we laid the groundwork. This year, we have to build it. The biggest weapon in our arsenal is the Build Back Better Act. Nothing is going to do more to ease pressure on families…


Every mayor knows if people can't find and afford childcare, they can't work. (Applause.) Some of your cities, it's 14-, 15,000 bucks a year for childcare. That's why we have nearly 1.2 million extremely qualified women who haven't been able to return to the workforce.

We can cut the cost of childcare in half and fix that problem.

Health insurance: We can reduce the cost for families — and we've done for $600 per year.

On climate: Extreme weather disasters cost communities $145 billion last year. That's how much we spent because of weather-related crises. $145 billion. By investing in resilience and clean energy technology, we can do something about that.

To give relief to families, in the American Rescue Plan we had the Childcare Tax Credit. That did reduce child poverty by 40 percent. There's no reason it shouldn't continue. (Applause.)

And on education — on education: Today, about half of the three- and four-year-olds are enrolled in early childhood education…


We can do this and more on healthcare, nutrition, and a host of other issues.

And, folks, here's the point: We can do it without increasing inflation or the deficit.

Seventeen Nobel laureates in economics wrote a letter to me recently, affirming that this bill would reduce inflationary pressures on the economy, not increase — reduce it. (Applause.)

And by the way — by the way, it's entirely paid for. (Applause.) Every single penny. (Applause.) And not a single person making less than $400,000 a year will pay a single additional penny in federal taxes. Not a single penny. (Applause.)

And, by the way, I'm a capitalist. I'm not a socialist. If you can make $1 billion or $10 million, good for you. Just begin to pay your fair share. Pay a little bit. (Applause.)

We can pay for all this by just making sure that the wealthy — making sure that the wealthy and the biggest corporations pay their fair share…


Look, we can tackle all these challenges just like we did with the Rescue Plan, the infrastructure law, and the fight against COVID, but we can't do it without you…
You understand the cost if we fail to act. We need the voice of mayors telling the stories of what your communities need, and the impact we're making on people's lives or not making. If we can get this done — I believe this with every fiber of my being: If we can get this done, there's no limit what Americans can achieve. So, let's continue to give working families a fighting chance.