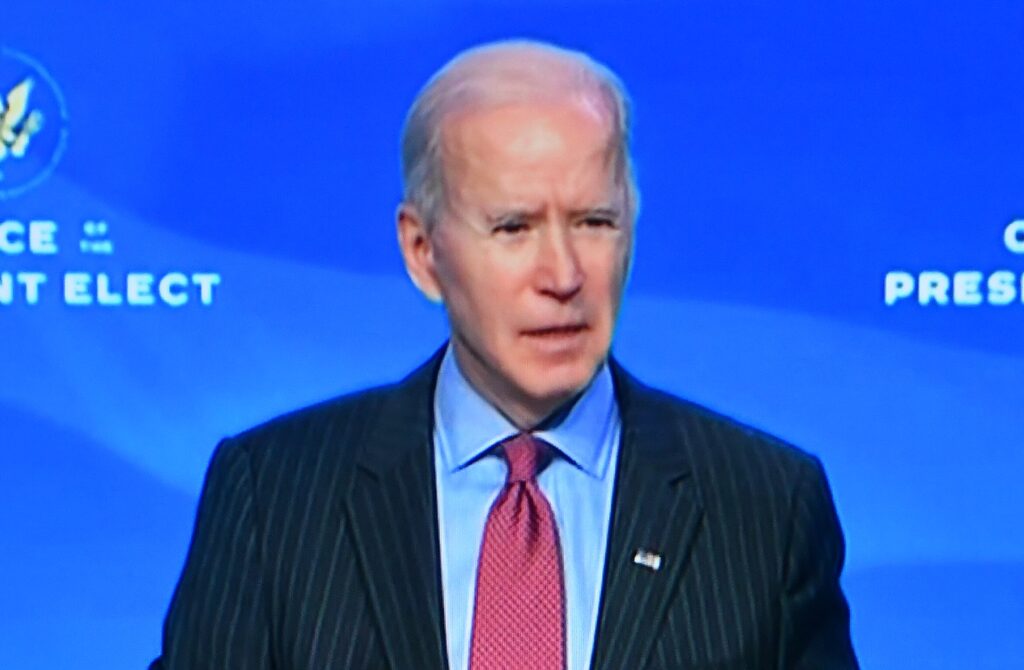 We look forward to these announcements by President-Elect Joe Biden of his nominees for his cabinet. Biden has provided soothing calm, hope for a better future from the painful chaos, dysfunction and outright sabotage that we have daily had to endure in the four horrid years of the Trump Dis-Administration. What a contrast: Biden has continued his pattern of hiring people with extraordinary expertise, achievements, and who notably reflect the American people in gender and background, and also notably are people who are first or second generation Americans and who come from modest means. But there is nothing modest about their achievements. Today, Biden introduced his Economic Team: his nominees for Secretary of Labor, most notably Boston's mayor who comes from a union organizing background (cementing Biden's promise to promote, not just tolerate union-organizing and his belief that the middle class is what made America and unions made the middle class); Commerce and Small Business Administration. The overriding themes: to "reward work, not wealth," boost small businesses and entrepreneurs, invest in a clean economy and to give everyone an equal shot at the American Dream.
His team will enact COVID-19 relief to bolster small businesses, aid hardest hit industries, people who are unemployed for no fault of their own; raise the minimum wage to $15; reinstate worker protections; incentivize entrepreneurship and shift to a clean economy.
With these announcements, Biden said, he has finished naming his cabinet: "Twenty-four outstanding women and men who will get our country moving again, who will restore trust in our government again, and who are ready to go on Day One. This is a Cabinet that looks like America."
Here are highlighted remarks of Biden and his nominees: –Karen Rubin/news-photos-features.com
Good afternoon.

Today, I am pleased to announce the latest members of our economic team.

And with their announcements, I am proud to announce that we have finished naming our Cabinet.

Twenty-four outstanding women and men who will get our country moving again, who will restore trust in our government again, and who are ready to go on Day One.

This is a Cabinet that looks like America.

That taps into the full range of talents we have in our nation.

And a historic Cabinet.

This will be the first Cabinet ever that is evenly composed of women and men.

It will be the first Cabinet ever with a majority of people of color.

It has more than a dozen history-making appointments, including the first woman Treasury Secretary, the first African American Defense Secretary, the first openly gay Cabinet member, the first Native American Cabinet secretary.

We are also on track to name a record 50 high-level appointees subject to Senate confirmation before Inauguration Day. 

More than any President-elect ever.

I have done my job.

It is my hope and expectation that the Senate will confirm these nominees promptly and fairly.

That's especially the case for nominees for Secretaries of State, Defense, Treasury, and Homeland Security who I nominated back in November.

Given what our country has been through the last four years and the last few days, and given the threats and risks in this world, they should be confirmed as close to January 20th as possible. There should be no vacancies at State, Defense, Treasury, and Homeland Security.

And as we remain in this dark winter of the pandemic, and with an economic crisis that's deepened, we have no time to lose on the entire team.

Consider the December jobs report released today.

The anxiety and fear of the women and men out there reminds me of when President Obama and I were sworn in during the Great Recession in 2009.

This December jobs report shows millions of Americans are still hurting through no fault of their own.

We lost 140,000 jobs — the first negative jobs report since the height of the pandemic in the spring.

More people have just lost a job while many have been out of work for a long time.

The ongoing gap in Black and Latino unemployment remains much too large.

And in many ways, the jobs report is a pandemic report.

With the pandemic raging, people are losing work and losing hope.

The hospitality industry, restaurants and bars, lost more than 372,000 jobs.

State and local governments are slashing jobs — 20,000 local educators lost their jobs last month.

In the midst of this pandemic, there are millions of people out of work and unable to pay rent or the mortgage.

They're waiting in line for hours at a food bank. In the United States of America, people are waiting miles in their cars waiting for a meal.

And they're left staring at the ceiling at night, unable to sleep, wondering if they will ever be okay.

The bottom line is the jobs report shows we need to provide more immediate relief 
for working families and businesses now.

Not just to help them get to the other side of this painful crisis, but to avoid the broader economic costs due to long-term unemployment, hunger, homelessness, and businesses failing.

And by acting now, the vast majority of leading economists suggest this is what the economy needs.

In fact, economic research confirms that with conditions like today's crisis, especially with such low interest rates, taking immediate action, even with deficit financing, will help the economy, reduce scarring in the workforce, increase growth, and reduce our national debt burden.

As I've said before, the bipartisan COVID relief package passed in December is an important step, but just a downpayment.

Next week, I will be laying out the groundwork for the next COVID economic relief package that meets this critical moment for our economy and country.

For example, the vaccines give us hope, but their rollout has been a travesty. 

This will be the greatest operational challenge we have ever faced, and we're going to need billions of dollars to get the vaccines from a vial and into the arms of millions of Americans. 

We're also going to need tens of billions of dollars to help reopen our schools safely.

State, local, and tribal communities need tens of billions of dollars to keep educators, police officers, firefighters, and other first responders and public health workers on the job.

We need more direct relief flowing to families and small businesses, including finishing the job and getting people $2,000 in relief. $600 is simply not enough when you have to choose between paying rent or putting food on the table and keeping the lights on.

I also hope that Democratic control of the House and Senate will raise the odds of prompt action 
on increasing the minimum wage. 

I've long said that we need to reward work, not wealth in this country. 

People in both parties now recognize it's time to raise the minimum wage so hardworking people earn at least $15 an hour. 

No one who works 40 hours a week in America should still live below the poverty line. 

They are entitled to a minimum of $15 an hour.

A big focus will also be on small businesses and how to correct the current Administration's failures to get relief to Main Street small businesses that are most in need. 

Mom and pop stores are the backbone of our economy.

They are the glue that holds communities together.

But today, more than 1 in 4 small businesses are not open.

At least 400,000 are closed for good.

As of a month ago, a third of Black-owned businesses, more than a fifth of Latino-owned businesses, and more than a quarter of Native American-owned businesses have less than a month of reserves to cover expenses. 

The previous rounds of economic relief last year helped millions of small businesses stay afloat and keep employees on the payroll.

But there were clear problems.

Black and Brown-owned small businesses had less access to the relief.  

Mom and pop shops were often last in line, while big, well-connected businesses jumped in front of the line and got more relief and got it faster.

And at every turn, the Trump Administration has undermined accountability for every tax dollar spent, weakening oversight and routinely firing Inspectors General.

So it's no surprise that an independent watchdog found that tens of thousands of ineligible companies received relief they shouldn't have, including from fraud and abuse that siphoned off support for the very businesses most in need. 

The good news is that the relief package passed last month provides additional aid to small businesses and workers. But as I have said from the beginning, we need to make sure that relief and future relief reaches everyone who needs it.

These relief dollars will start to flow quickly, potentially while the current Administration is still in office. And they may send out money that we won't have any control over. 

But for what we do have control over, I want to be clear about my priorities for distributing this emergency aid swiftly and equitably. 

Our focus will be on the small businesses on Main Street that aren't wealthy and well-connected and that are facing real economic hardships through no fault of their own. 

Our priority will be on Black, Latino, Asian, and Native American-owned small businesses, and women-owned businesses, finally having equal access to the resources needed to reopen and rebuild. 

We will make a concerted effort to help small businesses in low-income communities, in big cities, small towns, and rural communities that have faced systemic barriers to relief.

Think of the mom and pop owner with a couple of employees who can't just pick up a phone and call a banker, or who doesn't have lawyers and accountants to help them through the complicated rules to know if they even qualify, or who simply didn't know there was even relief available in the first place. 

And as we saw in this morning's jobs report, restaurants, bars, and the hospitality industry have been slammed by the virus. We will direct relief to these businesses and others that have been hit hardest. We owe them that support to help them get through the other side of this crisis.

And I promise you, we will investigate and prosecute waste and fraud in these programs so that money goes to companies that deserve it and will use it to help their employees and communities.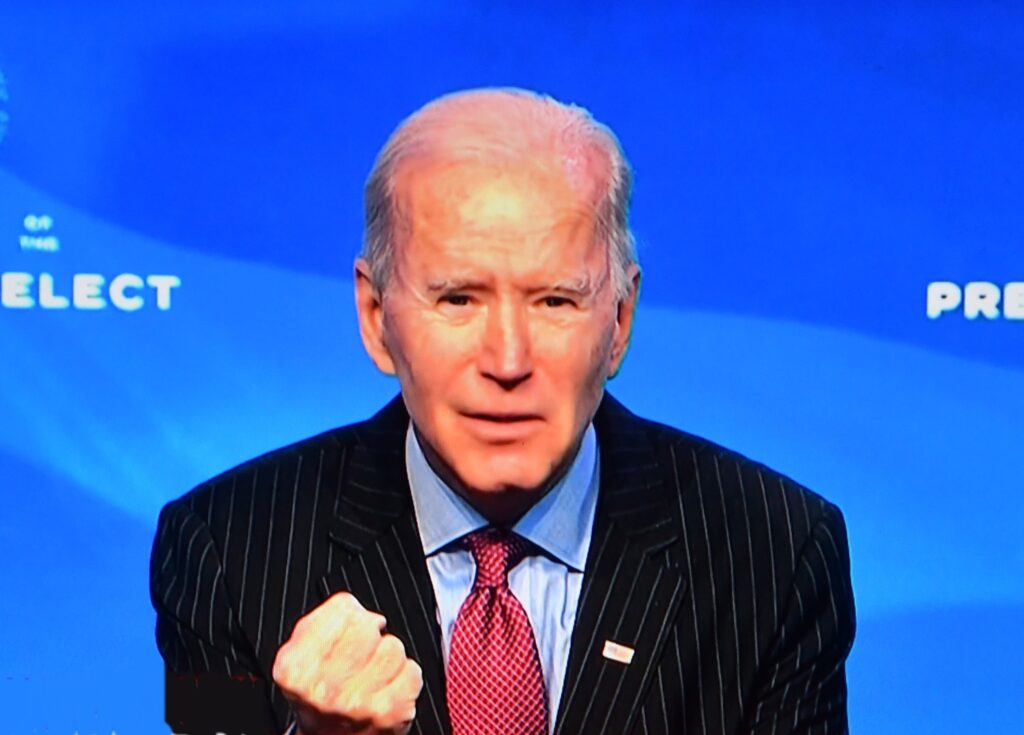 When I implemented the Recovery Act, we invested more than $800 billion to help our economy recover and rebuild with less than two-tenths of one percent of waste, fraud, and abuse.

We know how to do this.

We know how important predictability and clarity are to small businesses.  

From day one, our Administration will work to ensure that small businesses and financial institutions in every community understand the rules for these programs, the resources available to them, and where they can turn for technical assistance if they need it. 

We will have navigators to help guide them through each step of the process until the money they need is in their bank account.

And to the lenders participating in these programs, you should move quickly without delay to begin extending relief. But I urge you to not disburse these funds in the same old, inequitable ways. 

Here's my commitment in return — we will make our expectations of you crystal clear so that you can quickly and equitably deliver relief to the communities you serve, unlike what has been happening during this crisis

The bottom line is we are in the midst of the most unequal economic and jobs crisis in modern history.

Congress needs to act as quickly as possible on all of the issues I just laid out.

That is how we can contain the pandemic and build back better with an economy that works for all Americans.

And this is the team that will help get it done.

For Secretary of Commerce, I nominate Governor Gina Raimondo of Rhode Island.

A daughter of a working-class family who knows what it's like when a parent's factory job is shipped overseas.

She never took her parents' sacrifices for granted.

Always remembers where she came from.

She became a successful entrepreneur who created jobs on Main Street and brought businesses back from the edge.

She became a state Treasurer who invested in local communities and took on financial predators.

And today, she is one of the most effective and forward-thinking governors in the United States of America — the first woman ever to lead the Ocean State.

She's created an innovative loan program that's helped minority-owned and women-owned businesses access the capital they need but wasn't always available to them.

She's worked with employers to design skills-training programs so that local workers would be equipped to take on good-paying jobs in their own communities.

She has put Rhode Island on a path of achieving 100% renewable energy, and she will be a key player in helping position the United States as the global leader in the 21st Century clean energy economy.

And she knows what her fellow governors, Democrats and Republicans alike, are dealing with on the frontlines of the pandemic and economic crises and how we can all partner together as one nation to contain COVID-19 and build back better.

I'm honored she is joining the team.
In her remarks, Raimondi said, "We invested in our people — in their skills, their opportunities, and their dreams. We helped new businesses launch and sparked others to hire and grow responsibly. That's the same vision, the same faith in American workers and entrepreneurs that I see in the Build Back Better agenda.
"It's a vision for an inclusive recovery that lifts up those who have been left behind. It's a vision for a national effort that provides skills, training, and wraparound supports to get Americans back to work. It's a vision for rebuilding American manufacturing and bringing back jobs that have gone overseas."


For Secretary of Labor, I nominate Mayor Marty Walsh of Boston.

Son of Irish immigrants from County Galway.

They moved to Boston.

Marty was born and raised in Dorchester.

I know him. Tough as nails.

Diagnosed with cancer at age 7, beat it at age 11.

Joined the Laborers Union Local 223 at age 21.

Elected to the state legislature.

Became union president.

Then graduated from college at age 42.

He is now in his second term as the successful mayor of an iconic American city, and who always puts working people first.

Fighting for a $15 minimum wage and paid family leave.

Providing frontline workers with emergency child care and the protective equipment they need.

Marty understands like I do that the middle class built this country and unions built the middle class.

He's seen how union workers have been holding this country together during this crisis.

Health care workers keeping our hospitals safe, clean, and effective.

Public service workers fighting against budget shortfalls to keep communities afloat.

Port workers, car haulers, warehouse workers, and folks keeping our air and rail systems running.

They are literally what's keeping us going.

And they deserve a Secretary of Labor who knows how to build their power as workers.

Who knows that when I say our future will be made in America, it will be a future built by American workers.

A future with historic investments in infrastructure, clean energy, manufacturing, and so much more that will create millions of good-paying union jobs.

Marty knows worker power means not just protecting the right to unionize but encouraging unionization and collective bargaining.

It means protecting pensions.

Ensuring worker safety.

Increasing the minimum wage.

Ensuring workers are paid for the overtime they earned, like we fought to do in the Obama-Biden Administration, but this Administration weakened.

And making sure that we have a trade policy where for every decision we make, unions are at the table, focused on winning good jobs for American workers.

This is one of the most important departments to me.

I trust Mayor Walsh, and I'm honored he accepted.

But I also want to say that I did give serious consideration to nominating my friend Senator Bernie Sanders to this position. I'm confident he could've done a fantastic job.

I can think of no more passionate and devoted ally of working people in this country.

But after Tuesday's result in Georgia, giving Democrats control of the Senate on a tied vote, Bernie and I agreed that we cannot put control of the Senate at risk on the outcome of a special election in Vermont.

He agreed we couldn't take that chance.

But we also discussed how we would work together, travel the country, helping Marty, and meet with the working men and women who feel forgotten and left behind in the economy.

And we agreed that we will work closely on our shared agenda to increase worker power
and protect the dignity of work for all working people.

I thank Bernie for his continued friendship and leadership and I look forward to us working together along with Marty.
Mayor Walsh said, "Now we have the opportunity to put power back into the hands of working people. And that is a good thing for our economy and our country.
"We can defend workers' rights. We can strengthen collective bargaining. We can grow union membership. And we can create millions of good-paying jobs with investments in infrastructure, clean energy, high-tech manufacturing — along with the workforce training to help people get those good jobs."


For Administrator of the Small Business Administration, I nominate Isabel Guzman.

She grew up in California, working alongside her father in the small veterinary businesses he built.

She developed an early understanding of what small businesses mean to their employees, the neighborhoods they support, and the families whose dreams they represent.

She dedicated her career to creating jobs and supporting entrepreneurs as a senior official in the Obama-Biden Small Business Administration.

As the Director of California's Office of the Small Business Advocate, she works tirelessly to ensure that everyone with an entrepreneurial spark has a fair and equal shot to get off the ground and succeed.

The Biden-Harris Administration will be locked in on helping small businesses recover, rebuild, and remain the engines of our economy.

And as head of the SBA, Isabel will be leading that critical mission to not only rescue small businesses in crisis, but to provide the capital to entrepreneurs across the country so they can innovate, create jobs, and help lead us into recovery.

I am grateful that she has accepted this call to serve.
Guzman in her remarks, said, "All of our small businesses are critical to our collective success as a nation. Their American dreams fuel our economy, bring new ideas to transform our lives for the better, and enliven every main street in America. And now more than ever, our small businesses need us.
"I share your commitment to help strengthen the many small business owners who have seen their dreams and livelihoods impacted by COVID-19. And to create opportunities and instill greater equity for all of the new startups that will lead us to recovery. "


For Deputy Commerce Secretary, I nominate a good and loyal friend, Don Graves.

Don is a longtime trusted advisor.

He was there at the Treasury Department during the depths of the Great Recession, helping small businesses weather the storm and stay afloat.

When President Obama asked me to lead the effort to get Detroit out of bankruptcy and off its back he said I could take anyone in the Administration. So, I went to the Treasury Department and asked for Don to come over and work on it full-time.

It was the best decision we made in that effort. He did a great job working with city and state officials on its road to recovery. It's about the small details like the number of buses and street lights that are needed.

He also helped me lead our national strategy to equip our workers with the skills they need for the good-paying jobs of the 21st Century, in health care, IT, clean energy, advanced manufacturing, and more.

And he was there to help me launch the National Cancer Moonshot and marshal the full resources of the federal government to help end cancer as we know it.

A cancer survivor himself, diagnosed and treated while he was working for me, Don knows about hope and resilience.

I'm grateful to him and his wonderful family for answering the call to serve once again.
Graves laid out the standard for Biden's economic team: "To revive the economy through the pandemic and build it back better. To advance racial equity across the board and to meet the existential threat of climate change with American jobs and ingenuity.
"With your leadership, I know this Administration will provide the American people the support they need to thrive, and the opportunity to turn their hopes into lives of dignity and respect they deserve."