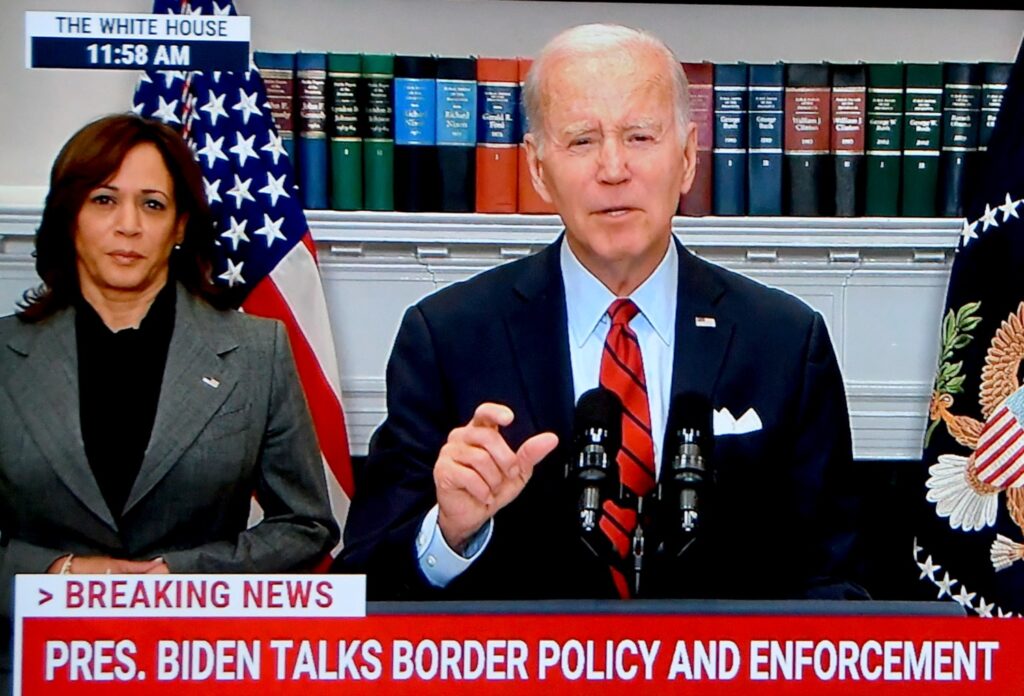 So this is what a competent, caring government administration looks like! The widely heralded mass chaos after Title 42 was lifted failed to produce the "invasion" of the southern border that right wing politicians hoped for, indeed, did all they could to insure would come to pass. It did not, largely because of the comprehensive steps the Biden Administration took to secure the border, even in face of Republican obstruction. It also provides a sense of what a rational, humane, ongoing immigration policy would look like. But it is important to recognize that not never or ever did President Biden, President Obama, President Clinton or the Democrats advocate for "open borders." What they have advocated for going back decades, is a rationale, humane policy Here is a memo outlining the steps the Biden-Harris Administration is taking to secure the border, while Congress ties the administration's hands and Congressional Republicans maneuver to make things that much worse and needlessly painful. I'm betting you haven't heard a peep about any of it—Karen Rubin/news-photos-features.com
The Pentagon is sending up to 1500 troops to support Border Patrol and supporting a massive counter-smuggling operation in the Darien Gap. The Department of Homeland Security is expanding detention capacity, surging resources and technology to support border communities, and deploying hundreds more asylum officers and immigration judges to quickly and humanely process migrants. The State Department is opening Regional Processing Centers across the Western Hemisphere to direct migrants to lawful pathways and reduce unlawful immigration.
This is a plan that draws on measures we know work, but it is also a plan constrained by the fact that, not only has Congress dealt us a bad hand, House Republicans are actively trying to make things worse.
After spending four years helping former President Trump gut our immigration system and the last two years blocking the reforms and funds to fix it, Speaker McCarthy and MAGA Republicans are taking an even more extreme turn to undermine border security. They voted to take 2,000 Border Patrol agents off the federal payroll. They opposed increased funding for border security. And their colleagues in the states are in court trying to block measures that are actually bringing unlawful immigration down.
The impact? A more porous border with less enforcement. President Biden won't allow it.
1. THE BIDEN-HARRIS ADMINSITRATION HAS A COMPREHENSIVE, MULTI-AGENCY, MULTI-COUNTRY PLAN TO MANAGE THE BORDER.
The Department of State, Department of Homeland Security, and Department of Defense are using the tools available to prepare and take steps to manage the border in a safe, orderly, and humane manner.
The Biden-Harris Administration's plan is rooted in enforcement.
When Title 42 lifts, DHS will return to processing migrants using Title 8 expedited removal authorities. Individuals without a legal basis to stay will be promptly removed, barred from re-entry for five years, and face potential criminal prosecution.
Multiple agencies are taking steps to prepare for this transition and enforce long-standing immigration laws, including:
DOD is sending 1,500 troops to the border (bringing the total to 4,000 troops), and DHS is bringing on thousands of contractors and non-uniformed employees to support in administrative tasks to free up the agency's 24,000 agents and officers to focus on frontline duties.
DHS and DOJ is surging hundreds more asylum officers and immigration judges to the border to expedite processing times from months to days. Credible Fear Interviews will take place early in the process, while in CBP or ICE custody with the ability to access to legal services, enabling DHS to quickly remove those who don't have a legal basis to remain.
DHS is vastly expanding holding capacity and ICE substantially scaling up the number of weekly removal flights, with the number of flights doubling or tripling for some countries.
The Biden-Harris Administration's plan is rooted in deterrence.
The transition back to Title 8 processing for all individuals encountered at the border will be effective immediately when the Title 42 order lifts. Individuals who unlawfully cross the U.S. Southwest border will be processed in a matter of days, barred from reentry for at least five years if ordered removed, and would be presumed ineligible for asylum under a proposed regulation, absent an applicable exception
To help individuals avoid these consequences and direct them to the many lawful pathways we have expanded over the past two years, State and DHS are:
Opening Regional Processing Centers in key locations in the Western Hemisphere to reduce irregular migration and rapidly process eligible individuals for lawful pathways to the United States, Canada, Spain, and other countries
Surging the presence of Panamanian, Colombian, and American personnel to the Darien to reclaim authority of this region and root out the criminal smuggling networks
Ramping up efforts to counter lies and disinformation spread by human traffickers through sophisticated, targeted social media advertising campaigns and collaboration with independent influencers throughout the region
Expanding access to the CBPOne App for noncitizens to schedule an appointment to arrive at a port of entry rather than trying to enter between ports
Creating new family reunification parole processes for El Salvador, Guatemala, Honduras and Colombia as an additional lawful pathway
Doubling the number of refugees from the Western Hemisphere as an additional lawful pathway
Accepting up to 30,000 individuals per month from Venezuela, Nicaragua, Cuba, and Haiti as part of the expanded parole processes announced earlier this year
Imposing consequences for migrants who fail to use lawful pathways, including a five-year bar on reentry and presumption of ineligibility for asylum under a proposed regulation
The Biden-Harris Administration's plan is rooted in diplomacy.
One country alone cannot manage this regional challenge. The State Department is bringing multiple countries together to jointly manage this challenge and implement these measures.
Our diplomatic efforts are producing results:
We secured repatriation agreements from countries in the Western Hemisphere, including diplomatic efforts with Mexico to quickly remove individuals who cannot be returned to their countries of origin
Mexico and the United States are stepping up joint enforcement actions to counter-human smugglers and traffickers that are exploiting migrants.
Mexico and the United States will redouble their development efforts that focus on people-to-people support.
2. CONGRESS DEALT US A BAD HAND, AND CONGRESSIONAL REPUBLICANS ARE TRYING TO MAKE IT WORSE.
Multiple federal agencies are working to manage the border using the tools they have. But Congress needs to update our immigration laws, pure and simple. And it's not like Congress hasn't had the opportunity:
In 2013, the Senate on a bipartisan basis passed the Border Security, Economic Opportunity, and Immigration Modernization Act of 2013, but House Republicans refused to take up the bill.
In 2018, a bipartisan group of Senators advanced the Uniting and Securing America Act to protect Dreamers and provide pathway to citizenship, but Senate Republicans blocked it.
Again in 2018, the Senate tried to advance the United and Securing America Act "Common Sense" Proposal Amendment, but Senate Republicans blocked it.
Yet again in 2018, the Uniting and Securing America Act made it to the Senate floor, but was blocked.
In 2019, the House passed the American Dream and Promise Act, but Senate Republicans blocked it.
In 2021, the House again passed the American Dream and Promise Act, but Senate Republicans again blocked it.
In 2021 and 2022, the President proposed record funding for more border agents, more asylum officers, more immigration judges, more border technology, and more detention capacity. Republicans in Congress failed to fund these both requests.
Our immigration laws are so bad and outdated that Border Patrol agents can't even issue electronic notices to migrants and instead have to create a paper file on each and every migrant that crosses our southern border. It's absurd. Republicans in Congress have failed the American people by repeatedly blocking solutions.
But what's even more outrageous is that not only has Congress dealt us a bad hand, House Republicans are actively trying to make things worse.
We requested $4.9 billion for border security and management. Congress only gave us half of that.

This was funding to expand detention capacity and beds, provide medical services, and surge personnel.
It was funding to help track migrants as they await their immigration proceedings, ramp up removal flights, and move migrants out of cities facing a significant surge.
We requested more Border Patrol agents. Instead,House Republicans recently passed a bill to fire 2,000 agents and next week are advancing a bill that would force Americans to waste even more money on a wall that migrants are cutting through, climbing over, and digging under – and that Mexico definitely did not pay for.

President Biden requested record border security funding to keep 24,000 Border Patrol agents and officers on payroll – and hire hundreds more.
House Republicans not only vastly increased that funding in the FY22 and FY23 funding packages, but actually passed a bill to cut 2,000 Border Patrol agents at a time when we're preparing for a surge.
We implemented measures that brought unlawful immigration down significantly. Republican elected officials ran to court to try to block those measures.

Within weeks of us announcing new border enforcement measures, the number of people from Cuba, Haiti, Nicaragua, and Venezuela crossing unlawfully declined by 97%.
20 states filed a federal lawsuit to block these measures. If they get their way, there will be a surge of unlawful border crossings like no other.
We're expediting the immigration process to quickly remove individuals who don't have a lawful basis to stay. Governor Abbott is instead busing those migrants to cities all across America, making this work harder.
We're taking thousands of smugglers off the streets and ramping up efforts to counter their misinformation. Republican elected officials are driving additional profits to criminal smugglers by ramping up their false "open borders" rhetoric.
House Republicans are pushing a MAGA agenda of chaos and inaction. They are playing politics when they should be joining the President in pursuing real solutions, – and they should answer for their repeated attempts to open our borders.
Meanwhile, the Administration took a stance to oppose HR2-Secure the Border Act of 2023 (Rep.Diaz-Balart, R-FL, and 15 cosponsors. Here is the statement from the Office of Management & Budget, issued May 8:
STATEMENT OF ADMINISTRATION POLICY
H.R. 2 – Secure the Border Act of 2023
(Rep. Diaz-Balart, R-FL, and 15 cosponsors)
The Administration strongly supports productive efforts to reform the Nation's immigration system but opposes H.R. 2, the Secure the Border Act of 2023, which makes elements of our immigration system worse. A successful border management strategy must include robust enforcement at the border of illegal crossings, deterrence to discourage illegal immigration, and legal pathways to ensure that those in need of protection are not turned away to face death or serious harm.

The Biden-Harris Administration's approach to border management is grounded in this strategy – expanding legal pathways while increasing consequences for illegal pathways, which helps maintain safe, orderly, and humane border processing. However, the Administration is limited in what it can achieve by an outdated statutory framework and inadequate resources, particularly in this time of unprecedented global movement. H.R. 2 does nothing to address the root causes of migration, reduces humanitarian protections, and restricts lawful pathways, which are critical alternatives to unlawful entry.

The bill would cut off nearly all access to humanitarian protections in ways that are inconsistent with our Nation's values and international obligations. In addition, the bill would make processing less efficient by prohibiting the use of the CBP One mobile application to process noncitizens and restricting DHS's parole authority, such that successful programs, like "Uniting for Ukraine," would be prohibited. The bill would also reduce authorized funding for essential programs including the Shelter and Services Program that provides a critical source of funds for state and local governments and reduces pressure at the border.

While we welcome Congress' engagement on meaningful steps to address immigration and the challenges at the border, this bill would make things worse, not better. Because this bill does very little to actually increase border security while doing a great deal to trample on the Nation's core values and international obligations, it should be rejected.

If the President were presented with H.R. 2, he would veto it.