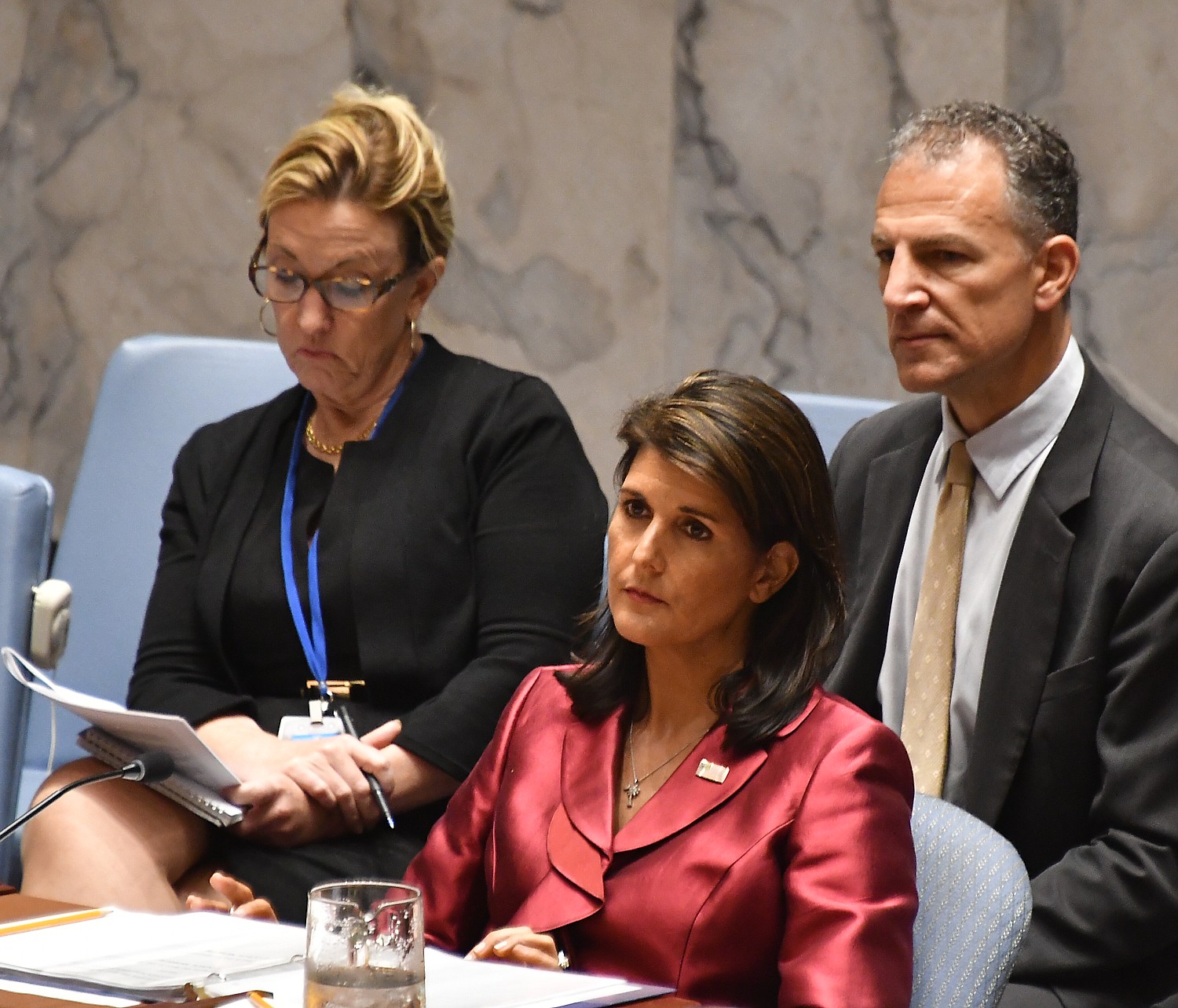 By Karen Rubin, News & Photo Features
US Ambassador to the United Nations Nikki Haley, chairing the Security Council meeting on Thursday, September 20 focused on the Middle East, listened as one member after another attacked Israel for "disproportionate" response to Palestinian protests, the looming humanitarian crisis which demands international support and calls for Israel to stop the demolition of the Bedouin village of Khan Al-Ahmar in the West Bank, where 181 Palestinians live, as a provocation which would further hamper the prospects for a two-state solution.
"The urgency of the situation that we face on the ground is really desperate – Gaza can explode any minute," UN Special Coordinator Nikolay Mladenov, briefing the Security Council, stressed.
"We have a humanitarian responsibility to react but we must understand that it cannot be solved only on the basis of humanitarian action…It must be solved with a political perspective to resolving Israeli-Palestinian conflict and we have a responsibility to support the parties."
Mladenov listed Israel's continued military occupation of Palestinian territory; uncertainties about the future of the peace process and the two-state solution; Hamas' continuing hold on Gaza and its militant activity, as exacerbating the situation on the ground.
"No steps have been taken during the reporting period to cease settlement activities in the occupied Palestinian territory, including East Jerusalem," he said, asserting that settlement activities are "a violation of international law and a major obstacle to peace."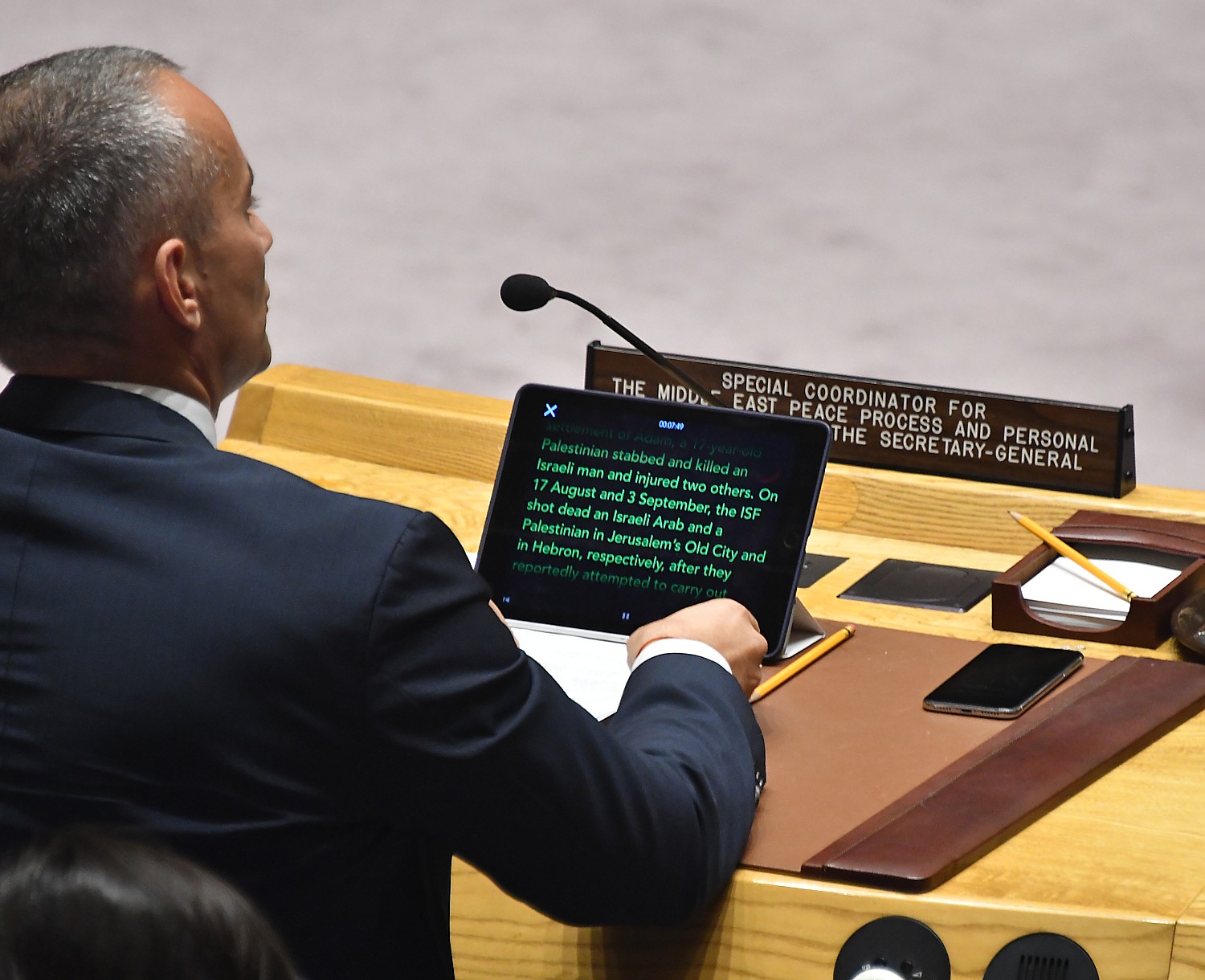 He pointed to violence, acts of provocation and inflammatory rhetoric – both by Hamas and Israel, and that on at least three occasions the situation "escalated dramatically" and calm was restored only after Egypt and the UN intervened to de-escalate tensions.
On the humanitarian side, of most concern is the power crisis in Gaza and, with the UN running out of funds for emergency fuel, critical health, water and sanitation facilities are at "immediate risk" of shutting down. Levels of critical medicines are also running dangerously low.
The crisis is being further exacerbated by the serious cash shortfall – due to the withdrawal of US funding – confronting UNRWA, the Organization's Relief and Works Agency for Palestine Refugees, he said, calling for urgent funding to allow it to continue its vital services.
Mladenov reminded the Security Council that 25 years have passed since the Oslo Accords were signed in the US capital, Washington D.C.
"It was a historic moment that captured the world's attention and filled Palestinians, Israelis and the region with hope that a genuine peace could be realized. Sadly, that courageous vision of a lasting peace now lies in tatters," he said.
"We must restore that hope – the alternative is perpetual cycles of violence. We must overcome the current impasse and refocus our efforts on ultimately returning to meaningful negotiations to end the occupation and bring a just, lasting and comprehensive resolution to the Israeli-Palestinian conflict."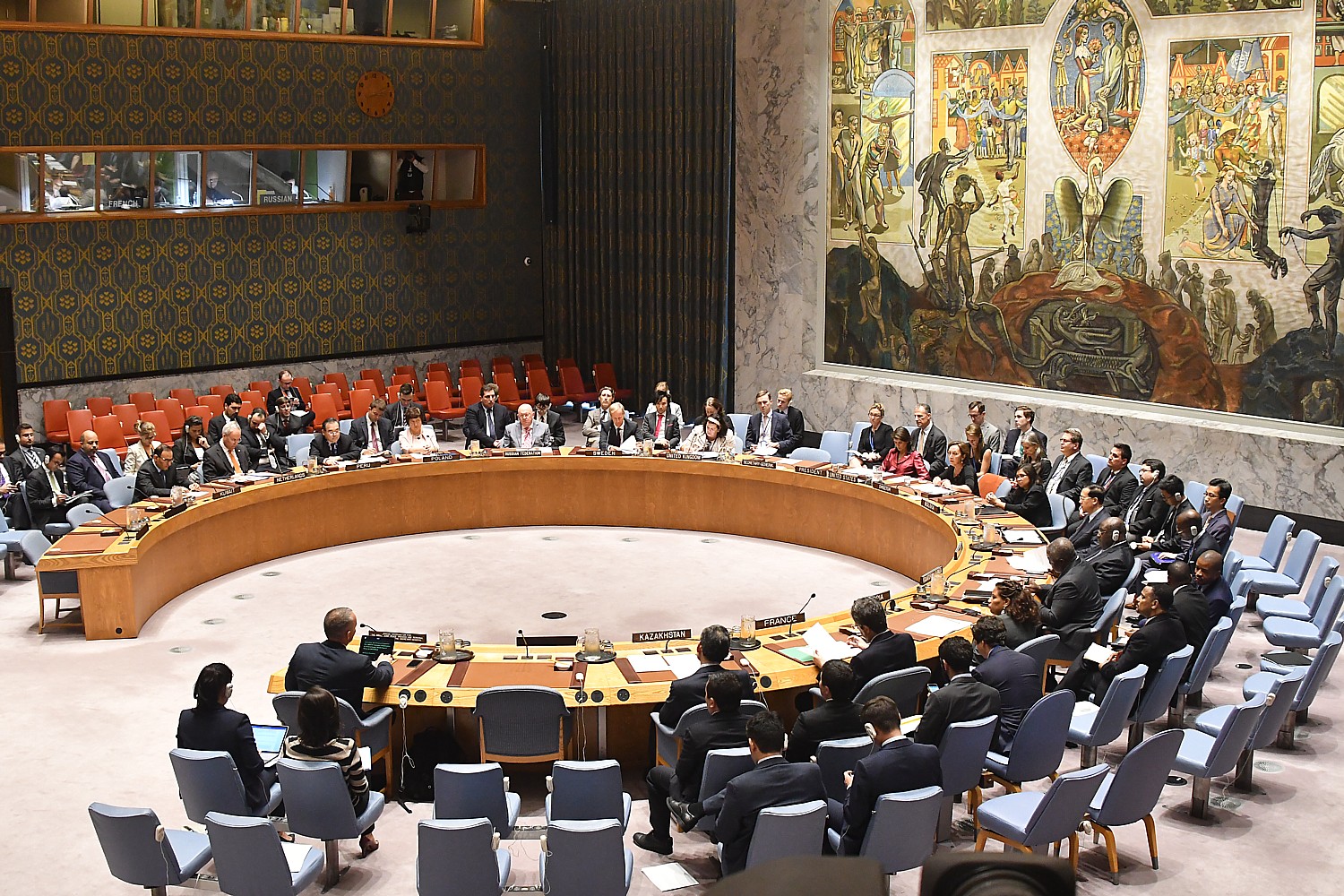 After his report, one by one, the ambassadors expressed criticism of Israel.
But instead of responding, she sidestepped the issue entirely, focusing instead on Iran as the more dangerous actor destabilizing the Middle East.
"I've listened to my colleagues statements this afternoon with great interest," Haley said. "I have always been open about my belief that this Middle East debate has been excessively and unfairly focused on Israel. Today, I will go one step further. The Palestinian-Israeli conflict is serious and worthy of this Council's attention. But if there is one country that is the source of conflict and instability in the Middle East – one country that merits a quarterly debate in the Security Council – that country is not Israel. It's Iran."
She proceeded to lay out the case against Iran, which will no doubt be a key focus for the United States in the upcoming General Assembly and Security Council meetings, when the US will likely marshal support for its decision to pull away from the Joint Comprehensive Plan of Action, by which Iran agreed to give up its nuclear weapons program in exchange for relief from sanctions. The US has demanded reimposition of sanctions.
"For almost 40 years, the Iranian regime has existed outside the community of law-abiding nations. It is difficult to name a conflict in the Middle East that does not have Iran's fingerprints on it.
"The Iranian regime has backed dictators who gas their own people. It stokes conflict. It funds foreign fighters and terrorists. It transfers missiles to militants. It acts against the interests and policies of this Security Council, time and time again. Across the Middle East, Iran has trampled on the sovereignty of its neighbors. In Lebanon. In Syria. In Yemen. And the Iranian regime has shown a total disregard of the sovereignty of a country that is at a critical stage in its political development: Iraq.
"Iran's leaders pretend their interference in the sovereignty of other nations is done in the name of religious affiliation. They like to claim that they have been "invited" into the affairs of other countries. In fact, the motives of the mullahs are much less elevated. They are interested in power. In the case of Iraq, their goal is to exploit uncertainty in order to create an Iranian controlled corridor for weapons and fighters from Tehran to the Mediterranean.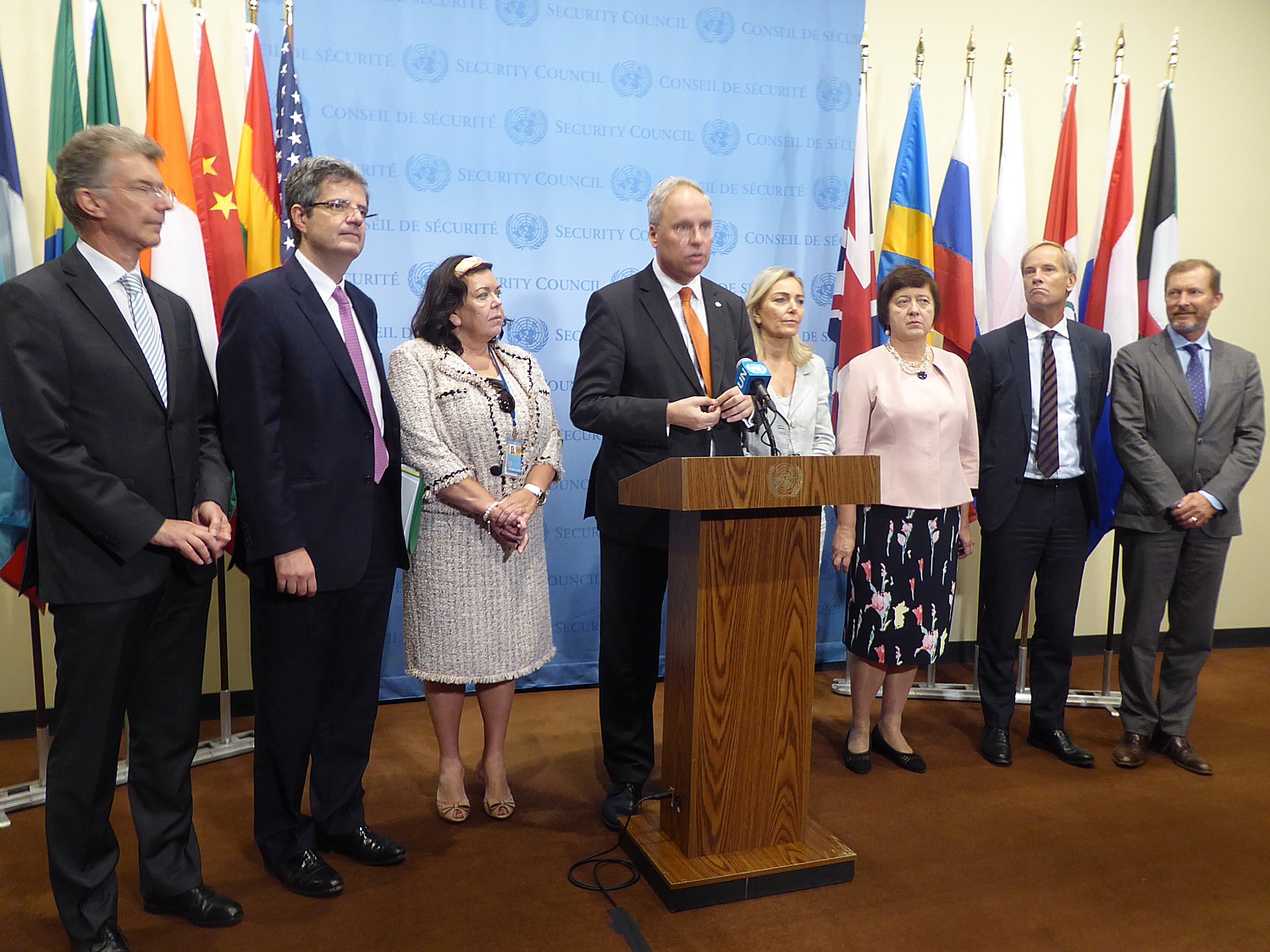 "In recent months, Iran's aggression has escalated. Iranian proxies in Iraq operate openly, with funding, training, and weapons supplied by Tehran. The Iranian regime has reportedly begun over the last few months to transfer ballistic missiles to these proxies in Iraq. It is reportedly developing the capability for its proxy militias to produce their own missiles inside of Iraq.
"In a blatant violation of Iraqi sovereignty, the Iranian regime recently fired a barrage of missiles from Iran into Iraq. Iran attacked the headquarters of the Kurdistan Democratic Party of Iran, killing eleven people. This was not an act of Iranian proxies but of the Tehran regime itself. It was Iran's first direct military strike into Iraqi territory in over a decade. This Iranian interference in the sovereignty of Iraq should be of great interest to the Security Council for many reasons, not least of which is because it occurs in clear defiance of Security Council resolutions.
"Iranian General and head of the IRGC Quds Force Soleimani is leading an effort to influence the composition of a new Iraqi government. I remind my colleagues that Soleimani was banned from traveling outside of Iran by the Security Council in 2007. That ban was reaffirmed in 2015 with the passage of Security Council Resolution 2231. Despite this unambiguous travel ban, Soleimani has practically taken up residence in Iraq since the May elections. This fact was noted by the Secretary-General in the most recent 2231 Implementation Report. And let's be clear about what Soleimani is up to in Iraq. He is not there to help create a government in Baghdad that is responsive to the Iraqi people. He is there to build an Iraqi government that is under the control of the Iranian regime.
"Iran treats Iraq as if it was not an independent nation. Iran sees Iraq as merely a transit point for Iranian weapons and a training ground for Iranian proxies. Iran seeks to keep Iraq economically weak and dependent on its exports – even though Iraq has plenty of its own resources. Why? Because Iran wants to use a weak Iraq to illicitly fund its terrorist activities.
"There is one more recent Iranian escalation that bears special consequence to Americans. Two weeks ago, two Iranian proxy groups launched rocket attacks on the American Embassy in Baghdad and the U.S. Consulate in Basra. Using proxy forces in Iraq does not give the Iranian regime plausible deniability when attacks like this occur. The Trump Administration does not, and will not, buy that. Iran could have stopped its proxies' attacks. It chose not to, so the White House responded by putting Tehran firmly on notice. We hold the Iranian regime fully accountable for its proxies' attacks on U.S. facilities and personnel in Iraq. And we will not hesitate to vigorously defend American lives.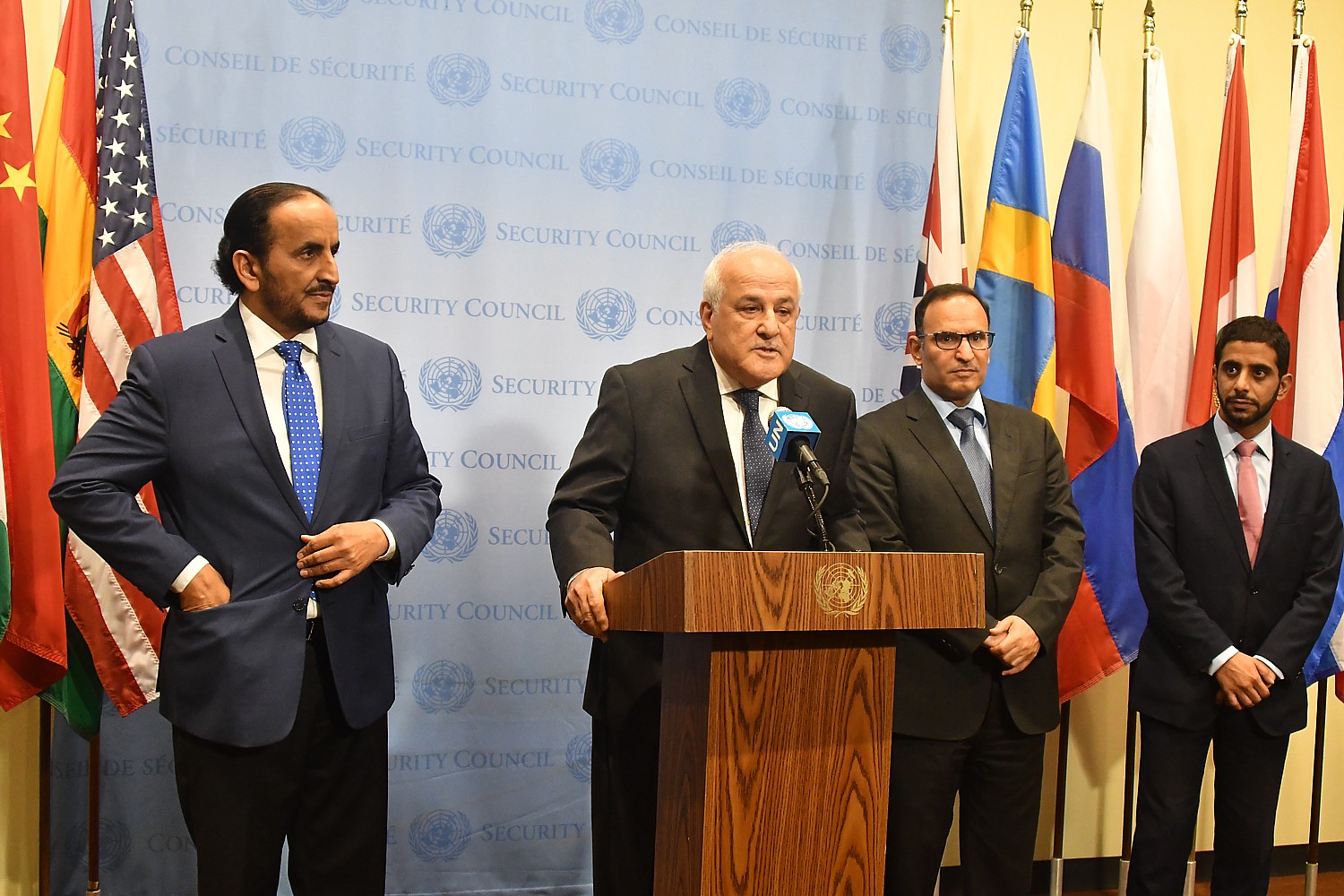 "The sovereignty of Member States is an issue that comes up a lot in the Security Council – for good reason. Every nation has the sovereign right to govern itself, protect its people, and defend its borders. No less than any nation, Iraq has that right. And yet, at a critical time in its history – as Iraqis build their government – Iran is acting in shameless disregard of Iraqi sovereignty. It is threatening populations to promote its own political leaders. It is undermining a key feature of sovereignty – a state monopoly on the use of force – by promoting its own militias.
"The United States is committed to working with Iraq to help it create an inclusive and independent government. Iraq is working to recover from years of conflict against ISIS and still to overcome the legacy of Saddam Hussein's tyranny.
"Not only is Iranian interference preventing forward progress for the Iraqi people, it is pulling them backward to the conflict and division they are striving to put behind them. This is the very same conflict and division that Iran promotes in Syria, Yemen, Lebanon, and across the Middle East.
"All members of the Security Council who respect the principle of national sovereignty should be concerned. And all who respect the right to self-determination for the Iraqi people should come to their defense."
____________________________
© 2018 News & Photo Features Syndicate, a division of Workstyles, Inc. All rights reserved. For editorial feature and photo information, go to www.news-photos-features.com, email [email protected]. Blogging at www.dailykos.com/blogs/NewsPhotosFeatures.  'Like' us on facebook.com/NewsPhotoFeatures, Tweet @KarenBRubin