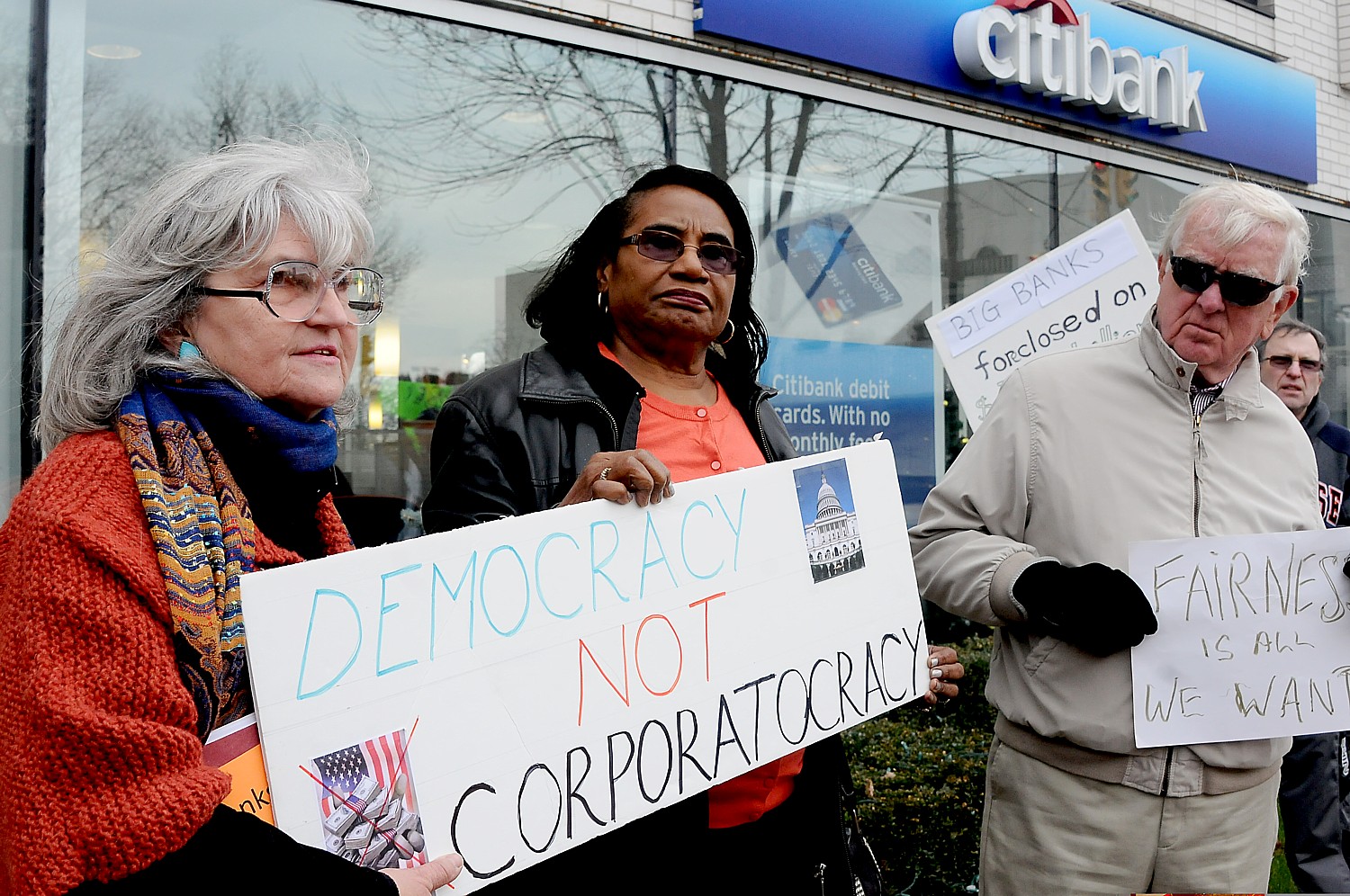 by Karen Rubin, News & Photo Features
This is supposedly the season of "giving," of "good will to all mankind." Not with Donald Trump in the White House.
Trump is so giddy to take credit for displacing "Happy Holidays" with "Merry Christmas." That's all he cares about. But just as Trump, who makes money off of hotels but has no concept of "hospitality" and is more like the craven Snidely Whiplash than Barron Hilton, he has no clue and no care what "Christmas" means.
Indeed, this Christmas, 9 million children and pregnant women are losing access to health care and the ability to live a good life or realize their full potential. 13 million Americans don't know if they will be able to afford or access health care.  800,000 Dreamers don't know whether they will be thrown out of jobs, housing, and the nation, exiled to a country that is completely foreign to them. Seniors and retirees don't know if they will be able to continue to afford living in their homes and whether their Medicare and Social Security benefits will be cut.
The Tax Scam rammed through by Republicans is just the beginning: they are giddy about how adding $1.5 trillion to the national debt, the same amount (coincidentally) that it redistributes from working people to the already obscenely rich and richest corporations sitting on $2 trillion in cash they refuse to use to raise wages will "justify" slashing the social safety net, cutting Medicare, Social Security, Medicaid – you know the so-called "entitlements" that working people have paid into their entire working lives.
Trump made it clear, in his ignorant, short-hand way, what will come next, in his speech in St. Louis:
"Then we will have done tax cuts, the biggest in history…I know people, they work three jobs and they live next to somebody who doesn't work at all. And the person who's not working at all and has no intention of working at all is making more money and doing better than the person that's working his and her ass off. And it's not going to happen. Not going to happen. (Applause.) So we're going to go into welfare reform."
You only have to look at what is happening in every quarter of civic life which is shifting the balance to the wealthiest while cutting off upward mobility for anyone else. The Trump FCC's plan to overturn net neutrality is exactly that: it cements the control that the internet oligopoly wields not only to keep out upstart competitors but control what information or culture gets wide viewing. What Pai wants is for money to rule both content and access (that's what "free market" means). Don't have money to keep an internet subscription so you can access news, information or jobs? Tough luck. But the FCC intends to couple this with more government surveillance of what goes up over the Internet – quite literally the worst of both worlds.
It is apparent also in how Trump is pawning off national monuments to commercial exploitation – Bears Ears, Grand Staircase-Escalante, the Arctic Refuge and the Atlantic Marine Sanctuary – basically stealing what is our collective heritage and birthright to give to commercial interests. Interior Secretary Ryan Zinke, who has no compunction to waste taxpayer money for his own use, is even raising admission fees to the national parks, further putting what is owned by all Americans off limits for those who can't pay the freight.
Money is the new "entitlement." It determines who can afford to weigh the scales of justice in their favor, and, thanks to Citizens United, who runs for election and wins, and therefore what policy gets written and enacted, and even who has access to the voting booth. Billionaire venture capitalist Tom Perkins actually said that out loud: "But what I really think is, it should be like a corporation. You pay a million dollars in taxes, you get a million votes. How's that?" Indeed.
This mentality is actually seeping down even into the disasters that have become all too common and catastrophic because of climate change: Freakonomics did a segment that a free market rather than anti-gouging laws should come into play after a disaster. A shopkeeper should be able to sell a bottle of water for $1000 to the father with a child dying of thirst if he wants to, because at $2 a bottle, someone will hoard. (The absurdity is that purchases are rationed for the rich and the poor.)
Another segment suggested that people should be able to pay their way (a premium) to jump a line – that's okay for a themepark, but they are suggesting the same for access to life-saving organ donation.
Trump is the first president to dare do what the Republicans have been salivating over since the New Deal but dared not do. It's not that the Republicans haven't had their sights set on reversing every progressive policy since the 1860s. (Alabama Senate candidate, the defrocked judge Roy Moore, said that every Amendment after the 10th, the state's rights one, should be abolished, including the 13th amendment ending slavery, 14th amendment giving due process, the 19th amendment giving women the right to vote. Meanwhile, the Republicans are about to cancel the 10th amendment's State's Rights provision in order to require New York State to accept Conceal Carry Reciprocity and overturn its own gun safety laws.)
You actually have Senator Chuck Grassley defending abolishing the estate tax which affects only a tiny fraction of the wealthiest families and was intended since the founding to prevent an institutionalized aristocracy, argue that the previous tax code favors poor and working-class Americans who were "just spending every darn penny they have, whether it's on booze or women or movies."
Utah's Orrin Hatch, justifying shifting $1.5 trillion in tax breaks to the wealthy and corporations and slashing the social safety net, declared, "I have a rough time wanting to spend billions and billions and trillions of dollars to help people who won't help themselves, won't lift a finger, and expect the federal government to do everything."
Merry Christmas? Bah humbug.
"And so how do we as Christians respond, who serve a God whose prophets call for welcoming immigrants (Deuteronomy, Leviticus), caring for the orphans and widows (Jeremiah, Ezekiel), establishing fair housing (Isaiah), seeking justice (Micah 6), and providing health care (Isaiah)," a twitter conversation between MSNBC's Joy Reid and Susan Gilbert Zencka wrote.
"What you're witnessing tonight in the United States Senate is the weaponization of pure, unmitigated greed," Joy Reid wrote after the Senate's adoption of its tax plan. "Lobbyists are writing the bill in pen at the last minute. And Republicans are no longer even pretending to care about anyone but the super rich," wrote Joy Reid.
The America that Trump and the Republicans envision is not one of an American Dream where anyone who has the ability and works hard enough can rise up, but one in which communities must beg billionaires for funding for a public school, a library, a hospital, and be very grateful for their charity.
Tell me how this is not a modern, nonfiction version of Dickens' "Oliver Twist."
"Please sir, I'd like some more."
________________________
© 2017 News & Photo Features Syndicate, a division of Workstyles, Inc. All rights reserved. For editorial feature and photo information, go to www.news-photos-features.com, email [email protected]. Blogging at www.dailykos.com/blogs/NewsPhotosFeatures.  'Like' us on facebook.com/NewsPhotoFeatures, Tweet @KarenBRubin