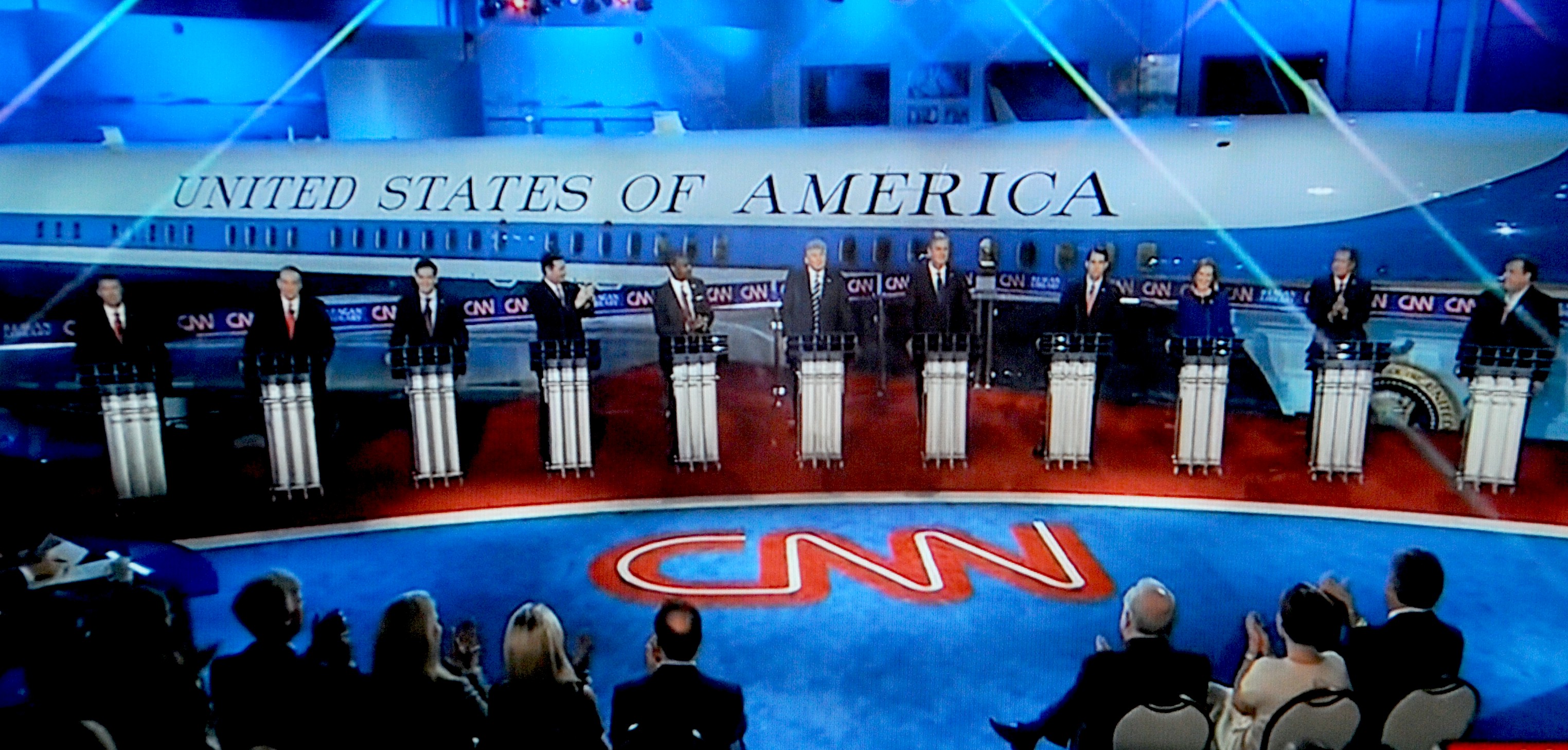 by Karen Rubin
It would be a travesty if the Republicans cash in the fear they are sowing over the Paris terror attack for a ticket to the white House, in the way the Bush/Cheney Administration milked Americans' fear after 9/11, a terror attack that incompetence made so much worse. And yet, despite their incompetence, they rode to reelection in 2004.
Brian Lehrer on NPR remarked that Jeb Bush seems to be using the Paris attacks "to claw his way back into relevance."
On the Monday after the terror attack, AOL broadcast the headline that 72% of Americans are fearful. Well what would you expect with nonstop reports about terrorism? It's exactly what ISIL wanted – just as Osama bin Lad3n was thrilled beyond imagination at the reaction after 9/11. In essence, thanks to Bush/Cheney reaction, 19 terrorists brought down a nation, because they let it happen.
Already, several Republican candidates have basically called for closing borders – Ted Cruz and Jeb Bush say they would only admit Christians – effectively putting a religious test in violation of the Constitution. House Speaker Paul Ryan has said Congress would withhold any funding to relocate Syrian refugees. And 27 (all but one) Republican Governors are refusing to allow any resettlement in their states, again, against the Constitution – basically a redux of what they said about the children fleeing Central American violence. It is absurd to hear the Alabama Governor justifying this stance by saying that his first priority is to keep his citizens safe, when Alabama promotes wanton gun violence, a state which ranks 4th in the nation for the highest number of incidents of and where one Alabaman is killed every 11 hours.
A doctor in a hospital in Paris talked about receiving 27 of the gunshot victims that night when the ER normally gets one. One a day? he was asked. "No, one a year. We're not like America."
Republicans are seizing on the fact that a passport attributed to a Syrian who came through Greece with the tens of thousands of refugees in October was left at one of the terror sites. But isn't it interesting that this is the only terrorist found with an ID? How much logic does it take to realize that it likely was purposefully left – and very probably not the passport of the attacker at all – but was left because ISIL wants Europe and the US to cut off any safe haven for the millions that are fleeing their own terror. They want a population to terrorize. They want Muslims to be marginalized in their communities, to be able to tap the disaffected to their "cause."
Donald Trump says he would shut down mosques. And, oh yes, points out that France has some of the strongest gun control laws. You might wonder if a President Trump, faced with terror attacks in Paris, would launch attacks against Muslims here. As for the "tough guy" pose as being all it takes to stop all the bad things in the world, Putin certainly strikes the strongman pose, and yet ISIS took down a Russian airliner. His solution? Bomb them to oblivion.
Obama answered "the broader issue of my critics… when you listen to what they actually have to say, what they're proposing, most of the time, when pressed, they describe things that we're already doing. Maybe they're not aware that we're already doing them. Some of them seem to think that if I were just more bellicose in expressing what we're doing, that that would make a difference — because that seems to be the only thing that they're doing, is talking as if they're tough. But I haven't seen particular strategies that they would suggest that would make a real difference.
"But what we do not do, what I do not do is to take actions either because it is going to work politically or it is going to somehow, in the abstract, make America look tough, or make me look tough. And maybe part of the reason is because every few months I go to Walter Reed, and I see a 25-year-old kid who's paralyzed or has lost his limbs, and some of those are people I've ordered into battle. And so I can't afford to play some of the political games that others may."
Does anyone else see the tragic irony that the terrorism is against tolerance, the terrorists can't stand a society that is open, diverse in ethnicity, religion and thought, but Republicans want to dispatch intolerance with intolerance?
"We also have to remember that many of these refugees are the victims of terrorism themselves — that's what they're fleeing," President Obama said at a press conference after the G20 in Turkey. "Slamming the door in their faces would be a betrayal of our values. Our nations can welcome refugees who are desperately seeking safety and ensure our own security. We can and must do both….
"When I hear folks say that, well, maybe we should just admit the Christians but not the Muslims; when I hear political leaders suggesting that there would be a religious test for which a person who's fleeing from a war-torn country is admitted, when some of those folks themselves come from families who benefitted from protection when they were fleeing political persecution — that's shameful. That's not American. That's not who we are. We don't have religious tests to our compassion…
"And if we want to be successful at defeating ISIL, that's a good place to start — by not promoting that kind of ideology, that kind of attitude. In the same way that the Muslim community has an obligation not to in any way excuse anti-Western or anti-Christian sentiment, we have the same obligation as Christians. And we are — it is good to remember that the United States does not have a religious test, and we are a nation of many peoples of different faiths, which means that we show compassion to everybody. Those are the universal values we stand for. And that's what my administration intends to stand for."
Every society is vulnerable to a terrorist determined to kill himself – but societal institutions should not be.
On the other hand, there is nothing stopping homegrown terrorism, and not just the jihadi kind. White racists have been responsible for more acts of terror here in the homeland than self-proclaimed jihadis. Look at the attacks on Planned Parenthood centers and black churches just in the last few months.
While the Republicans don't actually offer any constructive proposals, they are really, really obsessively upset over semantics that President Obama does not brand the entirety of Muslims as terrorists- that's about 1 billion people around the world, including whole nations that we need as our allies in defeating ISIL such as Turkey, Jordan, Lebanon. Obama, instead, uses terms like "violent extremists" as the enemy.
But these violent extremists no more embody Islam than Nazis embodied Christianity. These are sociopathic thugs – gangsters – who use terror and violence in order to secure power and control. It is a 21st century Facsist regime more similar to 20th century Nazi Germany. The new recruits might be swayed by propagandist ideology and even the idealism in toppling Syria's brutal dictator Bashar al-Assad – but they are being used and when some who came to fight for what they thought was a just cause want to leave, they are summarily killed.
Hindsight is 20/20. It's so easy to say Obama should have been more aggressive in Syria early on (give weapons to so-called moderates who turned out to be ISIL?) but at that point, the opposition was saying Assad was only weeks away from being deposed. Then, when Assad crossed the "red line" using chemical weapons against his own people, Congress failed to give Obama authorization for military strikes inside Syria (Russia stepped up and got Assad to agree to get rid of chemical weapons, without Obama needing to fire a shot). Even now, Republicans are great at hurling accusations of 'fecklessness" and "weakness" but the real coward is a Congress that refuses to debate a new Authorization of Use of Military Force (AUMF) agreement. And I'm sure even the Bush/Cheney neocons never imagined that after almost a decade and billions of dollars and 4000 American lives, that the Iraqi soldiers would not just cut and run, but would hand over their weapons and territory to ISIL.
For his part, Obama faced a choice – without a crystal ball, he sided with the less deadly option. ISIL changed, and even now has changed its strategy from just torturing and tormenting and terrorizing people within the Middle East, to exporting terrorism internationally – downing the Russian airliner at Sharm el Sheik, the bombings in Izmir, in Beirut and now Paris, all in short order – and Obama is adapting to the changes – essentially intensifying all the levers that can be brought to bear, including bombing, strengthening border controls, sharing more intelligence, and stepping up efforts to prevent the flow of foreign fighters in and out of Syria and Iraq. "And we'll continue to stand with leaders in Muslim communities, including faith leaders, who are the best voices to discredit ISIL's warped ideology," Obama said.
Obama, in a press conference in Turkey after the G20 summit, sounded just the right tone, and also took on the critics who charge that his "strategy" lacked focus, that he underestimated the Islamic State.
"The strategy that we're pursuing, which focuses on going after targets, limiting wherever possible the capabilities of ISIL on the ground — systematically going after their leadership, their infrastructure, strengthening Shia — or strengthening Syrian and Iraqi forces and Kurdish forces that are prepared to fight them, cutting off their borders and squeezing the space in which they can operate until ultimately we're able to defeat them — that's the strategy we're going to have to pursue.
"And we will continue to generate more partners for that strategy. And there are going to be some things that we try that don't work; there will be some strategies we try that do work. And when we find strategies that work, we will double down on those….
"This is not, as I said, a traditional military opponent. We can retake territory. And as long as we leave our troops there, we can hold it, but that does not solve the underlying problem of eliminating the dynamics that are producing these kinds of violent extremist groups.
"And so we are going to continue to pursue the strategy that has the best chance of working, even though it does not offer the satisfaction, I guess, of a neat headline or an immediate resolution. And part of the reason is because there are costs to the other side. I just want to remind people, this is not an abstraction. When we send troops in, those troops get injured, they get killed; they're away from their families; our country spends hundreds of billions of dollars. And so given the fact that there are enormous sacrifices involved in any military action, it's best that we don't shoot first and aim later. It's important for us to get the strategy right. And the strategy that we are pursuing is the right one."
In fact, the single-minded focus on the Paris attacks (while ignoring other terror attacks that took place in Beirut, Izmir, Kenya), seemed to swallow up the news of an attack that killed the Jihadi John, who executed James Foley and Steven Sotloff, as well as France's attacks on ISIL oil distribution. Meanwhile, even France's stepped up bombing of ISIL as retribution for the Paris attacks does not equal the 8000 bombing attacks by US planes.
But Obama added that no matter to what extent ISIL is destroyed, that there are still going to be the risks of individuals flowing into  civil societies exacting mayhem on soft targets.
"There has been an acute awareness on the part of my administration from the start that it is possible for an organization like ISIL that has such a twisted ideology, and has shown such extraordinary brutality and complete disregard for innocent lives, that they would have the capabilities to potentially strike in the West. And because thousands of fighters have flowed from the West and are European citizens — a few hundred from the United States, but far more from Europe — that when those foreign fighters returned, it posed a significant danger. And we have consistently worked with our European partners, disrupting plots in some cases. Sadly, this one was not disrupted in time.
"But understand that one of the challenges we have in this situation is, is that if you have a handful of people who don't mind dying, they can kill a lot of people. That's one of the challenges of terrorism. It's not their sophistication or the particular weapon that they possess, but it is the ideology that they carry with them and their willingness to die. And in those circumstances, tracking each individual, making sure that we are disrupting and preventing these attacks is a constant effort at vigilance, and requires extraordinary coordination.
"Now, part of the reason that it is important what we do in Iraq and Syria is that the narrative that ISIL developed of creating this caliphate makes it more attractive to potential recruits. So when I said that we are containing their spread in Iraq and Syria, in fact, they control less territory than they did last year. And the more we shrink that territory, the less they can pretend that they are somehow a functioning state, and the more it becomes apparent that they are simply a network of killers who are brutalizing local populations. That allows us to reduce the flow of foreign fighters, which then, over time, will lessen the numbers of terrorists who can potentially carry out terrible acts like they did in Paris…
"We play into the ISIL narrative when we act as if they're a state, and we use routine military tactics that are designed to fight a state that is attacking another state. That's not what's going on here.
"These are killers with fantasies of glory who are very savvy when it comes to social media, and are able to infiltrate the minds of not just Iraqis or Syrians, but disaffected individuals around the world. And when they activate those individuals, those individuals can do a lot of damage. And so we have to take the approach of being rigorous on our counterterrorism efforts, and consistently improve and figure out how we can get more information, how we can infiltrate these networks, how we can reduce their operational space, even as we also try to shrink the amount of territory they control to defeat their narrative.
"Ultimately, to reclaim territory from them is going to require, however, an ending of the Syrian civil war, which is why the diplomatic efforts are so important. And it's going to require an effective Iraqi effort that bridges Shia and Sunni differences, which is why our diplomatic efforts inside of Iraq are so important, as well."
But the defeat of ISIS cannot be accomplished by the US alone and as Secretary of State John Kerry noted, a coalition did not even exist a year ago, a political partnership (involving Russia and Iran) did not even exist a month ago, and now Kerry is pointing to the possibility of a cease-fire in Syria in a matter of months, and there seems to be growing acceptance of the reality that Assad has to go, and there has to be a political transition. Solving the Assad problem would rob ISIS of a key motivator to its recruitment.
"The Vienna talks mark the first time that all the key countries have come together — as a result, I would add, of American leadership — and reached a common understanding," President Obama said. "With this weekend's talks, there's a path forward – negotiations between the Syrian opposition and the Syrian regime under the auspices of the United Nations; a transition toward a more inclusive, representative government; a new constitution, followed by free elections; and, alongside this political process, a ceasefire in the civil war, even as we continue to fight against ISIL."
Ever the realist, Obama added, "These are obviously ambitious goals. Hopes for diplomacy in Syria have been dashed before. There are any number of ways that this latest diplomatic push could falter. And there are still disagreements between the parties, including, most critically, over the fate of Bashar Assad, who we do not believe has a role in Syria's future because of his brutal rule. His war against the Syrian people is the primary root cause of this crisis.
"What is different this time, and what gives us some degree of hope, is that, for the first time, all the major countries on all sides of the Syrian conflict agree on a process that is needed to end this war. And so while we are very clear-eyed about the very, very difficult road still head, the United States, in partnership with our coalition [Obama has mobilized 65 nations], is going to remain relentless on all fronts — military, humanitarian and diplomatic. We have the right strategy, and we're going to see it through."
_________________
© 2015 News & Photo Features Syndicate, a division of Workstyles, Inc. All rights reserved. For editorial feature and photo information, go to www.news-photos-features.com,  email [email protected]. 'Like' us on facebook.com/NewsPhotoFeatures, Tweet @KarenBRubin