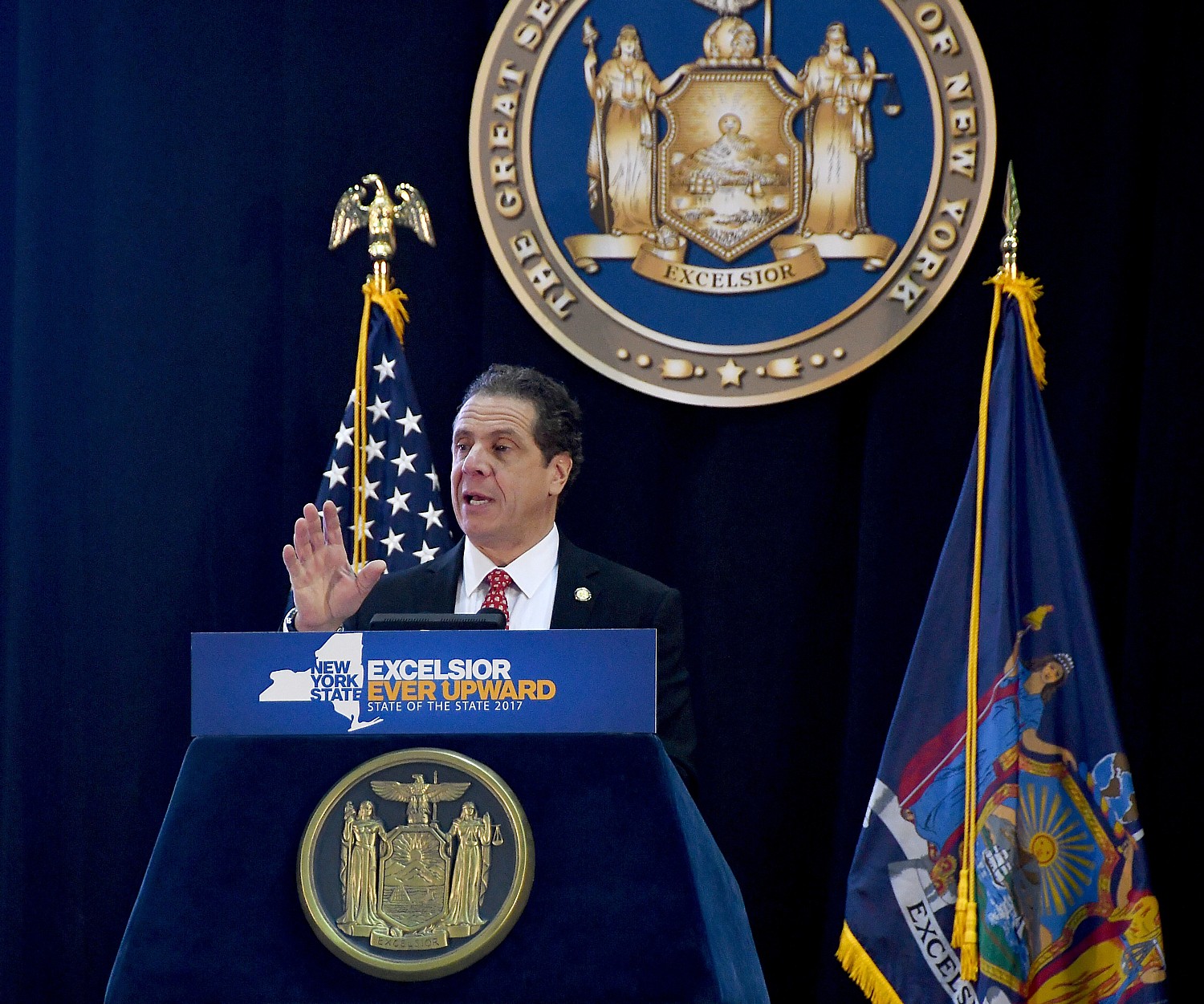 by Karen Rubin, News & Photo Features
Governors of New York and California and the Governor-Elect of New Jersey and California joined forces to condemn the Republican tax plan as a "stake in the heart" of the nation's economic engine, a cynical ploy to punish Democratic-majority states, and only the first-step toward generating such an increase in the national debt to justify cuts in Medicare, Social Security, Medicaid, CHIP and other social programs, and threatened to challenge the legality of elements of the tax plan should it become law.
In a joint press call, New York Governor Andrew Cuomo, California Governor Jerry Brown and New Jersey Governor-Elect Phil Murphy and using phrases such as "evil,"  "nefarious" and "cynical," raised issues of the legality of elements of the Republican tax plan, which shifts $1.5 trillion in wealth from middle class and working families to the wealthy  – indeed, 50% of the tax cuts go directly into the pocket of the top 1% – through lowered tax rates, elimination of the AMT (Alternative Minimum Tax), reductions if not elimination in the Estate Tax (which only impacts 2 out of 1000 families now), and new rules enabling the wealthiest to shelter tax through pass-throughs.
But the Republicans pay for the cuts by largely eliminating or significantly reducing the deductibility of state and local taxes, including property taxes, effectively double-taxing, something that has not existed since income taxes were first implemented in 1913, which disproportionately targets 12 states that happen to vote Democratic and also happen to be the donor states that account for 40% of the nation's gross domestic product (GDP). A similar effort during the 1986 Reagan tax reform effort was defeated by both Republicans and Democrats. The governors say this may be challenged as unconstitutional double-taxation.
Other provisions, such as establishing a legal framework for "personhood" may also be challenged as unconstitutional.
The way the Republican tax plan is structured, it shifts wealth from the 12 "donor" (Democratic-majority) states, to the rest of the country, by eliminating or dramatically reducing the tax deductibility of state and local taxes, including property taxes. In effect, it makes those states structurally uncompetitive by effectively increasing taxes by 20-25 percent for homeowners, may reduce home values by that amount, as well as make it difficult for schools (which account for 60-65% of New Yorkers' property taxes and 40% of California's) to raise the revenue they need to property function. But while individuals lose the deductibility of SALT, corporations do not.
In a further blow to public education and stripping away of the separation of Church & State, the Republicans would allow the tax-exempt 529 funds, created to fund college, to be used for K-12 education for parochial and private schools, even homeschooling. (This is on top of repealing the Johnson Amendment, opening floodgates of "charitable" contributions to religious institutions to become political PACs; a particularly insidious breach of the Constitution's Establishment clause because the religious leader preaching from the pulpit has a special ability to coerce.
The governors held at the hope that the wildly unpopular Congress (only 13% approval) and the most unpopular president in history (33% approval), will recognize the tax plan is similarly wildly unpopular, with barely 20% support, and that Republican Congressmen who have to stand for election in 2018, will do what is best for their constituents.
The Senate version, which eliminates the individual mandate from the Affordable Care Act (Obamacare), would result in 13 million more people without health insurance by 2025, and 10 percent annual increases in premiums on everyone else.
The bill also "pays" for the tax cuts to the richest Americans and corporations by eliminating the deductibility of student loan interest, tax credits for renewable energy, and opens the way for drilling in the Arctic National Refuge, and other provisions which help the upward mobility of working families and middle class striving to achieve the American Dream.
The governors held out a glimmer of hope that enough of the Republicans (the only ones who voted in favor of the tax plan) would vote for their constituents' interests.
"The tax plan that passed Senate, the House, and is headed to reconciliation, is a long way from done. It is a fraud on the American people. They talk about tax cuts for middle class and working people, but what it is, is tax cut for the rich – 50% of the tax cuts go to the top 1%. That's an inarguable fact. Their theory isn't new or novel. It's 'trickle down' on steroids." He argued that instead of corporations taking their tax cuts to raise wages for workers or create more jobs  through investment, corporations in the past have pocketed the extra cash or used it to buy back stock (raising the share prices) or paying dividends.
"To add insult to injury," Cuomo said. "the tax cut is then targeted at 12 states that happen to be Blue States where they target eliminating state and local deductions. People don't understand what that will do, but it will be devastating for states. In essence, it is an increase in property taxes and state income tax only on those 12 states. It puts us at a structurally competitive disadvantage because structurally our taxes will be higher." That gives residents additional complaint about their government (Republicans even now charge that New York's taxes are high because of mismanagement, or lavish spending on services). Cuomo countered the claim by Republicans that the poorer states somehow subsidize the public services of the richer states.  New York, California and New Jersey are donor states, which means we put more into the [federal] till than we take out. This aggravates and enhances the injustice where we are subsidizing the other states, and now you're using New York and New Jersey as a piggybank to finance tax cuts in other states.
"That amounts to political retaliation through the tax code. That's why they passed it with only their own votes," Cuomo charged.
California Governor Jerry Brown assailed the Republican tax plan saying, "the most immediate evil of this cynical maneuver called the tax bill is to further divide America when we are at one of our most divisive periods in history. The idea that a president and representatives only in the majority would use that power to penalize 12 states – most of which voted strongly against this president– is not going to bring country together. We are divided while some of our most important competitors are getting more unified, authoritarian. We need to come together. This will further divide blue states from red, Democrats from Republicans. It is evil in the extreme. It exacerbates inequality….It's not right. It won't stand."
New Jersey Governor-Elect Philip Murphy further expounded on the devastating impact in terms of widening inequality and continuing down the awful path of us vs Washington leadership.
"It is based on the trickle down theory, which we have seen time and again doesn't work. Executives get paid better, the gap between the top of corporate food chain and bottom widens; shareholders benefit from buybacks while working people are neglected. It is a scam at the ultimate extreme. On more than one occasion we all heard, when asked for the rationale, the awful answer [from Republicans] was 'it is our donors, our donor base will dry up if we don't.' We saw the chaos Friday night, literally lobbyists hand-writing in pen, amending the bill. This is as bad as it gets.
"But in a 'glass half full' sense, as Governor Cuomo stated,  It's not over yet. This is the ninth inning. Each of our states have Republican House members. This is beyond Republican, Democrat; it is a clear question of whether you are representing the constituents who elected you. Black & white."
"The changes in the SALT deduction, are particularly problematic, Murphy said. "That's been part of the tax code since income tax became legal in 1913. For over 100 years, Congress realized taxing people twice is unfair. We are the biggest odnor states in terms of the federal money we give. This will only make it worse.
"The stronger we are together, the more numbers, the more locked arms, we fight together as a team. There is a lot to be said for that. I am honored to be with you."
Asked what actions, beyond political pressure on Republican members of Congress, the governors might take, they said that just as the Republicans, the day after Obamacare was signed into law, pledged to repeal and replace, they would also take whatever means – even court challenges– to repeal and replace this tax law.
"We're looking at the legality now. [SALT deductions] has been in the tax code since it started over 100 years ago. This is double taxation – they are taxing taxes, this from the party that's against taxation, redistribution [or what Republicans used to condemn as "class warfare"]. This is redistribution in an exponential form –taking from richer states and subsidizing a tax cut in less wealthy states. Hypocritical. Everything they said were against: double-taxation, taxing tax for first time, redistribution state to state, so may well be illegal, unconstitutional. We're looking at it."
"There may be some legal action but this is a quintessentially political challenge," Governor Brown stated. "Our job is to communicate the fraudulent and nefarious character of this tax bill – the way it proceeded, which John McCain said follows no normal pathway. We want to make sure our members of Congress know they are hurting New York, California, New Jersey but also hurting America. We are the key elements of America's engine of prosperity, and when Trump and his allies attack New York, New Jersey, California, they are attacking the vital seams of the American economy. That's stupid. They will regret it, and we will do everything we can to convince our Republican representatives that the right thing to do is defeat.
Murphy said they are working with state Attorneys General "to tear up all the floor boards, to the fullest extent of law, and challenge this. There are 500 pages of amendments, a lot handwritten. I am betting there are flaws, holes. If we don't succeed in the next few days, we will have to take this to the limit.
"This is double taxation and I'm not sure it's legal," said Cuomo. "We will find out if it is. But Governor Brown's point is that it is counterproductive. These 12 states are 40% of GDP. If you say this will help the American economy, how do you do that by assaulting 12 states that are 40% of GDP: this will be negative for our states and regional economies. No doubt about that."
"Attacking the innovation of NY, CA, NJ and others is just a dumb move, only explained by the desperate situation the Republican leadership find themselves," Governor Brown added. "This president is the most unpopular is history. They are riding a dead horse in this tax bill, acting irrationally, not in interest of country, throwing a wrench into engine of economy."
"The more people understand, the more people understand how unfair, divisive and harmful it is to them individually," Cuomo commented. "The problem is, there is so much news, so much happening. This is so complicated – elimination of state and local taxes but the more people understand it, the more they are against it. Congresspeople and Senators ultimately have to go home, and if they vote for this, they are voting against the interests of their constituents, and they have election next year. Ultimately democracy works. A congressperson who votes for this, there's no going home again.
"I'm an optimist for the simple reason that we all believe in a different America than this bill articulates," Murphy said. "The more people understand what's in this thing, the more actively they push back. What it will do for higher education by repealing tax deduction for student loans, stripping credits for renewable energy, opening Arctic to drilling, on and on –repealing the individual mandate in ACA – the more people realize what's at stake, the more collectively they say this can't go forward.
Largely eliminating the SALT deductions, Cuomo said, contradicts the Republican claim their tax plan is supposed to spur the economy. "But targeting 40% of GDP, then saying that's how you are going to spur economy, by putting arrow into economic heart of these 12 states? There are predictions it will drop the value of homes in our states because property taxes in effect will go up 20-25% over night. If you drop the value of homes, disrupt the whole financial system. Mortgage foreclosures. I don't think they understand what they are doing.
"We talk about [eliminating SALT deductions] as if it were a new concept," Governor Cuomo said. "It's not new. They proposed eliminating SALT during Reagan's time. At that time, Democrats and Republicans both said it was wrong and defeated it. The difference now is the political extremism and their willingness to divide, and the political extremes they will go to.
"This is only step one of their plan – we know what their plan is, because not new, we've seen the playbook. Step one is tax cuts for the rich. Step 2, is to drive up the debt, the deficit, and then come back and say we have $1.5 trillion debt that we created (by cutting taxes for rich), and now we have this debt, we have to address it by cutting government spending. Where will they go? The right to Medicaid, healthcare for poor people. The right to CHIP for poor children, Right to housing programs, food stamps, etc. That's inevitable. They are creating the debt that will then justify their philosophical step to cut government spending to hurt the poorest Americans."
"Look at this in its entirety, beyond SALT," Murphy added. "This is their way to cut Medicaid, Medicare, Social Security. It is the height of hypocrisy from the so-called deficit hawks. Look at higher education and student loans, Obamacare individual mandate, Seen result of trickle down. Pass through. Taken in its entirety, the Republican tax plan is exceedingly damaging not just to our states, but entire country."
"Republicans saw Obamacare passed and the next day they started Repeal & Replace," Cuomo said. "If they do this, the next day, we will start the repeal and replace of the divisive Tax Act."
None of them mentioned, but should have, the increasing pressures on the federal government for disaster relief from climate catastrophes (hundreds of billions of dollars in 2017 alone), the need to address the opioid crisis, and to rebuild and mitigate infrastructure.
See also:
Republican Tax Scam: They Don't Care 85% Oppose. Here's Why
Republican Tax Plan is Attack on Blue States; Fight Back by Holding Money 'in Escrow'
Ready the Revolution: GOP Tax Plan Decimates Middle-Class, Gives Rise to New American Aristocracy
Trump Selling Tax Plan in Missouri, the Show Me State: This is going to cost me a fortune, this thing — believe me.
Democrats Should Shut Down Government over Republican Tax Scam
________________________
© 2017 News & Photo Features Syndicate, a division of Workstyles, Inc. All rights reserved. For editorial feature and photo information, go to www.news-photos-features.com, email [email protected]. Blogging at www.dailykos.com/blogs/NewsPhotosFeatures.  'Like' us on facebook.com/NewsPhotoFeatures, Tweet @KarenBRubin