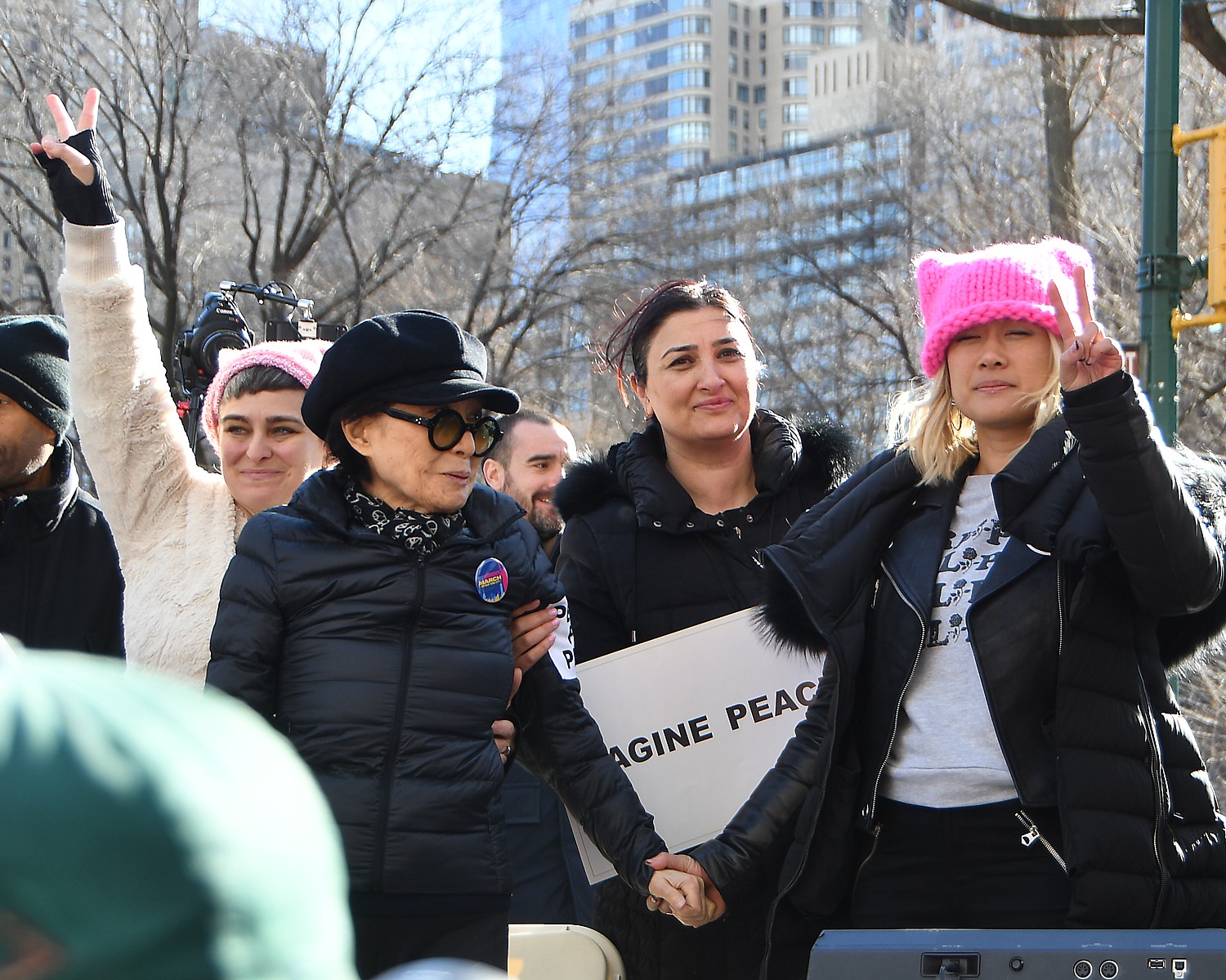 by Karen Rubin, News & Photo Features
Some 200,000 took over the streets of New York City for the Womens March, exactly one year after Donald Trump gave his dystopic inauguration speech and one year after the first Womens March that brought out millions in the largest single day of protest in history.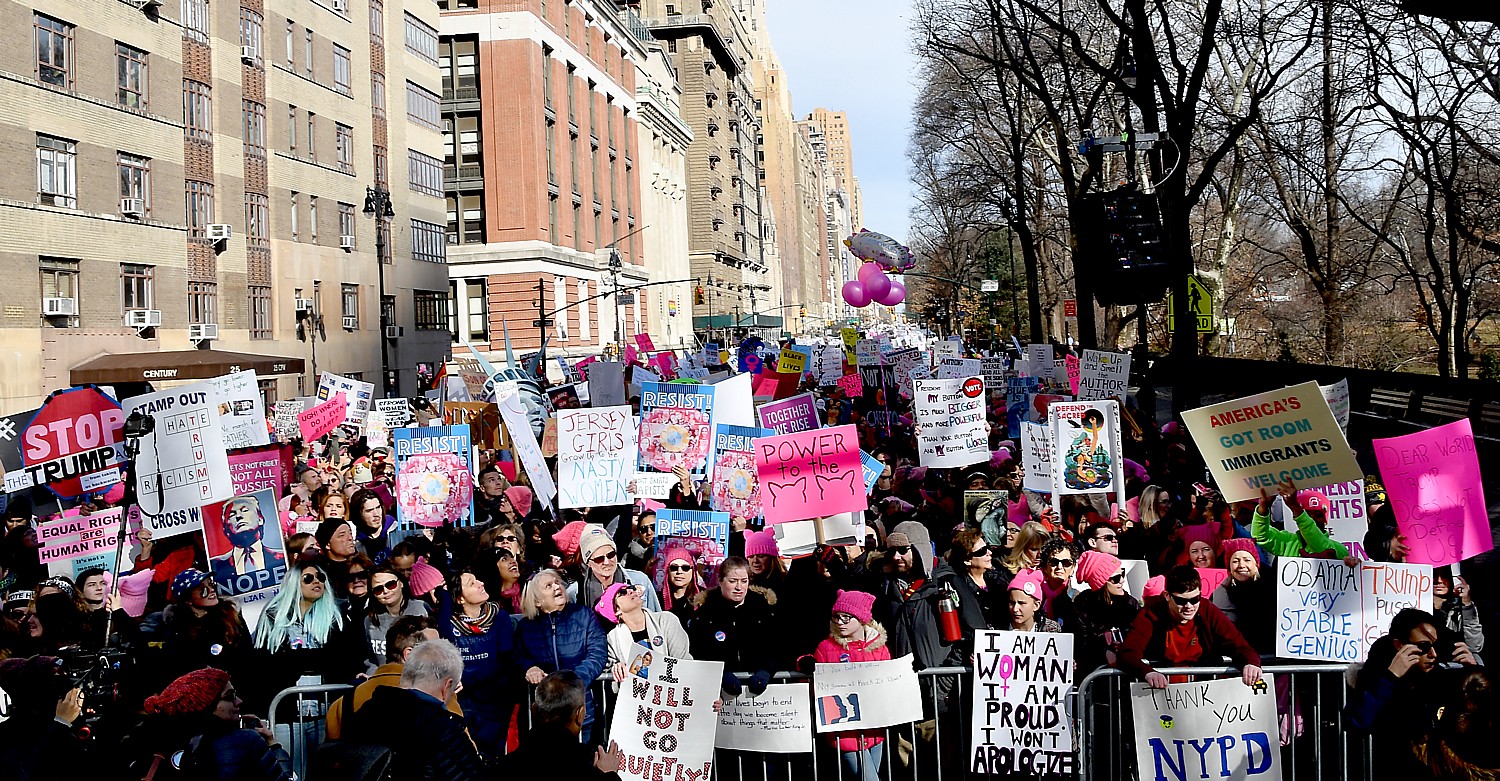 The Government shutdown kept Kristin Gillibrand away. It also overshadowed news coverage.
No matter. The women had already learned that the change we need, the rights we want, are up to us. It was important to be together, to see comrades in arms, to be amid a sea of people – 200,000 was the official count in New York City – who despite the fact there were 280 other womens marches taking place across the country including Philadelphia, Los Angeles, Chicago with about 2 million turning out – still came from all over the country, all ages and walks of life.
They marched for the Womens Agenda, which includes a score of vital issues: an end to sexual harassment, assault and extortion is one; reproductive rights and the right to self-determination as well as Equal Protection is another (somehow always get overshadowed and put on a back-burner of priorities). But the list encompasses access to affordable health care, gun violence prevention, environmental protection, protection for Dreamers and rational, humane immigration reform that keeps families together and ends the torture of insecurity. They marched for justice and fairness: political, social, economic, environmental and criminal justice.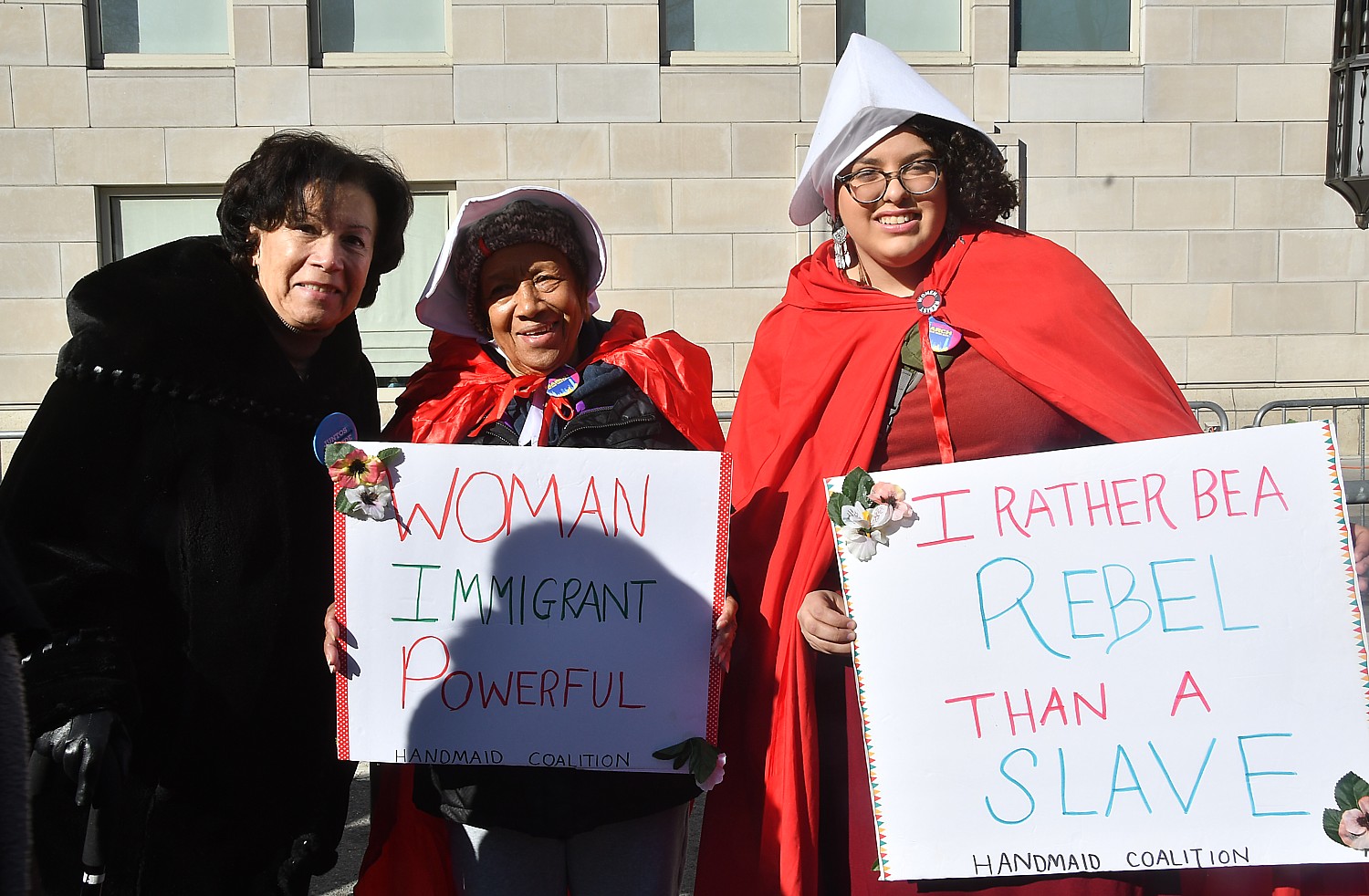 There was definitely a change  in attitude from last year, when people marched to show their despair over the selection by the Electoral College of Donald Trump as president, despite Hillary Clinton, the first woman to be a serious contender for President, winning 3 million more popular votes, and they marched to put the Republican majority in Congress on notice which they didn't heed. This year, the Womens March was ramped up on anger and a new jeer, courtesy of Trump himself: "Shithole" is what marchers yelled as they passed Trump International on Columbus Circle, his incarnation; otherwise placid grey-haired suburban women giving the middle finger.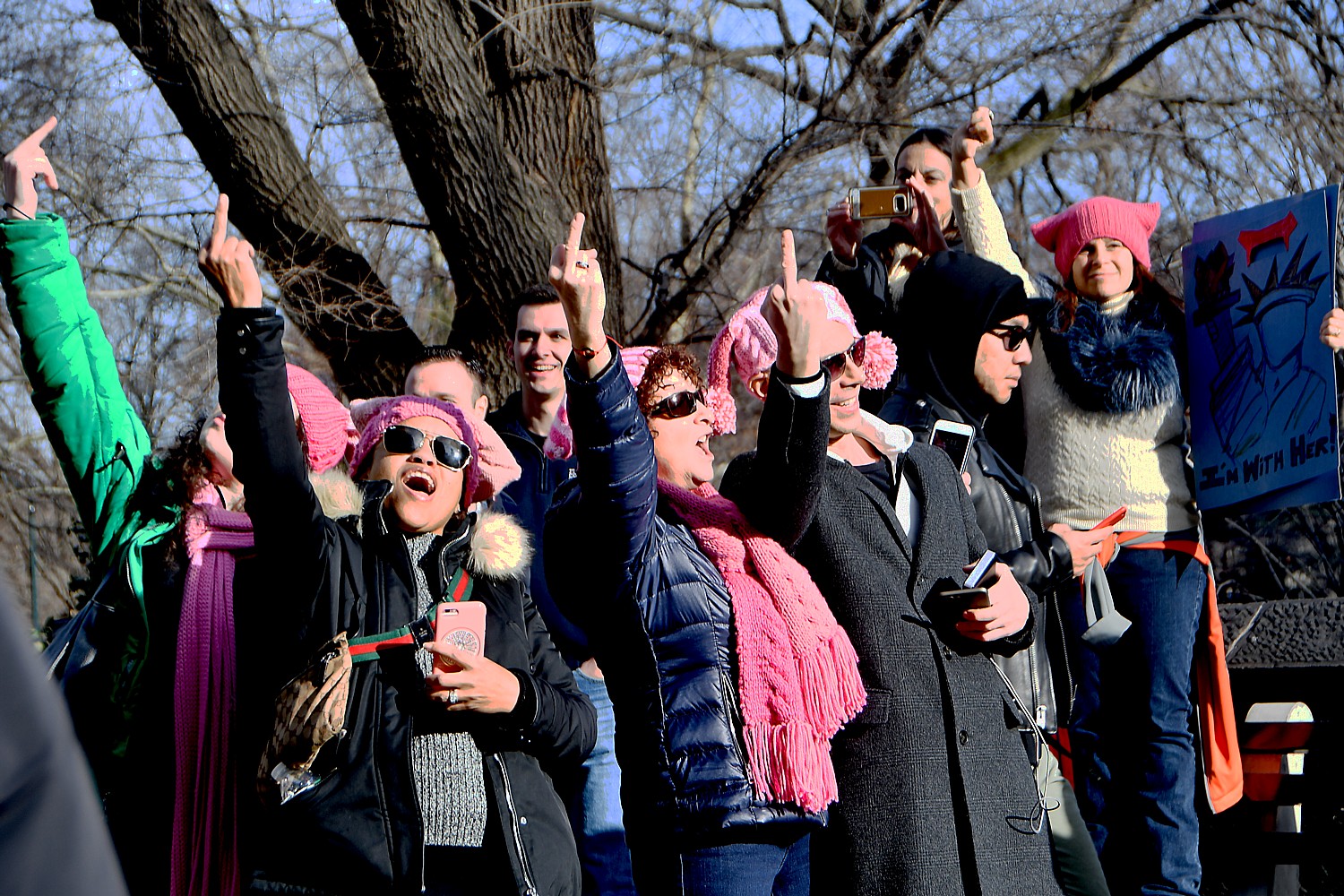 Anger and determination. It doesn't matter whether or not the news media covered – in this case, the conundrum, "if a protest happens but no one reports it, did it happen?" doesn't apply. The marchers aren't asking permission, they are marching to register voters, launch the candidacy of a record number of women (390 for House, 49 for Senate, as many as 16,000 for state and local offices), and get out the vote in the 2018 midterms.
Hillary Clinton tweeted, "In 2017, the Women's March was a beacon of hope and defiance. In 2018, it is a testament to the power and resilience of women everywhere. Let's show that same power in the voting booth this year. #PowerToThePolls"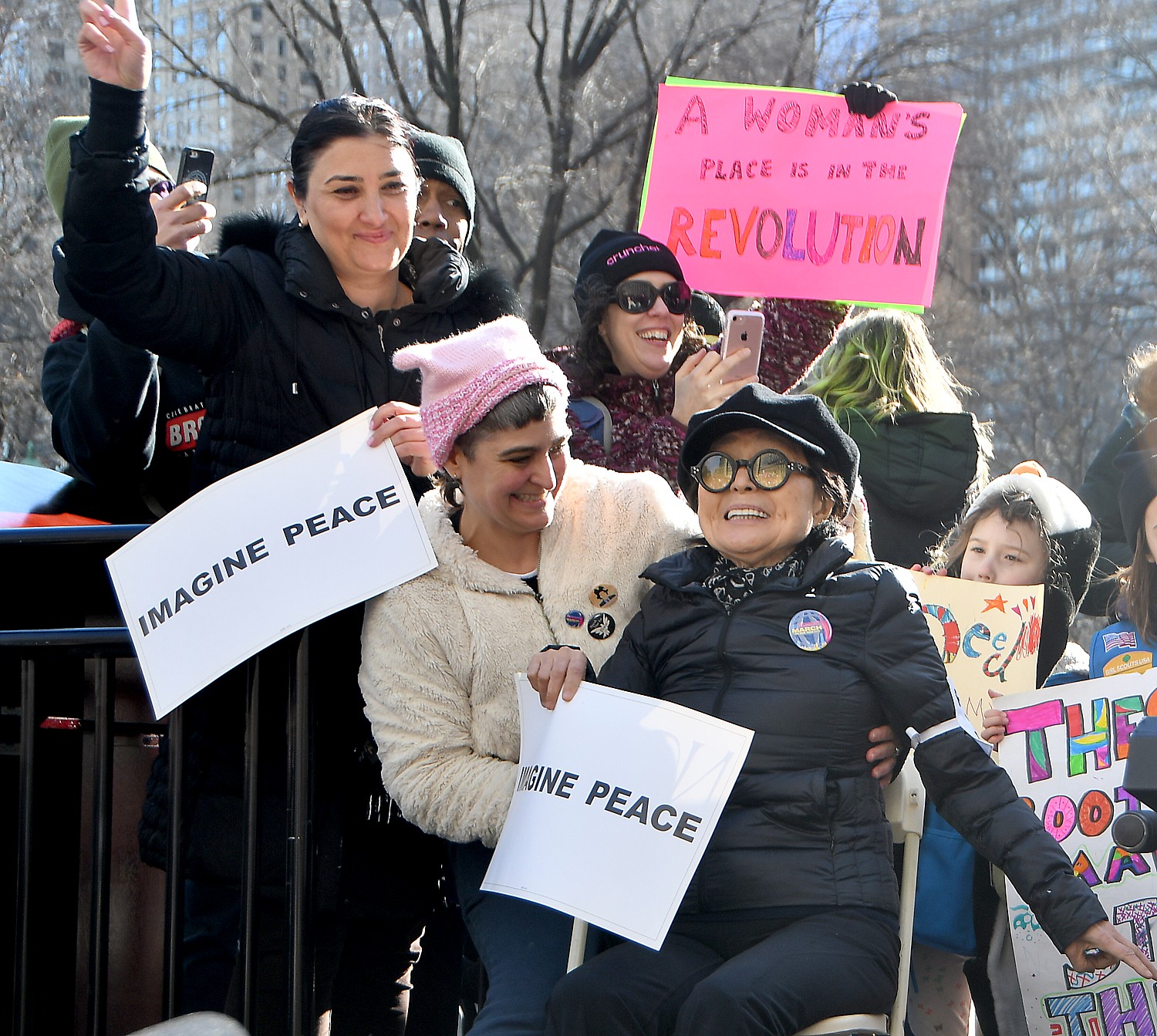 Instead of Trump and the Republicans heeding the message of the 2017 womens marches, the year has been one long travesty – the news didn't bother to report – about stripping away women's reproductive freedom (441 rulings limiting access just since Jan. 1), access to health care, their children's health care, rolling back the regulations that protected the environment and public health and safety, launching reign of terror against undocumented immigrants, a tax code that literally robs working people to further enrich the already obscenely rich and undermines the ability to reach the American Dream and threatens Social Security, Medicare, Medicaid and CHIP.
"The 2017 Women's March unleashed a collective energy for change that continues to this day," Laura McQuade, President and CEO, Planned Parenthood of New York City said at a pre-march rally held by New York Planned Parenthood. "President Trump and Congress have spent the last year pushing policies to take away our hard won rights, roll back our ability to make decisions about our own lives, and block access to the fundamental health care we need and deserve. And we've responded with the largest grassroots movement in a generation. New York must be a leader in this fight. We have the momentum behind us and we won't stop fighting until ALL New Yorkers have the ability to live the fullest lives they can."
"We march to demand full equality for women," JoAnn Smith, President and CEO of Planned Parenthood of Nassau County. "We know that 2018 promises to be a pivotal year for women's health and rights. If 2017 taught us anything, it is that woman are a potent political force in fighting for a just world."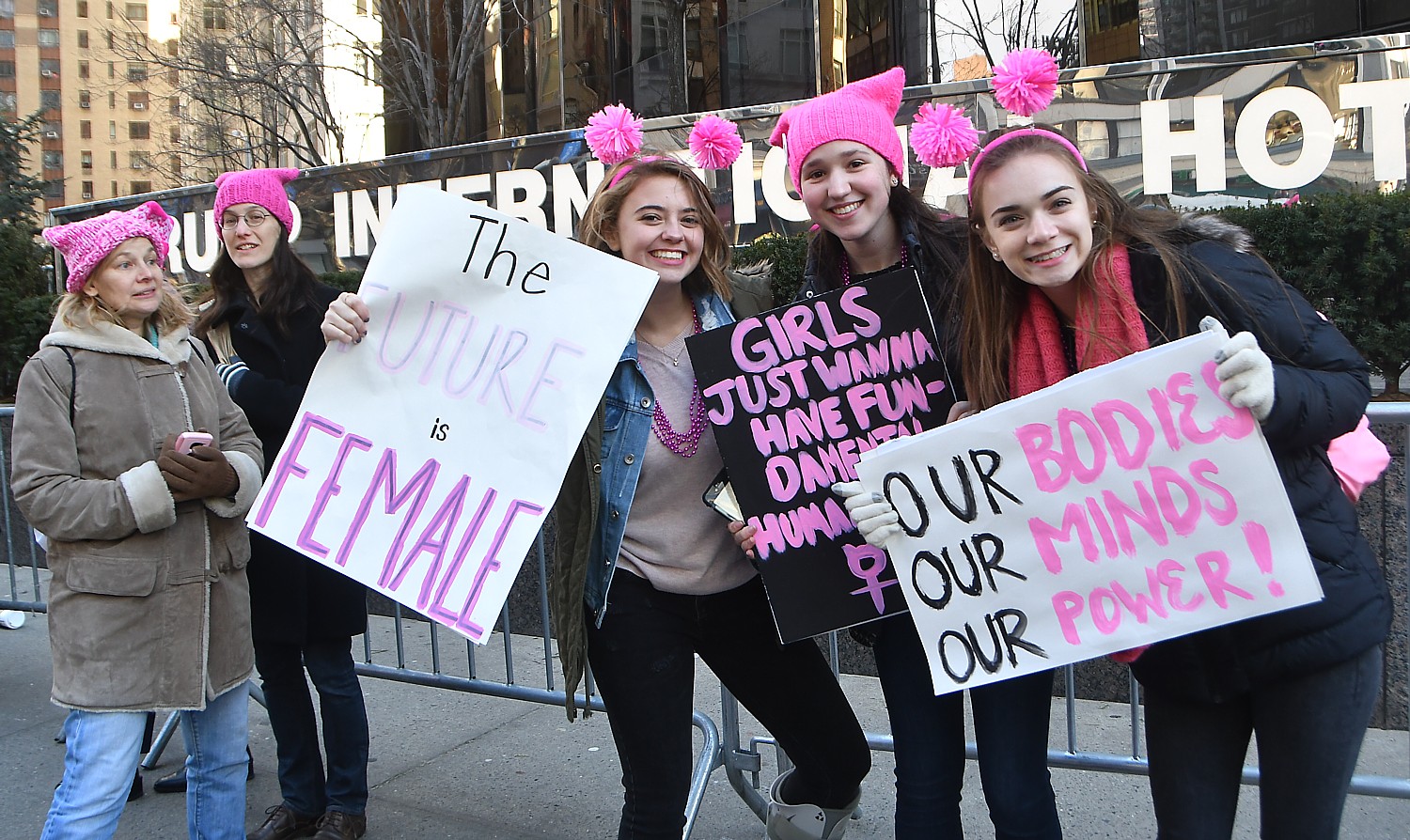 "The Women's March tapped into an energy that is even more powerful one year later," Vincent Russell, President & CEO, Planned Parenthood Hudson Peconic. "In the past year, we defeated Trumpcare and attempts to defund Planned Parenthood, witnessed voters turn out to make their voice heard with amazing results, and saw victims of sexual harassment speak out and say 'No more!' I continue to be amazed by our dedicated supporters who turn out, sign petitions, and march to ensure that each individual is empowered to determine their own reproductive future and have control over their own body."
"We must step forward to achieve our goals," says Robin Chappelle Golston, President and CEO, Planned Parenthood Empire State Acts. "While the Women's March started in the streets like many other social movements throughout history, the energy and power must transition into deeper action to create lasting change in policies and laws, to counter this harmful federal agenda. We must march toward seats in the halls of power, call out injustice and push for legislative change locally and on a state level. We must protect our people against discriminatory and damaging policies that impact access to justice, health care and progress in this country."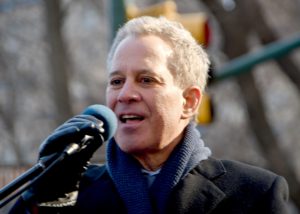 At the rally before the march, New York State Attorney General declared, "I'm your lawyer." He was referring not only to women's rights including reproductive rights, but the due-process rights of the undocumented, of the Dreamers.
"Equal justice means that there is not one set of rules for the powerful and another for everyone else.
"This is a moment of transformation for the US. All of you here and across the country, showing up, registering and mobilizing, have built a movement to transform the country. You are no longer just the opposition. You are committed to justice and making sure government delivers.
"We believe in unions and the right to organize; that health care is a right, not a privilege; in a woman's right to control her body and reproductive health care. If not, a woman is not truly free. We embrace a vision of America as one of pluralism and diversity, equal justice. We fight for the rights of immigrants. We are against white supremacy, against male supremacy in all its forms.
"I'm proud to be your lawyer, to fight the toxic volcano of bad policy, to fight for justice, equality, fairness, dignity and respect. We can never go back, only forward."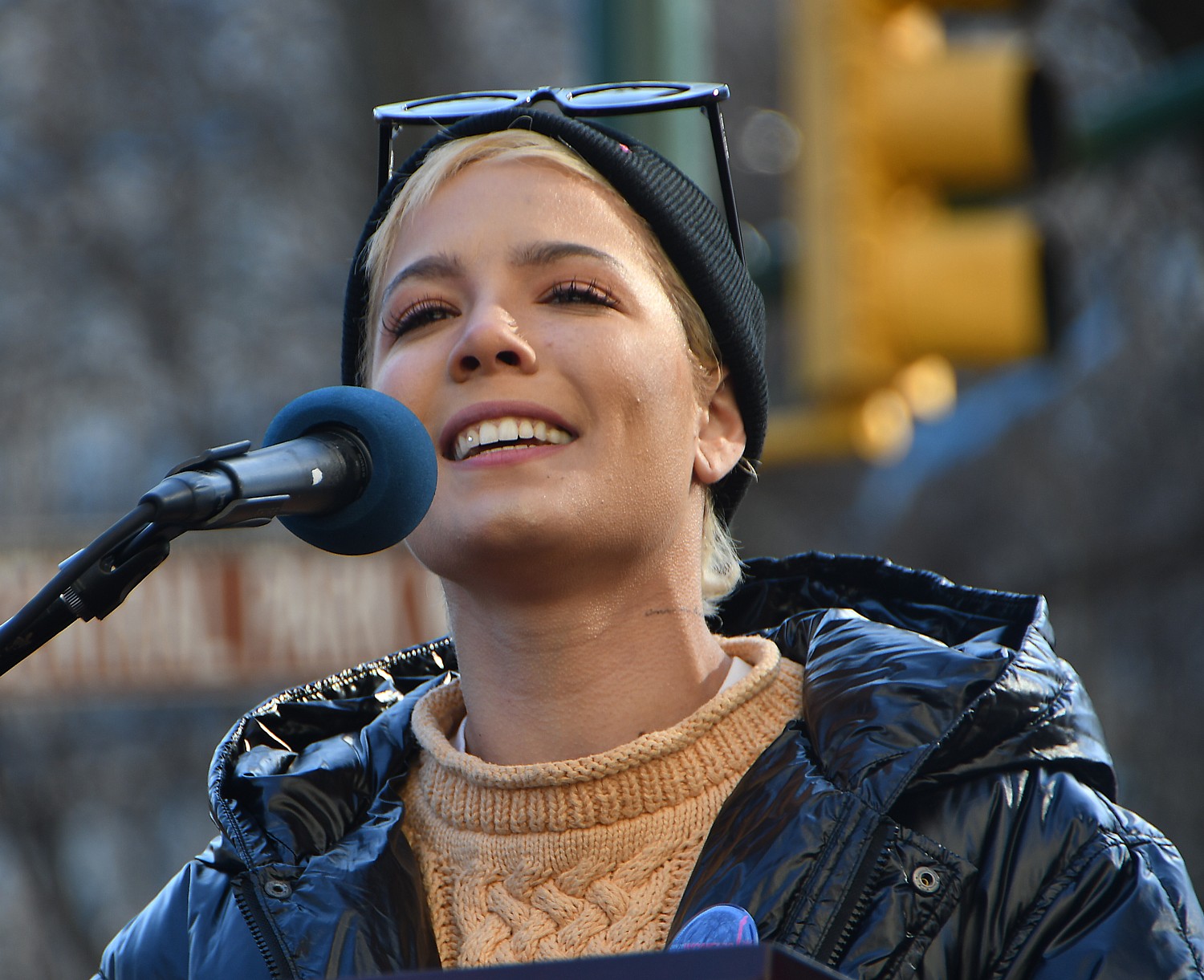 Halsey, a Grammy winning Jersey girl, told her story on behalf of the many victims of sexual assault and extortion in the way that best captured the emotion, in a stirring poem:
It's 2018 and I've realized nobody is safe long as she is alive
And every friend that I know has a story like mine
And the world tells me we should take it as a compliment
But then heroes like Ashley and Simone and Gabby, McKayla and Gaga, Rosario, Aly
Remind me this is the beginning, it is not the finale
And that's why we're here
And that's why we rally
(See a video of Halsey, https://youtu.be/pbR05nJCWXc)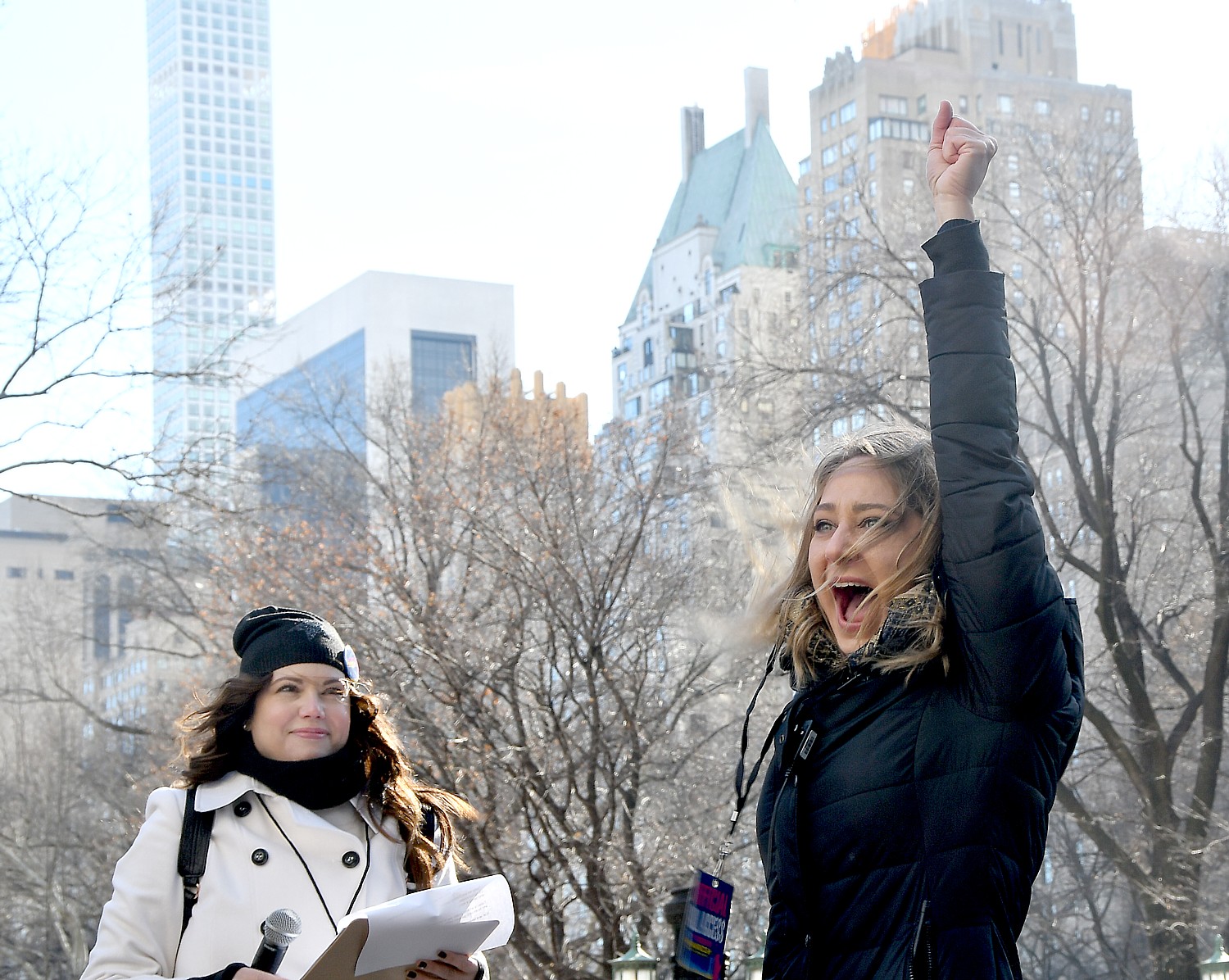 Ashley Bennett, newly elected Atlantic County, NJ Freeholder, said she was motivated to challenge her opponent after last year's March when he said he hoped the women would get back in time to prepare dinner. "Because you marched, I took the first step toward changing my own community… people standing together for equal citizenship, pay, respect. When ordinary people stand for what they believe, for a common purpose, for the betterment of their community, extraordinary things happen…You don't have to be perfect, just willing."
The women marched for workers rights, for a living wage, for the right to collective bargaining.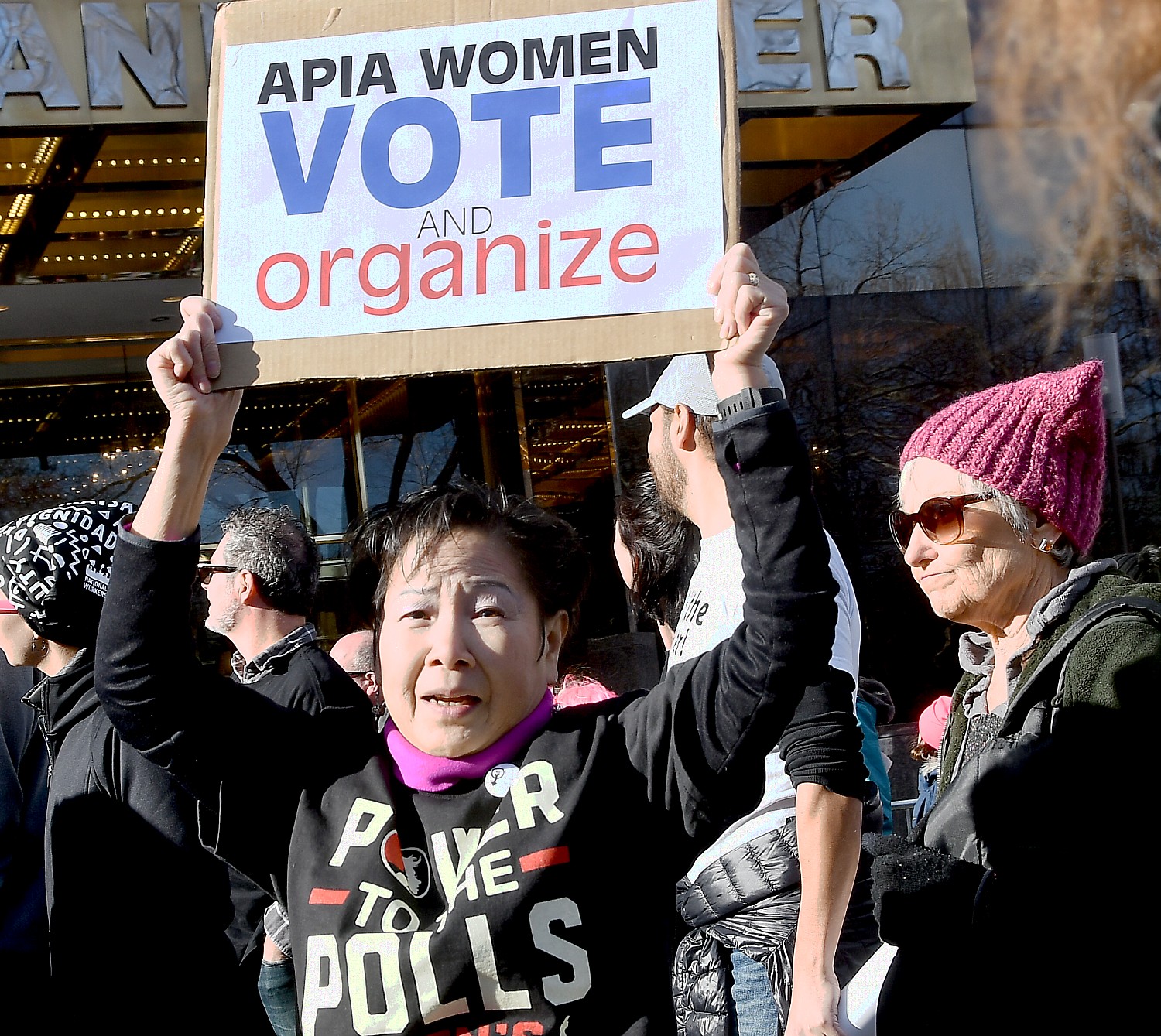 Nancy Kaufman of the National Council of Jewish Woman, working on behalf of civil rights, workers rights, immigrant rights, women's rights for 125 years, said, "We work to resist racism, sexism, Islamophobia" battling back against the "repeated, relentless assault on the Affordable Care Act, the goal of ending access to healthcare for millions." The Republicans, she said, were willing to shut down government rather than allay the anxiety of Dreamers, or to reauthorize health care for 9 million children.
"Enough, we're fed up. Persist and Resist because our democracy depends on it, for us, for our children and grandchildren. Our voices, our votes will count in November 2018 and November 2020. March on, turn passion into action today and every day."
Ann Toback of the Workman's Circle, fighting for worker and immigrant rights since 1909, winning the 8 hour workday, child labor laws, worker safety. "As Jews, we know too well the danger of name-calling, threats, closing borders…. The Jewish community is here to say, 'Never again, the subjugation of women, immigrants, Muslims. All must be welcomed, protected, empowered. The way to victory is for all to stand united and resist bigotry. Attacks on one are attacks on all. Fight back the attacks on women, the deportation of 800,000 Dreamers whose only crime was not being born here – they didn't cause the shutdown. Trump caused it…. We will rise up, resist. We will win."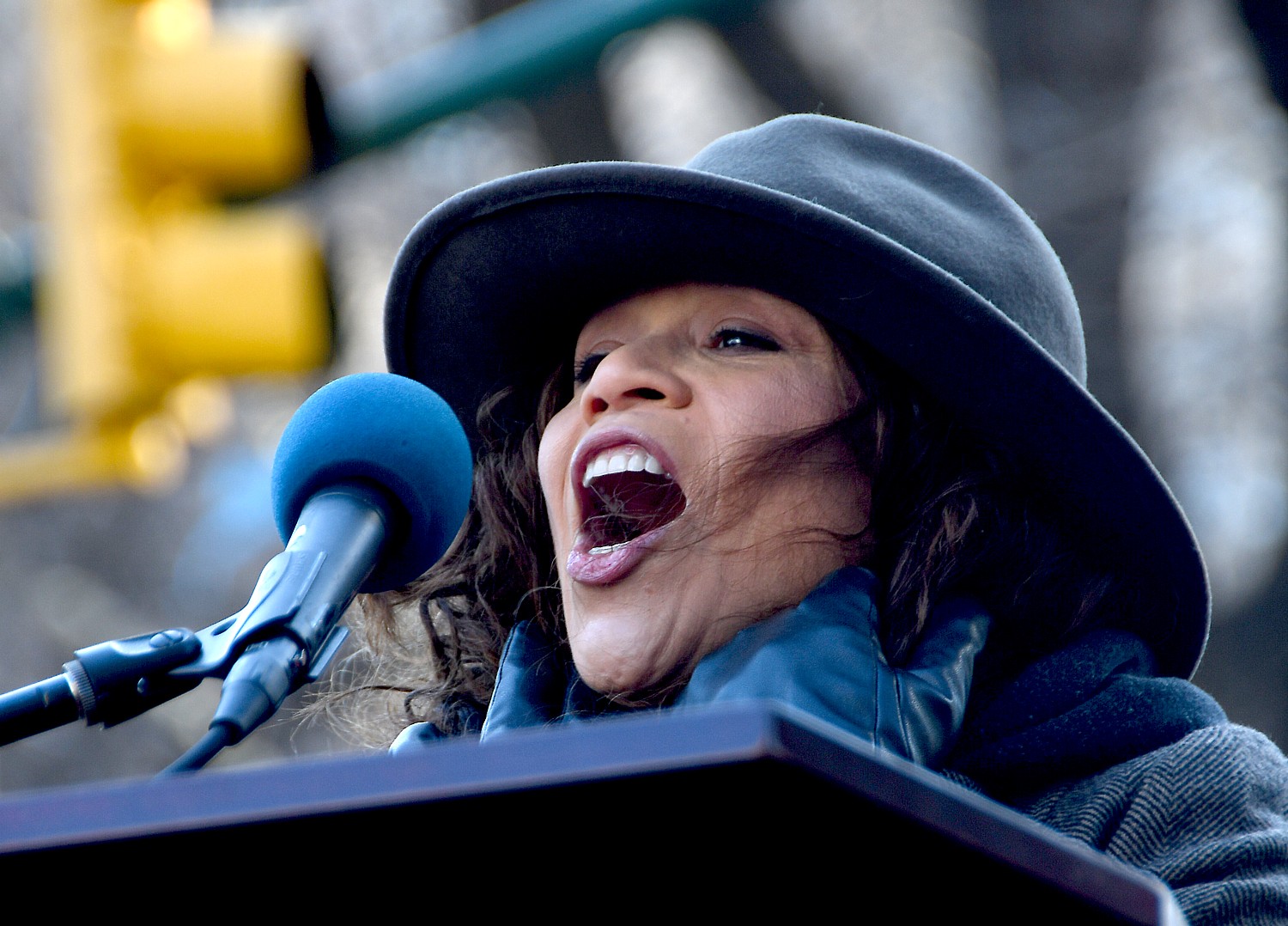 Actors Veronica Dunne and Rosie Perez spoke to the #MeToo movement and the need for women to mobilize. "This is our time. Power to the Polls.  Create the world you want to live in because no one will do it for you."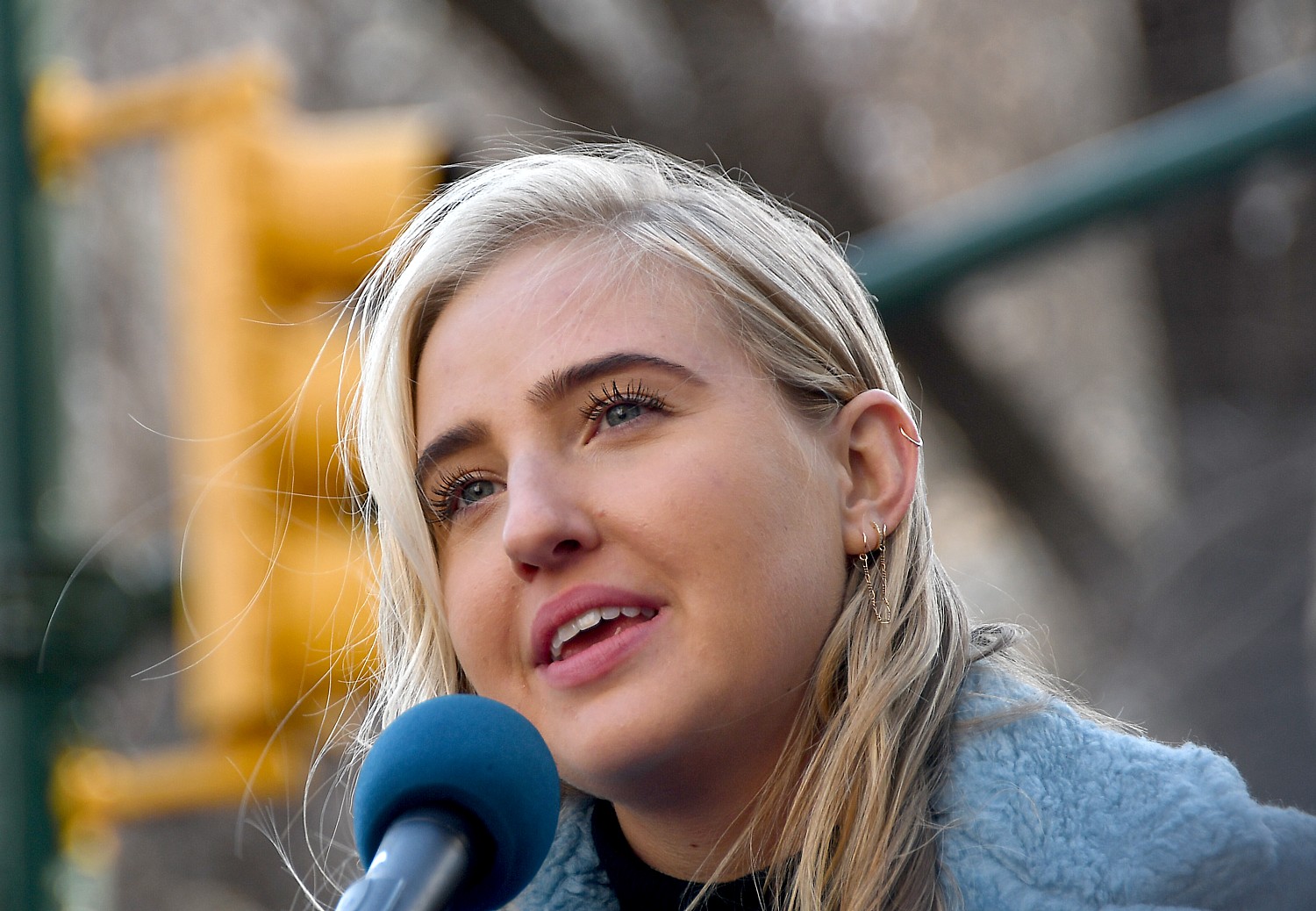 Nadina LaSpina spoke up for the rights of those with disabilities. "My body, my choice. We want control over the way our bodies are cared for and who cares for us, choose where care is provided – in home not an institution, not having treatments or drugs forced, never being denied care we need or want, not having strangers grab us, ask personal questions, stare with contempt, view with suspicion of a disability that is not obvious or visible, the assumption that a disability makes us less valuable as human beings. But this is a marginalized group that everyone can join – you never know what will happen. It intersects with all other s- women, color, immigrant, LGBTQ, seniors, poor. Many are forced into poverty by discrimination in the workplace – those with disabilities earn 37% less than persons with equal qualifications. Many are forced into poverty by the for-profit health care system. You have to impoverish yourself to be eligible for Medicare to pay for long-term care. Medicaid is under attack.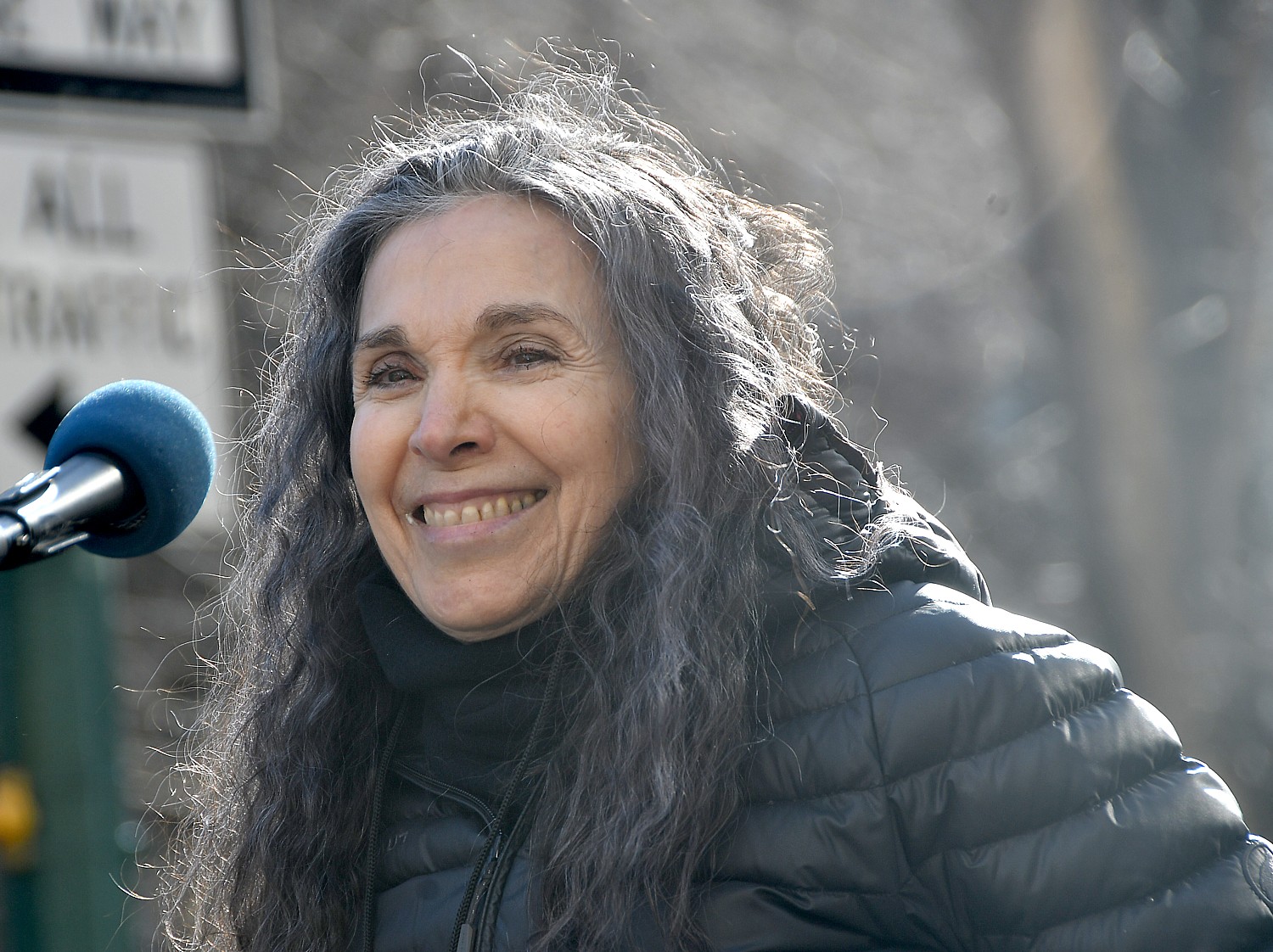 Disabled activists were dragged out of Congress and arrested, but stopped a bill that would have taken away your health care. Health care must be equal for all. Medicare for all, and include long-term care.
"We are strong fighters, we've been fighting for a half-century. We are not going to let our hard won rights be stripped away by a brutal, vicious administration and Congress. Put an end to this political nightmare. Move forward toward equality for all."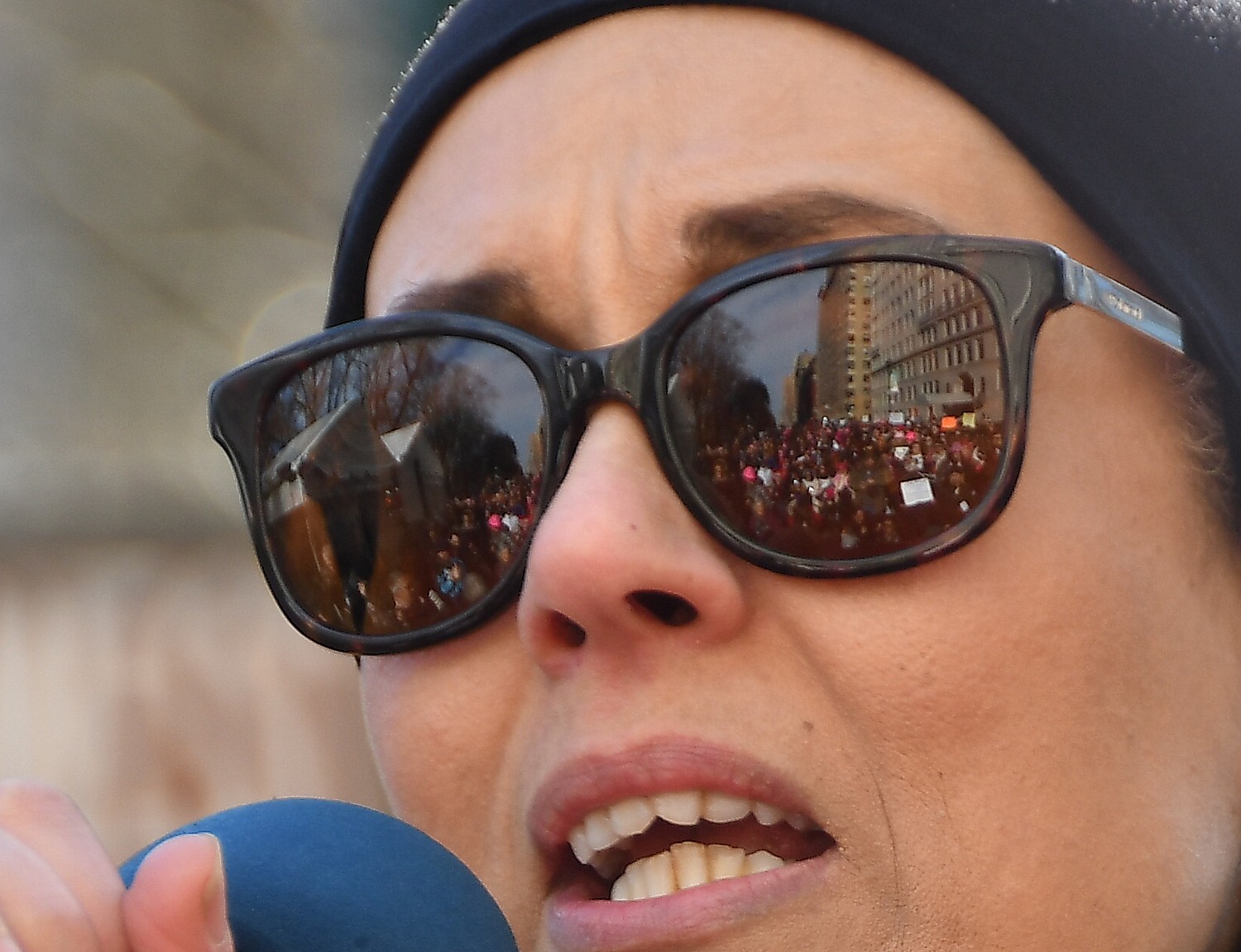 Sulma Arzu-Brown, an immigrant rights advocate, said, "What 45 has done to this country has taken us back decades, even centuries. I never thought this country would be banning Muslims…. Save the soul of this nation and don't let 45 destroy what we built. Show up for one another."
"The Religious Freedom Act has been revived, marginalizing LGBT and repudiating the rights movement. Don't let them dictate what we do with our bodies, how we choose to live our lives."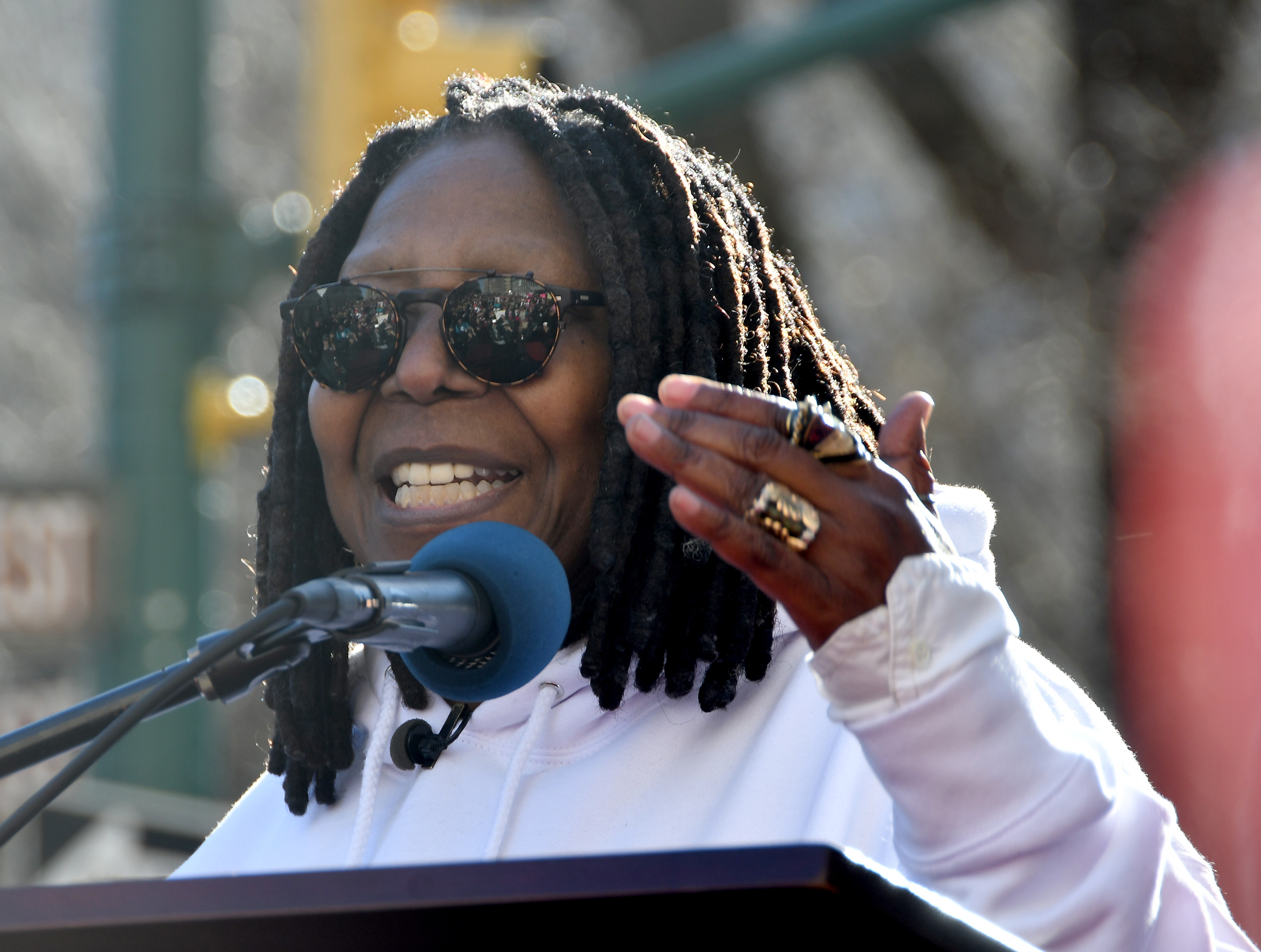 Whoopi Goldberg told the rally, "The only way we are going to make a change is to commit to change." (See video https://youtu.be/NjpJdF_9JuQ)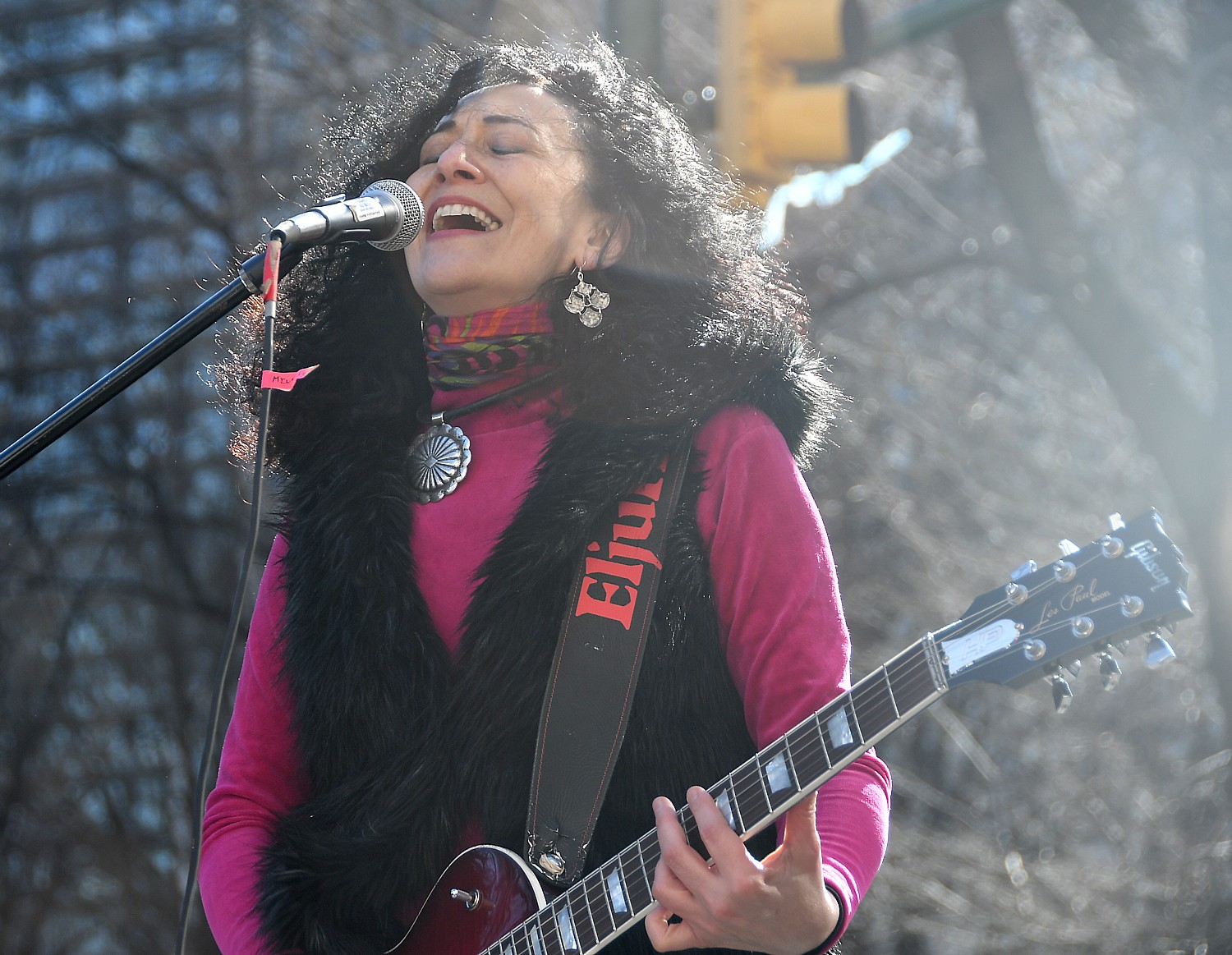 Cecilia Villar Eljuri performed "La Lucha". (See video https://youtu.be/QN1okWVqTf8)
At the end of the rally, the marchers were sent off with an inspiring performance by MILCK, joined on stage by Yoko Ono. (See video https://youtu.be/bPqkv7bqdec)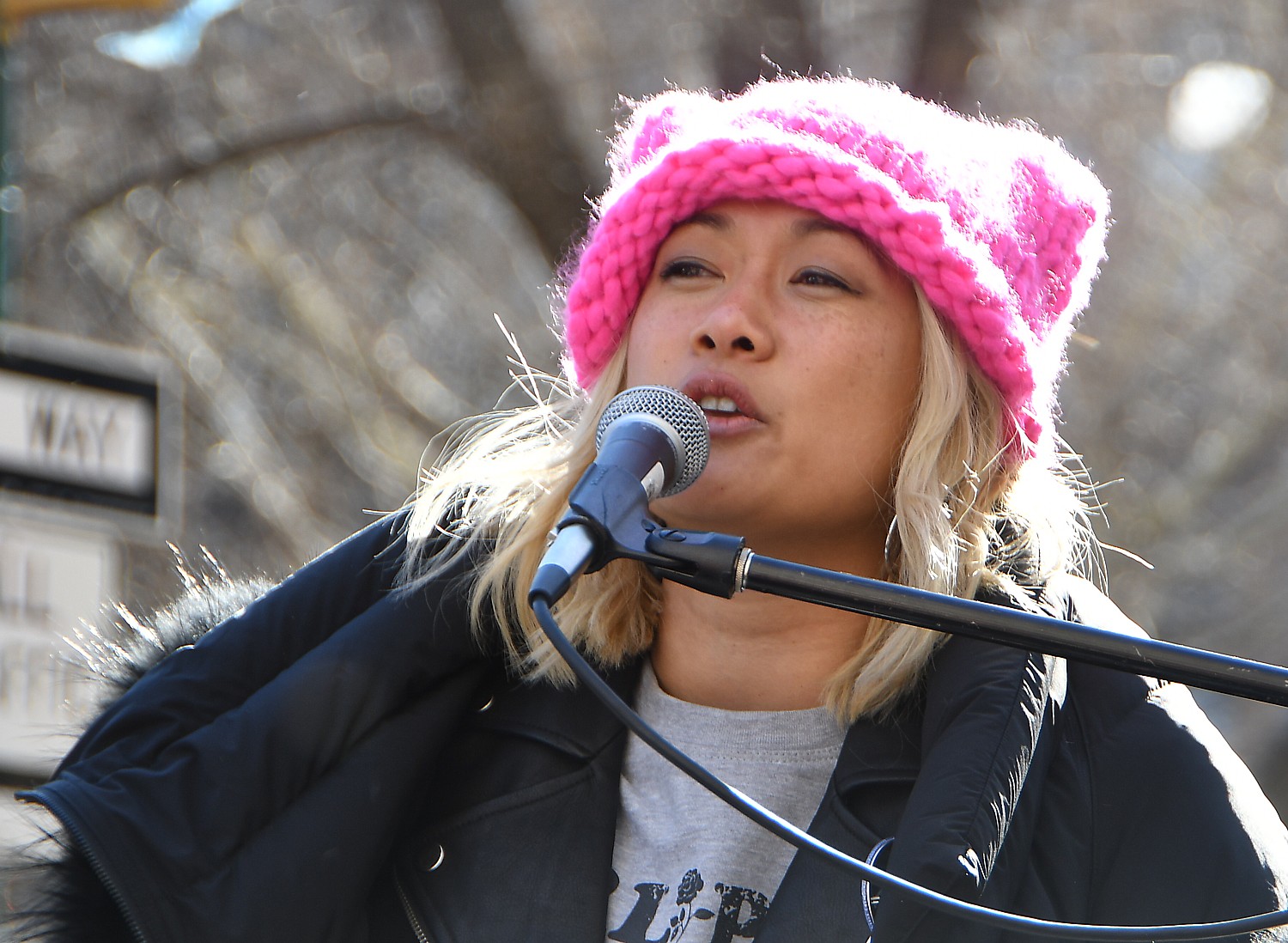 See also: 
Womens March NYC 2018 Draws 200,000 – Here are Photo Highlights
Women's March Redux Jan. 20 Kicks Off Get-Out-The-Vote Campaign to ReMake Government
_________________________
© 2018 News & Photo Features Syndicate, a division of Workstyles, Inc. All rights reserved. For editorial feature and photo information, go to www.news-photos-features.com, email [email protected]. Blogging at www.dailykos.com/blogs/NewsPhotosFeatures.  'Like' us on facebook.com/NewsPhotoFeatures, Tweet @KarenBRubin