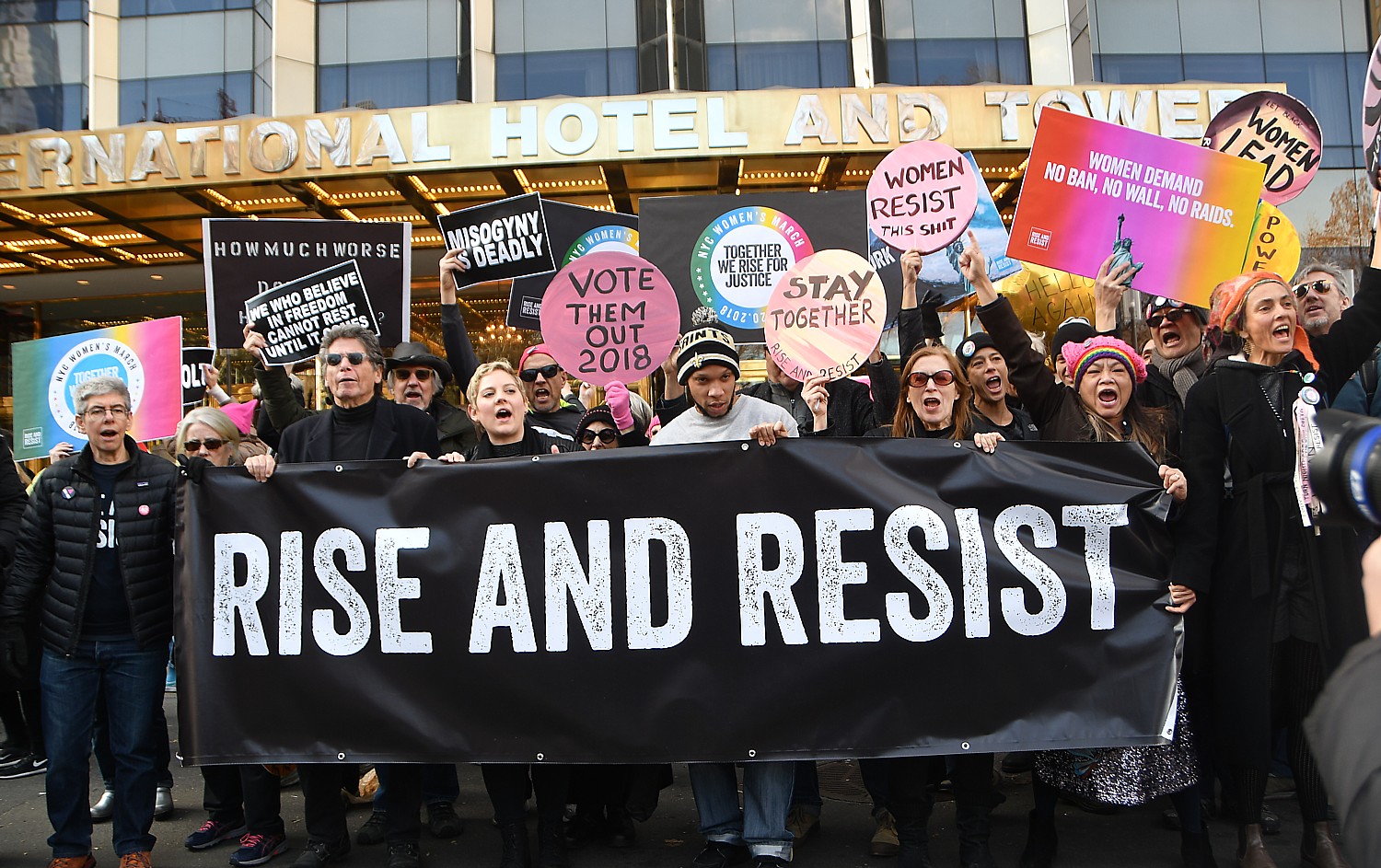 by Karen Rubin, News & Photo Features
Judging by the Women's Marches – 280 of them around the country that drew 2 million activists on behalf of women's reproductive freedom, health care, workers rights, DACA, climate, gun control – the Democrats were headed for a rout in 2018.
Now, pundits are questioning whether the government shutdown – and then the capitulation by Democrats – will jeopardize the Democrats' chances of taking back the Senate and even the House.
And sure enough, the Republicans have proved yet again they are so much better at message manipulation – the signature talent of every autocracy.
It is a curious thing because the 2013 government shutdown, forced by Republicans who held Obamacare hostage and the many instances of Republicans coming to the brink of endangering the full faith and credit of the United States by threatening the debt ceiling, nonetheless won victories in the 2014 midterms, even taking over the Senate.
But it is different for Republicans who want to tear down government, and Democrats, who actually believe that government can be and should be a force for good.
But what did the Republicans actually win besides the message game? A few days reprieve? When instead the government shutdown over a failure to follow through on the deal to reauthorize DACA so clearly demonstrated the dysfunction, dishonesty, bad faith and sheer cruelty of Republican domination?
And is it wise for Trump to crow that Schumer "caved," for Pence to go to the Middle East and lambast the Democrats as enemies of our soldiers, for the OMB Director Mike Mulvaney to mimic the phrase being hyped by Russian bots, #SchumerShutdown, and the Republican Congressional Campaign Committee to show glee that Schumer is "feeling the heat from the left, with #SchumerSellout trending on social media and Democrats who supported reopening the government are being branded as traitors"?
And how cynical is it for Trump to issue a reelection campaign ad blaming Democrats in advance if anyone is murdered by an illegal immigrant, yet taking no responsibility at all for 33,000 gun deaths a year (a woman is shot and killed by a current or former partner every 16 hours. 10 kids and teens are killed each month in unintentional shootings) and the ease with which terrorists can buy guns because of Republicans' refusal to adopt reasonable gun control measures?
After all, this is yet another temporary spending measure, which Democrats and some Republicans have decried as no way to run a $4 trillion government since the military, municipalities and agencies can't do long-range planning or contracts, and we will be right back here on Feb. 8. Fool me once….
Schumer and the Democrats really had no choice but to withhold the votes needed for cloture (the filibuster) which triggered the shutdown, and no choice in coming to this temporary arrangement to reopen government.
Let's be reminded though: it's not Democrats who caused the shutdown – five Republicans voted against the CR while five Democrats voted with the Republicans (by modern standards, that's called "bipartisan").
Indeed, Trump was rooting for a government shutdown.  "The country needs a good shutdown" he said months ago, and referred to this shutdown as  "a nice present" –because he believed Democrats would be blamed and weakened and (cherry on the cake) hoped it would get Senate Majority Leader Mitch McConnell to trigger the "nuclear option" and end the 60-vote threshold for cloture (the filibuster) so that Republicans could rule without any Democratic input whatsoever.
But for the entire first year of the Trump nightmare when Republicans were in full control of all the levers of government, they chose to rule as if a monarchy, shutting out Democrats entirely, and manipulating votes so that they only needed 50 instead of 60 – on several occasions, needing the Vice President's vote to get to 51 to pass legislation opposed by large majorities of Americans. The only mechanism for Democrats to have any say whatsoever, and get CHIP and DACA reauthorized was to withhold their votes on the short-term spending bill.
For decades, now (when Democrats are in the White House), "populists" have been decrying the dysfunction in Washington, looking to demagogic characters from outside Washington (they are only "outside" until they are "inside") to break the logjam and get things done. That's what many Trump voters said they liked about Trump.  They fell for his con: he isn't disruptive, he's destructively dysfunctional.
But look to the source of the dysfunction: it goes back to Newt Gingrich and the "Contract for America" ( "Contract on America" is more apt) – 1994 was the first time the Republicans used a shutdown as extortion. And it goes back to the Hastert Rule, named for the pedophile who was the longest-serving Speaker of the House,  that bars the Republicans from passing any legislation that is not supported by the majority of Republicans, rather than the majority of the House or the American people, a tough thing to do with the Tea Party fringe and now the Trumpers.
It is because of the Hastert Rule that we do not have affordable health care, sensible gun violence prevention, immigration reform, campaign finance reform, environmental protection – all supported by huge majorities of Americans – and a tax code and federal budget that help uplift people rather than steer this country to unsustainable income inequality that is so dangerous for a democracy.
Add to that the end of earmarks – championed by none other than Senator John McCain who felt they were the source of corruption in Congress – and you have no bargaining chips whatsoever to forge a compromise. (Trump wants to bring back earmarks, so he can turn a $1 trillion infrastructure plan into a political slush fund.)
But Democrats – or rather the extreme left wing championed by Bernie Sanders – seem determined to shoot themselves in the foot, and instead of cheering Schumer for getting 12 Republican Senators to pledge to take up legislation to protect DACA recipients before Feb. 8, they blasted him for capitulating.
Really, what was Schumer supposed to do? Republicans were weaponizing the government shutdown, rather than being embarrassed that Trump, The Greatest Dealmaker in the History of the World, was shown to be an emperor with no clothes (he fidgeted while the capital burned) with no actual grasp of policy or long-term impacts so that he could be swayed and steered by the most virulent, anti-immigrant advisers (Steven Miller and John Kelly), and the Republicans being shown as being incapable of governing on behalf of the people instead of just their donors (the 1%).
Now it is likely that no matter how the Senate is reminded they are supposed to be an institution based on compromise and rational deliberation – and that Congress should realize it doesn't have to wait for Trump at all, but pass reasonable legislation on its own – my prediction is that Speaker Paul Ryan in the House will kill any DACA legislation or any immigration legislation as he did in 2013, tabling Comprehensive Immigration Reform that passed the Senate by a significant majority.
Or that Steve King, Tom Cotton, Steve Miller and John Kelly will come up with something so draconian – legalizing the Gestapo-like roundup and deportations of 11 million undocumented immigrants, throwing out green card holders, shutting borders to refugees and severely curtailing legal immigration for anyone but white people with money to invest in Trump properties – that Democrats won't be able to vote for it. Ha ha, the irony.
But my money is on the Women's Movement – no longer a march, but ongoing activism that will result in a major voter registration drive, record number of women running for elected office (390 for House, 49 for Senate, as many as 16,000 for state and local offices), and to get out the vote in the 2018 midterms. #PowertothePolls.
See also: 
Womens March NYC 2018 Draws 200,000 – Here are Photo Highlights
MILCK, Yoko Ono, Halsey, Whoopi Goldberg, Rosie Perez Among Celebs at #PowertothePolls Womens March NYC Rally – See Photos, Videos
Women's March Redux Jan. 20 Kicks Off Get-Out-The-Vote Campaign to ReMake Government
_________________________
© 2018 News & Photo Features Syndicate, a division of Workstyles, Inc. All rights reserved. For editorial feature and photo information, go to www.news-photos-features.com, email [email protected]. Blogging at www.dailykos.com/blogs/NewsPhotosFeatures.  'Like' us on facebook.com/NewsPhotoFeatures, Tweet @KarenBRubin